When it comes to food, don't forget more fruits, vegetables, and whole grains.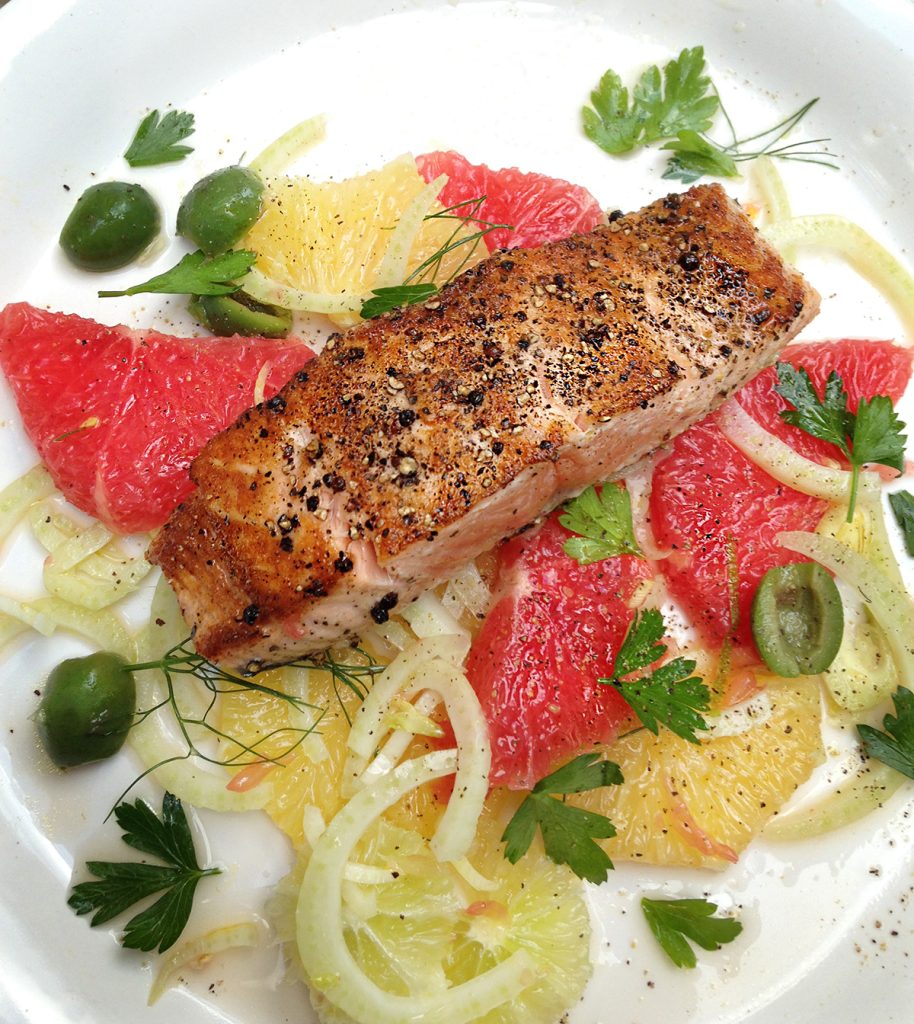 1 lime

1 navel orange

1 ruby red grapefruit

1/2 bulb fennel, thinly sliced

6 pitted Castelvetrano green olives, halved

3 tsp. white wine vinegar

2 Tbsp. olive oil

4 (6-oz.) wild salmon fillets

2 tsp. olive oil

Kosher salt and freshly ground pepper

3 tsp. sriracha

 1/4

cup fresh flat leaf parsley leaves

 1/4

 cup fresh mint leaves
Zest lime and orange and place zest in a medium size bowl. Remove rind and pith from lime, orange, and grapefruit, and slice citrus and place in bowl. Toss with fennel, vinegar, olives, 2 Tbsp. olive oil, and salt. Set aside.
Preheat oven to 425 °F. Brush salmon with 2 tsp. olive oil and sprinkle with salt and pepper. Heat a 9-inch cast iron skillet over medium-high heat. When the skillet begins to slightly smoke drizzle skillet with 2 Tbsp. oil. Place salmon flesh side down and cook 2 to 3 minutes or until salmon is crisp and begins to lift from the skillet. Turn salmon and place skin side down. Brush hot salmon immediately with sriracha. Place skillet in oven and bake 4 to 5 minutes or until desired degree of doneness is reached.
Remove skillet from oven and using a spatula toss citrus mixture with fresh parsley and mint leaves, spoon mixture on place and top with salmon.
Makes: 4 servings
By Vanessa Rocchio