Your stairway has major design potential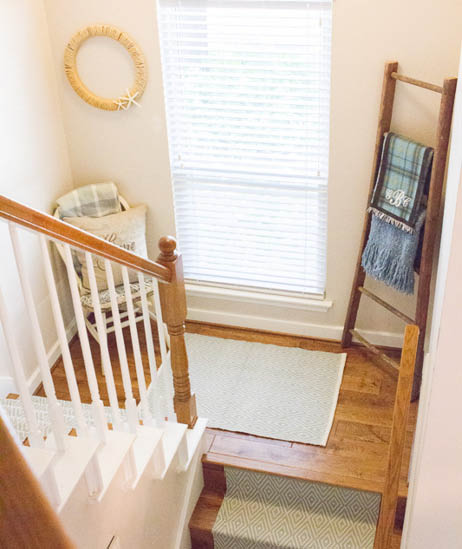 Was 2016 the year of the stairs?
Some designers say that focusing on stairs was a definite trend in 2016—and one that probably won't go away any time soon. "Stairs take you up or down, from one floor to another. But when stairs are transformed into a design focal point, beyond merely a mode of transportation, then you lift your renovation to the next level," says Gillian Lazanik, a Houzz contributor.
Real-Life Refresh
When Cheyenne and her husband purchased their beautiful Kingwood area home, a stairway renovation wasn't even on her radar. Not until the couple took a few "pretty bad tumbles" down them—while wearing socks—which made the stairs "extra slippery," according to Cheyenne. She says she knew that with toddlers eventually traversing up and down, over and over, the tumbling would have to stop!
So she decided to add a runner. Something of a self-proclaimed "design lover," Cheyenne had seen several of her favorite bloggers add runners to their own stairways, so she knew it was a possibility. But she had never really considered it, until her family started falling. She picked the materials and got to work.
She says she's very pleased with the transformation, which added some design flair and nice impact to the plain wooden staircase. And the biggest surprise was just how simple the project was to accomplish. Cheyenne says she would definitely do a project like this again. "It adds amazing impact to your home!"
Taking Your First Steps
Thinking about tackling your own stairway renovation? Here are a few questions to ask yourself: what are you hoping to achieve? What is your budget? Can you accomplish this project yourself, or should you hire some professional help? Before you start ripping out old shag carpeting, you need to have a plan.
Hate your old, outdated stair railing? Want something more modern? A decorative, iron staircase (assuming this matches the overall look of your home), can be custom made to fit your home, and will definitely add value—not to mention visual appeal. You can also have wooden spindles repainted. If you're feeling adventurous, you could even get a little wild with an ombre effect!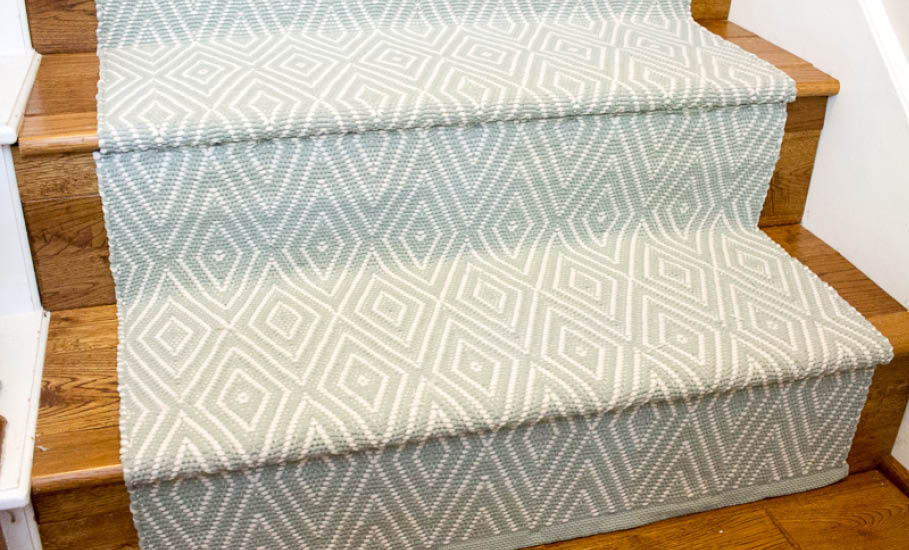 Tired of wiping out on the stairs? Adding a decorative runner (much like Cheyenne and her husband did) is always a good idea. White and espresso tones are lovely together—think dark wood on the landing, with white in between. Just a few steps? Don't be afraid to play with pattern or color.
Check out resources like Pinterest and Houzz for more ideas. Consider consulting with a designer if you're having trouble coming up with a plan everyone can agree upon—they have a good ability to conceptualize the space and are well in touch with current design trends and function. Whatever you decide to do, don't be afraid to "color outside the lines."
"Mismatching (materials) can be daring, and often makes people nervous at the start of a project," says Lazanik. "But when executed correctly, it adds immediate interest to any space. This is a trend that keeps the boring out, and brings heaps of character in."
Bigger Steps
For some people, merely enhancing the current staircase might not be enough. If you really want to dig in, consider what you can accomplish with a general contractor or remodeler. If you have older plywood stairs or don't like the layout altogether, now might be the time to build the solid, grand staircase you're envisioning. Fresh looks with materials like stone, metal, and glass can give your house a modern and interesting look, or you can go traditional with high quality wood and added perks like under-staircase storage or custom railings and spindles.
Want to know more about Cheyenne's stairway renovation? Read all the nitty gritty details on her blog at www.girlvtheworld.com. Happy renovating!
By Jessica Tomes