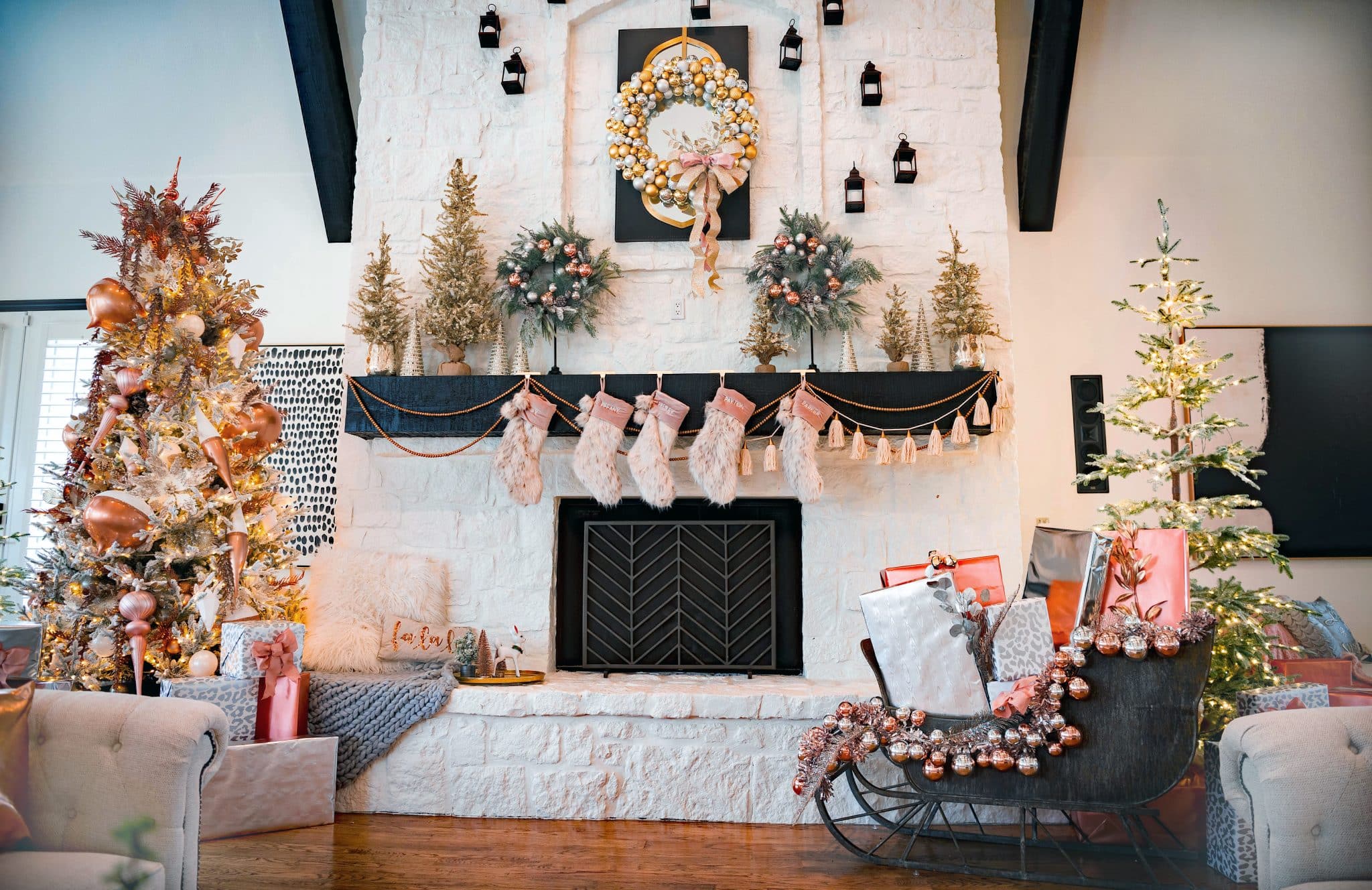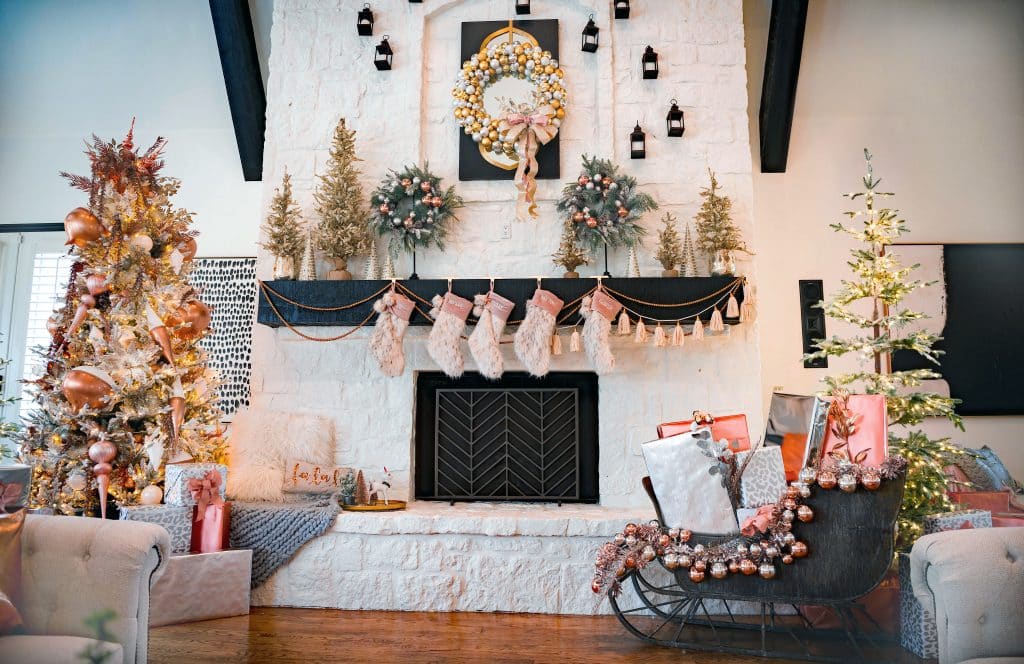 By Courtney Warren
News flash: you don't have to decorate for Christmas with red and green.
Now, for some of you, this is old news. But for others, this revelation is completely liberating. I mean, red and green are what Christmas is "supposed" to be, right? Your grandma, maybe even your mom, TOLD you so.
But that was then, and this is now. Go ahead and hit the reset button because you can decorate for the holidays with colors that coordinate with the decor you already have in your home.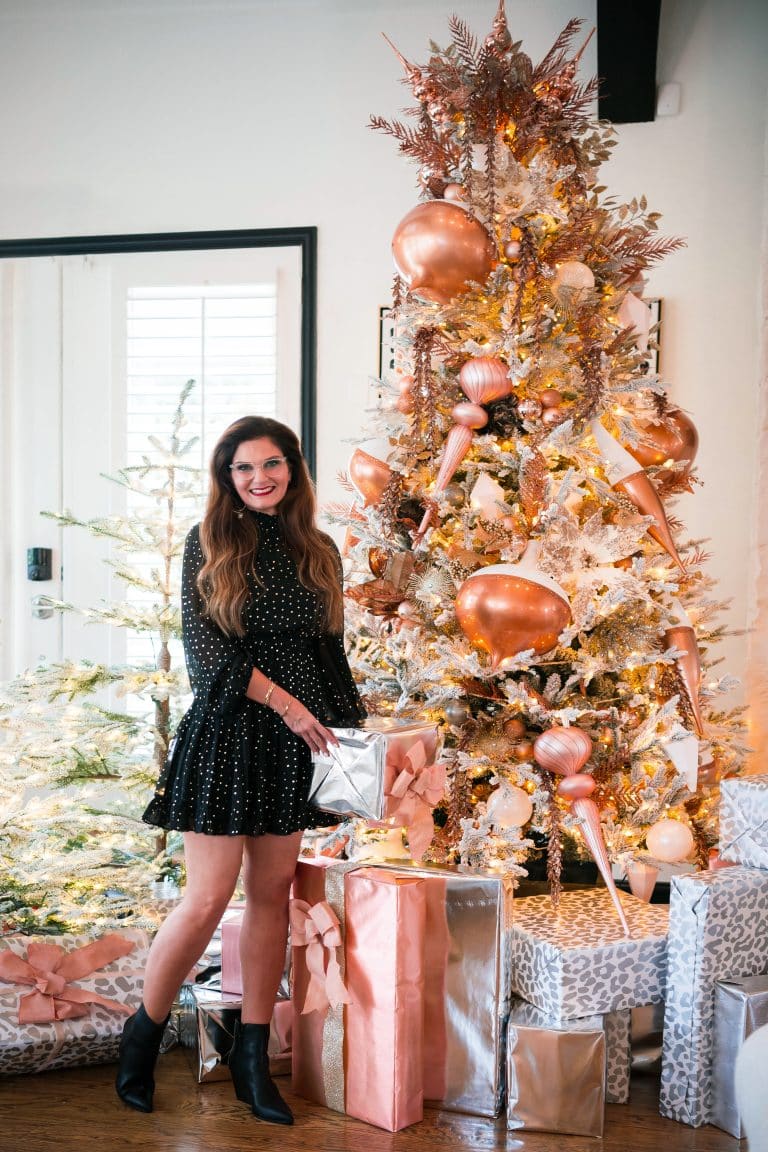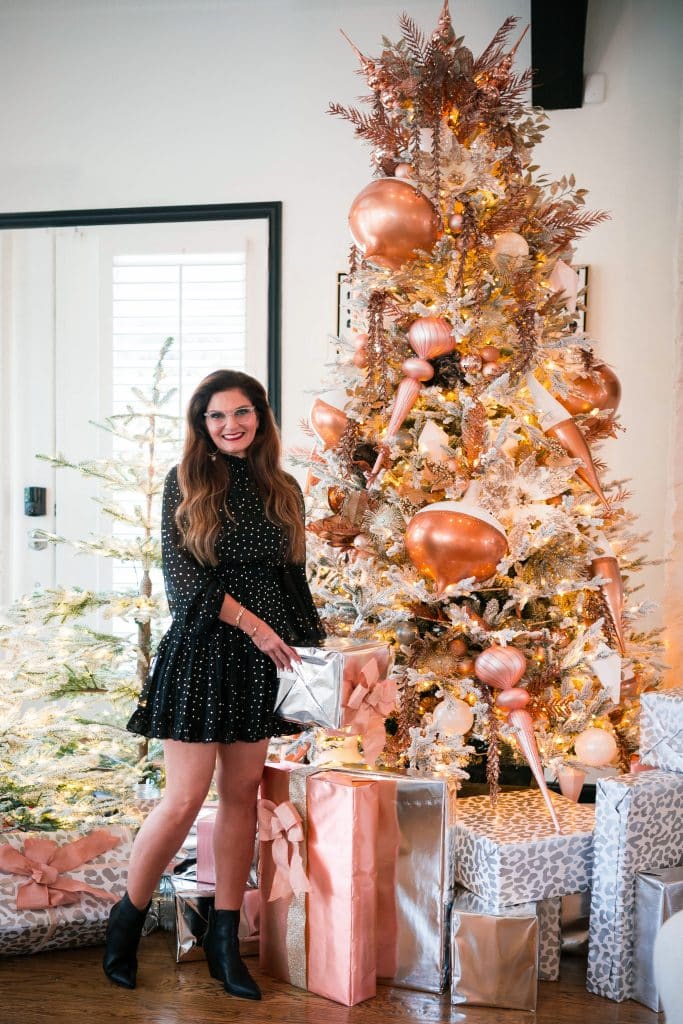 Start with the right tree // Once you've chosen colors that optimize your home's decor and you've picked your tree, you'll want to use oversized ornaments and fill it with an extravagant variety of shapes, sizes, and textures. A good rule of thumb is, if you can see much of the tree, you don't have enough ornaments!
To achieve an over-the-top look that coordinated with my client's home decor, we used a rose gold, copper, and silver scheme. Glass finials, bulbs, and ball ornaments fill every inch of this gorgeous tree.
Match your gift wrap to your holiday décor // Do you want a real designer touch? Consider gift wrap color. Would you conjure up fabulous blush and metallic trees and then place red or green packages under them? Of course not! This is a simple detail that makes a significant impact on the look of the overall room.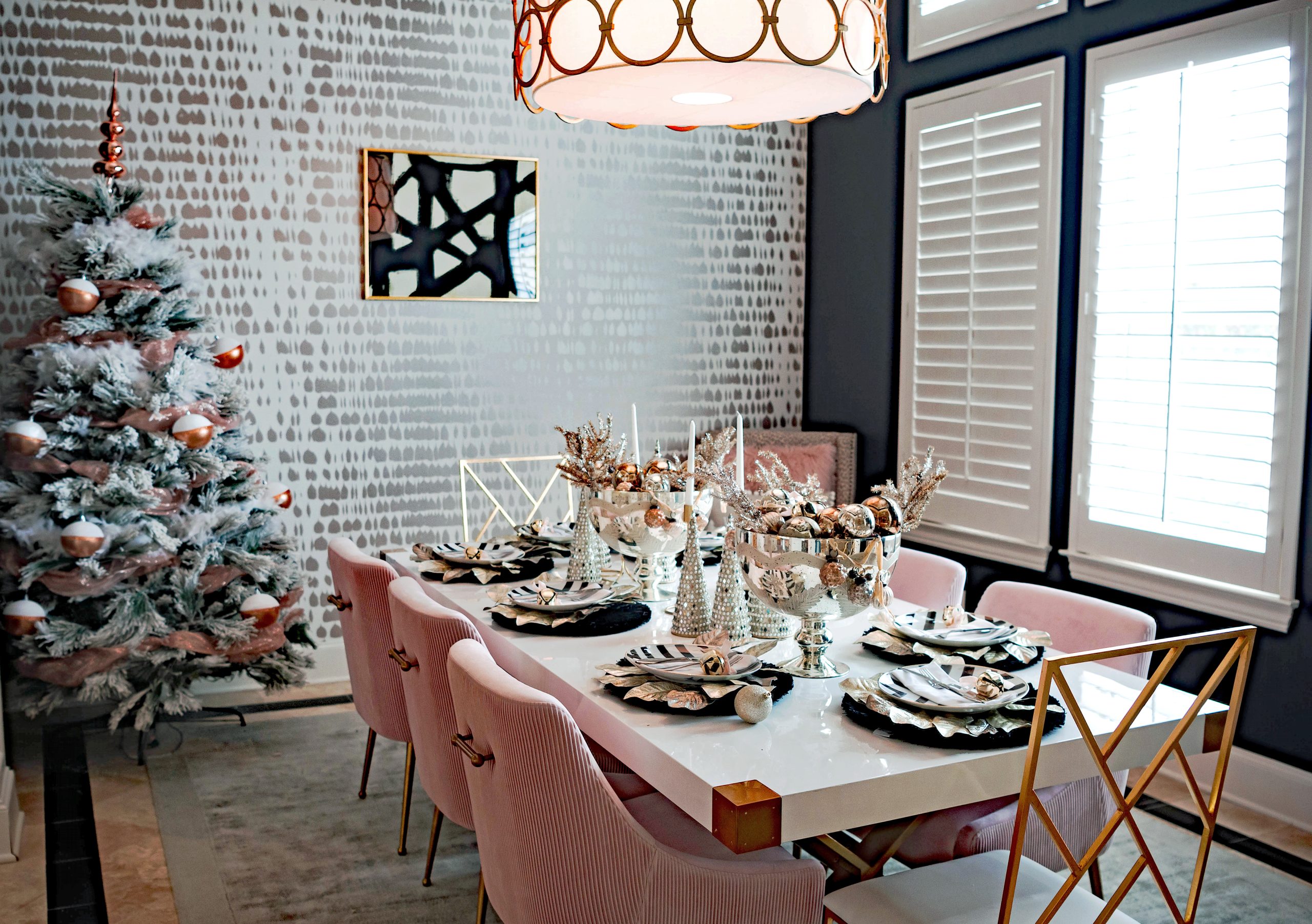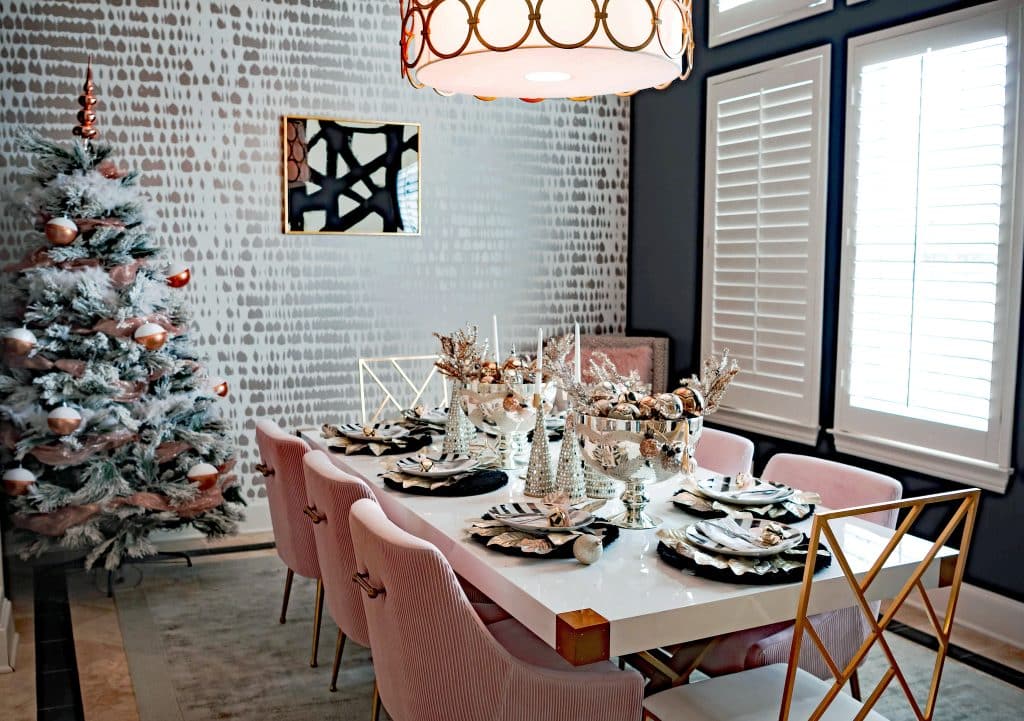 Make it magical // There's never a better time to bring dazzling, unexpected elements to your interiors than during the holidays. Whether it's a 10-foot tree, a colossal wreath of shimmering glass balls, or an extravagantly sized floral creation on your table, dive in and style like a boss.
We brought in a stunning oversized sleigh bedecked with garlands of rose gold and silver ornaments and then filled it with wrapped gifts.
Embrace non-traditional colors // I've given you permission to forego red and green in favor of the colors that are already in your home. Navy? Grey and white? Blush and bashful? How exciting to create a holiday theme in your favorite colors! Just add some greenery (which could be white or metallic) and some glitzy accents, and you're halfway there.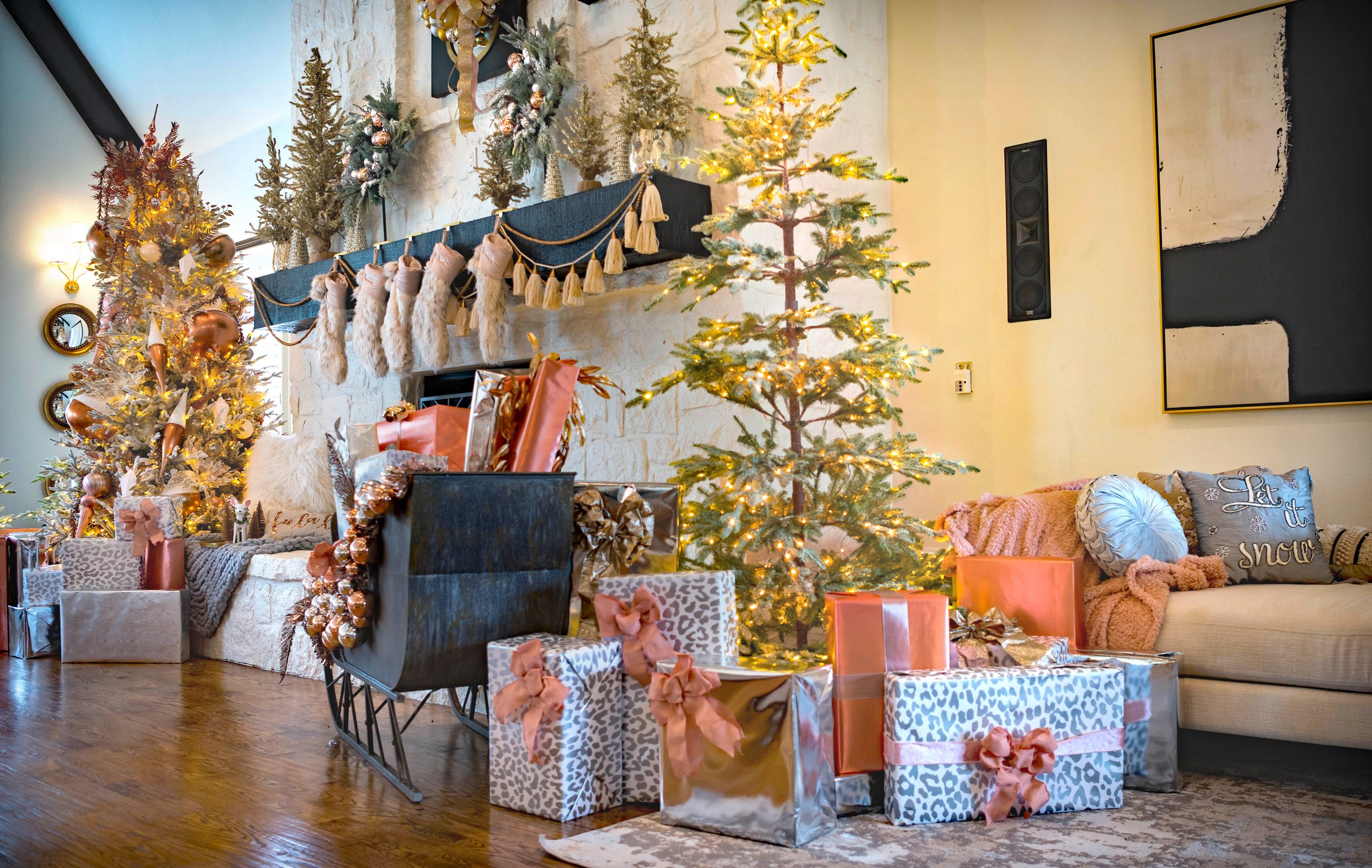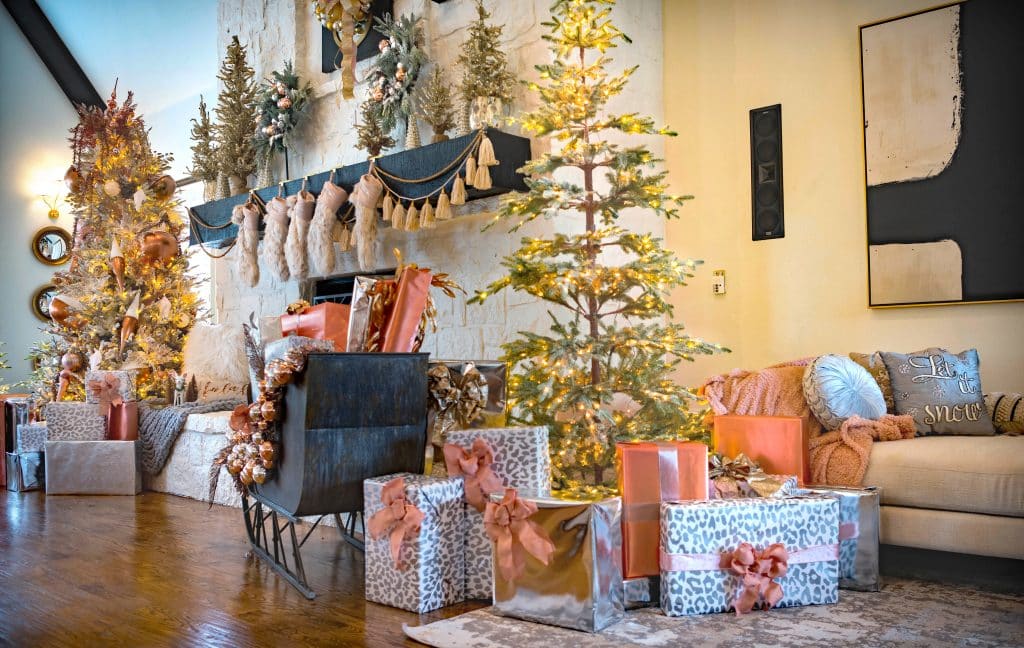 In my client's home, blush tones and mixed metallics were already in play. Her festive decor is an extension of that theme, but of course, with more shine and glamor.
The holidays mean food and gathering around the table, so these special days are a perfect opportunity to set a festive spread with plenty of sparkle. To bring in the winter wonderland, we didn't spare the wow factor — we used plenty of mixed metals, from rose gold to champagne to silver.
I love the gold magnolia leaf chargers under the striking geometric black and white plates. We finished off this sophisticated setting with rose gold flatware and an extra-large gold jingle bell tied with a delicate organdy ribbon.
2020 has been a crazy year, right? If the prospect of decorating for the holidays brings out only a sigh or a groan, it may be time to shake up your approach. Set those boxes of old, tired things aside for donation. Go out on a limb by looking around your house and asking yourself, "What do I really like?" When you've answered that question, you're on your way to creating a vibrant new holiday look in your home. It may be red and green — but then again, it might not! And that personal touch is what will make your holiday decor special.
Courtney Warren is a Dallas area interior designer whose award-winning design work has been featured in numerous national magazines and media and whose clients span the North Texas area.