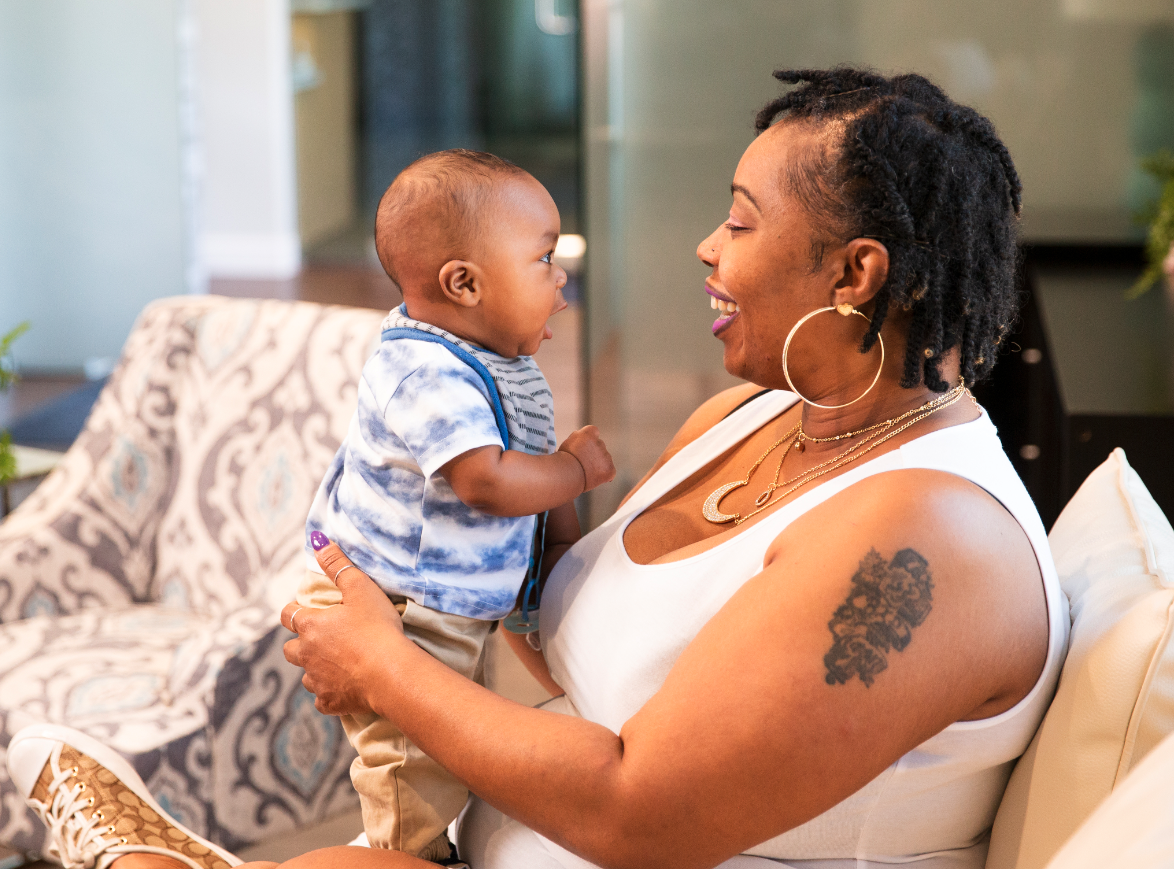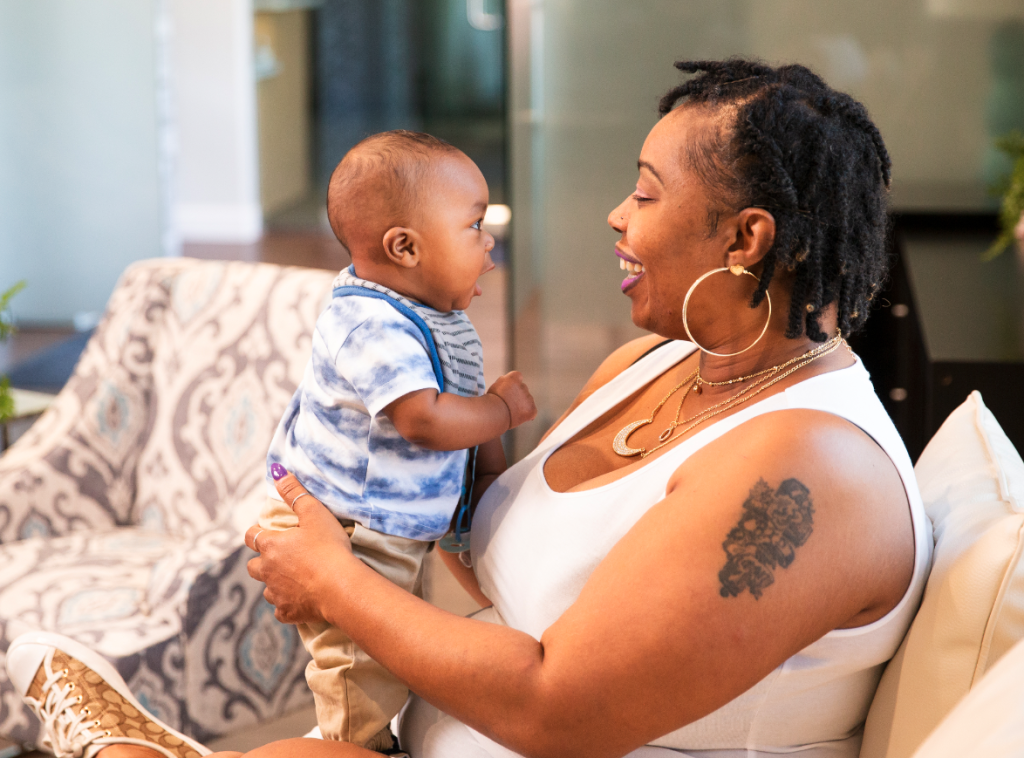 By Meredith Knight
---
At almost 40 and already the mom of 24 and 16-year-old boys, the last thing Shaniqua wanted was to become pregnant. When faced with that reality, abortion seemed like a natural choice for her. Sadly, it's the decision 50,000 Texas women make each year —with 25% of those right here in DFW. Shaniqua reached out to Real Options in Allen to confirm she was indeed pregnant. That's where she met Christi.
Christi began reaching out to Shaniqua by phone, every couple weeks. "Christi called and just checked up on me," Shaniqua said. "There was no judgement and no pressure. She just wanted me to know I wasn't alone. She let me know it's okay to be scared. It's okay not to know what you want to do. She'd stand beside me, no matter what I decided. She became like family to me."
In the end, Shaniqua chose life for her little boy and in January 2022, Marce' was born. This vibrant, happy child is just one of 2,458 babies who've been saved from abortion, just in the last two decades, thanks to the efforts of Real Options and their many community partners. For 36 years, they've fought to protect the most vulnerable in our society, the unborn. But they've done much more.
"Being pro-life doesn't just mean we're concerned with saving pre-born babies," said Real Options Executive Director Jennifer Shelton. "It means we're pro-'abundant life'; that life Jesus describes in John 10:10, when He said, 'I have come that they may have life, and have it in abundance.' Each journey is different. But each life is important to God."
"Real Options educates young people about a life of purity, provides sonograms so families can see life, encourages moms through life-affirming counseling to choose life, introduces people to Jesus for eternal life, celebrates at baby showers to welcome life, and offers healing through abortion recovery to restore life," Jennifer said. "We can't make a decision for anyone, but we can walk them through the physical and emotional effects of abortion and offer them real life-affirming options."
Real Options was the first pregnancy center in Collin County and the first center in the state to offer free sonograms. For 36 years, they've joined with their partners to offer:
Prevention through the 180 degrees education program that serves in middle school, high school, youth groups, and parent seminars

Point-of-decision advocacy and medical services with the help of licensed medical personnel, OB-GYNs, and trained patient advocates providing information on all options of pregnancy

Post-abortion care and healing through group Bible studies and one-on-one care for women who've already experienced abortion

From the beginning, Real Options chose not to receive government funding, never wanting to be limited in their pursuit to share the love of Christ. Yet all their services are free of charge thanks to the support of the family of God including individuals, Christian businesses, and 52 local churches.
Abortion Recovery
Real Options believes the Lord can and will redeem, restore, and free those who've experienced abortion. Their Real Options Abortion Recovery (ROAR) helps women face the sin, accept the forgiveness, and walk in freedom.
"This 10-week Bible study of healing and restoration is designed for women who've experienced abortion, even if it was years ago," Jennifer said. "We've actually counseled with women after a previous abortion who returned to us because they remembered how respectfully they were treated and chose life the second time."
180 Degrees Abstinence Educational Program
Real Options believes the best way to prevent the devastation of abortion is by educating our young people to recognize their worth in Christ. By understanding the beauty of sexual intimacy within marriage, unexpected pregnancies won't occur, and abortion will never be a possibility. 180 Degrees is championed by professional speakers who bring this vital message to 17 school districts and many local churches. Over 15,000 students hear this vital message every year.
Real Options Mobile Unit
The newest Real Options program brings their services outside the four walls of the clinic with a state-of-the-art satellite location on wheels named Zoe (Greek for "life"). This mobile clinic is a 32-foot RV that's been customized to serve clients in the same ways as the brick-and-mortar location, including sonograms and professional medical care. The new mobile unit allows them to go to those who need Jesus' love and need to hear the option of life instead of abortion.
Annual Client Events
"Our goal is to share the hope of Jesus Christ with clients then plug them into a church who can continue to minister to them," Jennifer said. One way they do this is through an annual festival for clients and their children where partner churches set up carnival games and other fun activities, so clients can connect with church members one-on-one.
You Can Help
It's estimated that it costs $2,235 for Real Options to help save a single life. You can be a part of their life-affirming work in many ways including:
Become a prayer partner. Text ROFW to 22828 to sign up for weekly updates.
Volunteer as a patient advocate to help clients one-on-one.

Volunteer at events.

Get your church and/or your pastor involved by becoming a liaison.

Donate baby items or host a baby shower at your church.

Follow Real Options on social media.

Make a one-time or recurring financial donation.

Visit FriendsofRO.com to see whether your company will double your donation.

Contact Real Options at (972) 424-5144 for even more ways to help.
The overturning of Roe v. Wade was a step forward but sadly the work is far from over. Pregnancy resource clinics like Real Options are the last line of defense before desperate couples cross over into other states to obtain abortions. Real Options will continue to be a beacon of light to the most abortion-vulnerable in our community through their Allen location, mobile unit, and two new clinics soon to open in Melissa and Oak Cliff.
"By age 45, one in four women has chosen abortion," Jennifer said. "Every day we hear women say, 'I have no other choice.' We want them to know they can choose life." Please pray about joining Real Options' work of saving lives on earth and for eternity.
Real Options Offers Free-of-Charge:
Pregnancy testing

Sonograms (ultrasound)

Crisis and ongoing professional counseling

Sexually transmitted infection screening

Post-abortion support groups and Bible studies

Abstinence education

Life-coaching and mentoring

Community referrals

Baby supplies