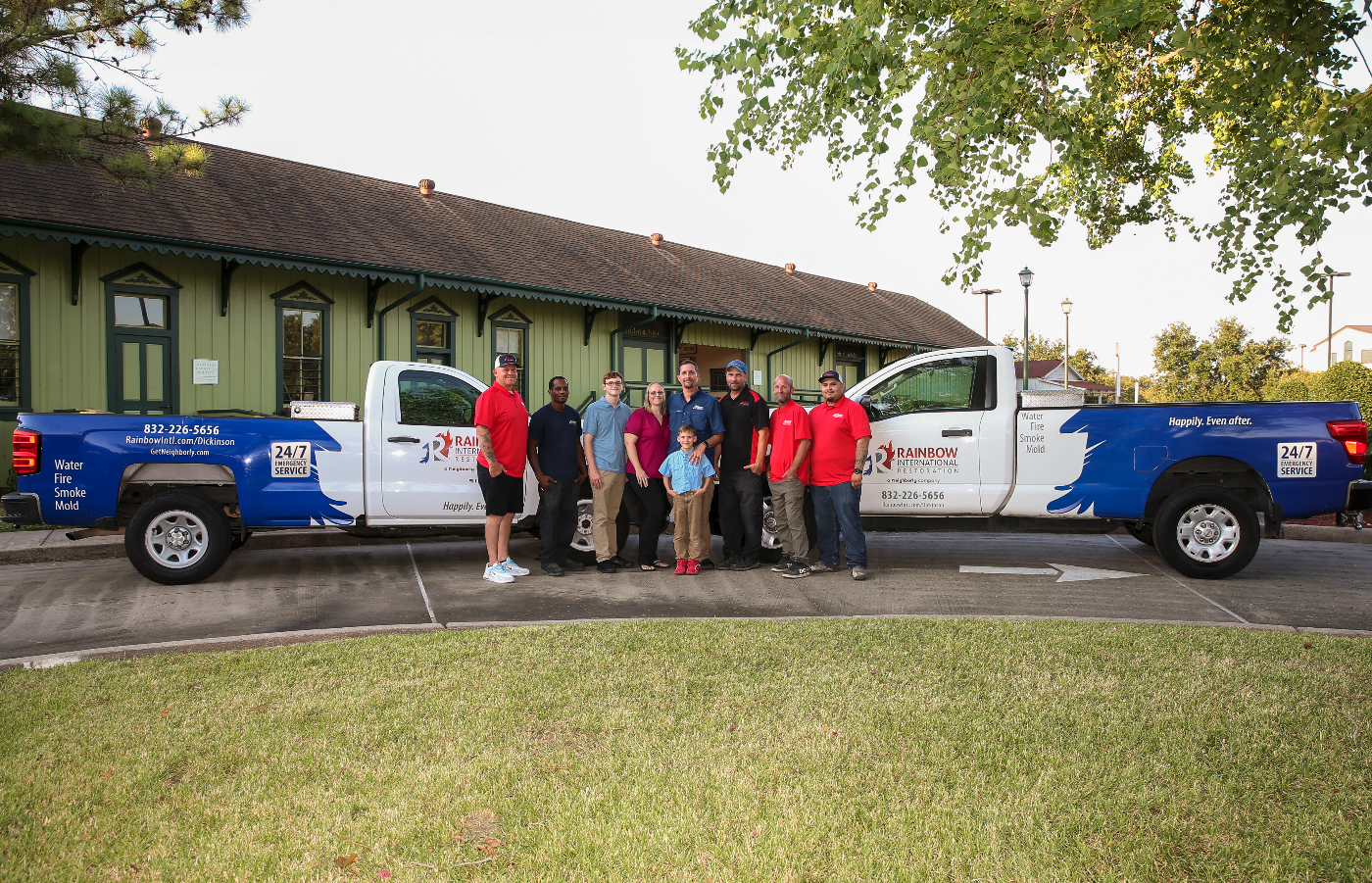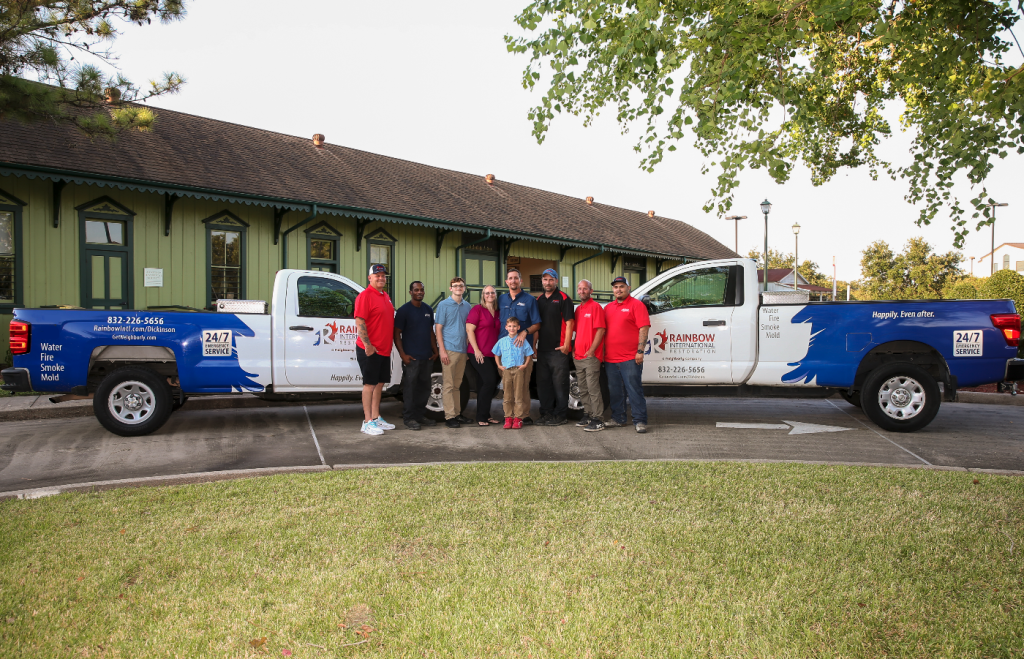 Photos by Gulf Coast Imaging Studios
---
Rainbow International Restoration of Dickinson – YOUR WATER MITIGATION & RESTORATION COMPANY! Since 2017, Rainbow of Dickinson has been of service to the Galveston, Harris, and Brazoria counties with full restoration and remediation services. This award-winning franchise was founded by Anthony Kott and Chris Beernaert, initiating services during Hurricane Harvey. "We provide 24/7 emergency service for water damage, fire and smoke restoration, mold remediation, asbestos abatement, deodorizations, disinfection, and cleaning," Kott said.
Helping others is the number one priority of their company, Owners notated. "Our primary purpose is to help people," Kott said. We are customer service driven and we strive to offer an over-the-top customer service experience. This is consistent with our code of values we recite at all meetings. Rainbow of Dickinson has received spectacular acclaim for their restoration work. The business garnered extreme favor in early 2021 as they came forward to help those affected by Winter Storm Uri. During such times, in which many suffered property damages, the Rainbow team was on the frontlines operating as one of the primary businesses helping restore damaged homes.
The co-founders' dedication to community service can be seen outside of their work, with both being proud family men and servant leaders. Chris Beernaert loves to educate homeowners in our community on processes that they are often unaware of. He recommends that homeowners cover their property accordingly with a local customer service-based insurance agent. Your agent can be a great resource in the claims process and your advocate when needed.
In 2022, this Rainbow Int'l of Dickinson location moved up 10 spots to #2 in their region and were awarded the TOP GUN – COMMANDER AWARD. Last year, they received the Rainbow Int'l TOP GUN – LIEUTENANT AWARD. This award is awarded to the top 10% of 400 other Rainbow Int'l locations in the world! They were also awarded Business Member of the Month in April 2021 by the League City Regional Chamber. Beernaert attributes their success to their genuine care and love for what they do. "It's because we genuinely care," Beernaert said.
For Beernaert, there are several things that make Rainbow Restoration of Dickinson unique. This includes level of quality, critical thinking and salvaging precious items and materials in a person's home which can prevent massive amounts of inconveniences in the rebuilding and claims processes. Above all, it is the care for what is in the best interest of the customer. Beernaert feels this separates their restoration company apart from similar businesses. "We are restoring lives, building community relationships and focused on the growth of every individual we come into contact with."
For Kott, their services fulfill their franchise's mission, which can be summed up in one word, ministry. "Ministry, because I'm fulfilling my calling that God gave me by serving people through restoring their home or business after they incur a loss." Kott said. "We have the opportunity to help people in our community who are going through a traumatic experience by restoring their homes and walking them through the insurance claim process."
Chris Beernaert also has over 20 years of experience in building sciences working through catastrophic storms, with extensive experience throughout multiple catastrophic events. Chris is IICRC master certified in water and fire damage restoration, state certified in mold remediation, and EPA lead certified. Chris is one of a handful of others that have this level of certification within 150 miles of Dickinson, Texas. Chris willingly shares his restoration experience daily, training the Rainbow team. He is always quick to share his knowledge with other tradesmen as well. Tony Kott also worked Hurricane Harvey and Winter Storm Uri. Tony is certified in asbestos abatement and water restoration. Hiring true professionals can prevent easily avoidable mistakes and frustrations.
In the coming years, Rainbow Restoration of Dickinson only plans to grow as big as it can while continuing to provide stellar service to its community. A community they are grateful to be a part of and serve! "When you are in need of a quality and customer service driven company we will be here" Kott said. "We are here to help the people in our community through tough seasons in their lives. We are transparent and trustworthy. Our customers have become an important part of the growth of our Rainbow family."
Thank you to our community and customers who voted us LIVING MAGAZINE'S BEST OF Restoration/Cleaning!
Proudly serving
Galveston County, parts of Brazoria County, Seabrook, Nassau Bay and NOW the majority of Pearland zip codes.
Please mention LIVING MAGAZINE when you call us!
Reviews
"Absolutely great customer service and work! These men were very informative and efficient! Communication was excellent! I hope we won't ever need them again BUT if we ever needed them again, I wouldn't hesitate to call them!"
– Lu Cretia HL
"Chris, David, and the team are the best. They are on the spot with every detail. They are the people's defender when working with insurance companies and private jobs. Great quality work, service, attention which was extremely appreciated by a single woman that did not understand insurance dealing. Truly a company for the people and not focused on money but on pride of job well done."
– Pamela P.
"They were thorough, professional, and went above and beyond my expectations when I had pipes burst and crack. Chris was kind, explained everything in detail, and came back a couple of times to resolve small issues. I would recommend them over-and-over again."
– Ashley G.
"Rainbow International of Dickinson came to my rescue after 3 pipes burst in my ceiling. They were thorough, efficient, professional, and friendly. The workers worked long hours trying to get the job done. I would recommend this restoration company without hesitation."
– Patti D.
Be Prepared for Hurricane Season with Rainbow Intl Restoration of Dickinson
Commercial clients, please call to sign up for our 24/7 Emergency Response Program today.
Water Damage

Fire & Smoke Damage

Asbestos Abatement

Board Up & Tarp Over Services

Mold Removal & Remediation

Deodorization, Sanitizing & Cleaning

Trauma Scene Clean-Up

Content Pack-Out & Pack-In

Commercial and Residential