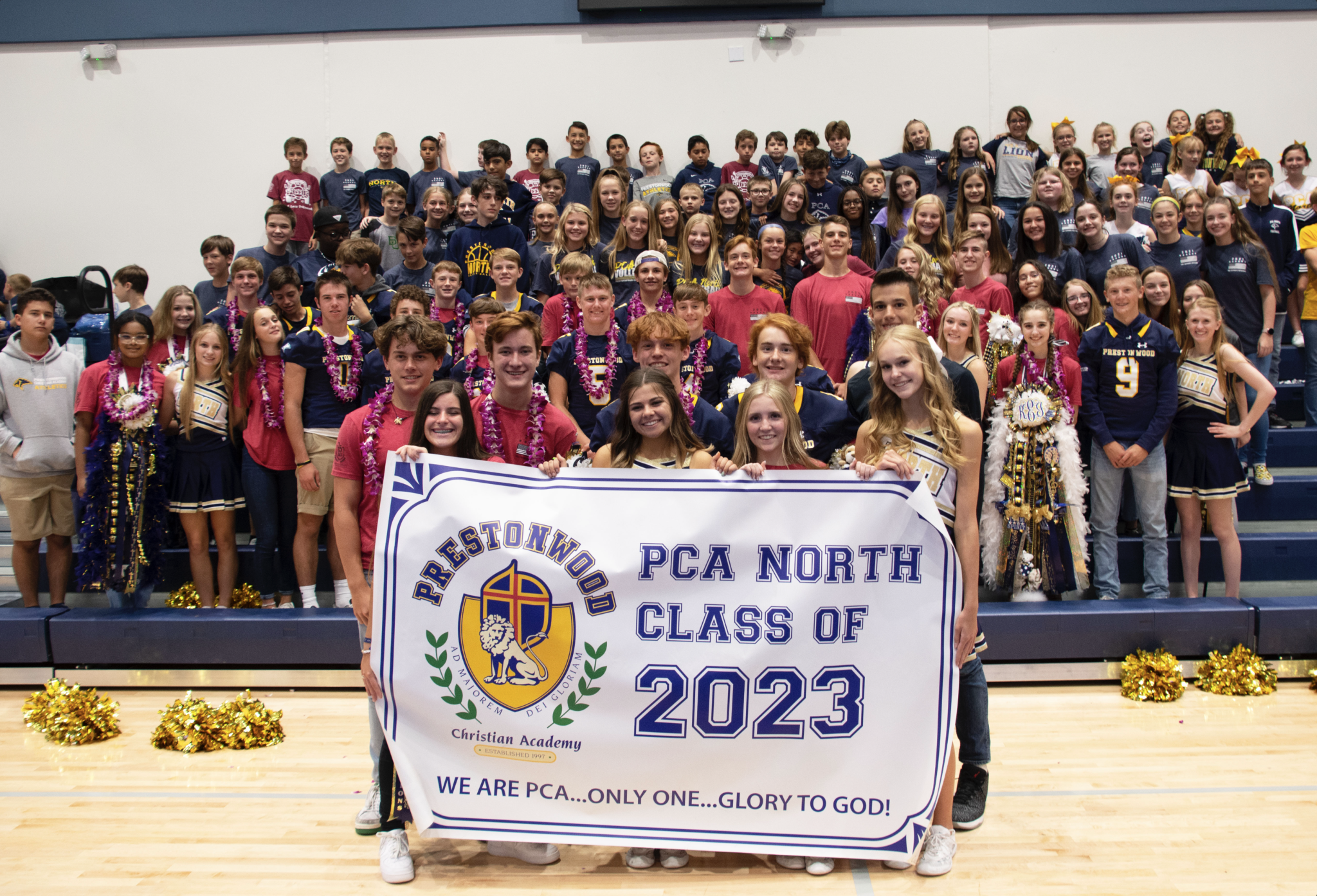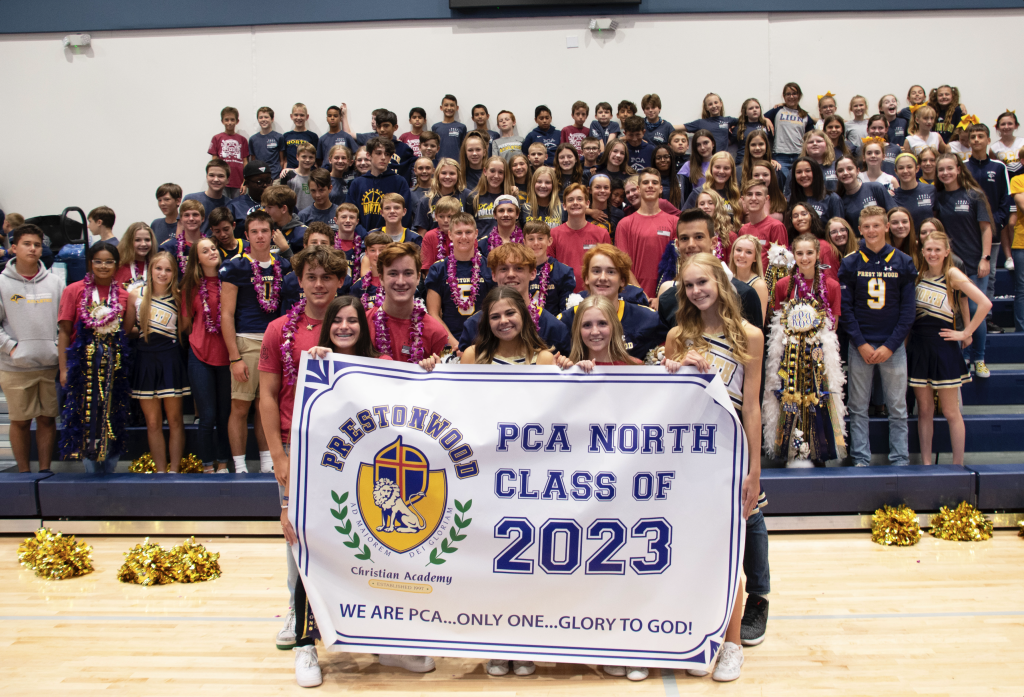 By Meredith Knight
---
It's an exciting time at Prestonwood Christian Academy as the senior class begins its nine-month march toward graduation. Of course, any high school graduation is monumental but it's even more so for this — the first graduating class from this Christian, college-prep academy. Each event, such as senior retreat, junior/senior banquet, senior capstone, senior awards ceremony, senior run, senior family breakfast, baccalaureate, commencement, and post-graduation bash will be happening for the first time at the North Campus of Prestonwood Christian Academy. And the significance isn't lost on the students, the parents, administration, or staff.
Parent Kim Shirley has three children at PCA. This year they'll watch their son, Garrett, walk the stage and graduate with the class of 2023. She and her husband were originally attracted to PCA because, having both grown up in small towns, they liked the idea of their kids attending the same school throughout elementary, middle school, and high school. Once they were there though, it was the Kingdom Education they appreciated most. "The partnership with the school has meant the most," she said. "It's so powerful to have the staff we have and other parents who come alongside us and fill in the gaps we have as parents."
When new families enroll at the school, Kim and other parents are intentional about making sure they feel welcome. "When a new family comes in, I tell my children to pay attention to that child, on the first day. Parents (and kids) are looking to be accepted and belong. PCA is very community focused. We want them to know 'We see you. We're here for you. We want you to join us in this journey.'"
Kim feels like the tuition she's paid over the years is an investment in her kids. "It's been a walk of faith," she said. "We feel the Lord leading us to continue
the commitment."
Kerry and Blythe Burt feel much the same. They'll have a fourth and fifth grader this year. "It's been interesting to see the school grow," Kerry said. They originally visited the school for a preview breakfast and were instantly attracted to the idea of a Kingdom Education for their kids.
"Even in the math and science classes, scripture and God's word are part of the curriculum," Blythe said. "The things they hear at church and home agree with what they hear and see at school. Every teacher gets to the heart of where our kids are emotionally, spiritually, and academically, and every year they're digging into how the students can grow individually right where they are and how they can help them grow in their weaknesses to make them into strengths." The Burts agree the commitment they're making financially and timewise is more than paying off.
"I don't think there's any money better spent," Kerry said.
"We're never disappointed at the curriculum," Blythe said. "They're learning to be independent thinkers with biblical world views. They're being built up to defend their faith, to know why they believe what they believe, but also academically to be successful in college because of the foundation they received at PCA."
Carter and Julie Morris started their first child in public school and were happy enough with the education they received there. But they felt like their second child would benefit from the pre-K-five class at Prestonwood Christian Academy North. That's when God spoke a word to Julie. "He told me our kids would survive in public school, but they would thrive at PCA," she said. The couple began praying about making the change for all three children. Looking back, they're thrilled they did.
"Kingdom Education is preparing our kids way beyond school and college but for life," Carter said. "Family, school, and church are a partnership. Our children spend the day in an environment that's based on God's word. The conversations we have around the table at night bear that out."
"Tuition isn't a sacrifice but an investment," Julie said. "It's not about giving up something but putting something in. It was a proactive decision to invest in our kids and we're already seeing the results."
From its inception, Prestonwood Christian Academy has had a clear mission: to assist Christian parents like the Shirleys, Burts, and Morrises by helping equip students to embrace biblical truth, strive for academic excellence, and model Christ-like leadership to influence their culture, churches, and homes for Christ. What began as one school in 1997 has grown, as the Lord has blessed, into a school system which now includes six schools serving more than 2,500 students. Those schools include PCA Online which began in 2009 and PCA North established in 2014. St. Timothy Christian Academy relocated to the PCA Plano location in 2018 and The King's Academy opened in South Dallas in 2019. God has orchestrated every step along the way.
"We're celebrating the past and looking forward to the future," said PCA North Middle/Upper School Principal Greg Wright. "Nationwide Christian schools are experiencing 38% growth. Parents want an education that grows their children not just academically and physically but spiritually, emotionally, and socially. Our emphasis is on discipleship, mentoring children to grow and mature as godly people capable of making sound moral decisions, teaching them to think biblically."
So, here's to the PCA class of 2023, Ben Axene, Lauren Doty, Caleb Drake, Madigan Matthews, Laura Poole, Hannah Scott, Garrett Shirley, Noah Smith, and Evan Thornberry. As Jeremiah 29:11 promises, "I know the plans I have for you," declares the Lord, "plans to prosper you and not to harm you, plans to give you hope and a future." We wish you all the best God has in store for you as you go forward to impact the world for Jesus Christ.
Find out more at North.PrestonwoodChristian.org
---
Contact
1001 West Prosper Trail
Prosper, Texas 75078
(972) 798-6780
North.PrestonwoodChristian.org