Recipes and photos by Melissa Tate
Among nature's picaresque sights and sounds, partake of perfectly packaged provisions


Crisp Thai Salad

Serves: 8 to 10 | Time: 30 minutes

For the salad:
1 small head green cabbage, chopped | 1 small cucumber, peeled and diced | 1 carrot, peeled and shredded | 1 cup dry roasted peanuts, coarsely chopped | 2 green onions, chopped
For the dressing:
3 Tbsp. sugar | 1 Tbsp. smooth salsa | 1/3 cup white vinegar | 1/3 cup vegetable oil | ½ cup chopped fresh cilantro | ½ sweet red bell pepper, seeded and chopped | 3 cloves garlic, minced
instructions:
In a large bowl, combine the cabbage, cucumber, carrot, peanuts, and green onions.
In a separate bowl, combine all dressing ingredients and whisk until well mixed.
Pour the dressing over the vegetables and toss.
TIPS & TRICKS
Recycled glass jars are the perfect container for picnic salads. Use various sizes so guests can choose their serving size.
---

Easy Breezy Caprese Sandwiches
Makes: 4 sandwiches | Time: 20 minutes

Ingredients:

4 large ciabatta rolls, cut in half horizontally | 1/3 cup mayonnaise | 1 cup baby spinach | 1 Tbsp. refrigerated basil pesto | 8 oz. fresh mozzarella | 12 large leaves fresh basil | 1 tsp. balsamic vinegar | 2 medium tomatoes, cut into ¼" slices
instructions:
Place roll halves on work surface, cut sides up. In small bowl, combine mayonnaise and pesto. Spread mixture on cut sides of the roll halves.
Layer spinach, cheese, tomatoes, and basil on roll bottoms. Drizzle vinegar over basil and replace roll tops.
Cut each sandwich in half diagonally, and serve.
---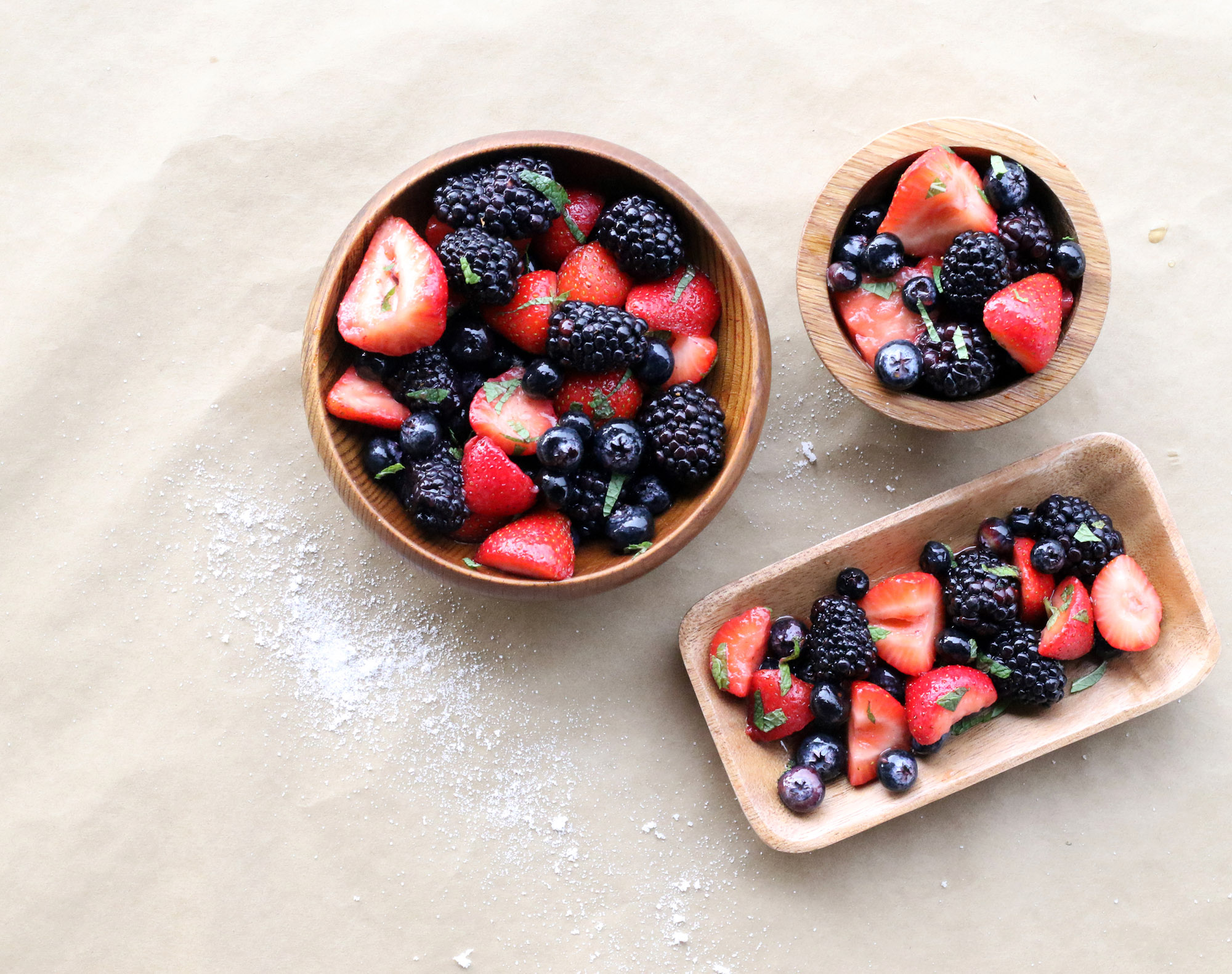 Fresh Mint Mixed Berries
Serves: 4 to 6 | Time: 15 minutes

Ingredients:
1 cup blueberries | 1 cup blackberries | 1 cup strawberries | ¼ cup sugar | ¼ cup freshly squeezed lemon juice | 2 Tbsp. chopped fresh mint
instructions:

Combine blueberries, blackberries, strawberries, and mint in a serving bowl and toss.
In a small bowl, combine lemon juice and sugar. Drizzle over fruit.
Cover with plastic wrap and refrigerate until ready to serve, up to six hours.

TIPS & TRICKS
Pack your basket in reverse order to make it easy to get at the items you need when you arrive at your picnic site. Place nonperishable food on the bottom, then serving items and tableware, and finally the tablecloth on top.
---
About Our Chef
Melissa is a freelance food writer with a passion for hospitality and home cooked meals. Along with writing, she helps her husband run their working ranch and event venue in Rockwall, Texas. To follow her cooking and ranching adventures visit MelissaTateTX.com or find her on Instagram at @melissatatetx