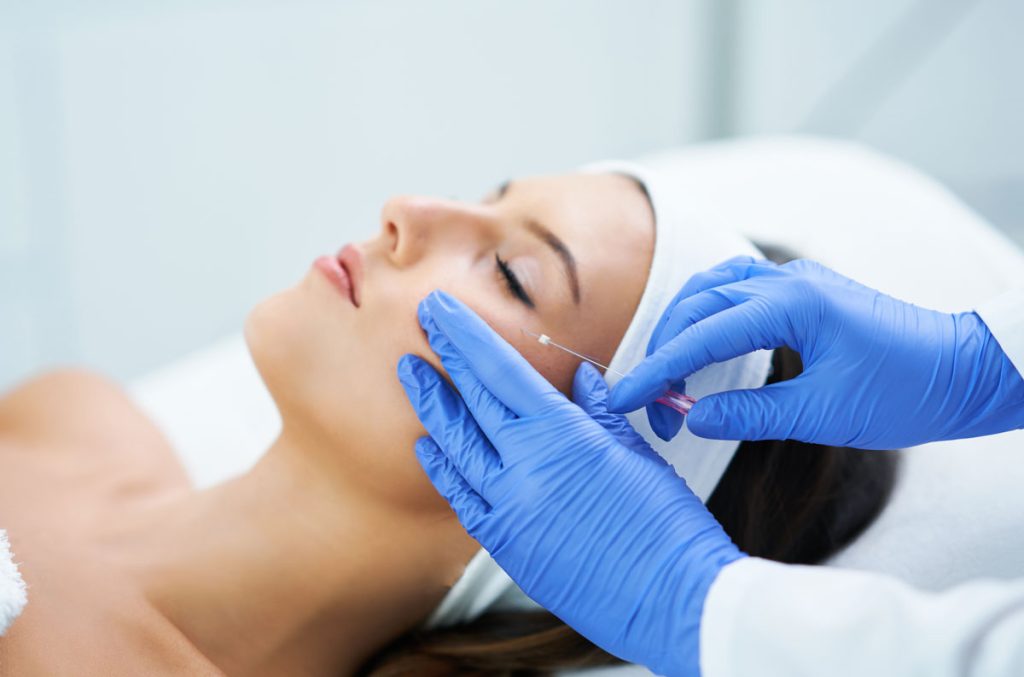 By Annette Brooks
Have you ever gently pushed your cheeks back and upward to see what you could look like with a mini facelift? Wouldn't it be great if this could be done with "invisible" threads instead of a scalpel? Your wish is granted with PDO MediThreads!
The FDA-cleared, minimally invasive, in-office treatment is a versatile, targeted approach that lifts, firms, and tightens lax skin by promoting elastin and collagen production and contracting fat tissue.
What Areas Can Be Treated?
PDO MediThreads can be used to address sagging, lax skin in the face, neck, and body with natural-looking results. Facial applications lift nasal labial folds, smooth marionette lines, and improve crow's feet and frown lines. Applied to the neck, PDO threads can visibly lift and smooth lax skin. Different body areas with skin laxity, such as the arms, inner knees and thighs, and stomach, can also be lifted and firmed with PDO MediThread treatment.
"Lunchtime" Injection Procedure, Minimal Downtime
The PDO MediThread procedure itself typically takes from 15 to 30 minutes to treat a particular area. Once the treatment area is numbed for comfort and marked for thread placement, the threads are inserted deep under the skin in precise locations via a hollow needle. No cuts or incisions are involved. With the lift effect secured, the needles are removed without creating visible scars.
Expect the treated area to be bruised or swollen for around three to four days. You will receive aftercare instructions that outline what to avoid and things you can do to promote healing.
How Long Will Results Last?
Your body will absorb the threads within about six months after placement. The lifted contour should last around 12 to 18 months after the procedure due to ongoing collagen production.
Can I Combine the PDO MediThread Lift with Another Aesthetic Procedure?
Other anti-aging services such as injectable fillers and Botox or Dysport may be performed along with a PDO thread lift. Ask your aesthetic services provider to explain what can and cannot be done simultaneously with PDO threads based on your case, the areas you want to address, and what you want to accomplish.
How Much Will My Treatment Cost?
It depends on the number of areas you wish to have treated and the number of threads needed to improve those areas. Your aesthetic provider should review a cost breakdown with you during your consultation.
How Can I Maintain Long-lasting Results?
Depending on your needs, your aesthetic provider may recommend repeating the procedure every nine months or so after the first procedure to create a lasting effect.
Is Everyone a Good Candidate?
Not everyone is an ideal candidate. Someone with thin, fragile skin, for example, may not be well-suited for this treatment. Schedule a consultation with your aesthetic provider to find out of you're a good candidate and what kind of results to expect.