My daughter and I visit England's Lake District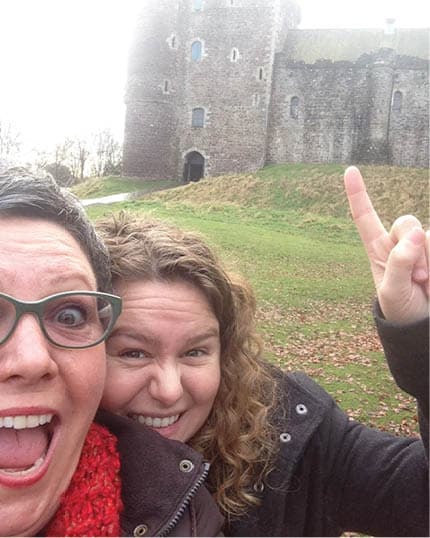 If we're lucky, each of us will get to enjoy one perfect day before we leave this earth. I'm pretty sure I've had mine. It began with two of my favorite things. It was winter and I was in England. I was also with my 23-year-old daughter, Molly, and it was the first trip we'd taken not just as mother and daughter but as two women getting to know each other on equal footing.
Molly was in Europe enjoying a gap year, after college. I'd met her in Northern Ireland and we'd already spent two weeks bouncing around Ireland, Spain, and Scotland. We'd discovered we're ideal travel companions, mainly because we geek out over the same things and are completely comfortable meandering around a strange country with no ideas where we might go or what we might do.
Case in point—the morning in Scotland when we realized we were half an hour from the castle where Monty Python and the Holy Grail was filmed. Molly and her siblings were raised on that movie and that humor. So, the rest of that day was spent devouring every square foot of the castle, reciting Holy Grail dialogue, acting out favorite scenes, and snapping photos of each other in all the right poses.  ("I have to push the pram a lot.")
Doune Castle

Doune Castle is a medieval stronghold near the village of Doune, in the Stirling district of central Scotland. But if you're a Monty Python fan, you remember it best as Swamp Castle, The Castle Anthrax, Camelot ("Tis a silly place.") and the setting for the French taunting, the Trojan rabbit, and the ill-fated wedding in Monty Python and the Holy Grail which was filmed there in 1974. Your tour of Doune Castle includes an audio of Terry Jones offering Grail trivia. And the gift shop will even give you "two empty halves of coconut" to bang together, as you tour.
Now we were wandering around England, stopping when something caught our eye, not considering where we might sleep, until nightfall when we'd scour the net for a bed and breakfast, then waking to see what the next day might bring. We kept hearing about "The Lake District," so when we stumbled into that part of the country, we pointed our rental car lakeward.
The Lake District of England is actually a national park encompassing 911 square miles of forest, lakes, and glorious mountains. Most of it is privately owned and much is farmland speckled with sheep and divided by ancient stone fencing. The area is known for its dog-friendliness, with dogs welcomed into every shop and restaurant.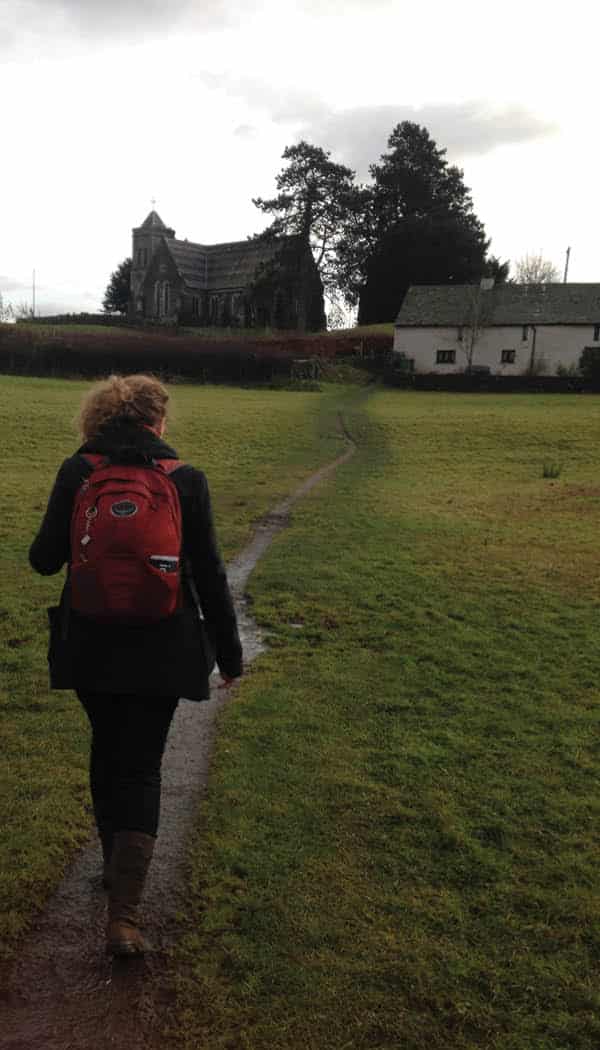 My perfect day began at the quintessential English B&B, in the quintessential English village, in the heart of the Lake District. The Cuckoo Brow Inn (circa 1600-something) sits on a hilltop overlooking the idyllic village of Far Sawrey, oozing with Old English charm, crackling fireplaces, leather armchairs, and a shingle over the pub bar reading, "Muddy boots, wet dogs, and children welcome." We'd arrived just after dark the night before, with no idea we'd driven onto the pages of an English calendar. Breathtaking doesn't begin to describe the view from our room at daybreak.
Up to this point, the cuisine in England hadn't been much to write home about. But the night before I'd enjoyed one of the top ten meals of my life, venison and potatoes in a savory gravy called hunter's pie. On the heels of this first culinary rock star came another for breakfast, eggs Hemingway, which was poached eggs and salmon served on a toasted English muffin with hollandaise sauce.  To die for!
After breakfast, we bundled up and set off to hike just under a mile to the home of another constant in Molly's childhood, author Beatrix Potter. We traversed a well-worn footpath to Hill Top, hiking past idyllic farms, thatch-roof cottages, and one lovely stone church, none of which seemed to have changed in the last century. As we hiked through verdant fields alongside a brook, with mountains on every side and green as far as the eye could see, it was easy to imagine Ms. Potter cavorting with Peter Rabbit, Mr. Jeremy Fisher, Jemima Puddle-Duck, and the rest.
The Hill Top cottage is beautifully preserved with scenes from the books laid out exactly the way they appear in Ms. Potter's illustrations. But the garden, oh the garden. I could have spent my life there amid Mr. McGregor's watering can and Beatrix's wooden wheelbarrow and beehives. Still we had another stop to make before the winter sun disappeared.
Hill Top

When Beatrix Potter died in 1943, she left 15 working farms scattered across the Lake District of England, donating them to the National Trust with the stipulation that they continue operating as farms. They all have.

Her Lake District home, Hill Top, is a 17th-century farmhouse she purchased in 1905. Potter herself left explicit instructions as to how the home should be displayed with many items, including her hat, gloves, and shoes right where she left them. It serves as a time-capsule of her life, with one of her beloved farms operating right next door.

Potter fans are thrilled to find the dollhouse from The Tale of Two Bad Mice and kitchen furnishings from The Tale of Samuel Whiskers, exactly as they appear in her illustrations. And it's easy to follow the shenanigans of Peter Rabbit throughout the working garden.

Less than a half hour from Hill Top, in the village of Grasmere, is Dove Cottage, the home of poet William Wordsworth. We learned during our tour of his friendship with Samuel Taylor Coleridge and other renowned poets and saw the very couch he referenced in "I Wandered Lonely as a Cloud." The guide pointed out the window to a back-garden Wordsworth built with his own hands, complete with slate steps cut into the hillside. It was there, at the top of the garden, where he would pace and compose his poetry.
Dove Cottage

William Wordsworth wrote some of the greatest poetry in the English language inside the tiny stone home he named Dove Cottage. Originally moving in with his sister, Dorothy, in 1799, he eventually married and the first three of his five children were born there.

With traditional low ceilings, dark paneling, and stone flooring, the home contains many of the original furnishings, artwork, and decoration William and Mary Hutchinson Wordsworth bought for it. Although they only lived at Dove Cottage for eight years enjoying what William called "plain living, but high thinking," he wrote the majority of his best-known poetry and most of his autobiography there and in the back garden.
As soon as the tour ended, we made a dash for the garden. We climbed the stone steps, and once we reached the top, Molly recited for me a Wordsworth poem she'd memorized. Then she reached into her backpack, and just as the sun was sinking, she read me a poem she'd composed that morning in the Hill Top garden. And the sun went down on my one perfect day.
Story and photos by Mimi Greenwood Knight