One-of-a-Kind Family Home Lovingly Displays the Past
Walking around Laura Towery's East Texas home, you can't help but picture this vibrant mom and grandmom visiting her favorite antique stops like a kid in a candy store. You don't decorate a home with this much personality, unless you're having a darn good time doing it.
"I call it 'livable art,'" Laura said, laughing. "We have a Great Dane and our grandkids in and out, so our house needs to be kid- and dog-friendly. It's not fancy. But I do enjoy making my home artful, livable—and fun."
Fun it is. From Laura's collection of antique horse statues, family memorabilia and loads of architectural salvage, guests are treated to one eclectic feature after another. "I like things really, really old or really, really contemporary," Laura said. And who says the two can't coexist? They do so nicely in this one-of-a-kind empty-nesters' haven.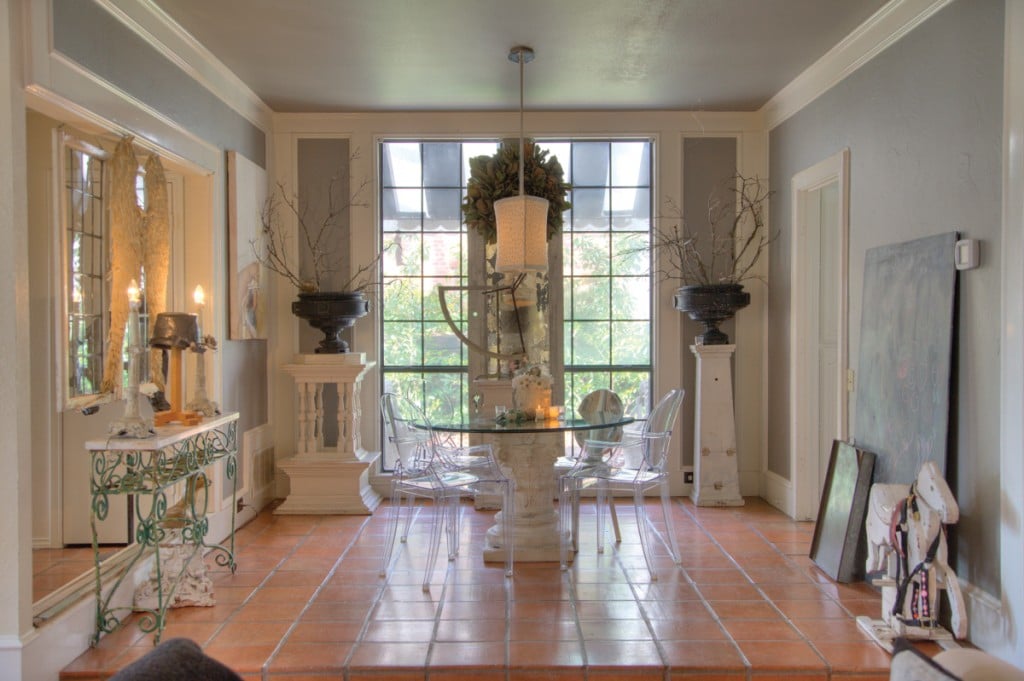 The raised dining room gains its open appeal courtesy of ceiling-to-floor windows reflected in a mirrored wall. The effect is inviting. Terracotta flooring, slate gray walls and a casual arrangement of architectural salvage, in the columns and side table, lend a look that's elegant without taking itself too seriously. Laura had a salvaged column cut down and topped with glass for the dining room table then surrounded it with Philippe Starck chairs in Lucite and tin. Windows frame an equally inviting outdoor living space.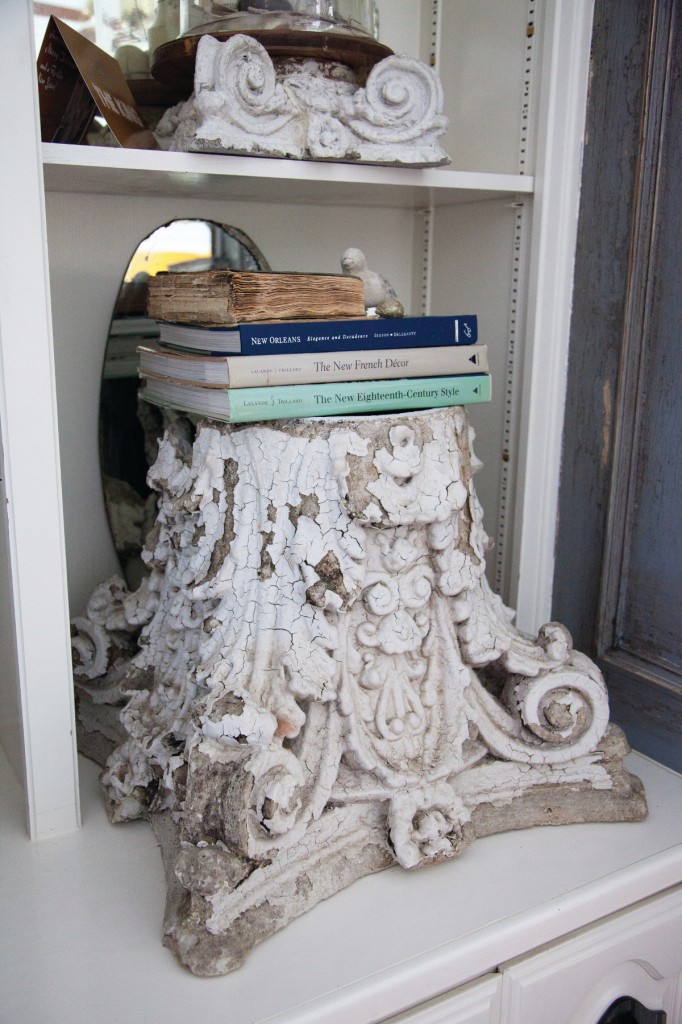 "Everything here means something," Laura said. "I think a family's home should tell who they are. There are so many great places to shop in our part of the country. Places like B. Grover and Chase Hall are treasure troves of goodies just waiting for someone to love them. I've adopted many wonderful pieces, and I'm always looking for more."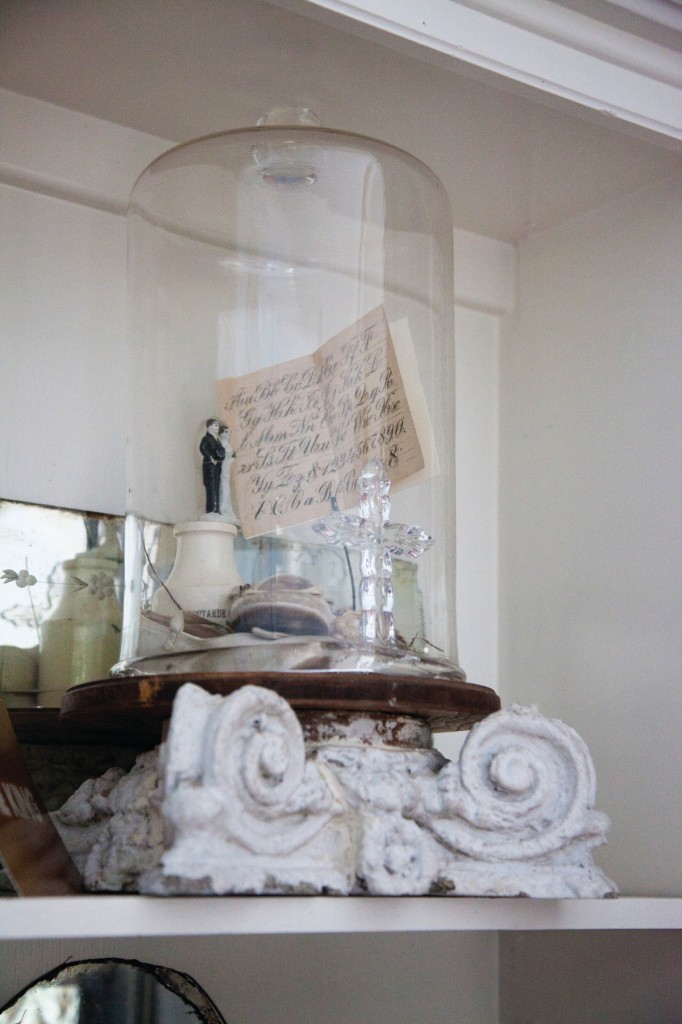 Lovingly assembled under a glass dome are the cake topper from Laura's parents' wedding in the 1940s, her own kid baby shoes, an antique penmanship exercise and other family memorabilia. "I call them living stories and change them up from time to time, switching out other family pieces to keep things new and interesting," she explained.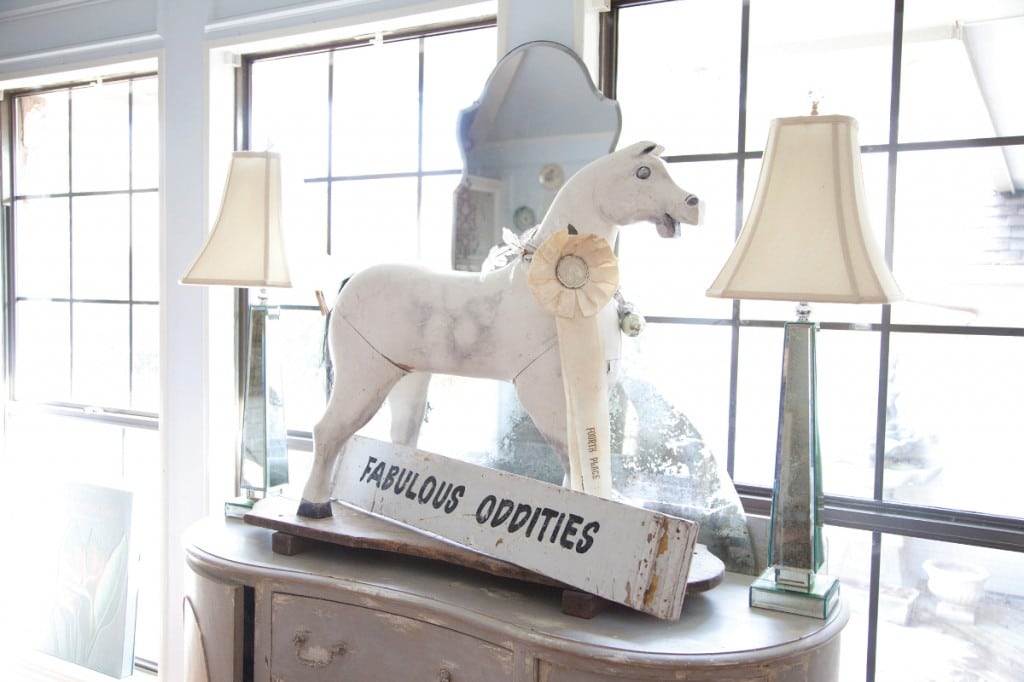 Two of Laura's favorite collections are her antique horses and vintage equestrian ribbons, both of which reflect her love of all-things-horses. "I'd trade my three sons before I'd trade my horse," she joked. Here a British salesman's sample Laura found at Patina Green sits atop an antique dressing table proudly displaying his fourth place ribbon.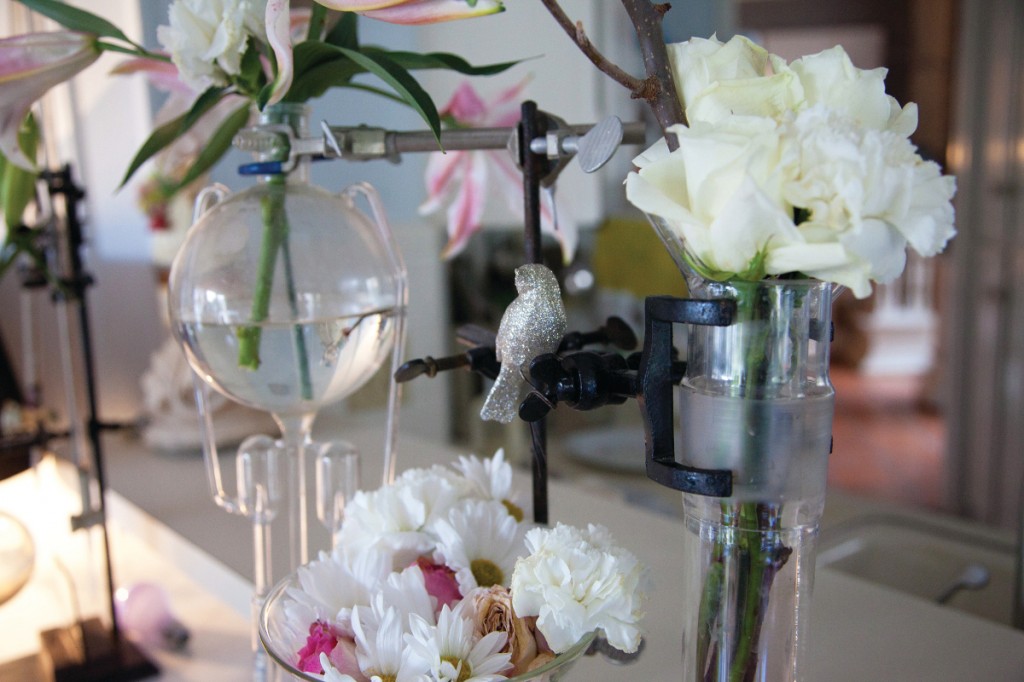 Nowhere is Laura's love for whimsy and non-traditional decorating more evident than in this arrangement of garden flowers in a vintage chemistry set. "Men love it," she said, laughing. "I can just grab some flowers from the yard, arrange them in the beakers, and it makes for a fun and unique conversation piece."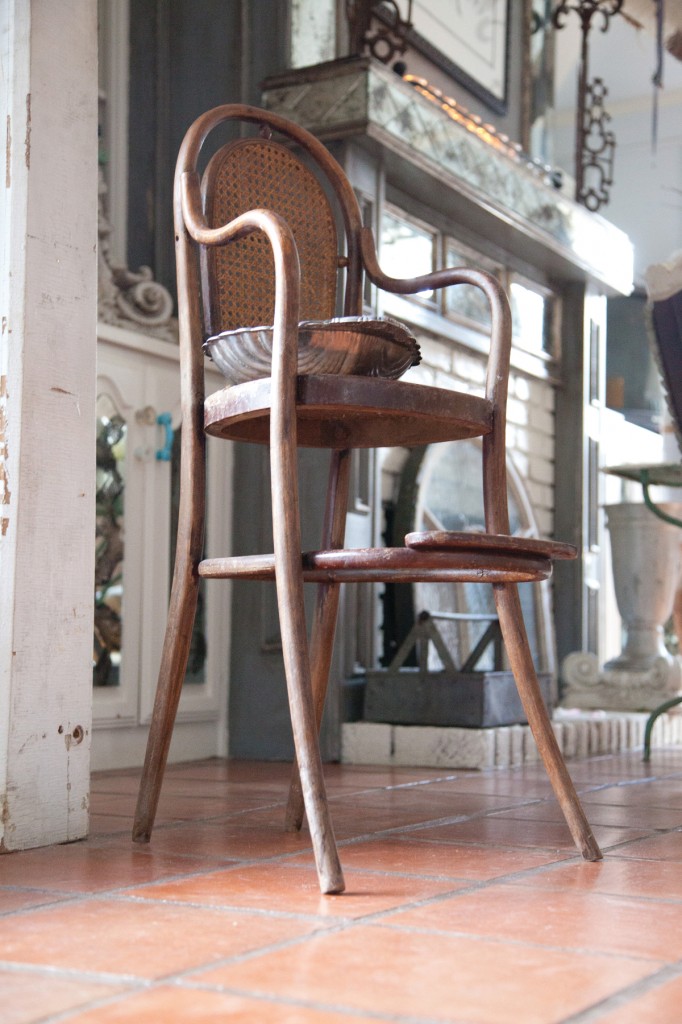 Like the rest of Laura's house, this antique highchair isn't just for show. It's ready and able to hold one of the grandbabies when they come for a visit. In the foreground a salvaged window is called into duty as a fire screen and a vintage carpenter's box awaits a stack of kindling.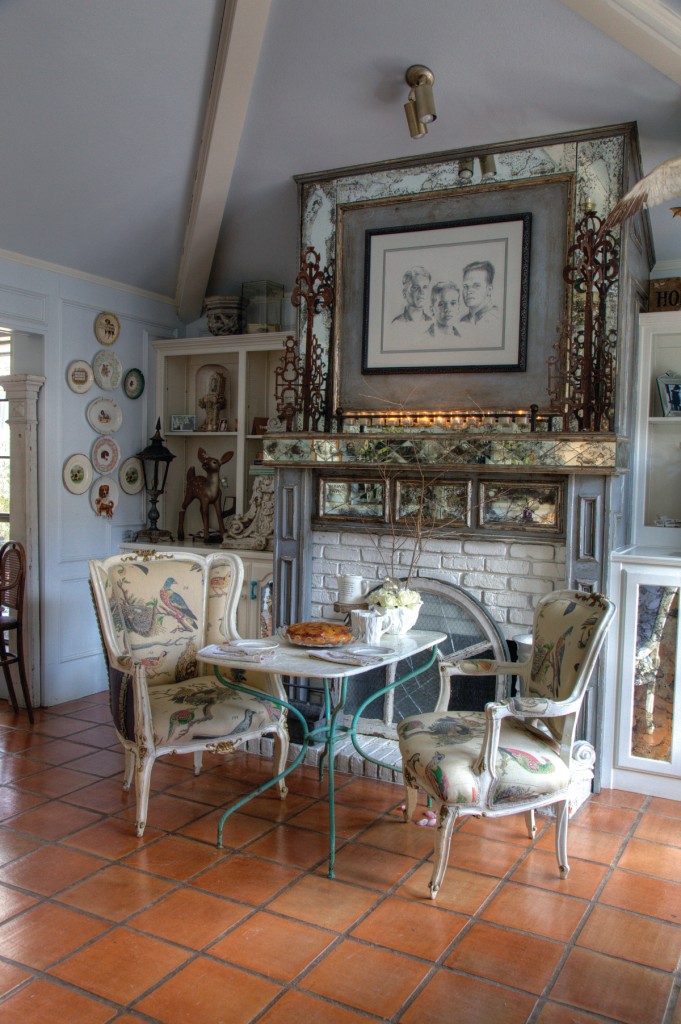 In this delightful grouping, two upholstered chairs snuggle up around an iron and glass table, ready for a fireside tête–à-tête. Through Laura's unfettered imagination, abandoned plates become artwork, and the mantle comes alive with mirrored glass and a Dee Dee Bar pen-and-ink of the three Towery sons illuminated by votives from below.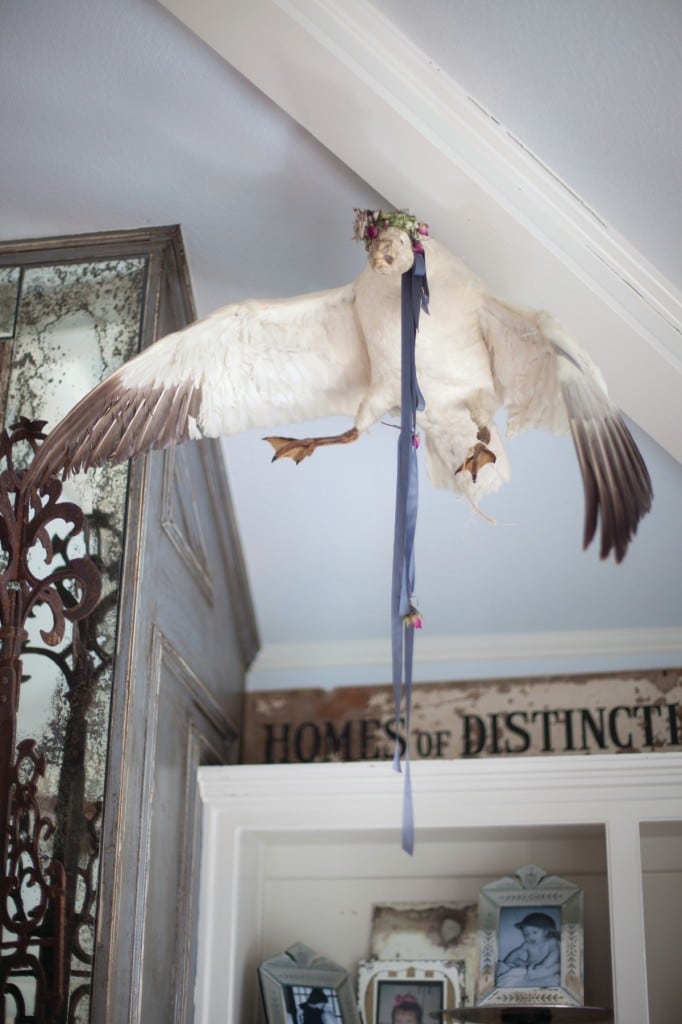 "I don't know why I love this stuffed goose so much," Laura said. "I guess it's because he's so lively." Laura found him at Unique Unique Design and enjoys dressing him for different occasions, including recently for the backyard wedding of her youngest son.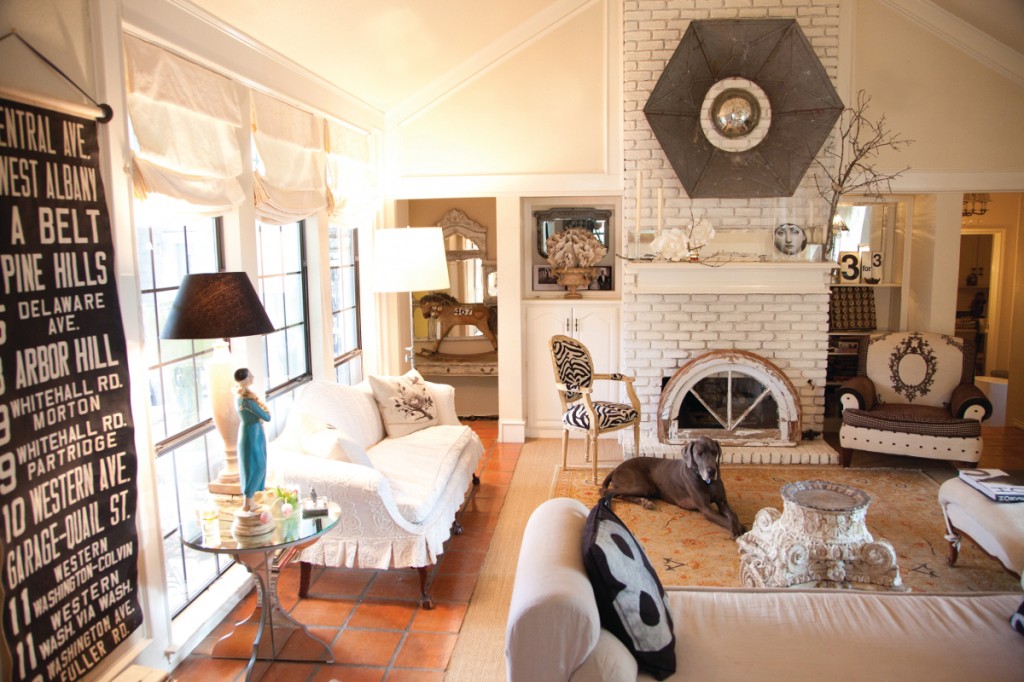 Rocky the Great Dane presides over the main living area with its comfy overstuffed chairs, fainting couch and flood of light from a generous bank of windows. One interesting feature is a vintage bus sign listing destinations along a route somewhere on the East Coast. "Apparently it rolled up," Laura said. "The bus driver could roll it down to display upcoming stops along his route." The mantle is home to original, handmade linen flowers by Theresa Helms and a Fornasetti plate. The 3s on antique pricing cards to the right of the mantle represent the three Towery sons and their three wives.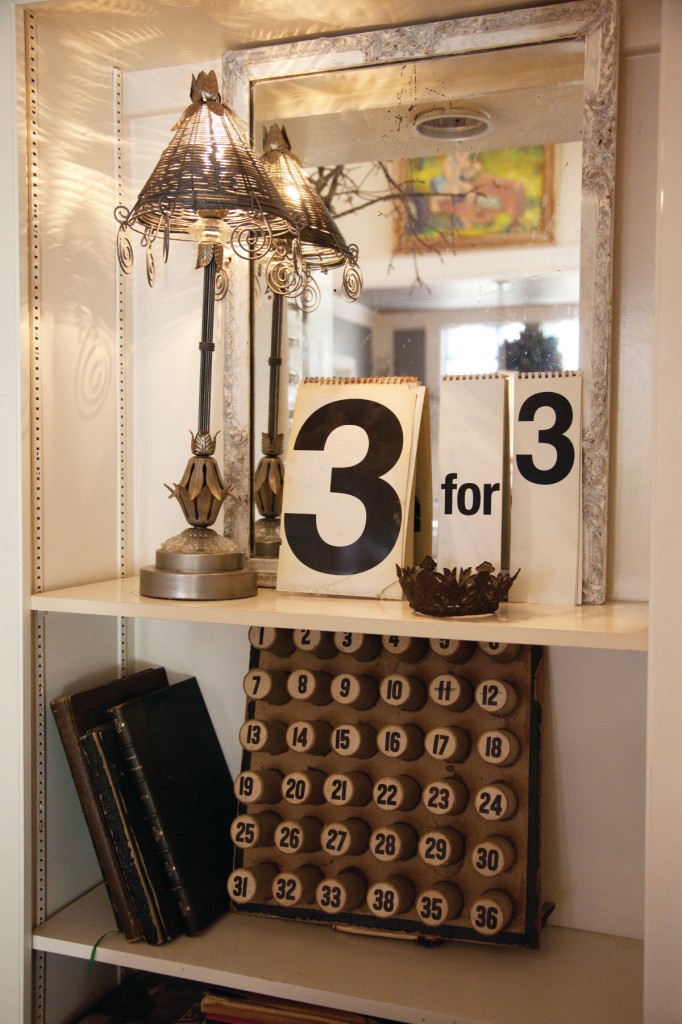 This delicate time piece, actually the forerunner of the modern time clock, is a throwback to an era when everything, even factory equipment, was built for aesthetics. Above is another of Laura's beloved antique horse statues.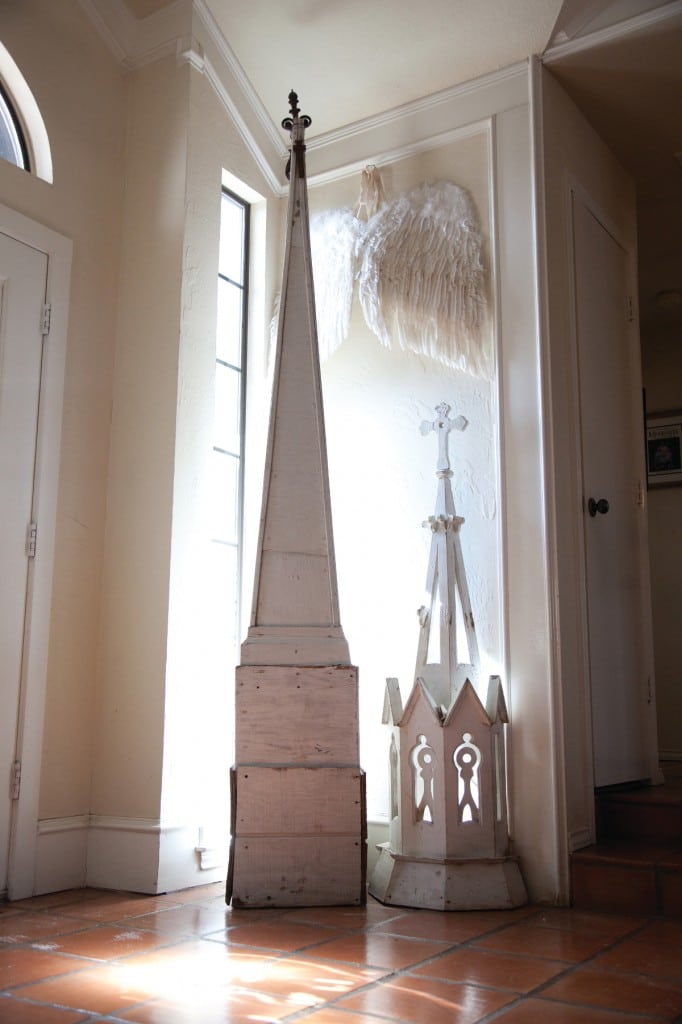 Just inside the front door, this delightful gathering features delicate wooden spires from atop a church in Paris, Texas. With creamy white walls and a wash of side lighting, the angel wings complete the ethereal assemblage.