R. JEFFREY DOYLE, DPM, FACFAS and H. ADEN HUYNH, DPM
Your feet work hard and rarely get the credit that they deserve. In fact, you may not give your feet a second thought—that is, until they begin to cause you pain or disrupt your daily life. No matter your age, foot and ankle pain can put you on the sidelines until the problem is addressed and treated.
Board certified physician R. Jeffrey Doyle and colleague H. Aden Huynh of North Star Foot & Ankle Associates want to help you return to the activities you love best. Whether you're an avid athlete or simply like to take an evening stroll without pain, the entire team of medical experts will offer a comprehensive treatment and recovery plan to get you back on your feet as quickly as possible. "The foot has 26 bones, 33 joints, 107 ligaments, and 19 muscles and tendons. Considering the average person walks about 100,000 miles during his or her lifetime, most people are bound to have a foot or ankle problem at one time or another," shared Dr. Doyle.
Services that Serve Your Feet
From ingrown nails and heel pain to broken bones and surgery, North Star Foot and Ankle has been providing expert podiatric care to people of all ages in the Garland, Plano, Richardson, Rockwall, Rowlett, Sachse, Wylie, Murphy, and surrounding areas for more than a decade.
"We believe prompt diagnosis, early intervention, and prevention are essential for the proper care and treatment of your feet," Dr. Doyle continued. "Your patient experience is personalized in order for us to provide the most inclusive and progressive treatment for a wide range of podiatric medical problems. Our care objective is to provide relief from painful symptoms and to correct the underlying issue. We take the time to explain your foot conditions, treatment methods, and options available, and answer your questions so you fully understand your problems. We want you to be actively involved in your own healing process."
Left untreated, Dr. Doyle explained that chronic foot and ankle pain will worsen to where it could require further intervention that is more extensive than what would be needed if your treatment was not delayed. "People often think foot and ankle pain is just something they have to live with—but you don't have to suffer needlessly or hide your feet due to conditions like hammertoes or nail fungus. We provide care for a
variety of injuries and diseases, using both surgical and nonsurgical methods, and use the latest techniques and procedures so we can provide the least invasive treatment. Our expertise extends to sports medicine, diabetic foot care, geriatric foot and ankle treatment, pediatrics, wound care, reconstructive surgery, trauma surgery, and fractures. We also specialize in gentle, effective treatment of ingrown toenails, gout, foot pain, and dermatologic conditions, among a host of many other foot ailments and deformities."
Should a patient require surgical intervention, both physicians are on staff at Richardson Methodist hospital. "Our treatment approach is to focus on more conservative and minimally invasive options that allow patients results with the quickest recovery possible," Dr. Doyle added. "Occasionally, however, persistent foot or ankle pain may deem it necessary to consider more aggressive treatment options."
Step into the Practice
North Star Foot & Ankle Associates is family-centered and community focused. In addition to sponsoring and participating in local charitable events, the physicians see local high school athletes on a same-day basis. "Coaches know we take same day appointments to help get their athletes back on the field as quickly as possible," Dr. Doyle added.
Working as a team, everyone in the office is friendly, caring, and dedicated to creating a caring atmosphere
for their patients. "We are passionate about earning your trust so you overcome your pain. If you are suffering from foot or ankle disease or discomfort, we invite you to schedule a consultation with us today. We look forward to meeting you and getting you back on your feet quickly!"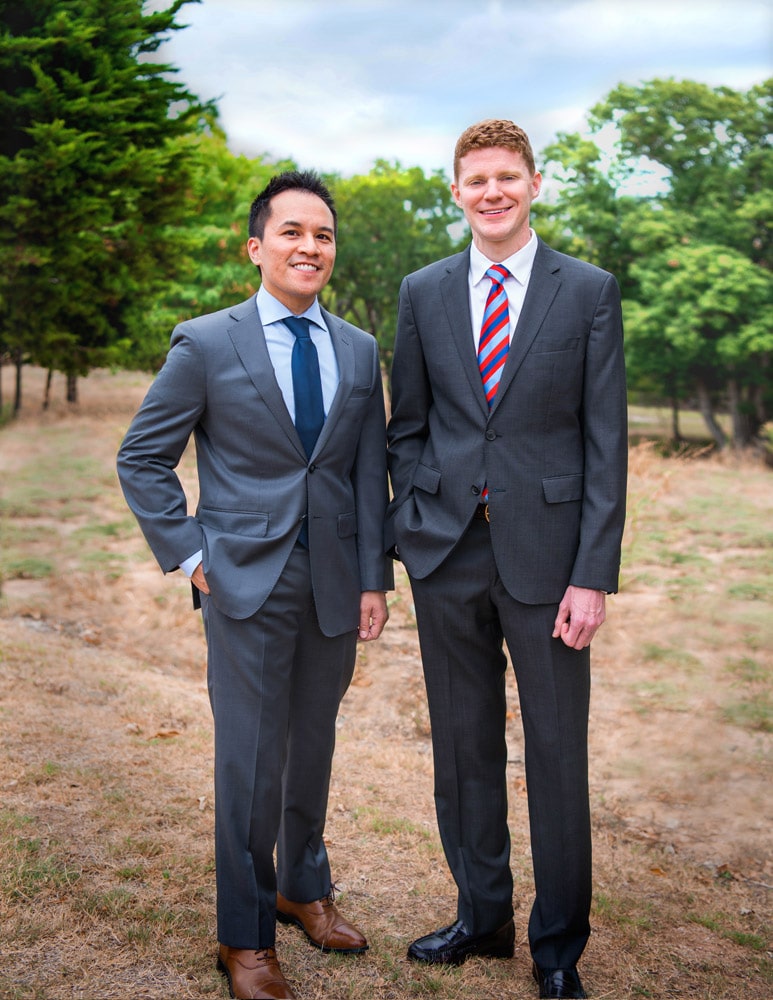 Meet the Doctors
Dr. Doyle, a DFW native, is dual board certified by the American Board of Foot and Ankle Surgery and the American Board of Podiatric Medicine. He received an undergraduate degree from Texas Tech University Health Sciences Center in Lubbock, Texas, a doctor of podiatric medicine degree from Des Moines University Osteopathic Medical Center, College of Podiatric Medicine and Surgery, and completed a three-year residency in podiatric medicine and surgery at the University of Texas Health Science Center in
San Antonio. When not helping his patients, Dr. Doyle enjoys the outdoors, traveling, hiking, and lakefront activities.
Dr. Huynh grew up in Michigan and is a graduate of Michigan State University and Rosalind Franklin University's Scholl College of Podiatric Medicine. He completed his three-year podiatric medicine and
surgery residency with the added credential in reconstructive rearfoot/ankle surgery
at the Central Alabama Veteran's Affairs hospital, where he was the chief resident. In his free time, Dr. Huynh enjoys camping, skiing, golfing, and spending time with
family and friends.
How do you know when to see a foot and ankle specialist?
Sometimes it's obvious that you need to seek help, but at other times it's less clear. In reality, many symptoms—even those you can tolerate—may require professional attention to keep the underlying condition from worsening. Here are some reasons to see a foot and ankle specialist:
An injury (sprain, broken bone, etc.)
A medical condition (diabetes, poor circulation, etc.) that can affect the feet
Impaired ability to function in certain activities
Heel pain in the morning
Any painful condition of the foot, ankle, or lower leg
Discomfort after standing for awhile
Changes in the appearance of your foot or ankle
An abnormal growth

Contact
6550 Naaman Forest Boulevard, Suite 200
Garland, Texas 75044
(972) 480-0072
NorthStarFoot.com