By Annette Brooks
Summertime out in our yards enjoying the fresh air, gathering on the patio or around the pool, and having fun and connecting with family and friends — living doesn't get any better than this. It sounds idyllic unless unwanted, blood-sucking guests arrive — mosquitoes!
So, what's the solution? Spraying bug repellent all over your body and clothing is sticky and smelly. Burning pots of smoky oil to ward off mosquitoes is difficult if you have a larger space, and if there's a breeze, you can wave any potential protection goodbye.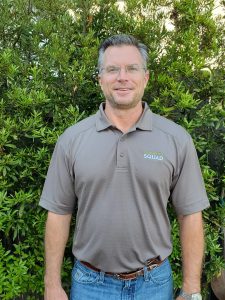 This is why so many Greater Houston area residents turn to locally owned and operated Mosquito Squad of Houston for a perfect solution. Owner Tyler Thoem, a 30+ year Houston area resident, provides trusted mosquito control for your backyard and outdoor living spaces. "I take great pride in serving my community and helping residents enjoy time in their backyards more comfortably. Especially now, after being cooped up inside our homes all year, being able to enjoy your outdoor spaces is more important than ever," he says.
High-quality Mosquito Service that Works
Whether you've tried a different mosquito service, or this will be your first experience, Mosquito Squad of Houston is easy and convenient. Their level of customer service is second to none, and you'll be amazed by how well their mosquito control works. They use only safe, EPA-registered chemicals and offer an all-organic protection option, too.
One ecstatic customer, Marcel, shared this. "The difference on our property has been night and day! We used to have swarms of mosquitoes and other bugs preventing us from enjoying our patio and yard. We can now finally sit and play outside without worries. Always on time and punctual. Love getting notifications prior to and almost immediately after service."
Simply sign up to receive their recurring service every 21 days without a long-term commitment or contract. They'll text or email you before they arrive to ensure your pets are inside, but you don't need to be home when they're servicing your yard. Just 30 minutes after treatment — the time it takes for the repellent to dry — your yard is ready to enjoy.
Call Mosquito Squad of Houston. Get Started Today.
Mosquito season generally begins when warm weather arrives, and temperatures climb above 80 degrees Fahrenheit. Peak breeding season occurs July through September, making now the ideal time to get started with services from Mosquito Squad of Houston. Call Tyler and his team today. Say "Good riddance!" to mosquitoes once and for all by using America's most trusted mosquito control for your backyard and outdoor living space.
Mosquito Control Barrier Protection

Locally Owned and Operated, 30+ Year Resident

All-natural Protection, Organic Options

All Chemicals EPA-registered

Special Event Sprays

Weddings, Proms, Graduations, Birthdays, Parties

No Contract, Cancel Anytime, Pay Per Treatment

Discount for Active Military, Veterans, First Responders

100% Satisfaction Guarantee
---
Contact
(713) 597-4202
Mosquitosquad.com/Houston