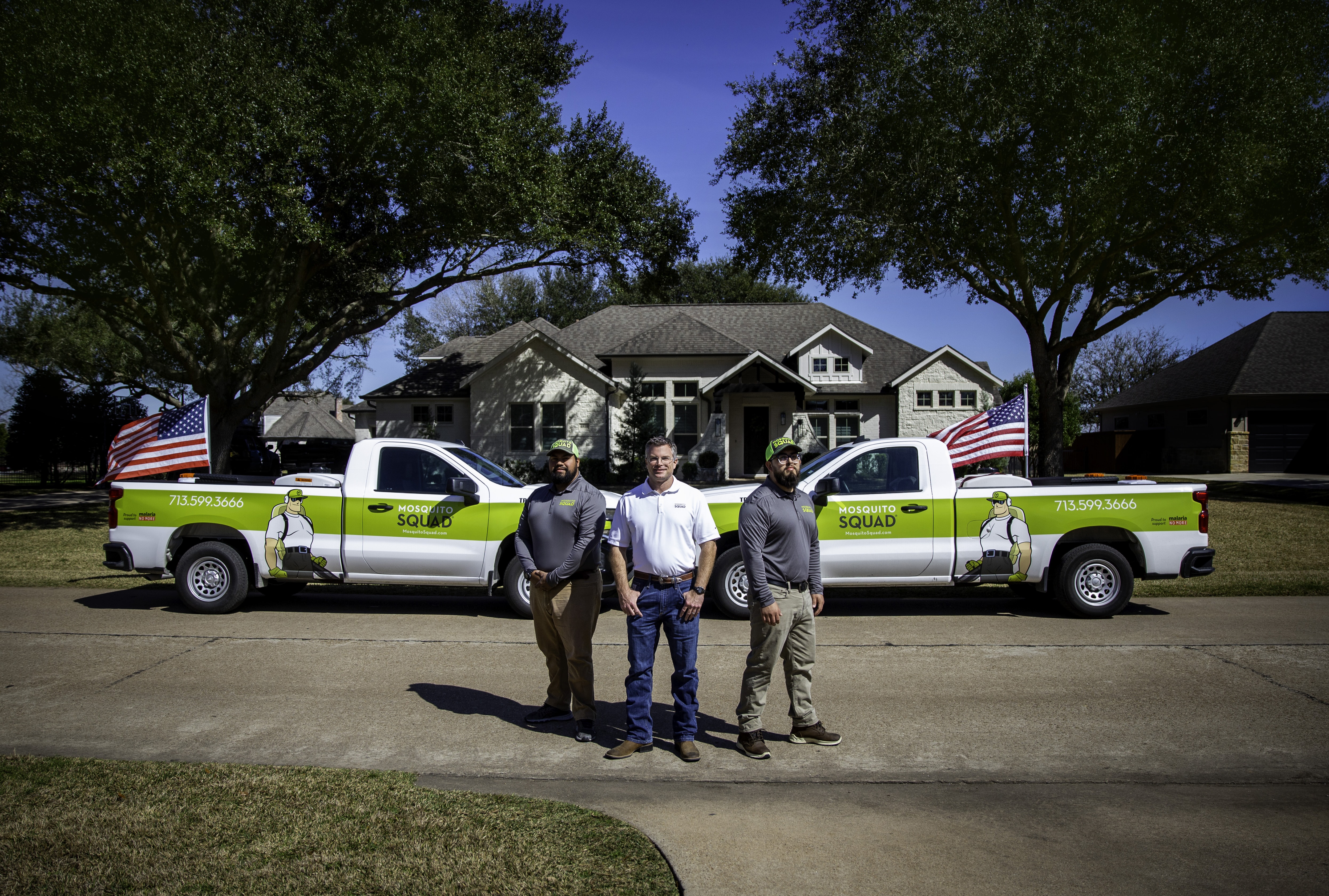 By Annette Brooks Photos by Kelley Sweet Photography
---
Are mosquitoes driving you out of your yard, depriving you of being outdoors in the fresh air? Are you tired of these blood-sucking invaders crashing your backyard gatherings and driving everyone inside? Have you invested in an outdoor living area you'd love to use more often if it wasn't for mosquitoes? And who looks forward to dousing themselves with sticky mosquito repellent or dealing with the shifting thick smoke and smell of burning oil pots?
The answer is mosquito control that really works from locally owned and operated Mosquito Squad of Houston.
"We're here to help protect you, your family, and your yard. I take great pride in serving my community and helping residents comfortably relax, entertain, garden, and play in their yards," says Owner Tyler Thoem, a 35-plus-year Houston-area resident.
Quality and Service You Can Rely On
Get ready to be amazed by how well Mosquito Squad of Houston's mosquito control works and how convenient and hassle-free their service is. They use only safe, EPA-registered chemicals and offer an all-natural protection option, too. Their treatment dries in just 30 minutes, and then your yard is ready to enjoy.
Equally impressive is their level of customer service and getting started is easy. Sign up to receive recurring service every 21 days without a long-term commitment or agreement. They'll text or email you before they arrive to ensure your pets are inside, but you don't need to be home when they're servicing your yard.
Giving Back, Paying it Forward
Supporting the community and helping others is ingrained in Mosquito Squad of Houston's core values. Tyler is passionate about supporting our veterans, first responders, and local youth and education programs. He actively hires military veterans and partners with organizations like Camp Hope PTSD Foundation of America, which provides hope and healing for the unseen wounds of war. "We saw an opportunity to provide free monthly services to Camp Hope in Northwest Houston, which has extensive grounds. It's one of the ways we can support those who have bravely served our country."
Call Mosquito Squad of Houston
Conquer mosquitoes and take back your outdoor spaces by using America's original and guaranteed mosquito control since 2005. Call Tyler and his team today, so you can enjoy your outdoor space more comfortably.
Get Started Today
Given the tropical climate of the Greater Houston area, our mosquito season lasts longer than most places. Mosquito Squad of Houston's seasonal services generally run from March through November. Mosquito season typically begins when temperatures climb above 80 degrees Fahrenheit, with peak breeding season occurring April through October, making now the ideal time to get started with services from Mosquito Squad of Houston.
Services-at-a-Glance
Seasonal, recurring mosquito control every 21 days for optimal protection

Year-round mosquito control

All-natural options available

Special event treatments – weddings, raduations, birthdays

Professional and friendly customer service

Automated payments – no need to be home

Return to your yard 30 minutes after treatment

Top-of-the-line equipment

Highly trained, professional technicians
Customers Love Mosquito Squad of Houston
"Mosquito Squad of Houston was truly phenomenal. Stephanie, the scheduler and manager for new customers, was delightful to deal with. The technicians were earlier than their scheduled time, warm, and so patient with all my questions. Pricing is very fair and bonus points, the family is local, huge community supporter of our youth sports/schools. Highly recommend. I've been telling all my friends
and neighbors."
– Deanna S.
"This is an affordable and effective way to beat the pesky mosquito! I love to garden and entertain in our backyard. Our home backs up to woods, so you can imagine the mosquito problem we had. Our 11, yes, I said 11 grandchildren would end up back in the house. Talk about loud! With Mosquito Squad, the kids are outside, the adults are outside, and the fun continues!"
– Michele H.
---
Contact