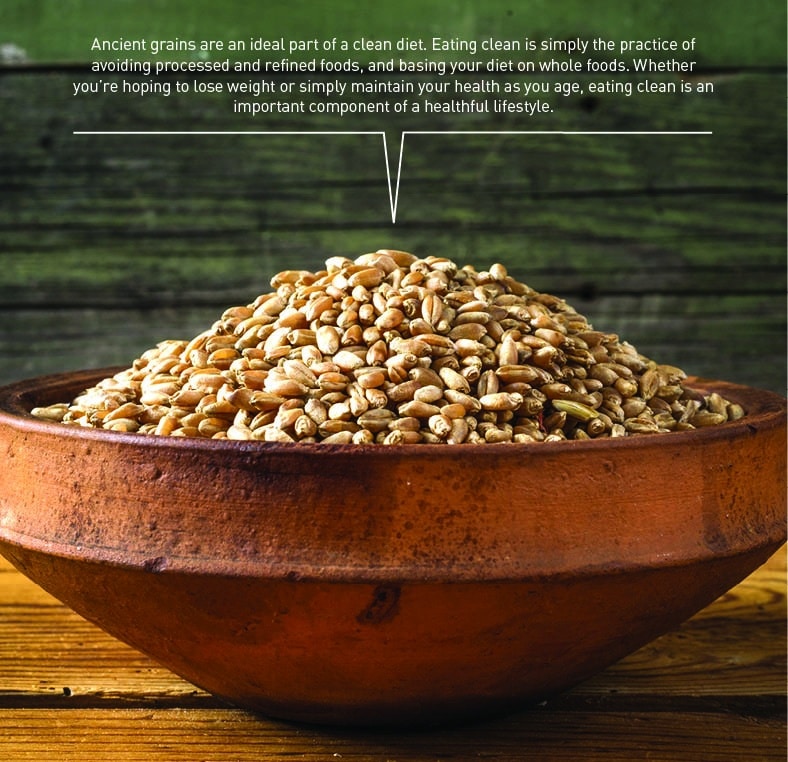 From the plains of Mesopotamia to the mountains of Mesoamerica, grains historically provided strength and nourishment to early civilizations. Today, "ancient" grains such as spelt, amaranth, teff, and of course, quinoa, are found not only in history books, but on our tables. In fact, ancient grain products that used to be carried primarily in health food stores and co-ops are almost everywhere you look these days—on restaurant menus, in upscale markets, lining the shelves of grocery stores, and even in some convenience marts.
Many ancient grains are not wheats, and are therefore gluten-free alternatives. After decades of hybridization and mass production, the protein structures of modern wheat have changed. Some researchers suspect these changes are one of the reasons so many people today are becoming intolerant to wheat gluten.
A Food Obsession You Can Feel Good About
What's behind this grainy renaissance? Remember wadding super soft white bread up into a ball as a kid and popping it into your mouth—maybe rolling it in cinnamon sugar first?
What was just fine back then sounds a bit mortifying now as we reject unhealthy, over-processed, mass-produced foods. Ancient grains, on the other hand, remain virtually unchanged from what they were thousands of years ago. They bring us back to simpler, purer food that is naturally protein-rich, and high in fiber, vitamins, and minerals.
Healthy Can Be Tasty
With ancient grains rising swiftly in the culinary world, there's a bounty of new and delectable recipes and menu items dedicated to this amazing food source. Flavorful gourmet cuisine featuring ancient grains has been popping up faster than you can say "More quinoa, please!" Sophisticatedly composed salads, satisfying wraps, savory stuffed veggies, and even puddings and desserts can be whipped up in no time using ancient grains as a key ingredient.
Three Under-the-Radar Super Grains to Watch
Kañiwa – Quinoa's tiny cousin (pronounced kah-nyee-wah) is a South American grain with a high protein level of 15 to 19 percent. It's also high in antioxidant plant flavonoids, super charged with B vitamins and essential minerals, and has a balance of amino acids that is more complete than most grains.
Kamut (pronounced "kah-moot") – This rich, nutty tasting wheat is rumored to have been found in King Tut's tomb. It has higher levels of protein than common wheat, and more Vitamin E. Although kamut is not gluten-free, it reportedly contains a more digestible gluten, and may be an option for people with mild gluten intolerance.
Milo – Another name for sorghum (and much cuter), this grain is straight-up delicious, with a nutty, complex flavor and dozens of culinary possibilities. Whole grain milo is high in iron, and provides several energy-boosting B vitamins including thiamin, riboflavin, and niacin.
Radish and Pecan Grain Salad
As summertime heats up in Texas, cool down and nourish your body with this delicious salad that offers a nicely balanced blend of vibrant flavors. Serves six to eight as a side.
[one_half]
2 cups mixed grains (farro, quinoa, pearl barley, etc.), cooked

1 cup each, baby arugula leaves and minced parsley leaves

½ cup minced tarragon leaves

½ cup mint leaves, cut chiffonade

½ cup pecans

¼ cup walnut oil[/one_half]
[one_half_last]
¼ cup sherry vinegar

1 cup very thinly sliced radishes

¼ cup minced shallot

¼ cup olive oil

½ cup each, raisins and dried cranberries

Sea salt, to taste[/one_half_last]
Visit Food52.com/recipes/9110-radish-and-pecan-grain-salad for easy preparation instructions.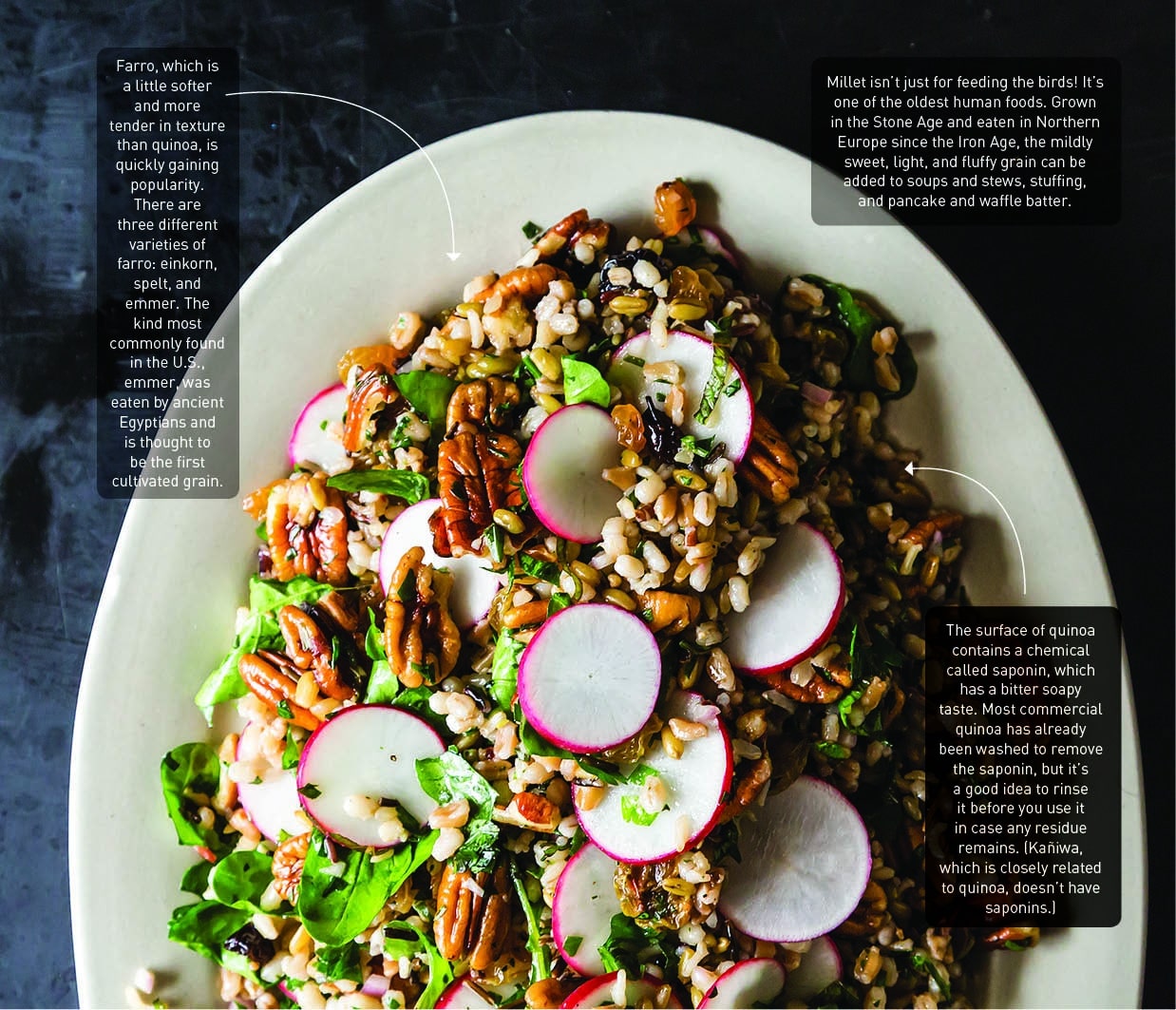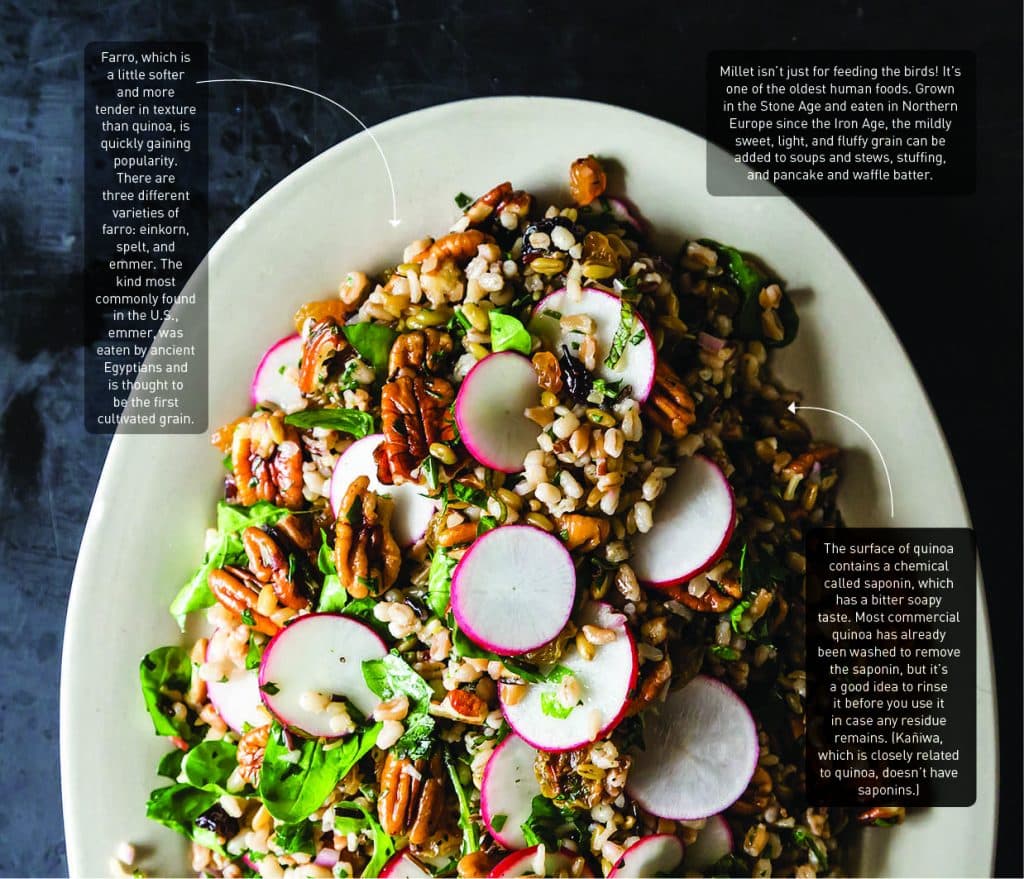 By Annette Brooks