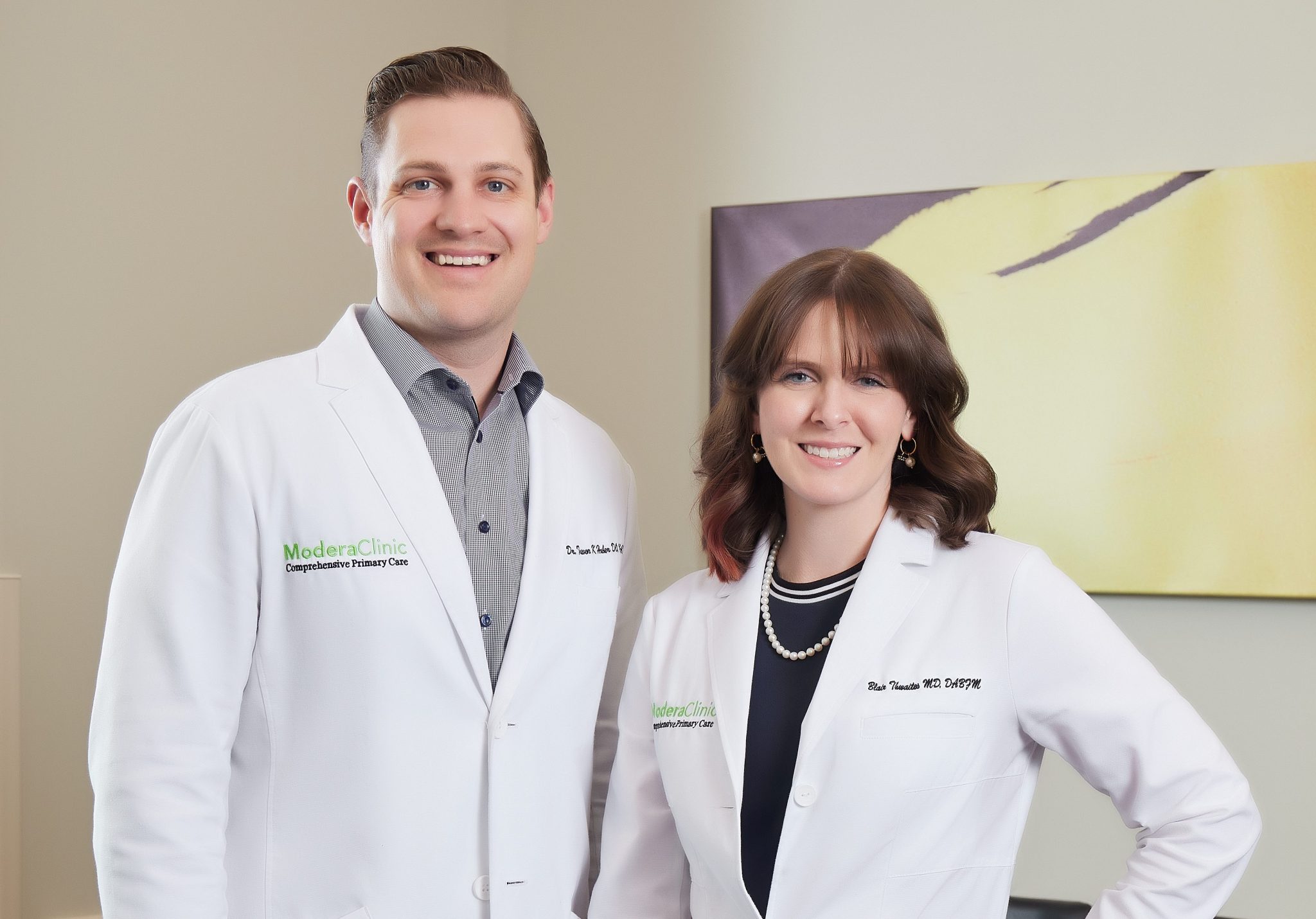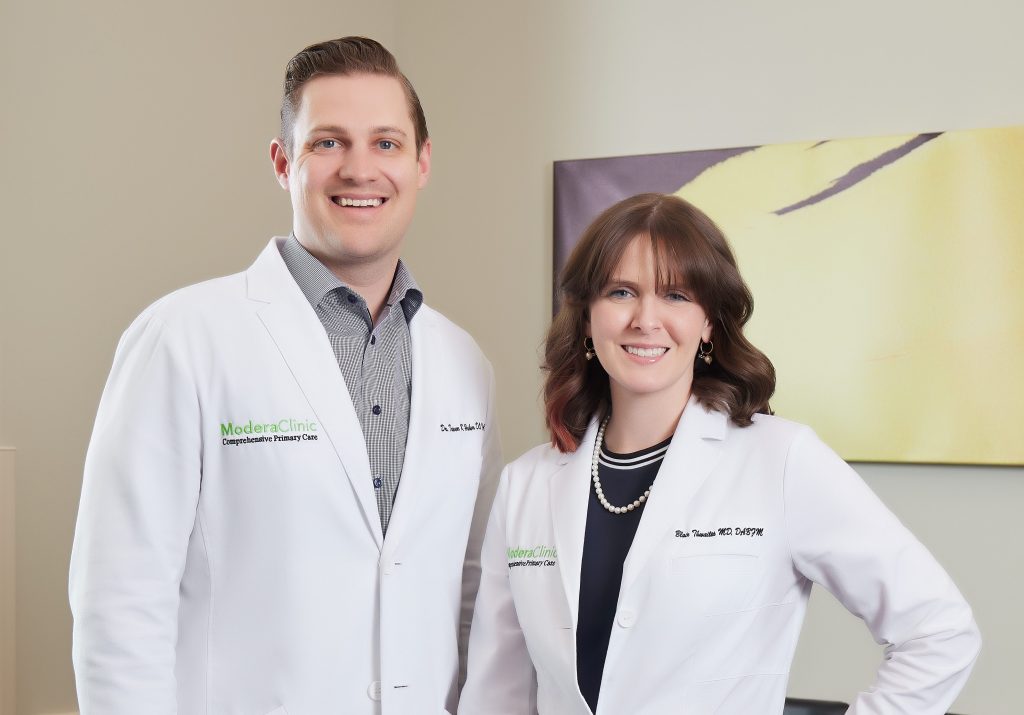 BY SYDNI ELLIS | PHOTO BY SCOTT PEEK PHOTOGRAPHY
Time is valuable, and no one wants to spend hours in various waiting rooms. That's why Modera Clinic is proud to be a comprehensive primary care facility designed for "the modern era of medicine." With just one appointment, you can be treated for chronic and acute care, weight loss, skin care, mental health, cosmetic procedures, and more. Thanks to their excellent service and passionate care for patients, it's no wonder the clinic received a Living Magazine 2022 Top Docs Award.
"We want to offer as many services to our patients as possible in one convenient location," said Trevor K. Huber, DO, a board-certified family physician at Modera Clinic. "Other primary care facilities may send you to several different doctors, but we try to provide 90-95 percent of our patients' healthcare needs right here."
Full-service Healthcare
Visit Modera Clinic for health needs such as diabetes, asthma, upper-respiratory infections, Botox, skin tightening, women's health, sleep problems, joint pain, sports physicals, concussion care, fractures, sprains, anxiety, and depression. They also offer in-house labs, so you can get your bloodwork done right in the office.
"An average patient may come in to have her thyroid checked every three months, and at the appointment, she's also getting Botox touched up and getting a quick fat reduction," said Dr. Huber. "It's nice to go to a clinic and achieve in less than 90 minutes what would normally be an entire day's worth of appointments."
Flexible to Meet Your Needs
Modera Clinic often adapts based on patient needs, such as offering mental health treatments due to the rise in anxiety and depression from the pandemic. "I would say 15-20 percent of our patients have anxiety or depression, especially because many people's mental health has worsened in the last couple years," said Dr. Huber. "So, having a primary care doctor who can guide you on which medications and therapies to try can really help. We also want to destigmatize getting care for mental health, as it's much more common than people realize. When patients get the tools to help them live life at their best, we see some incredible outcomes."
Additionally, in summer 2021, the clinic opened a med spa due to patients asking about it and complaining about less-than-stellar experiences at other facilities.
Now, Modera Clinic offers several cosmetic procedures in their med spa, such as skin tightening and fat reduction. They also offer the OPTIMAS beauty suite, an all-in-one beauty platform equipped with several handpieces to deliver professional-grade aesthetic procedures. It includes MORPHEUS8, an RF microneedling treatment designed to "deliver deep-tissue remodeling for the face and body to help reduce wrinkles, skin discoloration, or acne scarring," according to Dr. Huber.
"We use new technologies to get patients about 70 percent of what a surgery would provide with no downtime and results that last up to a year and a half," said Dr. Huber. "Our patients have been loving it. The results are real."
Dr. Huber added that the med spa offers procedures for "gap patients," or those who aren't good candidates for a face lift or a tummy tuck yet. "We can help patients who don't want a big surgery right now, for example, young moms in their 30s and 40s," said Dr. Huber. "Maybe they want some skin tightening in their abs or help with surgical scars, skin discoloration, skin tightening, or fat reduction. This is perfect for them."
Another valuable service Modera Clinic offers? Same-day appointments. "We always strive to provide same-day care for all our patients and new patients," said Dr. Huber.
Modera Clinic is open late and offers Saturday hours to fit your busy schedule. They are open 8 AM to 7 PM Monday-Friday and 9 AM to 1 PM Saturday. They also offer telemedicine appointments.
Doctors and Nurse Practitioners Who Care
Dr. Huber is originally from Nederland, Texas, but moved to Denton to receive his undergraduate degree. He graduated with honors from the University of North Texas with a major in biology and minor in chemistry, then received his doctorate in osteopathic medicine from Nova Southeastern University College of Osteopathic Medicine in Fort Lauderdale, Florida. After graduating medical school, Dr. Huber completed his specialty in family medicine at University of North Texas Health Science Center/Medical City of Fort Worth. In his free time, Dr. Huber is an avid cyclist and reader, and he volunteers with his family at Fellowship Church.
Dr. Blair Thwaites is a board-certified family physician from Dallas, Texas. She graduated from Baylor University, where she majored in neuroscience. She received her doctorate in medicine from St. George's University School of Medicine and her diploma of higher education in biomedical sciences from Northumbria University. After medical school, Dr. Thwaites completed her residency in family medicine at Methodist Health System in Dallas. During her residency, Dr. Thwaites completed additional training in integrative medicine through the Andrew Weil Center for Integrative Medicine. Dr. Thwaites enjoys spending time with her family, being active outdoors, fishing, and reading.
Modera Clinic also has four phenomenal nurse practitioners on staff. Marti Racette, FNP, brings her extensive experience in nursing in the neonatal ICU from Cook Children's Medical Center and also her experience from Texas Health Plano and Baylor Medical Center in Grapevine, Texas. Sarah Voth, FNP, brings her incredible experience as an emergency and trauma nurse at Medical City Frisco to Modera Clinic. Charlotte Fatiregun, FNP, draws on her hospital experience to offer compassionate and comprehensive care to her patients. Her passion for preventive medicine helps her patients reach their health goals through a true provider-patient partnership. And Erin Erbskorn, FNP, brings with her 10 years of nursing experience at Davita and Children's Health.
Don't waste time — make an appointment at Modera Clinic today to get the full physical and mental care you need.
Contact
2700 East Eldorado Parkway, Suite 104B
Little Elm, Texas 75068
2381 East University Drive, Suite 50
Prosper, Texas 75078
(972) 987-0458
ModeraClinic.com