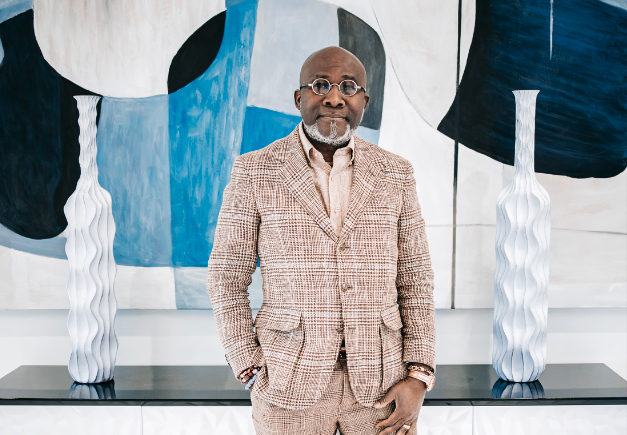 By Meredith Knight Photo by The Pack Photography
---
Mental health. It's something we all want for ourselves and those we love. Now, more than ever, a healthy body, healthy spirit, and healthy mind are vital to a happy, fulfilling life. When life commitments and everyday stressors interfere with that ideal, it's time to call in the professionals.
Dr. Oladele Adebogun, FAPA, FASAM (affectionately known as "Dr. A") has dedicated his life to providing patients with the tools and skills to live the life they were born to live. Through interventional psychiatry and evidence-based psychiatric treatments at his Mind Matters PsychiatryMD, Dr. A helps patients:
Embrace lifelong coping skills

Improve the way they interact with people in their lives

Process chronic stress

Become more productive

Find happiness
Many of us find ourselves living in daily panic mode. Family, work, and personal commitments can feel like a house of cards that's waiting to crash down at any moment. When we live in this constant state of panic, the door is open to depression, anxiety, and hopelessness. Dr. A and his dynamic team at Mind Matters PsychiatryMD want you to know there are solutions and someone you can talk to who will listen without judgement.
They have carefully crafted a one-stop shop for counseling, medication management, psychopharmacology, and cutting-edge scientific treatments. They employ a comprehensive approach to an array of disorders in adults, adolescents, and children. It's no wonder they're frequently voted Best Of in Living Magazine's Readers' Choice awards.
Personalized Medicine, Scientific Solutions
As founder and medical director of Mind Matters PsychiatryMD, Dr. Adebogun offers more than 20 years of experience treating patients of all ages. Widely hailed as an expert in his field, Dr. A enjoys helping those seeking to maintain and optimize their mental health. Treatment is never one-size-fits-all. Rather, he employs personalized therapy tailored to each patient's specific needs based on a thorough consultation and evaluation. Dr. A specializes in difficult, multi-dimensional diagnoses requiring an expert level of care. His distinguished staff consists of psychiatric nurse practitioners, a physician's assistant, licensed professional counselors, and administrative professionals. A large, cohesive team allows a comprehensive approach to treatment and an opportunity for those individuals requiring different aspects of care. "From day one, our nurturing and empowering team has played a key role in our mission," Dr. Adebogun says.
Together, they provide services and treatments for issues such as:
Child, adolescent, and adult psychiatry

Depression and anxiety disorders

Attention-deficit/hyperactivity disorder

Behavioral issues

Clinical psychiatric services

Cognitive disorders

Psychotherapy and counseling

Mood disorders

TMS therapy

Psychopharmacology and neuropsychiatric disorders
Patient-Centric Therapy
Mind Matters PsychiatryMD and its staff are driven by client relationships, fostering a therapeutic alliance in helping patients' meet day-to-day challenges. These relationships deepen the exploration of phenomena such as healing, grief, and emotional pain response to loss from the different perspectives that each of the aforementioned disciplines brings to bear on healthy emotions and matters of the mind.
Could You Be Self-Medicating?
Substance abuse and psychiatric disorders commonly coexist. Often, people self-medicate with alcohol or drugs in an unsuccessful effort to feel better. Dr. Adebogun has proven success in guiding these patients to abstinence from unhealthy addictions, while treating the psychiatric illness and promoting a healthy mind and body. His extensive training in addiction medicine has allowed him to work with those suffering from drug or alcohol addiction in hopes of facilitating a healthier, functioning lifestyle.
Progressive Technology for Treatment-Resistant Depression
Psychiatric medical treatment is not a one-size-fits-all approach. Dr. Adebogun specializes in treating complex problems that have not responded to traditional treatment, including but not limited to medical, neurologic, and pharmacologic issues. His office uses revolutionary treatment approaches such as the Nexstim SmartFocus neuromodulation TMS, as well as a unique neurosurgery neuro-navigation using a 3D MRI brain imaging technique uniquely tailored to each patient. The imaging accurately targets areas of the brain involved in emotions and mood.
Transcranial magnetic stimulation (TMS) is a revolutionary, noninvasive procedure that uses magnetic pulses to stimulate brain cells that control mood. The FDA-approved treatment delivers short pulses of magnetic energy directed at the limbic system structures that control emotional and behavioral patterns. The pulses trigger electrical charges, causing neurons to awaken and become active. Dr. Adebogun is having success using TMS treatment on numerous patients providing long-awaited encouragement and hope for those suffering from debilitating depression. Using these innovative tools, Dr. A and his team are changing the lives of patients who have been unsuccessful and resistant to other depression treatments. Additionally, they offer neuro-addiction, ketamine, and TMS neurostimulation as drug-free treatment options for treatment-resistant depression.
Why Consider Interventional Psychiatry?
Interventional psychiatry is a growing field within psychiatry that uses treatments other than traditional psychotropic medications. When given in addition to traditional care (medication adjustments and psychotherapy) interventional treatments can enhance overall mental health. When a psychiatrist sees that symptoms are improving faster with the interventional psychiatric treatments, they can be less aggressive with medications reducing the risk of adverse effects associated with the higher doses of these medications, and a better eventual outcome for the patient.
Meet Dr. Adebogun
Oladele Adebogun, FAPA, FASAM completed his residency at the Menninger Department of Psychiatry, Baylor College of Medicine, Houston, Texas, in 1998, where he was chief resident of the Ben Taub General Hospital's psychiatric emergency room. He holds distinguished appointments by his peers as Fellow of the American Psychiatric Association and Fellow of the American Society of Addiction Medicine.
If life's stressors are keeping you from enjoying a fulfilling and healthy lifestyle, interventional psychiatrist can help. Visit MindMatters-MD.com to learn more about this higher level of behavioral healthcare. With offices in Fort Worth, Frisco, and Flower Mound, Mind Matters PsychiatryMD provides a relaxing ambiance for mindful listening with the goal of offering highly tailored, holistic therapy for complete mind and body wellness.
---
Contact
777 International Parkway, Suite 260
Flower Mound, Texas 75022
3140 Legacy Drive, Suite 130
Frisco, Texas 75034
1701 River Run, Suite 1118
Fort Worth, Texas 76107