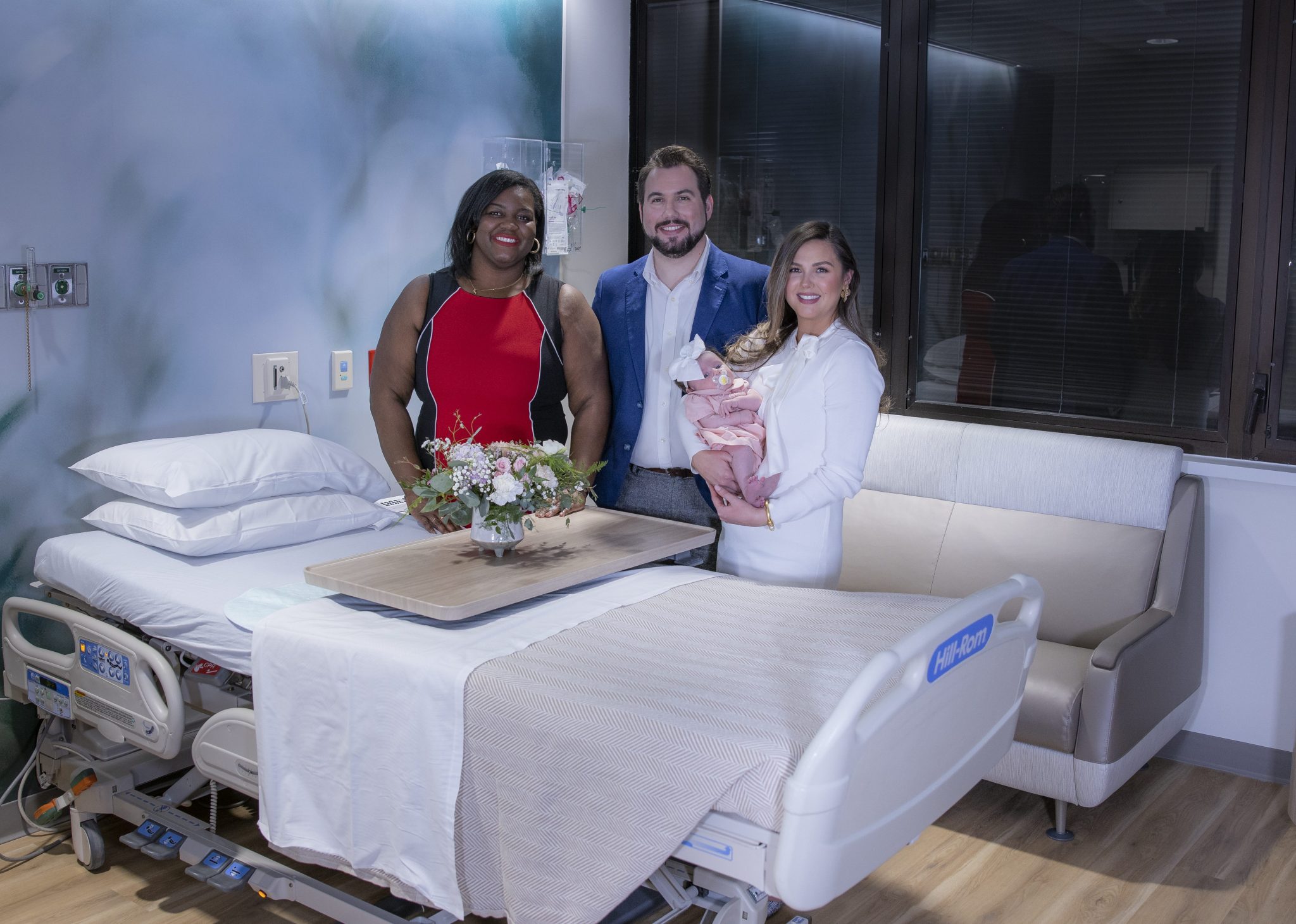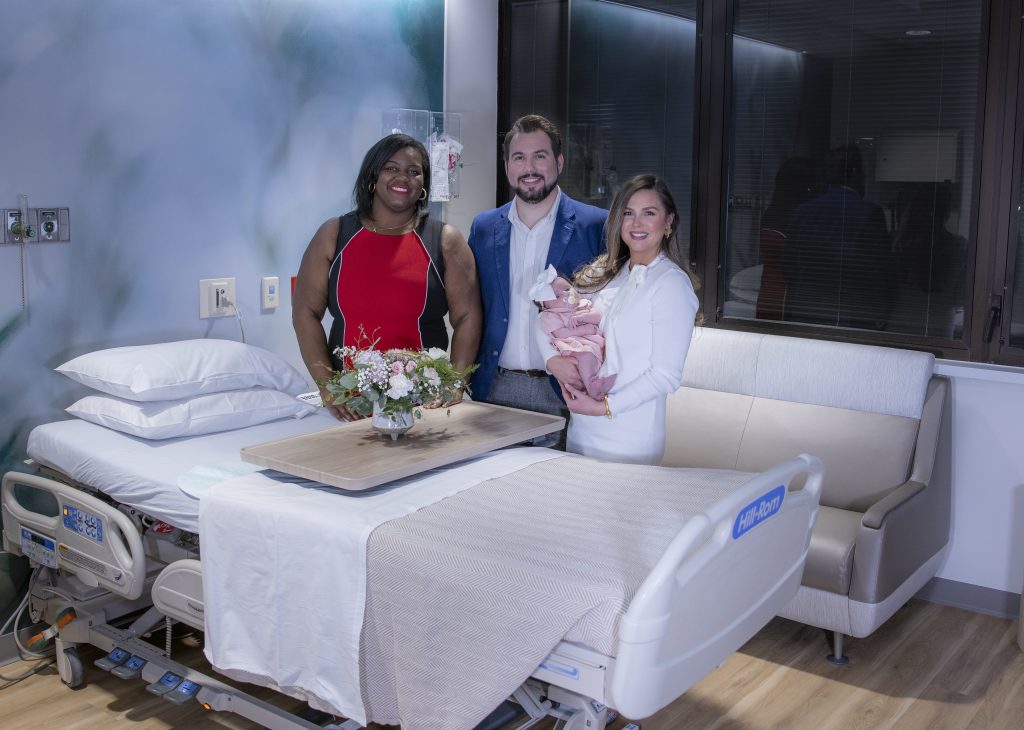 BY ANNETTE BROOKS | PHOTOS BY KAREN GNEPPER PHOTOGRAPHY
When you're having a baby, there are many decisions to make, including what hospital to select for labor and delivery. When Rachel Bagley learned she was pregnant, she and her husband, Travis, immediately chose Medical City Lewisville. Voted the "Best Place to Have a Baby" in Denton County for 2021 by DFWChild readers, moms and families can expect a personalized, first-class labor and delivery experience at Medical City Lewisville.
"Medical City Lewisville has a strong reputation for providing the highest quality of care. There was no question where we were going to have our daughter," shares Rachel, a well-known community leader in Denton County.
Rachel was referred to Dr. Krystal Bell with Caring for Women, whose office is conveniently located inside Medical City Lewisville. "Dr. Bell is friendly and gets to know her patients. We couldn't have asked for a better obstetrician to deliver our daughter," she adds.
With everything going smoothly, the hospital contacted Rachel a week before the birth to obtain and confirm information and answer questions to help ensure a smooth check-in process on
the big day.
"I was concerned I might need to have a C-section, and the hospital staff — particularly the nurses — took such good care of me. As first-time parents, we were especially nervous and asked a lot of questions. They were incredibly compassionate, sensitive, kind, and caring, and took the time to answer our questions. They even shared their personal childbirth experiences with us, which helped put us at ease."
Rachel felt "encouraged and motivated" by the medical team throughout the birthing process. Collins was welcomed into the world a week after Thanksgiving, and mom and daughter did exceptional.
"Medical City Lewisville provided the high level of care we expected, and we loved the facilities. The mother/baby unit was comfortable and beautiful — like a hotel room — with pretty murals and an attractive interior design. We brought a lot of things and especially appreciated the well-planned storage space," Rachel says. She also praises the lactation consultants for being helpful and accessible.
Travis was equally impressed with their experience at the hospital. "We'd heard stories about how some hospitals don't always acknowledge the parent's wishes. Medical City Lewisville caters to parents and customized the experience to accommodate our needs and desires. We couldn't have selected a better place to have our daughter," he says.
Dr. Bell, who, in addition to her expertise, is known for being communicative, listening to her patients, and building trust with them so they're confident in the care they receive, adds this. "The hospital staff is easy to communicate with, and everyone, from the nurses to the lab and technicians, is on the same playbook as a medical team and as patient advocates. This is unique to Medical City Lewisville."
Quality, Patient-centered Care for Your Comfort and Peace of Mind
Great care is no small thing, whether your pregnancy and the birth are routine or high-risk. At Medical City Lewisville, you'll deliver your baby in an inclusive, supportive, family-oriented environment that offers laboring aids from labor balls to aromatherapy and shaved ice cafe cold therapy. The newly renovated women's center includes spacious, luxury maternity suites outfitted with state-of-the-art equipment. There, moms can enjoy resort-like comforts and a gourmet celebratory meal while receiving exceptional clinical care. Moms and families especially appreciate the hospital's approach to mother-baby care. Offering couplet care, also called rooming in, the same nurse attends to both mother and newborn to promote bonding, healing, and personalized care.
Providing the ultimate peace of mind, Medical City Lewisville is Magnet-recognized for nursing excellence, is a state-designated Level 2 maternal care center, and was the first hospital in Denton County to receive an official Level 3 NICU designation from the Texas Department of State Health Services. The NICU is equipped with state-of-the-art intensive care nursery technology and staffed by a specialized, collaborative, and compassionate team of experienced medical professionals. This enables the hospital to provide the highest level of neonatal care available in Lewisville and southern Denton County for critically ill newborns of all gestational ages.
With more than 40 years as a full-service acute-care facility, Medical City Lewisville offers a broad spectrum of care to the communities of Southern Denton County. Award-winning Medical City Lewisville, part of Medical City Healthcare, provides the quality care, services, and comfort you and your baby deserve. Learn more at MedicalCityLewisville.com.
Unparalleled Patient Quality & Services:
State-designated Level 2 maternal care
16-bed state-designated Level 3 NICU
Magnet-recognized for nursing excellence
Mother-baby couplet care
High-risk OB and antepartum care
OB nurse navigator
Lactation consultants available seven days a week
24/7 anesthesia in labor and delivery
24/7 neonatology coverage
OB hospitalist coverage
Access to physician specialists, including maternal fetal medicine, neonatology, GYN oncology
Hospital-grade breast pump rental program
Donor breast milk program
Birth preparation classes
Gourmet celebratory meal
Laboring aids include aromatherapy, virtual reality pain management, labor balls, shaved ice café cold therapy
And much more
Contact
500 West Main Street
Lewisville, Texas 75057
(469) 370-2000
MedicalCityLewisville.com