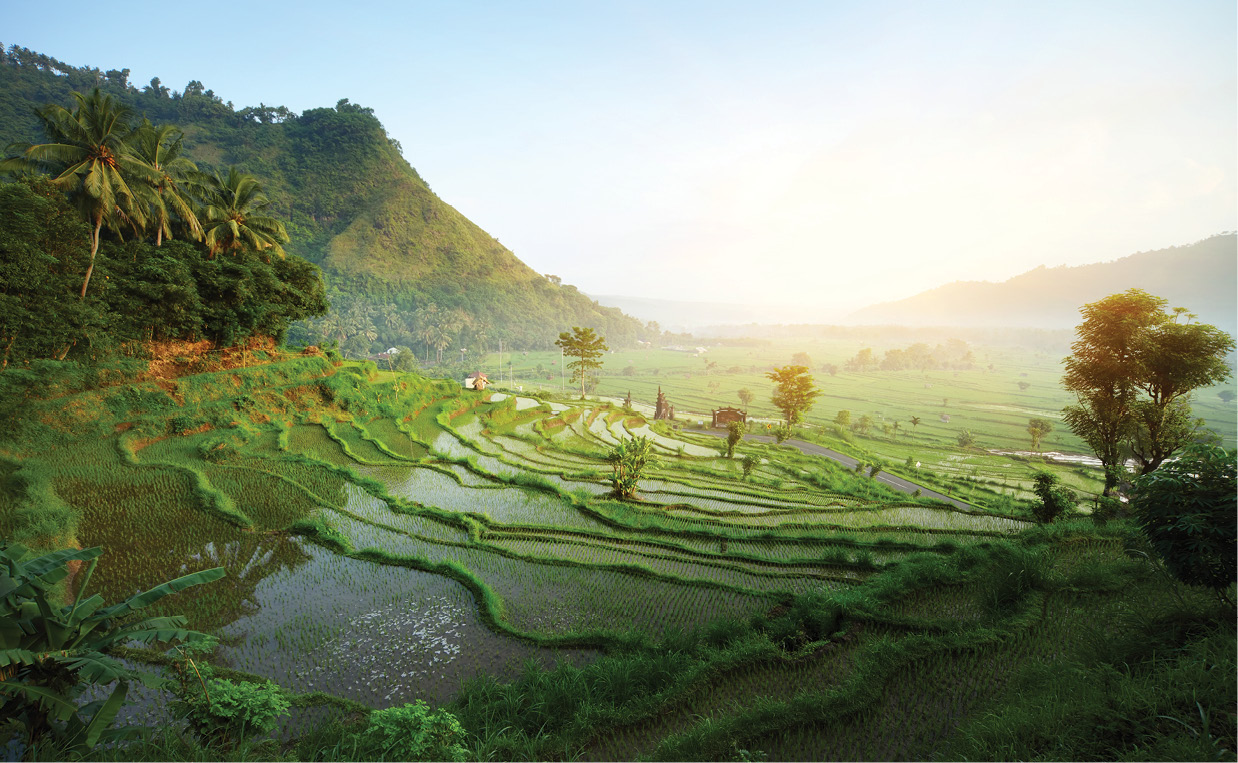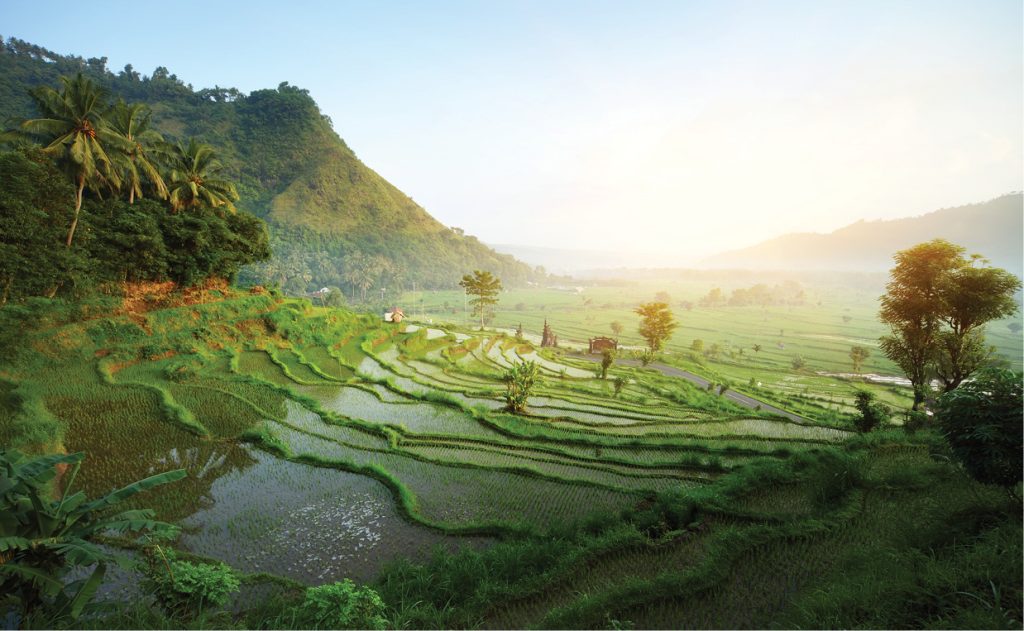 Tranquility, Culture, Art, and Adventure Wrapped in a Lush, Tropical Paradise
Daily life, creativity, and nature blend seamlessly up on Bali's Sayan Ridge, near the artist community of Ubud. Restorative tropical sounds, ancient Hindu temples, and emerald-green hills adorned with towering palms and undulating, hand-carved rice terraces whisk you far away from the frenzy of Western civilization. It's a magical land where friendly people and a richly diverse culture capture your heart and then hold it close. Long after you depart, Bali will illuminate your soul with the knowledge of simpler, almost timeless existence filled with beauty and serenity.
Quick Facts About Bali and Ubud
Bali, Indonesia, part of the world's largest stretch of volcanoes, lies just south of the equator in Southeast Asia.

Its 2,147 square miles of land consists of mountains, lakes, rivers, beaches, and forests.

Bali has two active volcanoes, Mount Batur and Mount Agung.

The island's inhabitants are predominantly Hindu, which is inclusive and welcomes beliefs from other faiths.

The best time to visit Bali is during the dry season, from April to October.

The series of small communities collectively called Ubud are located in the hills of central Bali, just 21 miles from Denpasar, Bali's capital.

Bali is generally hot and humid. Ubud's temperatures are cooler due to its elevation of 1,969 feet. Average lows range from 70 to 75°F; highs from 82 to 86°F.
Island of the Gods
Bali, which is surrounded by coral reefs, has some gorgeous beaches, but the Balinese highlands inspire harmony and inner tranquility like no other place on earth. Jet setters and world adventurers alike consider Ubud, the artistic cultural center of the island, an ultimate world-class destination.
Art and Music
Ubud became an artist's retreat in the 1930s when the royal family encouraged foreign artists and craftsmen to enter the area. Today, it boasts myriad boutiques; carving, painting, and weaving shops; handicrafts; and a lively traditional Balinese music scene.
Start your artistic explorations with a visit to Neka Art Museum for an overview of the development of modern and traditional Balinese art. Then hit Ubud's famous galleries—whether you are just browsing or looking to buy. Although peppered throughout the area, most art shops are concentrated along Monkey Forest Road.
Music is also an inherent part of Balinese culture. No performance, ceremony, or procession is complete without the melodic, syncopated magic of the gamelan, a traditional percussive instrumental ensemble of Indonesia. Gamelan instruments include hanging gongs, a range of metallophones (tuned metal bars struck with a mallet), sets of upturned pots, and sometimes a wooden xylophone. Bali's village orchestras play any of 25 different gamelans, from a solitary bronze gong to multiple rows of metallophones.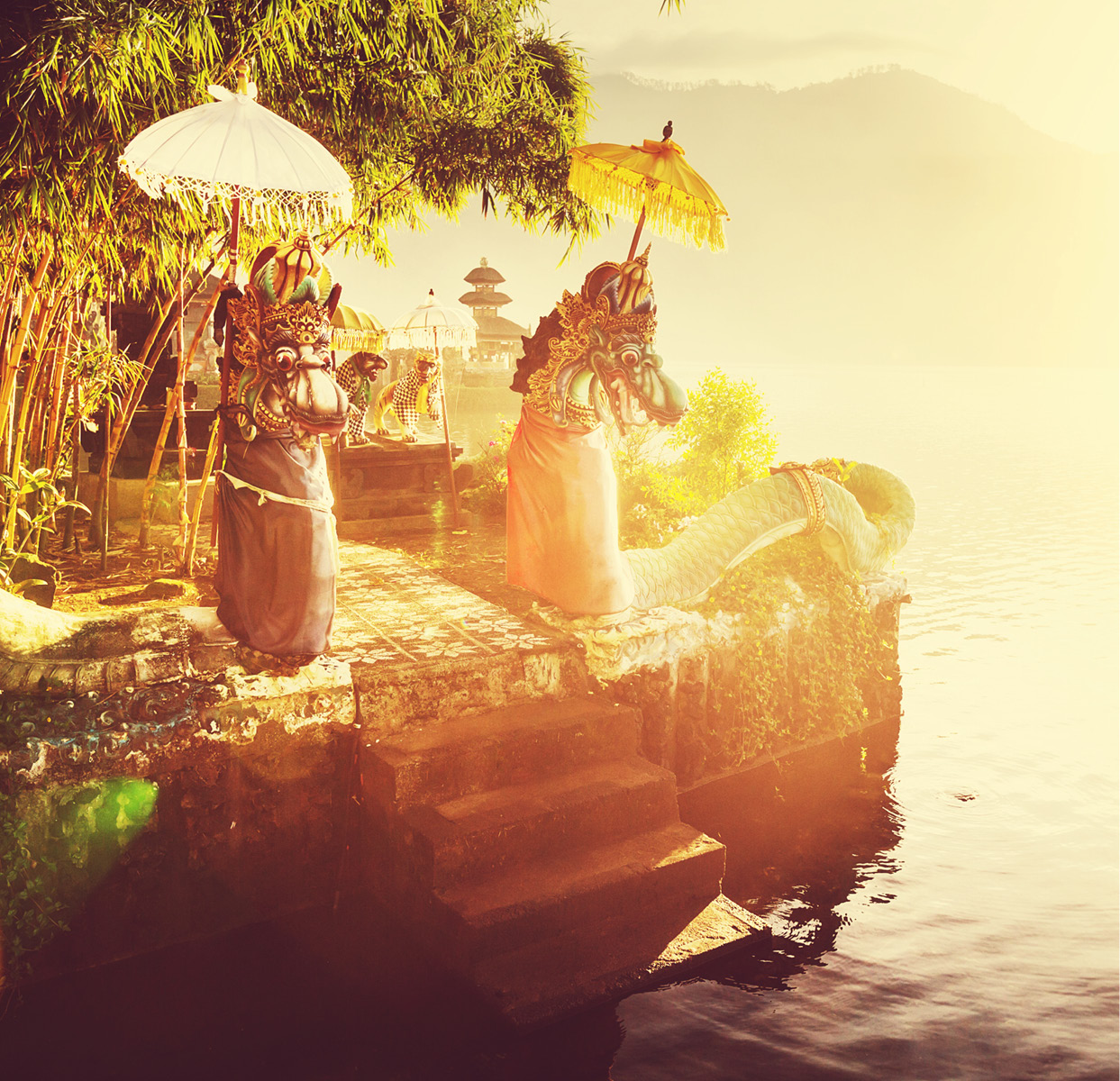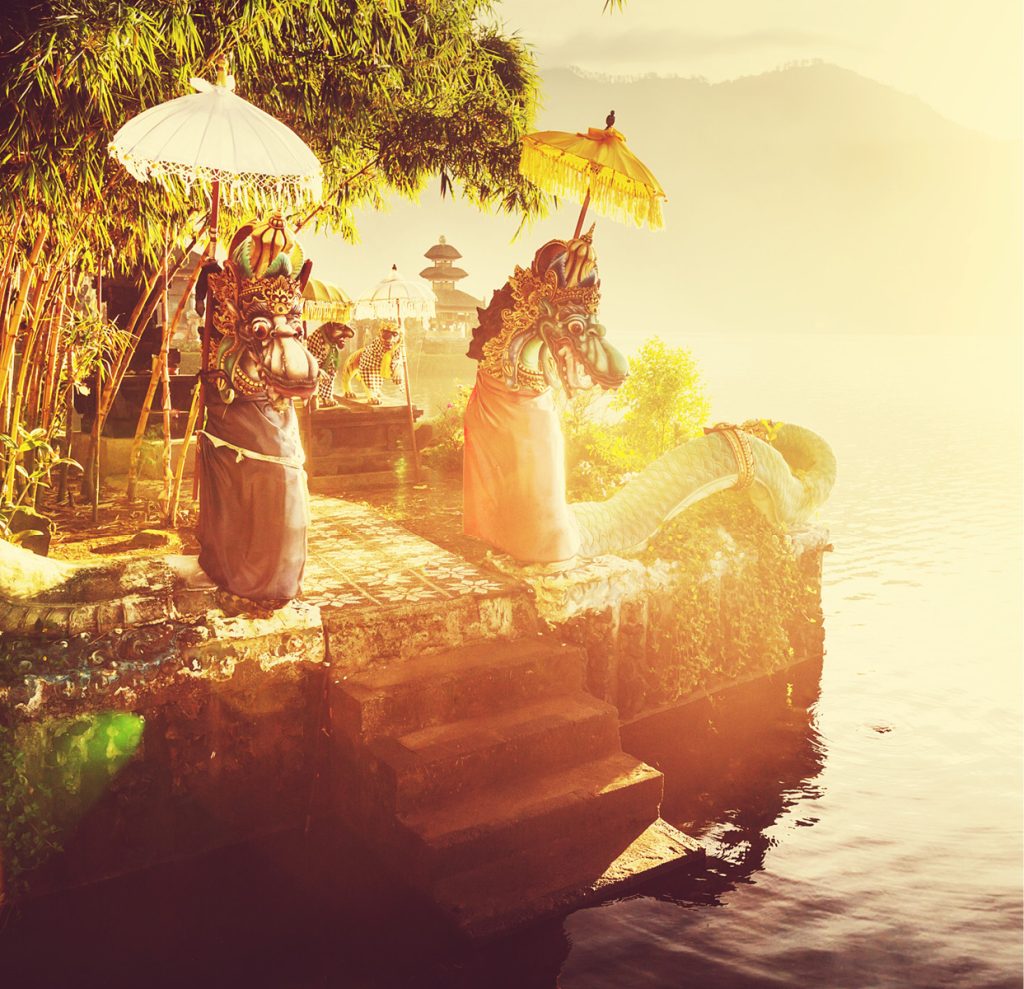 Culture and Religion
People of different faiths feel welcomed in Bali, which is primarily Hindu. Made throughout the day, spiritual offerings are everywhere—around your hotel, in a tiny shrine along the road, and even at the end of cocktail bar. They come in all shapes and sizes, but most are tiny assemblages of plumeria or frangipani petals and incense perched on a small, square-shaped palm leaf. Hindu temples are scattered throughout the island. Ubuds' Saraswati temple is worth seeing. Known as the Lotus Temple, it overlooks a beautiful pond brimming with lotus.
See a traditional Kecak Fire and Trance Dance performance in the nearby village of Junjungan. A choir of men create symphonic music with their voices. Forming concentric circles, they sit, sway, stand, and lie prone as the story develops. It's helpful to read the story behind the dance so you understand what's going on. Arrive early for good seats.
More than sustenance, in Bali, rice is life. Visit the ancient rice terraces of Jatiluwih. Artful and elegant, they are a testimony to the rice farmers' love and respect for the land. Walk, bike, or drive the road that wanders through this fertile bowl of the island's sacred grain.
Stay and Indulge
The Chedi Club Tanah Gajah is an award-winning luxury hotel and spa hidden among rice fields as far as the eye can see. With twenty individual villas, each featuring original Balinese artworks, and a fabulous infinity edge pool, The Chedi caters to travelers looking for an intimate, exotic retreat and an attentive, accommodating staff.
Relax and Restore
Your vacation may not be complete without a Balinese massage, featuring palm pressure on your body with long stretching and sweeping movements for deep relaxation. Ubud Traditional Spa pampers guests from head to toe. Nestled in a quiet garden filled with a variety of exotic fruits, herbs, and spices, the charming location alone will increase your sense of tranquility. You will be welcomed with a drink before your massage, and invited to enjoy tea and fresh fruit afterward.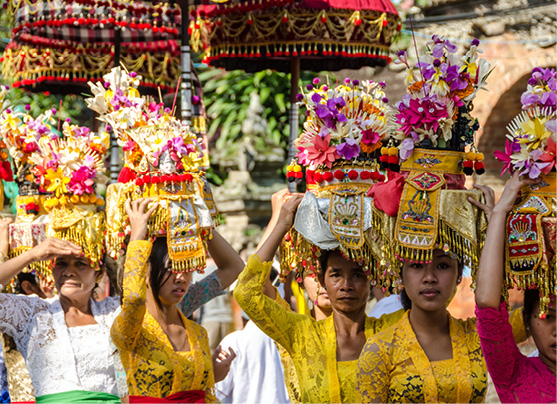 Fusion of Flavors
Balinese cuisine is some of the most complex in the world, using an aromatic array of tropical spices perfectly blended with fresh vegetables, meat, and fish. Indigenous traditions, along with influences from other Indonesian, Chinese, and Indian cuisines come together to create a unique and satisfying taste profile. Balinese specialties include roasted suckling pig and smoked stuffed duck wrapped in bamboo.
Culinary Adventure

If you love to cook and experience local life, sign up for a Paon Bali cooking class. It begins with an Ubud markets tour that introduces local food ingredients, spices, and fruits. Next, stop at a rice field to learn about the process of growing rice and Balinese family culture. You are then welcomed into a family home where you will prepare (and consume!) different delicious dishes.
Consider dining at Who's Who, a great little bistro/bar sandwiched off the main road. Pop in to Seniman Coffee Studio for a pick-me-up sampler coffee tray and a sugary coconut roll for either breakfast or lunch. They have food from Papua, Sulawesi, Java, Sumatra, and of course, Bali. Stop by Naughty Nuri's Warung and Grill, a bohemian local joint, for a dirty martini. Food celebrity and chef Anthony Bourdain declares it's the best he's had outside of Manhattan. Make dinner reservations at Swept Away at The Samaya, Ubud. Savor exquisite cuisine in a romantic setting along the river surrounded by scores of flickering candles.
Shopping and Sight Seeing
If you've watched the movie Eat, Pray, Love, you might recognize the Ubud Art Market. Fun to visit and bursting with local finds and souvenirs, be prepared to haggle. Shoot for trying to halve the price.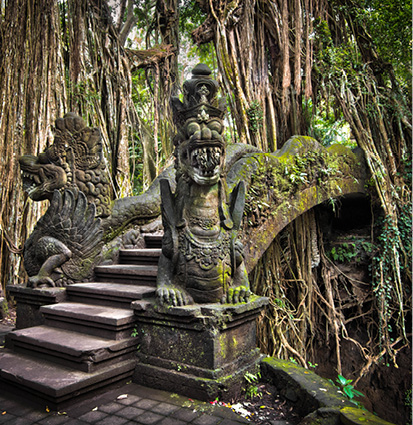 The Ubud Monkey Forest is a nature reserve and temple complex that houses approximately 340 long-tailed Macaque monkeys. A stroll around the shady, moss-covered brick paths is a great way to spend part of an afternoon.
Take a trip to Mount Batur, an active volcano about an hour from Ubud, which sits between two concentric calderas. The larger one contains a lake. Kintamani Restaurant provides a picturesque view of the caldera and serves a reasonable buffet lunch. More adventurous travelers can schedule a sunrise trek on Mt. Batur.
The 11th century monuments at Gunung Kawi are the closest thing you can find to Cambodia's Angkor Wat in Bali. About 11 miles from Ubud and situated in Pakerisan River, Gunung Kawi consists of 10 impressive rock-carved shrines. Be sure to wear good walking shoes that can easily traverse stone steps.
By Annette Brooks