Kathryn Salcetti, DVM and Lindsay Nicholson, DVM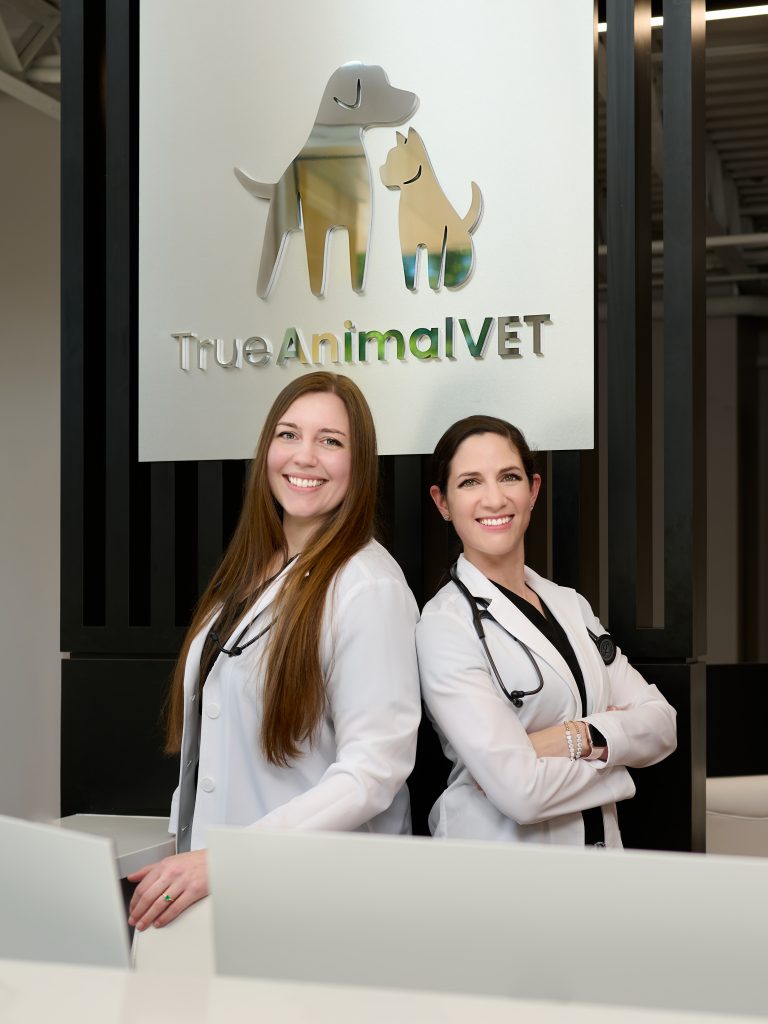 By
Annette Brooks
| Photo by
Karina Eremina of Joy of the Moment Photography
---
Pet parents in The Woodlands and surrounding areas have something exciting to celebrate. Dr. Kathryn Salcetti and Dr. Lindsay Nicholson recently opened their new private practice, True Animal Vet, offering high-quality, comprehensive general and urgent care veterinary services under one roof.
Dr. Nicholson, a general practitioner, internist, and surgeon, and Dr. Salcetti, who specializes in emergency medicine and advanced imaging, met at a vet clinic years ago when they were considering a career in veterinary medicine. They each went on to earn a Doctor of Veterinary Medicine degree from Texas A&M College of Veterinary Medicine & Biomedical Science, graduating in 2014 and 2016 respectively. After practicing at other clinics, the dynamic pair joined forces to meet a growing need in The Woodlands for comprehensive veterinary services.
"We're focused on providing excellent service to our clients and the best medical care for their pets. It's more convenient and a lot less stressful for pets and their parents to come to the same practice for both general and urgent care," says Dr. Salcetti, a native of The Woodlands. Dr. Nicholson grew up in Kingwood. Both vets reside in The Woodlands and proudly serve their community and neighbors with top-tier veterinary services.
Asked about the practice name, Dr. Nicholson says, "True Animal Vet reflects our unwavering commitment to providing trustworthy and high-quality care for your pets. We chose the word 'true' to honor the trust our clients place in us and to convey our dedication to the well-being of our patients. At True Animal Vet, we always strive to live up to our name."
Spacious Office in The Heart of The Woodlands
Located at 4524 Research Forest Drive in a 5,500-square-foot standalone building, True Animal Vet is equipped with advanced imaging technology, including abdominal ultrasound, digital X-rays, and echocardiograms, and boasts nine private exam rooms, an OR, and two dental table suites. With easy access and plenty of free parking, bringing your pet to see True Animal Vet is a breeze.
"We've planned for the long-term, which is reflected in the building design and layout, and the floorplan flow," Dr. Salcetti says. They even have separate dog and cat waiting and exam rooms. "We want our veterinary hospital to be comfortable for pets and pet parents."
Clients may also take advantage of their online pharmacy for prescriptions, medications, and specialty food.
Join the True Animal Vet Family
Whether your cat or dog needs a wellness exam, surgery, dental, preventive health screening, advanced imaging, or emergency medical services, rest assured the True Animal Vet team will care for your pet just as they would one of their own. The doctors and their staff will also communicate with you every step of the way. Visit TrueAnimalVet.com to learn more.
Comprehensive Services for Cats and Dogs
Primary Care

Urgent Care/Emergency Medicine

Separate Cat and Dog Waiting Areas

Private Client Yard to Walk Dogs

Online Pharmacy

Walk-ins and Drop-offs Welcome

Open Monday-Friday, 7:30 AM-9 PM, Saturday, 8 AM-noon.
---
CONTACT
4524 Research Forest Drive
The Woodlands, Texas 77381
(281) 867-5968
TrueAnimalVet.com