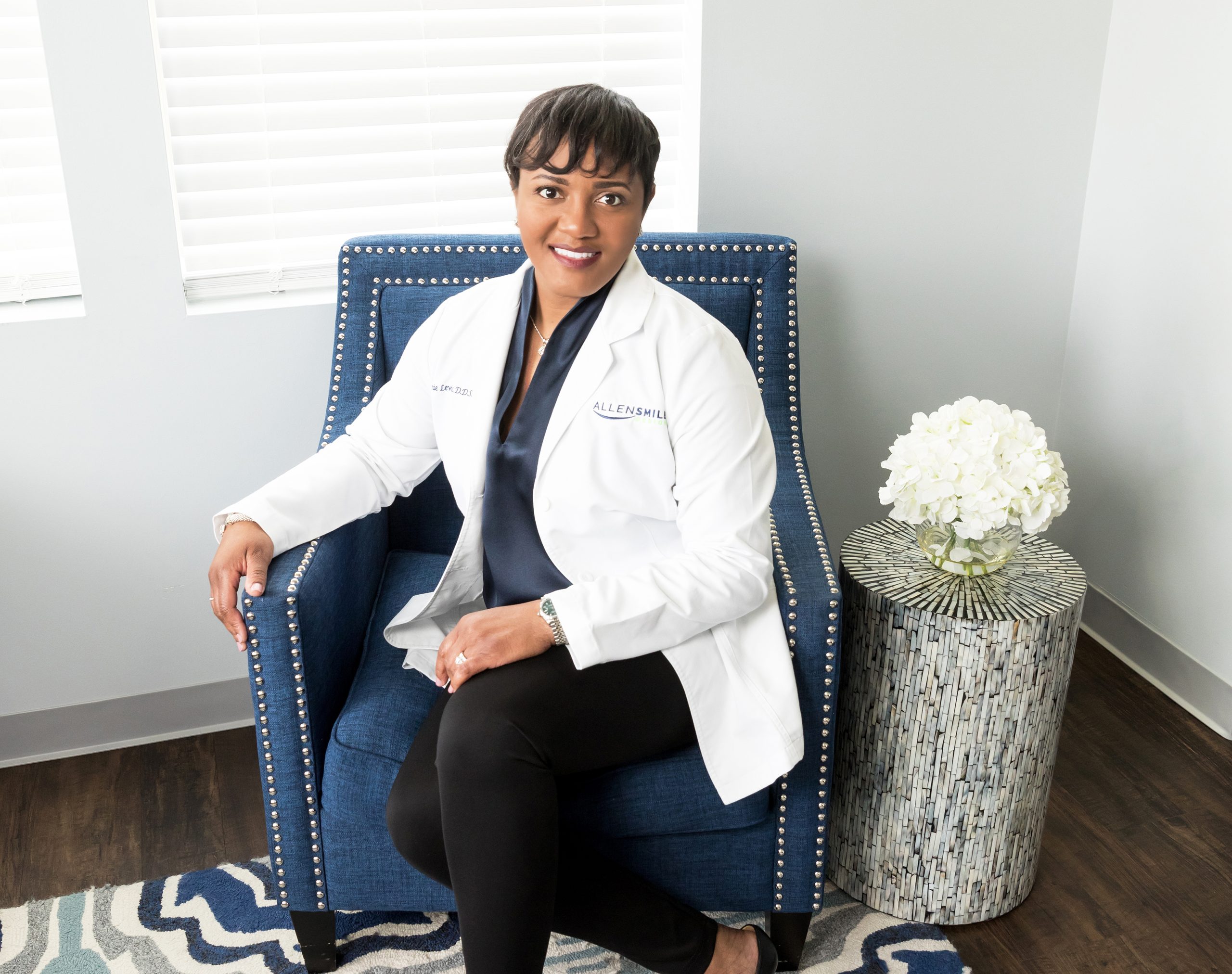 By Sandy Lowe |
Photo by
Lee Ann Baker/LABphotography
---
Growing up in rural Mississippi, Tonie Lewis learned the importance of access to care. Her family often drove a distance to visit their doctor and dentist. While she benefitted from the close-knit community, she wanted to help meet these needs.
A car accident when she was eight years old broke both sides of her jaw. During multiple surgeries and dentist office visits Tonie came to trust and appreciate the dentists who helped her heal. They became mentors on her journey, providing excellent care and a healing touch.
After graduating as the valedictorian of her high school class, Dr. Lewis completed her Bachelor of Science degree in biological sciences with a minor in chemistry, graduating with honors from the University of Southern Mississippi. She then attended Howard University College of Dentistry, where she received the Community Dentistry Award and the Academy of Esthetic Dentistry Award. She is also certified in Invisalign and laser dentistry.
After school, Dr. Lewis went to work in a North Carolina community much like her home, treating underserved residents.
"It's a beautiful place," she says. "I worked under a great clinical advisor, and it was a good learning experience."
After moving to the Dallas area and deciding to open her own practice, Dr. Lewis knew she had even more to learn. While her education had prepared her well for excellence in the dental field, she needed to learn quickly about the aspects of starting and running a business. The results make it clear that she succeeded.
Dr. Lewis runs Allen Smile Design on the basis of her father's teaching to treat others as you want to be treated. She and her staff create a relaxing and reassuring atmosphere where patients will enjoy the finest in dental care.
A commitment to empowerment and inclusion motivated Dr. Lewis to create a diverse workplace. All her staff are women, each from a different ethnic heritage: Dani from Belize, Jiyan with Kurdish background, Anna descended from Armenians, and Daisy, Hispanic.
Dr. Lewis serves on the board of directors for the nonprofit founded by Dani's family. Because no free public education exists in Belize, The Straughan Foundation provides scholarships, which allow children to attend school by helping to pay for their school fees and tuition. The Allen Smile Design staff is planning a mission trip to Belize to extend free dental care to those in need.
Locally, Dr. Lewis helps support the athletic teams of her younger patients. Allen Smile Design has also contributed to local PTA groups.
One of Dr. Lewis' future goals is to start a mentoring program for local students interested in healthcare careers.
"I had great mentors," Dr. Lewis says. "What they taught me was invaluable."
Dr. Lewis believes in paying it forward. The early care she received taught her about respect for others and striving for excellence. When you visit Allen Smile Design, you'll receive the finest care with a gentle touch.
---
CONTACT
1420 West Exchange Parkway
Suite 170
Allen, Texas 75013
(971) 435-7384
AllenSmileDesign.com