Natalie Webb
The Webb Family Law Firm, P.C.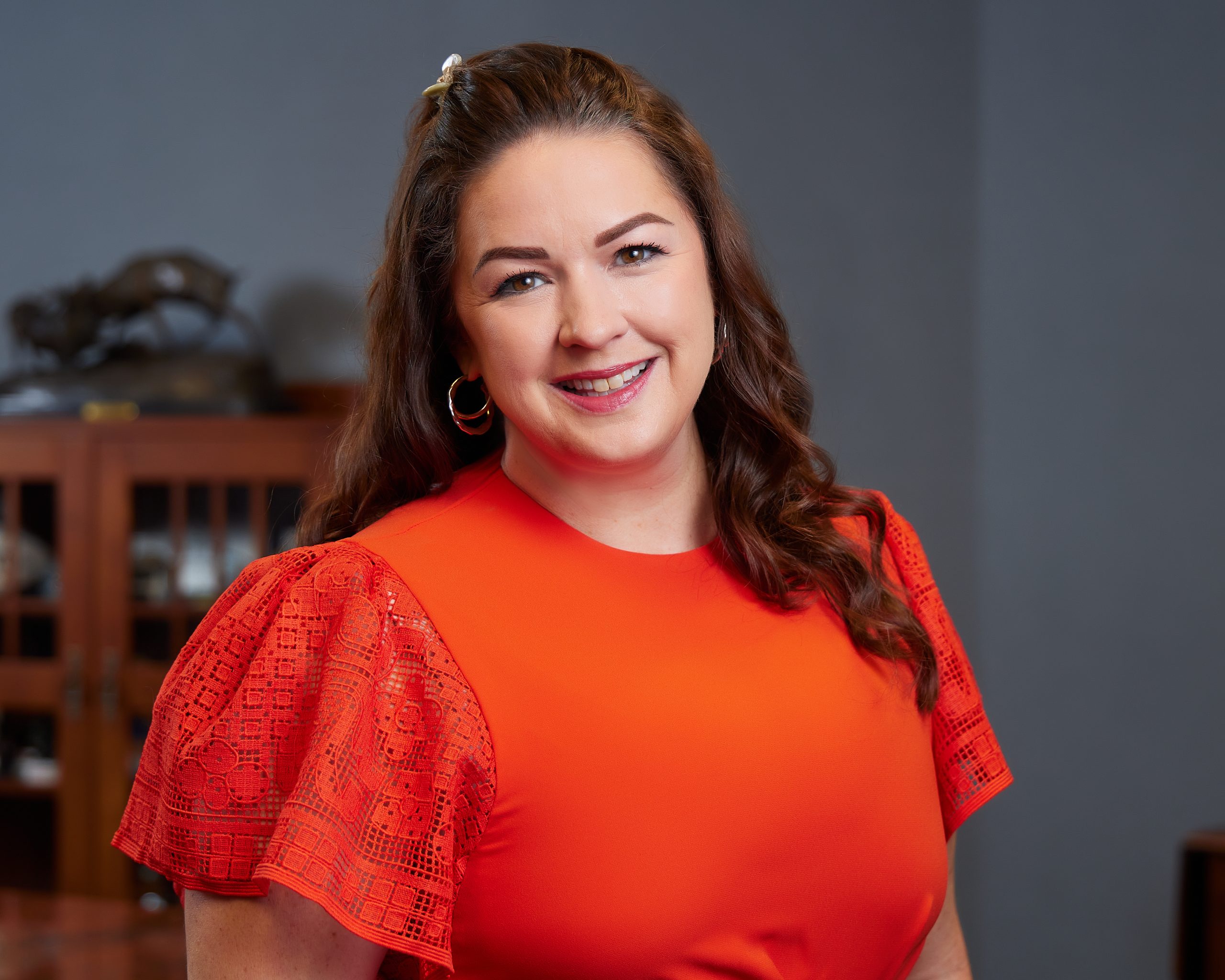 By
Meredith Knight
|
Photos by
Scott Peek Photography
---
Natalie Webb didn't have to look far for a role model. Her father, Brian Webb, was a well-respected family law attorney for more than 40 years. Following in her father's footsteps, Natalie eagerly threw herself into law school and joined the family law firm in 2008. Her brother, Brant, joined her there in 2011. And the two were blessed to practice law alongside their father. When Brian passed away in 2019, Natalie accepted the role of owner and managing partner.
Natalie and Brant expanded the family firm to include six paralegals, a legal assistant, a forensic financial specialist, and six lawyers — a dynamic legal team that tackles a myriad of family-law matters. Together they provide one-on-one counsel to clients in cases including highly complex property divorces, custody litigation, premarital and post-marital agreements, uncontested divorces, enforcement proceedings (child support, possession, and property division), custody modifications, protective orders and restraining orders, termination proceedings, international child abduction, and paternity matters. Natalie is also trained and experienced in mediation and collaborative law.
Family-Law Professionals
"Choosing a family lawyer is like choosing a doctor," Natalie said. "You'll be trusting this person with your livelihood, your quality of life, and your family." As managing partner and the only female attorney in the firm, Natalie often enjoys a special rapport with her clients. "We work very closely with our clients," she said. "We take a team approach to each case and the lawyers in the firm collaborate on cases together. We select with whom each client will work carefully matching personalities. Still some clients—often female clients—prefer to deal with a woman. Our clients are sharing their life stories with us, telling us things they may not have told their best friends. It's important for them to know they can trust us."
Natalie builds that trust from the first meeting being friendly but professional and helping clients feel comfortable. Every attorney in The Webb Family Law Firm is board certified in family law by the Texas Board of Legal Specialization and has ample courtroom experience. But in their work with families, especially when kids are involved, they often try to avoid the courtroom. "Litigation isn't always the best route," Natalie said. "If we can negotiate to find amicable solutions and facilitate settlement before resorting to the courtroom, it's often better for everyone. But we're prepared to go to court and win when we need to."
If you've spent a lifetime acquiring assets and income, you need an attorney with the skill, experience, and reputation to help protect those assets during the dissolution of your marriage. But you also want someone who sees the human aspects of your case and will work to minimize the damage to everyone involved. Natalie Webb spends her days doing just that.
A Firm You Can Trust
It's not surprising that both Natalie and her brother, Brant, were recognized in the past as Super Lawyers "Rising Stars." These attorneys represent the top 2.5 percent of "up-and- coming" lawyers who were vetted by the Super Lawyers research department and then selected by a peer-evaluation process. Natalie was also selected as a "Super Lawyer" in 2022. She credits much of her success to her outstanding staff.
"We have such a great team of lawyers and staff," Natalie stated. "My father always said you spend a large portion of your life with your co-workers, so it's important that you really get along with and like the people you work with. We're like a family here, which I think comes across to our clients."
Meet Natalie Webb
Natalie Webb graduated from Trinity University with a major in international business before obtaining her juris doctorate from Southern Methodist University Dedman School of Law. While in law school, she was chosen for some impressive internships, including two summers at the Court of Appeals in El Paso. There Natalie worked under the tutelage of Justice Ann McClure, who would become the first woman chief justice of the Texas Eighth Court of Appeals. Natalie interned for eight months at the Federal Deposit Insurance Corporation where she had exposure to many areas of the law and gleaned knowledge from each. But family law was her first love and inevitably she chose that as her specialty.
"I learned about briefing, researching, writing, and not just family law, but all kinds of legal matters," Natalie said. "It's been helpful within our practice. My brother is the go-to researcher in our firm, and we've discussed him taking on family appellate law in the future."
Imminently Qualified
By 2014, Natalie became board certified in family law by the Texas Board of Legal Specialization. She has authored numerous legal articles, and presently is a member of 20 professional associations, including the American Academy of Matrimonial Lawyers, an association that recognizes the nation's top family law professionals. She was admitted into the International Academy of Family Lawyers, which has 930 fellows from 67 countries. Members are recognized by their peers as the most experienced and skilled specialists in their respective countries.
"These associations have a great network of people from other states and other countries," she said. "They are outstanding referral sources, and offer supreme learning opportunities such as conventions, seminars, and collaborative events."
Natalie is also a member of the Hague Convention Attorney Network. "If there's a child abducted from another country, and brought to Texas, or abducted from Texas and taken to another country, the state department may contact me," she said. "It's a very specific niche and something our firm does that sets us apart from other firms in Dallas."
When not on the job, Natalie volunteers with Community Partners of Dallas supporting foster care children and is very involved in Operation Kindness No-Kill Animal Shelter. She's married with four dogs, enjoys traveling, yoga retreats, reading, and kickboxing. Natalie is board certified in family law by the Texas Board of Legal Specialization and is a board member of both the Texas Academy of Family Law Specialists and the Council of the State Bar of Texas Family Law Section.
---
CONTACT
Republic Center
325 North St. Paul Street
#4450
Dallas, Texas 75201
(214) 871-2730