Stacy Erickson
Baylor Scott & White Medical Center - Frisco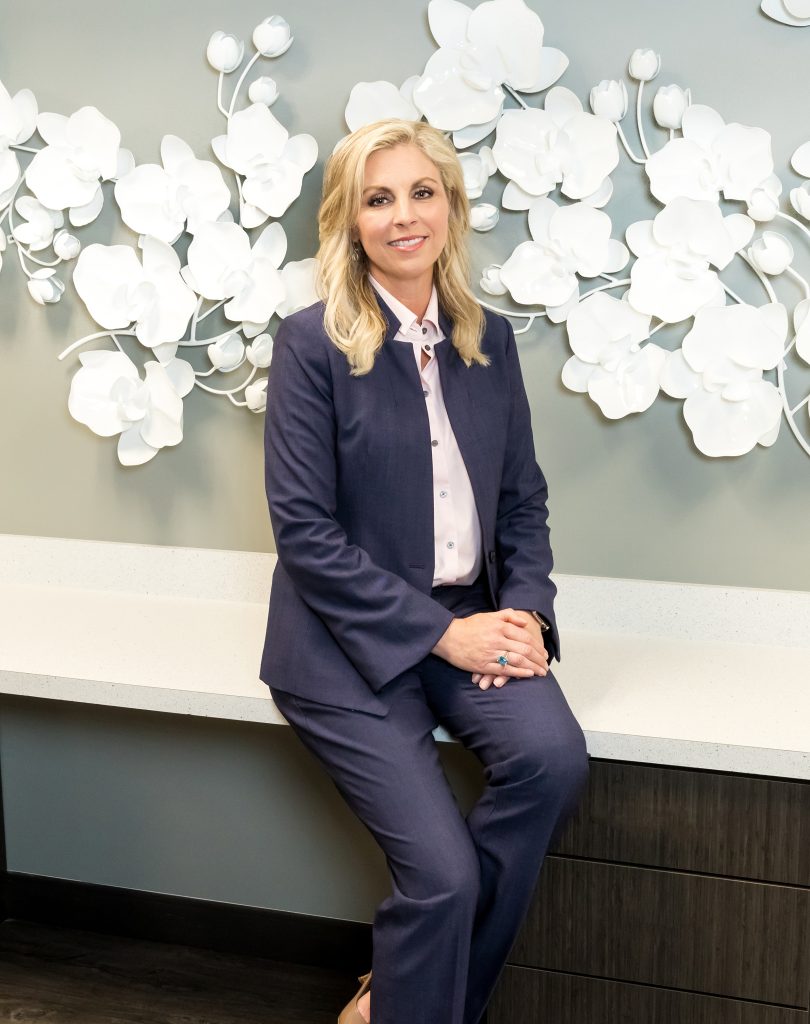 By
Stephen Hunt |
Photos by
Lee Ann Baker, LABphotography
---
Stacy Erickson, RN, CNO is certainly a leading woman. Though her path to her current role as chief nursing officer with Baylor Scott & White Medical Center Frisco (BSWMCF) has been somewhat unexpected, but equally rewarding. Born in the Kansas City area before her family moved to Denver and then to Houston, Erickson, who has called the Dallas area home since age 12, went to the University of Arizona to study broadcast journalism without nursing on her horizon.
However, after switching her major to psychology, working with special needs adults, where she collaborated closely with doctors and nurses, she realized that's where her true interests lie, in the medical field, where she could further her love for helping people and improving their health. Working with special needs adults, individuals who often can't communicate, proved to be both challenging and rewarding.
After earning her undergraduate degree in nursing from the University of Albany, State University of New York (SUNY), she worked in primarily critical care and emergency nursing with a focus on trauma. About one year into doing beside care, Erickson became a charge nurse, someone who oversees a team of nurses.
In 2006, she became director of emergency services for Baylor Medical Center at Frisco, a position she held until 2010 when Erickson assumed the role of quality specialist: environment of care and emergency management. In 2012, she became director of risk management and in 2015 Erickson was promoted to vice president, quality and risk management, environment of care for BSWMCF.
In 2021, she was promoted to chief nursing officer, a position where she has 13 employees reporting directly to her with about 200 nurses under them. In Erickson's current capacity, she also oversees quality management and facilities managment for the hospital. Additionally, Erickson is responsible for ensuring that Baylor Scott & White Medical Center-Frisco recruits and retains as many high-quality healthcare professionals at the Frisco facility as possible.
"We want to make sure that we're the best place for patients to come and have surgery or have a baby. We do those things very well," she said. "But the biggest challenge for me and I think us as an organization is recruitment and retention due to a highly competitive market. It's important for us and very important for me to make sure that my team understands that I am very grateful for the work that they do every day."
That "culture of gratitude" which Erickson works to foster at BSWMCF and which the organization makes a priority at all company facilities is an effective one because when employees feel appreciated for their contributions, they tend to work together better and more effectively. More than half of the leadership at the hospital is female. These leading women are focused on the culture and supporting their colleagues as servant leaders. They have found that supporting their colleagues and their work not only makes a positive impact on employees, but has a similar positive effect on patients. This empowering culture is one reason why the average employee tenure at BSWMCF is around eight years, a retention rate almost unheard of in healthcare.
When Erickson became chief nursing officer in 2021, the COVID-19 pandemic was still in full swing, which presented its own set of challenges with information about the pandemic from the Centers for Disease Control (CDC) seemingly changing daily and sometimes hourly. However, she was able to draw on every part of her diverse background, including her 10 years spent bedside as a nurse, to weather the storm in her position and help BSWMCF adapt to the ever-changing conditions.
"I found myself not only in a leadership position but working side-by-side with my nurses taking care of critical patients at times," Erickson said. "I really think my background in emergency and trauma really helped me in that situation because there was so much change coming at us all the time and we didn't know what to expect. In those situations, you have to adapt, you have to be flexible, and you have to lead your people in that manner. They need to know that you can hold it together in those situations so that they feel empowered and supported."
Now in her 17th year with BSWMCF, Erickson is grateful for the opportunities she has been afforded in the organization. She credits her administration team, nursing leadership team, and physician partners who have supported her in her current
position and in her previous roles for her
continued success.
As someone who has devoted much of her life to nursing and to healthcare, the biggest change she has witnessed in the industry over the years is the pace at which patients now enter and leave the hospital. As a nurse, Erickson remembers patients coming in for hip replacements and staying for an entire week. However, thanks to incredible advances in medicine and research, many hip replacements are now same-day procedures or ones where those patients return home the following day.
Sure, her path to becoming a chief nursing officer might have been unconventional, one which began with her pursuing broadcast journalism, but Erickson wouldn't trade any of her stops along the way for anything. Of course, her diverse range of experiences has helped shape who she is as a healthcare professional, but the countless relationships she has forged over the years and the "culture of gratitude" she helps foster at BSW Medical Center-Frisco are equally
great accomplishments.
And she even has some sage advice for anyone contemplating a similar path
in healthcare.
"If someone is interested in healthcare or in leadership, if they're interested in rising through the ranks or fearful of anything, I would probably tell them to recognize the fear and embrace the idea, maybe get out of their comfort zone and take the risk," Erickson said.
ACCOLADES AND ACCREDITATIONS
5 Star Quality Rated Hospital, Centers for Medicare and Medicaid Services

"Advanced Center of Excellence for Total Hip and Knee Replacements," The Joint Commission

"Center of Excellence for Spine Surgery," The Joint Commission

"Center of Excellence for Shoulder Replacement," The Joint Commission

"Center of Excellence in Robotic Surgery" by SRC, an International nonprofit patient safety organization

"Center of Excellence in Colorectal Surgery" by SRC, an International nonprofit patient safety organization

American College of Surgeons Metabolic and Bariatric Surgery Accreditation and Quality Improvement Program

"High Performing in Hip and Knee Replacements" by U.S. News & World Report

"High Performing in Hip Fracture" by U.S. News & World Report

"High Performing in Spinal Fusion" by U.S. News & World Report

Aetna Institute for Quality for Bariatric Surgery

Blue Cross Blue Shield Distinction Center for Bariatric Surgery

Blue Cross Blue Shield Distinction+ Center for Spine Surgery

Center of Excellence for Bariatric Surgery with Optum Healthcare
---
CONTACT
5601 Warren Parkway
Frisco, Texas 75034
(214) 407-5000
BaylorFrisco.com