Sandi Gill, MHA, BSN, RN, NEA-BC
Texas Health Presbyterian Hospital Flower Mound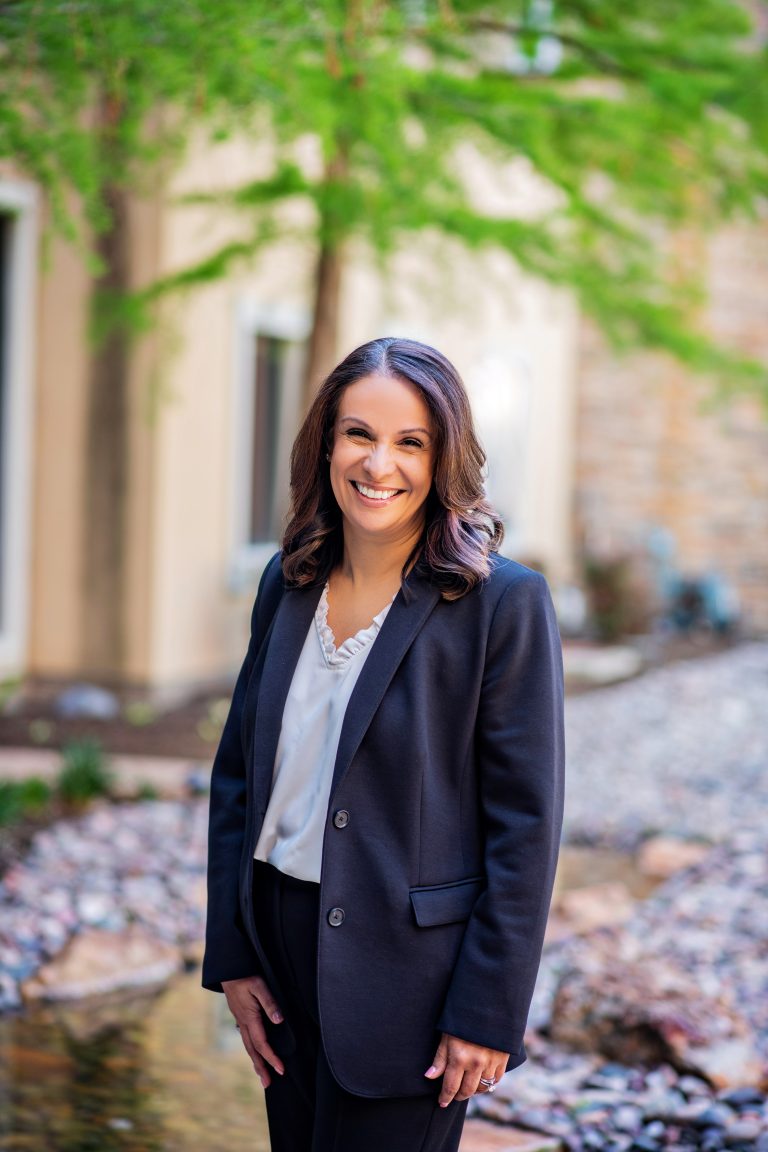 By Meredith Knight | Photo by Your Candid Memories
---
Texas Health Flower Mound's Chief Nursing Officer, Sandi Gill, didn't originally set out to be a nurse. She had her heart set on social work. "My dad really wanted me to consider nursing though," she said. "He told me — which I hadn't known — that I'd been a very sick baby. I was in the pediatric ICU, and he and my mom would have to drive two hours each day to see me. He told me, 'It's what you're meant to be, so you can give back.'"
Hard to argue with that logic. Sandi enrolled in nursing school and almost immediately knew she'd made the right decision. "Thirty-one years later, I still love nursing," she said. She worked in critical care, intensive care, emergency medicine, and coordinated organ and tissue donations, all before accepting a position in hospital leadership.
While some who transition into leadership positions miss the hands-on aspects of nursing, Sandi says that at a community hospital like Texas Health Flower Mound, she's still able to connect with the patients and their families. "I actually worked here when the hospital first opened and returned here as Chief Nursing Officer in 2020," Sandi said. "Because of the culture of this hospital, people I hired 13 years before were still here. It's just that kind of place."
2020 was a difficult time to work in healthcare in any capacity, and yet, Sandi took the reins during a time that was like no other for the hospital and the community. "Everyone was so welcoming," she said. "If anything, the COVID-19 pandemic connected us to each other and to the community more than ever before."
For Sandi, the word that best describes Texas Health Flower Mound is "community." The physicians on the medical staff, nurses, and the rest of the hospital's staff live, work, play, and worship right here. They are neighbors caring for neighbors, from emergency services and outpatient surgery to labor and delivery and routine check-ups. As the area's first acute-care center, they provide a 24/7, 99-bed facility with more than 500 physicians on the medical staff practicing a full range of specialties.
Within their sleek, modern facility, they offer the greater Flower Mound community care in the areas of back and spine, cardiology, emergency services, general surgery, advanced imaging services, mammography, maternity care, neurosciences, orthopedics, physical therapy, podiatry, primary care, rehabilitation, urology, women's health, advanced weight-loss surgery, and ear, nose and throat care.
When not on the job, Sandi is a proud mom of two grown kids, including a daughter who has followed her into healthcare administration. Happily married to an avid golfer, she loves to tag along, keep him company, and watch him play. She also enjoys attending plays and hanging out with friends. Over the years, she's garnered many awards, including NDNQI Award for Outstanding Nursing Quality, DFW Great 100 Nurses, HCA Innovator Award, Nurse Week Leadership Award, and more.
---
CONTACT
4400 Long Prairie Road
Flower Mound, Texas 75028
(469) 322-7000
TexasHealth.org/FlowerMound