Executive Director Micaela Alexander, MBA, LPC
Connections Wellness Group – Rockwall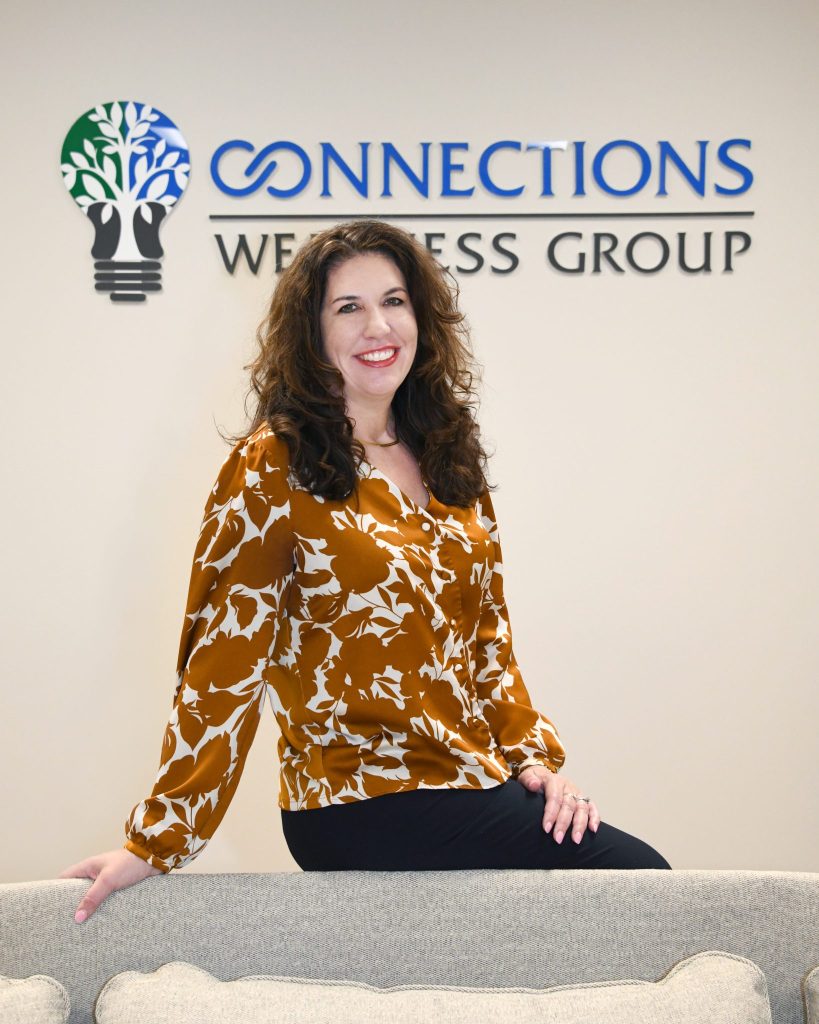 By
Annette Brooks |
Photo by
Lake Pointe Photography
---
Award-winning Connections Wellness Group (CWG) offers personalized, accessible, cost-effective mental health solutions, serving residents throughout North Texas with 12 convenient locations. Their mission is to connect you to meaningful, life-improving situations which promote positive change for your overall wellness. Overseeing the dynamic, multidisciplinary team at the Rockwall location is Executive Director Micaela Alexander, MBA, LPC.
"We serve both children and adults at our Rockwall office and are blessed with a fantastic, collaborative team of licensed professionals," Ms. Alexander says.
Executive, Clinician, Entrepreneur, Author
Ms. Alexander has always felt the calling to help others. While taking an engaging, interactive psychology class in high school that "felt right and natural," she became committed to forging a career in mental health care. After earning her undergraduate degree, she completed a Master of Counseling Psychology degree from New Mexico State University and a Master of Business Administration from the University of Colorado at Denver.
"I initially worked with men in the prison system. It gave me a strong clinical foundation but also helped me develop an ability to connect deeply with people from any walk of life when I talk with them. I find that people reciprocate when you're being real with them and show them genuine kindness," Ms. Alexander says.
She credits being the wife of a military officer on active duty and juggling home, kids, and a career for her remarkable resiliency and ability to pivot and adapt. During her husband's last tour away from the family, she wrote a book based on her personal journal, "My Year Without Him, The Life of a Military Wife," available from Amazon and Barnes & Noble. In it, she shares her account of being a military wife to help others handle the inevitable struggles that occur when someone in the family is away serving our country. She and her husband are proud parents of three. Two of their children are now adults, and the youngest is a teen.
For women interested in entering the mental health profession, Ms. Alexander shares this. "It's a wonderful career. I recommend getting to know yourself first — your strengths, weaknesses, and where you can improve, and to be realistic about patient outcomes."
She says working for CWG is incredibly rewarding. "CWG is refreshing and committed to the communities we serve. They invest in their employees and encourage us all to pursue continuing education to grow, develop, lead, and genuinely care about our clients."
Path to Wellness and Recovery
Whether you or someone you love is struggling with depression, anxiety, substance abuse, an eating disorder, self-harm, grief, loss, trauma, or another issue, Ms. Alexander and the Connections Wellness Group – Rockwall team encourage you to take the first step and schedule a free consultation today.
Innovative, integrated treatment model

Therapy

Psychiatry

Medication management

Youth PHP and IOP

Telehealth mental health services

Comprehensive, accredited private school instruction

In-network with major insurance companies and Tricare
---
CONTACT
1005 West Ralph Hall Parkway
Suite 201
Rockwall, Texas 75032
(469) 545-0160
ConnectionsWellnessGroup.com/rockwall