Melinda Dzinic, MCR, MCKBR, UDCP
Euro Design Build and Remodeling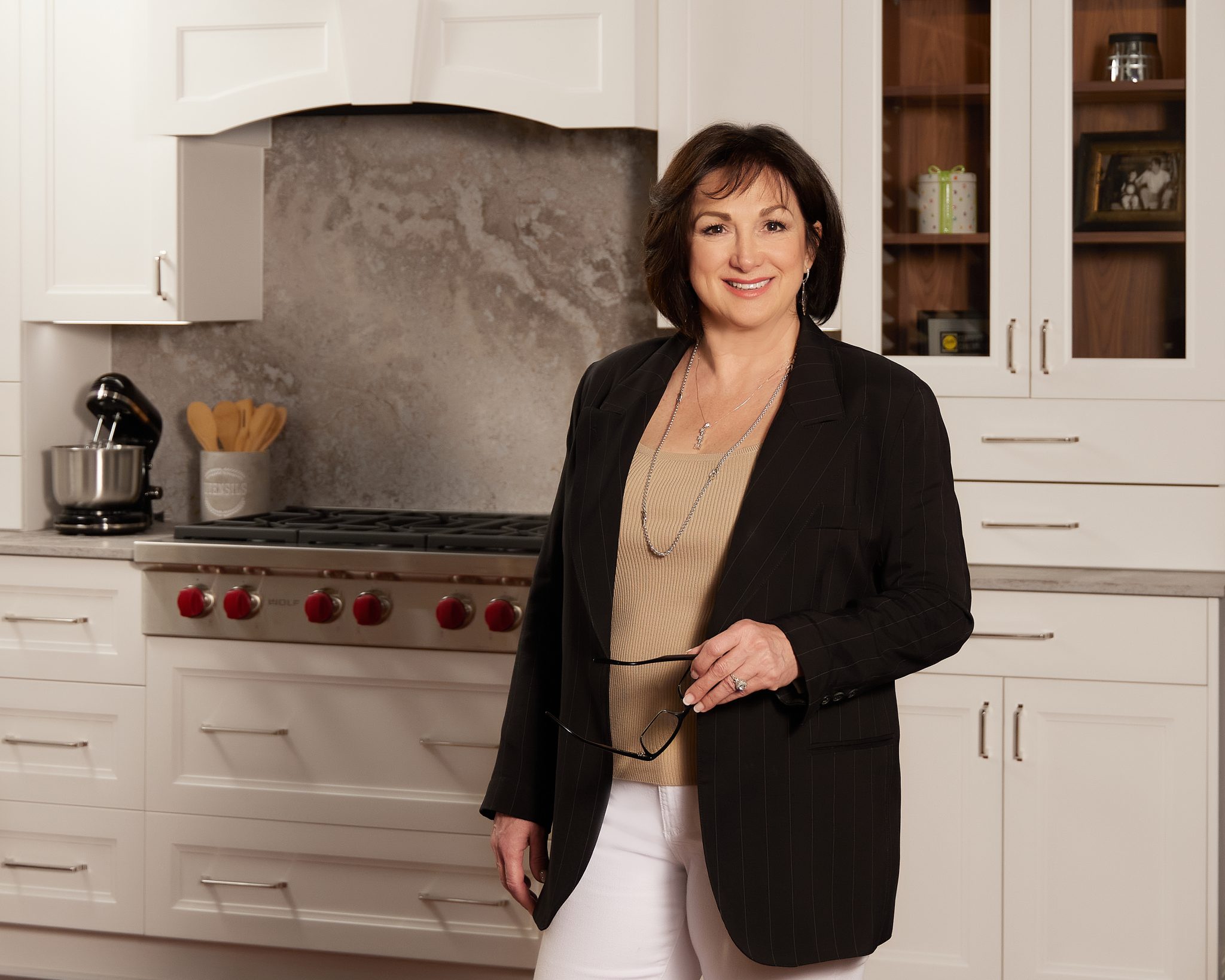 By
Melissa Gautier
|
Photo by
Scott Peek Photography
---
The key to starting any successful home remodeling project is thoughtful planning, followed by detailed execution and attentive project management. Melinda Dzinic, co-founder, mentor, and leader of Euro Design Build dives even deeper. She and her professional team of experts research and develop necessary solutions to factors that can strongly affect a family's overall health and wellness. Her passion and focus is creating healthy, functional living environments for her clients, enabling them to enjoy comfort, quality, and peace of mind for years to come.
A Premier Design and Home Remodeling Company
"Euro Design isn't just a name. It's a group of like-minded people – top craftsmen who appreciate fine quality workmanship and strive to exceed clients' expectations," Melinda explains. "We're raising the standards of quality within our industry." She and her husband have brought together a talented group of craftsmen, including designers, and field crew that are employed as full-time team members. They use skilled like-minded subcontractors for plumbing, electrical, HVAC, and professional engineering. A project manager is present each day on the job along with the field crew, minimizing disorder and misunderstanding while managing the client's expectations.
Creating a Healthy Dwelling
A consultation at Euro Design begins with the client's health in mind. Designers get to know them by asking questions relating to how they currently use their home's space and how it effects function.
Recognizing issues and developing solutions for healthy living is paramount. No one knows this better than Melinda herself. A few years ago, she was exposed to a parasite that impacted her life significantly, making her extremely sick for many months. "My body was no longer my own as my health deteriorated," she recounts. Her experience made her painfully aware of pathogens that can be found in a home's water supply and the harmful results that follow. She invested her time and energy into researching solutions and top-quality products that would perform effectively and stand the test of time.
Incorporating Modern Elements
Melinda began educating clients on better, safer alternatives and specific elements necessary for developing a healthy atmosphere. She learned that most people aren't aware their water might contain impurities that can impact their health. Impurities not only affect a person's health, but they can also damage plumbing fixtures over time. Installing a top-of-the-line water filtration system for the whole home is a leading priority. "Additionally, a tankless water system is critical," Melinda states. Since we ingest small amounts of water every time we shower, rust and other harmful organisms are being ingested as well. A tankless system eliminates rust and sediment from developing inside a hot water heater that could potentially cause further issues.
The Positive Impact of Healthy Choices
After Melinda integrated these features in her own home, she began to notice improved skin texture and softer hair within a few months' time. Most importantly, her health improved and her mind was clear. By making a few important changes in her home, the health of Melinda and her family was no longer in question.
Designing Spaces for Function and Convenience
Melinda and her team are experienced kitchen and bathroom designers. She encourages using the highest-quality kitchen appliances designed to last for years and function at optimum levels. The layout of each kitchen and bathroom area is designed around how individuals and families utilize their current space. Convenience and ease of use is thoughtfully considered when developing an area geared toward the homeowner's specifications and preferences.
"We love making a difference in the lives of people we serve," Melinda says.
In addition to a whole-house water filtration system and smart choices for fixtures and appliances, Melinda includes planning for a home that is kind to the environment, using less energy and water-based paint products.
Earning Clients' Trust
Euro Design's progressive approach attracts people with similar intentions. "Our clients are detail-oriented people who share our vision of impacting the world with better choices for cleaner, healthier living." They know they can trust Melinda's knowledge and genuine desire to make their home a place they can thrive.
Melinda believes having a positive experience during the remodeling journey means identifying the needs and style of the homeowner to craft a unique space that is a perfect reflection of who the client is and how they want to live. With unparalleled attention to detail, Euro Design's team of visionaries, expert designers, and dedicated master craftsmen guide clients every step of the way in creating a distinctive home, room, or addition.
Education and Credentials
Melinda graduated from the University of North Texas and has continued her extensive training in residential design and construction for the past 25 years. She has earned certification as a NARI Master Kitchen and Bathroom Designer and Contractor, NARI Master Certified Contractor, and a Certified Universal Design Professional.
Her drive and passionate desire to transform home spaces came to fruition when she was introduced to a group of craftsmen who survived the civil war in the former republic of Yugoslavia. Giving these young men and women an opportunity to use their old world craftsman skills in a new country propelled her and her husband to open Euro Design Build Remodeling and fulfilled her dream of creating healthy, safe environments for clients and their families to flourish. As co-founder, mentor, and leader, Melinda's tireless work and commitment to excellence led to the creation of a detailed process for each step in the renovation journey, taming the chaos typically found in construction projects.
Designs and home renovations

Kitchen remodeling

Bathroom remodeling

Interior design

Custom cabinetry

Home additions

Electrical and lighting

Tankless hot water heater installation

Pre-purchase home consultation
---
CONTACT
401 South Sherman Street, Suite 209
Richardson, Texas 75081
(972) 470-0303
EuroDesignBuild.com