Marissa Bothun, PA-C
Dermatology & Skin Cancer Surgery Center—Rockwall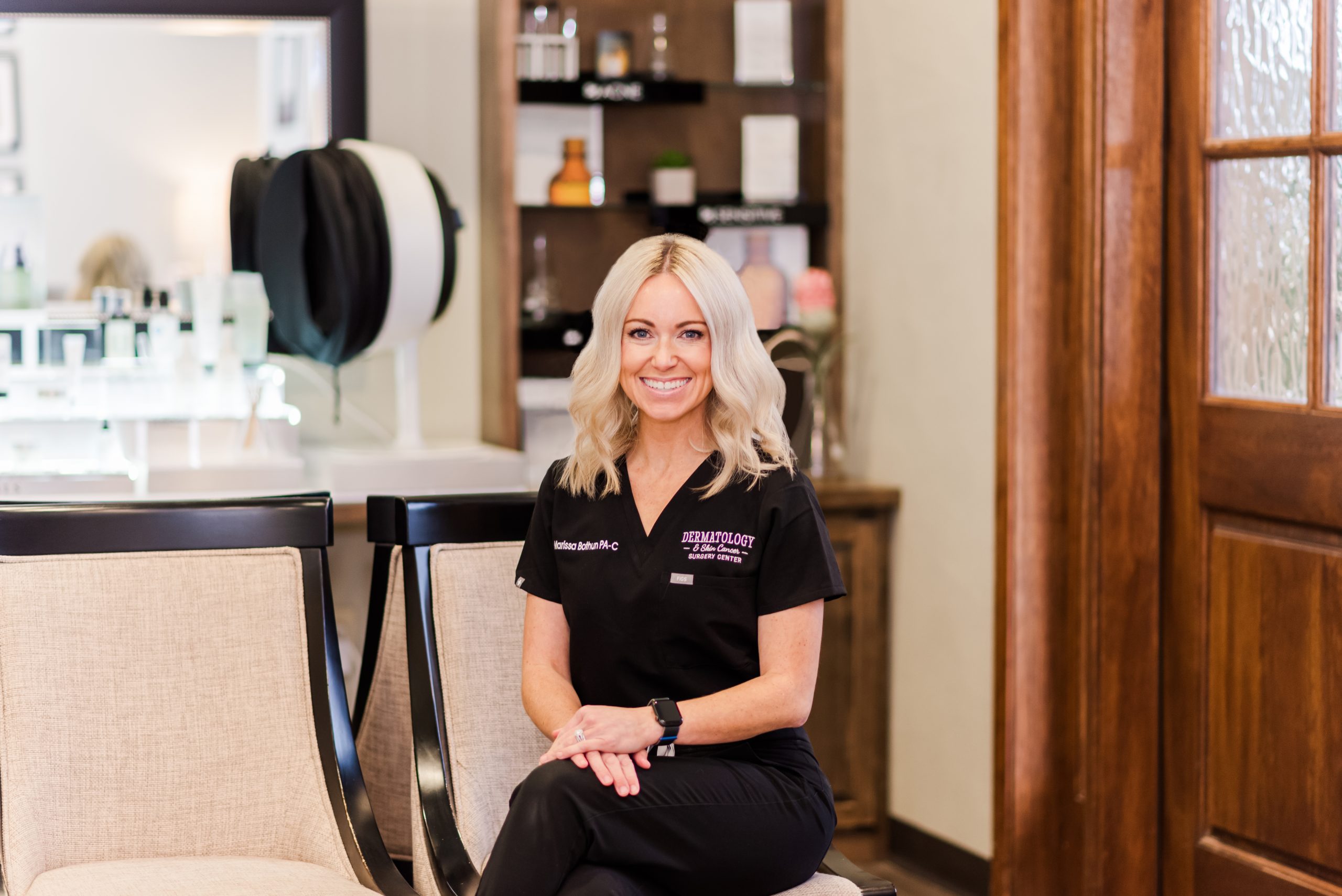 By
Cheryl Ricer
|
Photos by
The Teal Album
---
Self-acceptance is a great way to begin a new year and create a new you, but at Dermatology & Skin Cancer Surgery Center—Rockwall, loving the skin you're in means a lot more than liking yourself more. At Dermatology & Skin Cancer Surgery Center, the leading medical provider in North Texas for skin cancer treatments, their mission is to provide outstanding medical and cosmetic dermatology services to patients of all ages. Their approach to medical care is three pronged, including prevention, detection, and treatment.
Because about half of all melanomas are self-detected, the American Academy of Dermatology encourages everyone to perform regular skin self-exams to check for signs of skin cancer. Have you noticed new spots on your skin that you don't think were there before? Do any of your existing freckles or moles seem bigger or darker than usual? Do you have a sore that doesn't seem to heal?
"Skin cancer warning signs include changes in size, shape, or color of a mole or other skin lesion, the appearance of a new growth on the skin, or a sore that doesn't heal," said Marissa Bothun, PA-C, Dermatology & Skin Cancer Surgery Center—Rockwall. "If you notice any spots on your skin that are different from the others, or anything changing, itching or bleeding, you should make an appointment with us for a screening."
Screenings are important and should be scheduled at least once a year or more often with a personal or family history of malignancy. Not only will a screening allow the doctor to address any concerns from a patient's self-exam, but it will also allow for examination of areas that are impossible to detect during a self-exam. You'll have an opportunity to ask questions, gain education, establish a relationship with your provider, and gain access to any necessary treatment.
"We pride ourselves on our integrity and attention to each patient," said Marissa, "while utilizing the latest technology to achieve the best possible medical and cosmetic dermatology results. We have an entire team of highly skilled healthcare professionals led by Dr. Matthew Barrows, who can provide compassionate care in our comfortable and welcoming state-of-the-art facility. Providing quality medical and cosmetic dermatological care is our top priority."
Dr. Barrows is one of the only double board-certified dermatologists and Mohs surgeons in North Texas to perform Mohs micrographic surgery as an option for treatment of skin cancer. Mohs micrographic surgery is a highly effective, highly detailed, tissue-sparing surgery that is common in treating non-melanoma skin cancers. It involves a doctor excising the cancerous lesions from the top layer of the skin and working downward. After the skin layers are removed, they are immediately examined through a process called histology. This consists of microscopically examining tissues that have been frozen and treated with a special dye to determine if any more cancer remains.
"Since Mohs is a detailed surgery requiring special skill and expertise," said Marissa, "it is important to go to a highly trained and experienced physician like Dr. Barrows. Additionally, Dermatology & Skin Cancer Surgery Center has a plastic surgeon on staff who can work with patients post-surgery to repair defects following surgery for a better
cosmetic result."
During a Mohs procedure (an outpatient surgery), Dr. Barrows applies a local anesthetic to numb the surgery site. The top layer will immediately be frozen, treated with dye and looked at under a microscope to allow for an immediate microscopic examination of the excised cells. A tumor map is generated to see if any more cancerous cells remain. If more cancer cells are discovered, another layer of skin will be removed. This process will continue until there is no more cancer present. Once complete, the doctor will examine the wound and will either use sutures to stitch it up or, in some cases, call in the plastic surgeon for further consultation. Most patients experience little to no pain during or after surgery.
Surgical excisions are another treatment option for skin cancers. With this procedure, after the anesthesia is applied, the provider removes the biopsy-proven skin cancer, or cancerous growth, along with the bordering tissue, which may appear to be normal. An electrode is used to perform a feathering technique, which will smooth the edges around the wound. This helps to remove extra cells from the growth and minimizes the chance of scarring. Typically, the patient experiences no pain during surgery, and the length of the surgery depends on the patient's particular case, such as how large the growth is or on which area of the body it is found. The excised tissue will be sent to a pathologist for further testing to determine whether the border is cancer-free.
Superficial Radiation Therapy (SRT) is a noninvasive treatment option available at Dermatology & Skin Cancer Surgery Center—Rockwall that is used to treat basal cell and squamous cell carcinoma (nonmelanoma skin cancers).
"While not everyone is a candidate for SRT," said Marissa, "it is a good option for patients who are not good surgical candidates, like those of a certain age or with underlying health issues such as diabetes or heart disease, or where the cancer may be difficult to treat, such as the lower leg, face, or ears."
SRT is a painless, safe, highly effective, low-energy radiation that goes no deeper than the thickness of the skin to deliver a precise, calibrated dose of radiation targeting the abnormal and more rapidly dividing cells while allowing the surrounding normal tissue ample time to repair itself. It can be used to treat lesions of the arms, legs, back, trunk, head, and neck. SRT easily delivers a precise and controlled dose of radiation to delicate areas that are difficult to treat — along the fold of the nose, eyelids, lips, corner of the mouth, and lining of the ear. This treatment is FDA cleared with excellent cure rates and is widely recognized by insurance companies as an effective treatment option. SRT is quick with no anesthesia, no scarring, no pain, and no down time.
In addition to skin cancer treatments, at Dermatology & Skin Cancer Surgery Center—Rockwall, patients can enjoy aesthetic skin treatments, such as cosmetic injections, skin rejuvenation, and laser treatments. Sheila Radtke is the medical aesthetician and senior laser technician who performs chemical peels and laser treatments, including hair and tattoo removal. Amber Sisk is a registered nurse who administers injectables, including Botox and filler.
"Primarily, our goal is to help you take the best care of your skin," said Marissa. "We want you to turn to us for any signs of concern, especially where skin cancer is a risk. Anytime your attention returns repeatedly to a lesion or spot, that is your signal to pay attention. Signs of
melanoma are typically black or changing moles or spots, but melanoma can also be pink, so if something looks like a pimple or a bite, but it doesn't go away, schedule a consultation."
Dermatology & Skin Cancer Surgery Center is the top choice when you've made the commitment to love the skin you're in. Whether your concern is aesthetic or medical, they offer solutions delivered by caring, highly skilled, and extensively trained professionals.
More about Marissa
Marissa Bothun, physician assistant for Dermatology & Skin Cancer Surgery Center, has worked with Dr. Matthew Barrows for the past nine years at the established and trusted Rockwall location. Marissa Bothun, PA-C, diagnoses, treats, and manages various skin conditions, as well as performs minor procedures such as mole and lesion removal and is certified to prescribe medication. She attended the University of Oklahoma Health Sciences Center where she graduated with her Master of Health Sciences, Physician Assistant Studies degree in 2010. Since then, she has specialized in dermatology and in the removal of non-melanoma skin cancers. Marissa and her husband, Garrett, live in Rockwall and enjoy spending time with their son, Graham, and daughter, Makinley. Building relationships with patients in the Rockwall community and helping them love the skin they're in is her passion, and she looks forward to seeing you for your annual skin cancer screening.
---
CONTACT
1020 West Ralph Hall Parkway
Suite 102
Rockwall, Texas 75032
(972) 390-9002 ext. 6402
MDBarrows.com