Lisa Moody, PAC, DFAAPA, WTS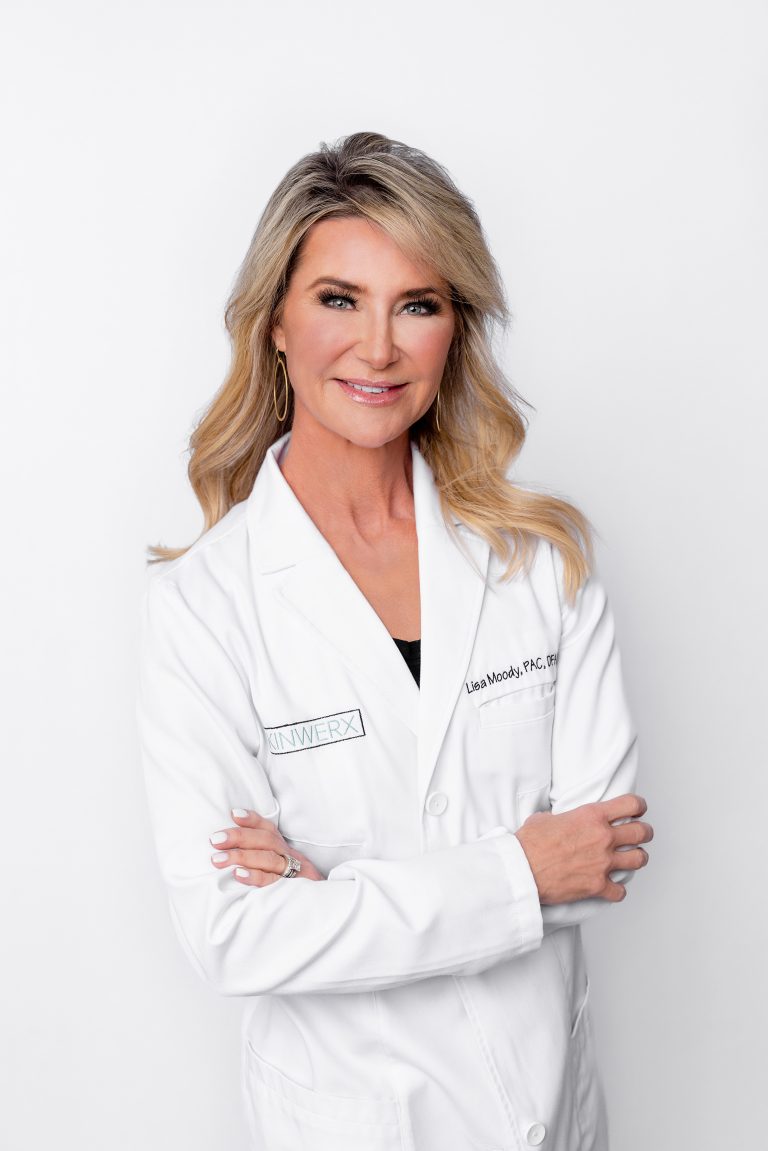 By
Meredith Knight
---
When you're a patient of Skinwerx in Arlington, you're part of a family. That's the way Owner/Founder Lisa Moody designed it. Lisa worked hard to hand-select employees who share her patient-first mentality and to cultivate a culture of genuine caring and inclusivity. "We all have issues with something health wise," she said. "We strive to meet our patients' needs with holistic care of the whole person—inside and out. This is a safe place to open up about what's going on and leave feeling uplifted and cared for."
This philosophy has not only led to many long-term patients but a robust word-of-mouth that has patients referring their friends, family members, and coworkers to this award-winning medical dermatology and aesthetics practice.
Hailing from a family of entrepreneurs, Lisa worked for eight years on the faculty The College of Osteopathic Medicine in Fort Worth educating PA and DO students before she felt the urge to try her entrepreneurial wings. She began with one-on-one Botox injection training and opened Cozmederm in 2005 exclusively offering Botox, Juvederm, and Obagi injections as she continued to study within her field. A chance encounter presented the next opportunity as she joined Mansfield Dermatology for 13 years further honing her cosmetic and medical dermatology skills.
Skinwerx
All those years of training and hands-on experience culminated in Skinwerx where Lisa and her team combine science, art, and a pampering atmosphere to help their patients look, feel, and be their best. Lisa credits her years as a physician assistant with helping her connect with her patients and really get to know them, to understand their concerns and preferences. Her years as an educator help her seamlessly step into the role of educating her patients about their aesthetic options, helping them make savvy treatment choices. And her insatiable curiosity motivates her to stay up on the latest and best offerings within her field.
Meet Lisa Moody
Fort Worth born and raised; Lisa is most at home on the water. When not on the job, she loves spending time with her husband of 28 years and two beautiful, talented daughters. "Our home has seen pets from snakes to beavers, bearded dragons to our fifth and latest squirrel, Mikey," she said. "I enjoy crafts, cooking, sewing costumes, and evening sunsets."
Lisa has led over 120 trainings across the US through the Galderma Aesthetic Injector Network (GAIN) promoting effective, safe injection techniques of the Galderma portfolio (Restylane, Sculptra, Dysport). After 20 years as a PA, she was awarded Distinguished Fellow of the American Academy of Physician Assistants (DFAAPA) status for service to her community and her profession. In 2021 she achieved accreditation from World Trichology Society (WTS) in hair restoration. She's been a preceptor at Cadaver Lab educational courses and spoken at multiple schools on cosmetic and medical dermatology topics. "I love what I do, love my patients, love my team, and love my family," she said. "I love my life!"
---
CONTACT
7911 Valcasi Drive
Suite 200
Arlington, Texas 76001
(817) 765-SKIN (7546)