Laurie Novosad, MD
Colon & Rectal Surgery | BSWH - McKinney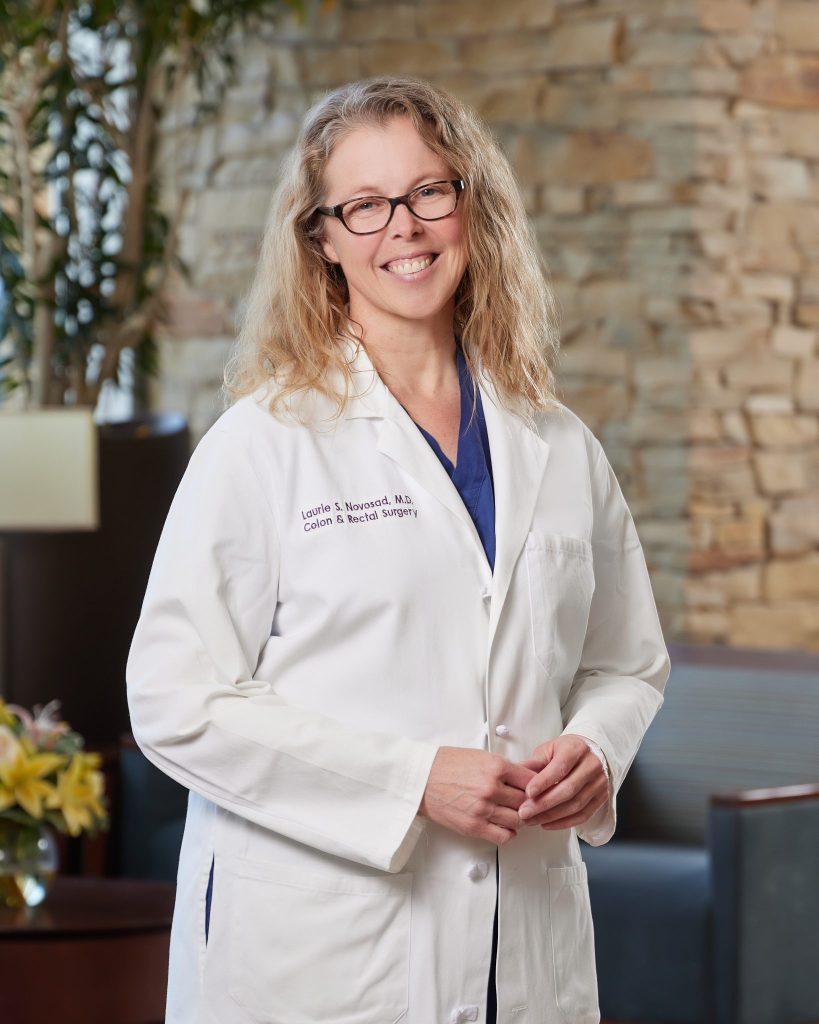 By
Cheryl Ricer
|
Photos by
Scott Peek Photography
---
Baylor Scott & White Health is proud to feature women who are leading change in healthcare. As part of our leading women feature, we are spotlighting Laurie Novosad, MD, Medical Director of Surgical Services at Baylor Scott & White Medical Center – McKinney. Dr. Novosad is a colon and rectal surgeon who is equally humble to her core and has the highest of expectations for quality care and outcomes for patients at BSW McKinney.
As a leader at BSW McKinney, Dr. Novosad has a passion for empowering patients with education, resources, and reassuring comfort in what's typically an uncomfortable and personal topic.
Bringing Comfort to an Uncomfortable Topic
"When treating patients at their most vulnerable, you want them to feel comfortable. Being able to help and support someone during such a difficult time in their life is an absolute privilege," stated Dr. Novosad.
She added, "My team and colleagues are focused on giving support to patients. We take time to explain to each patient what their diagnosis means; we make sure they understand their disease; and we help them plan for surgery. The surgeries we perform can often make patients better, improve their quality of life, and can often even be curative."
Empowering through Education and Resources
As the Medical Director of Surgical Services at Baylor Scott & White McKinney, Dr. Novosad focuses on information as power to thriving and knowing your risks, treatment options, and building a rapport with the care team. Dr. Novosad encourages ongoing patient education, including screening for colon cancer and prevention, including diet and exercise. Through the years, the hospital and Dr. Novosad offered community presentations such as "Meet the Docs" or "Lunch with the Doctors."
"Since the pandemic," said Dr. Novosad, "we had to curb our community events. But we will be bringing many of these patient education events back in the coming months at Baylor Scott & White McKinney."
Dr. Novosad supports the team at BSW McKinney to spend time with patients discussing the nutritional aspects of a healthy diet that includes high fiber (30 grams or more fiber) from a variety of sources and lots of water (two liters) every day, including a wide spectrum of fiber sources (fruits, vegetables, whole grains, beans, and nuts) and to eat raw meals low in processed foods.
"We use the term 'Eat the Rainbow,'" said Dr. Novosad, "meaning selecting fruits and vegetables in every color because each color has different essential nutrients."
She adds that for those who don't currently eat that way, this may take two or three weeks to build up, but that once you establish a rhythm, it gets much easier, and you will appreciate the healthy foods.
Patient-Centered Care
In collaboration with Baylor Scott & White McKinney, Dr. Novosad is a key contributor to developing the multidisciplinary structures that led to the Commission on Cancer (COC) accreditation of the Cancer Center. She supports the certification process, including maintaining hospital qualifications with bimonthly Tumor Boards, a multidisciplinary case discussion of patient cancer cases.
"Doctors from a variety of specializations gather to review imaging, pathology, and treatment plans for current patients," said Dr. Novosad. "It is required for any hospital to maintain COC cancer center status and is also helpful to get multiple opinions and input on each case. This helps keep our treatment team on the same page. Additionally, it allows patients to get multiple opinions and a concise treatment plan from cancer professionals who are examining their case at the same time."
Prevention and Treatment
Colorectal surgeons treat a wide variety of diseases beyond colon and rectal cancer, including hemorrhoids, IBD, pelvic floor therapy, and minimally invasive surgical techniques, such as laparoscopy and robotic procedures.
Everyone is at risk for colon and rectal cancer, and that risk increases with age. Standard recommendations are to start routine screening colonoscopies at 45 years old. If the colonoscopy is normal, then the next scope would be in 10 years. If multiple polyps or large polyps are identified, that would require more frequent colonoscopies.
For those with a family history of a first-degree relative with colon or rectal cancer, many polyps or large polyps, screening should start earlier. This high-risk group starts scopes at age 40, or 10 years younger than the youngest family member was when they were diagnosed. For high-risk patients, after a normal colonoscopy, their next scope would be in five years. These guidelines are for screening, or preventative, colonoscopies which means the patient does not have any symptoms.
Colonoscopies should also be considered if patients are having symptoms, such as blood with bowel movements, changes in their bowel habits that cannot be otherwise explained, or anemia on labs. In this case, it would be a diagnostic colonoscopy, and indicated regardless of age, family history or when their last colonoscopy was performed. Colonoscopies can be done with colon and rectal surgeons or with gastroenterologists.
To learn more about colorectal services, please visit bswhealth.com/mckinney.
*Physicians provide clinical services as members of the medical staff at one of BSWH's subsidiary, community or affiliated medical centers and do not provide clinical services as employees or agents of those medical centers or BSWH.
---
CONTACT
5252 W. University Drive
Mckinney, TX 75071
(469) 764-2245
BSWHealth.com