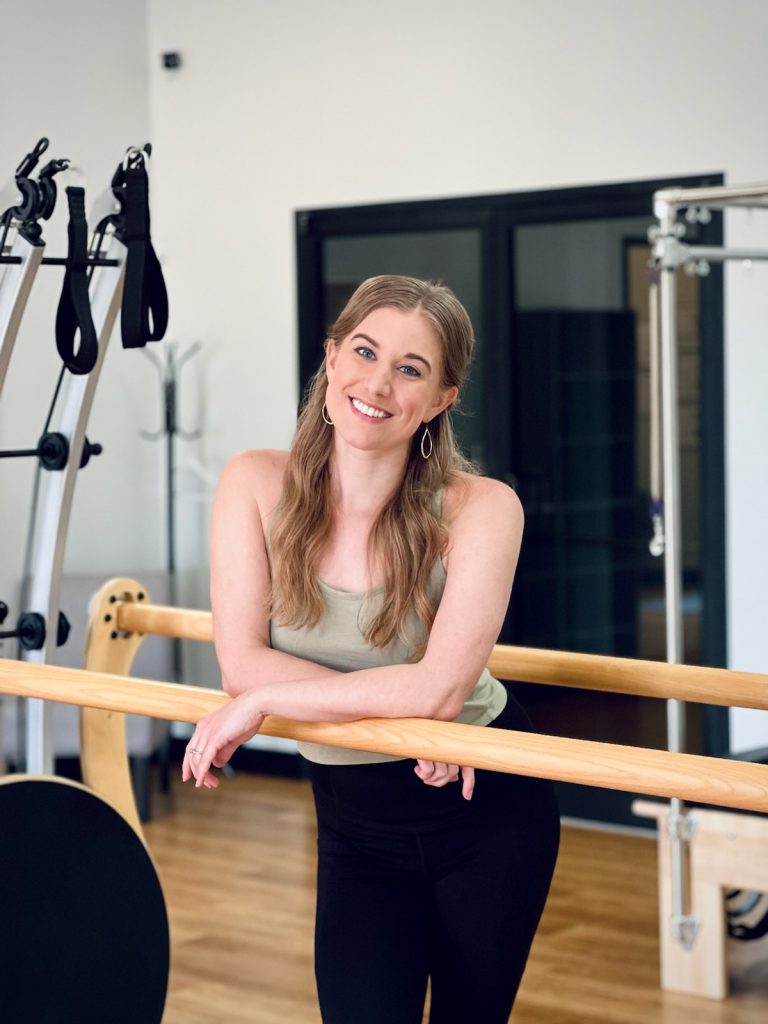 ---
For as long as she can remember, Emily Iva Floyd-Lynch, owner and founder of McKinney Movement Center, has had a passion for movement. She studied dance at Florida State University, and after graduating with her BFA in dance performance and choreography, she moved to New York City to dance professionally. Emily dreamed of improving the quality of life for athletes and dancers so they could enjoy a prolonged professional career.
In 2017, Emily moved to North Texas and after working for several local Pilates studios, found her home at Craig Ranch Fitness + Spa. She worked there for five years as the Pilates program coordinator. When a corporate company bought the fitness center, Emily knew the time was right for her to start her own business.
She never intended to become an entrepreneur, but she's grateful she decided to step outside her comfort zone. "I love watching the business grow based on the seeds I've planted," Emily says. "It's inspiring to see my teachers and staff growing with the business and meeting clients who need what we offer. I love knowing that the place we've created has a real need in the community."
At McKinney Movement Center, Emily teaches people how to move smarter to feel better. The studio offers group and private training with a variety of fitness options such as Pilates, Gyrotonic, Barre, Yoga, Functional Fitness, and other wellness-related services. She and her team of certified teachers show clients how they can correct their form and improve the quality of their workouts. They teach proper body mechanics and principles of alignment, balanced body effort, and injury prevention tactics to clients of all ages.
What started as a 300-square-foot studio at the Caddo in McKinney has grown to become a 3,400-square-foot studio, complete with elite-level Pilates equipment like Reformers. Emily encourages people of all ages to come and see how movement can enhance their life and give them more joy in their everyday living. "I want to help my clients experience joy and freedom in their movement while they develop the confidence they need to be the best version of themselves," she says.
In her free time, Emily and her husband, a pilot for American Airlines, love going to concerts, playing with their dogs, and spending time with family. "My husband has been one of my biggest supporters," she says. "Our families together are very supportive. My mom and dad encouraged me as a child to set goals and push myself. They didn't let me quit things."
In her heart, Emily always knew she wanted to help people live better, fuller lives through movement and encourages other women to follow their intuition, too. "As long as you're staying true to your heart and passion, go full throttle with your business idea," she says. "Don't let anything stop you. Find that grit and tenacity and keep going."
Learn more about Emily and the mission at McKinney Movement Center by visiting McKinneyMovementCenter.com.
---
CONTACT
7951 Collin McKinney Parkway
Suite 1575
McKinney, Texas 75070
(469) 213-1227
McKinneyMovementCenter.com