Emily Chiles Startz The Woodlands Art Gallery & Studios
The Woodlands Art Gallery & Studios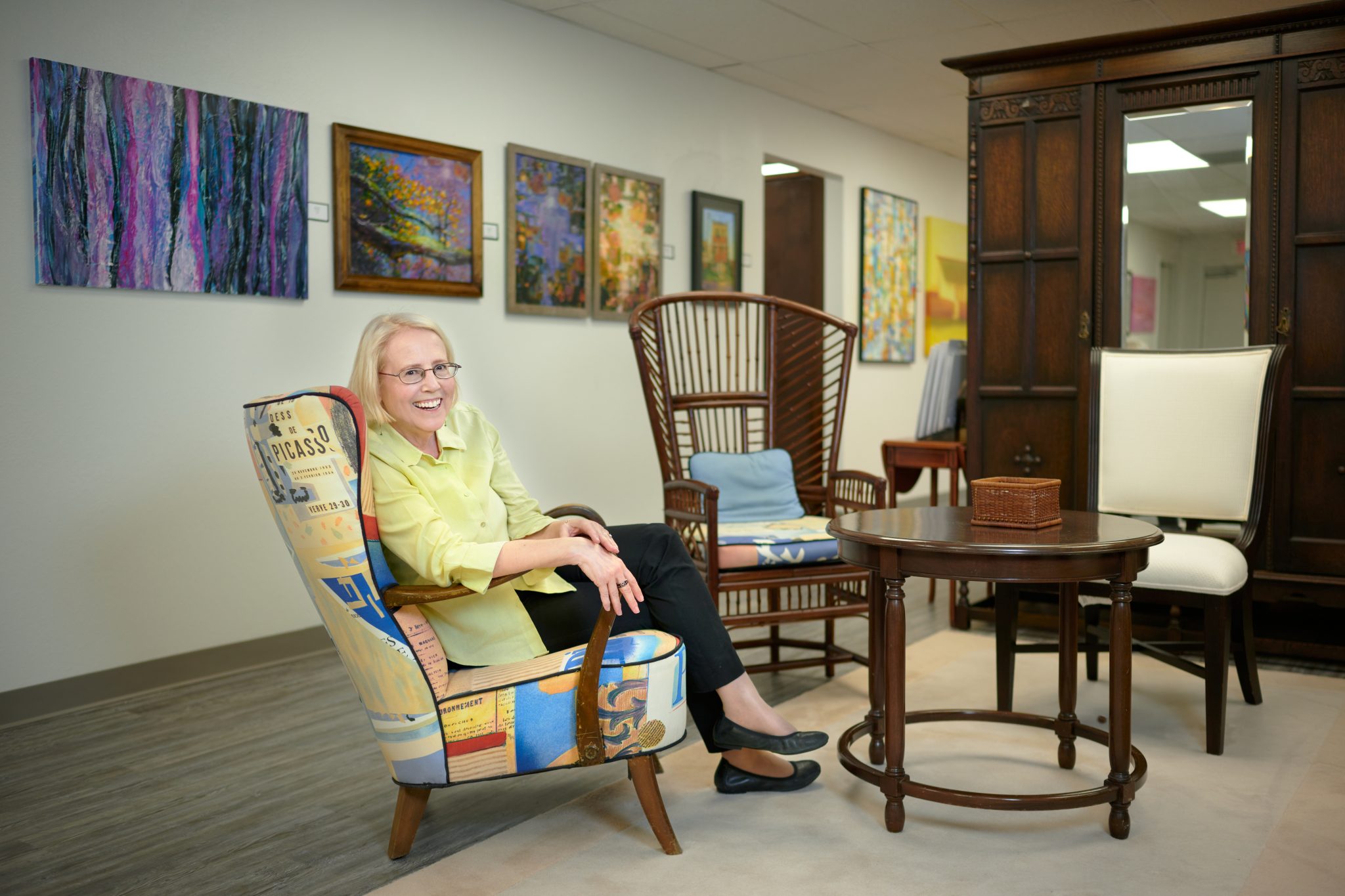 By
Annette Brooks
|
Photo by
Karina Eremina of Joy of the Moment Photography
---
"Follow your dreams" and "Why the heck not" are two of Emily Chiles Startz's favorite mottos. Fearlessly applying them to her life, she created a uniquely welcoming place where everyone can experience and enjoy artwork — The Woodlands Art Gallery & Studios.
Her journey began when she became a widow a few years ago. Embracing positivity, Emily decided to take control of her destiny and rekindled her passion for painting and creative expression by enrolling in an art class.
The class inspired her to make original artwork more accessible to The Woodlands community and provide a place where she and other regional artists would have an opportunity to display and sell their fine art. Ultimately, this led her to find a space where she could start her new endeavor, The Woodlands Art Gallery & Studio.
"I knew art was something I could do for the rest of my life. I had a vision and went for it. I told myself, 'You've had a business before, and you can do this,'" Emily shares.
Everyone's Gallery
The Woodlands Art Gallery & Studio is everything Emily imagined it would be and more. "There's lots of natural light in the gallery, and I've decorated it with a few pieces of furniture from my home," Emily says. "When you visit us, you view artwork in a welcoming, comfortable, home-like atmosphere instead of an austere gallery."
Emily creates her own art at the on-site studio. She displays her work and creations by other local and regional artists in the gallery. Most of the year, the gallery includes special exhibits. Sunlight Through a Prism: Exploring Art in Color is on display through May 10, 2023.
A special showing featuring abstract artist Abigail Gómez will run from May 18 to July 8, 2023. Visit the website, WoodlandsArtAndStudios.com, for more information about the May 18th reception from 5 to 8 PM, where you can meet the artist. Guests will enjoy libations, light hors d'oeuvres, and convenient valet parking.
Additionally, The Woodlands Art League (WAL) has teamed up with Emily to host juried art exhibitions in the gallery.
"We've dedicated a section to The Woodlands Art League for curated showings," Emily explains. WAL's May member show featuring 2D and 3D art will be on display from May 18 to July 14 at the gallery. Future WAL member shows are planned for July, September, and November.
"There's truly something for everyone here at the gallery, whether you're an interested newcomer or a long-time art lover. We have a wide range of offerings, including surprisingly affordable artwork from emerging artists," Emily shares.
Emily also sells art on consignment for families who've inherited or want to sell their collection and make room for new pieces. If you have something in mind that isn't in the gallery, she knows about pieces she can access for you that aren't on display.
More than a Gallery,
Visit the Unique Boutique
Looking for a gift for someone special or perhaps a little something for yourself?
"We've recently added the Unique Boutique, where nothing's more than $100. Boutique items include hand-painted scenes and other pieces of small-size art and beautiful handmade jewelry." She invites you to stop in, browse at your leisure, and let your imagination soar.
The gallery also includes an independent used bookstore in the Reading room, featuring books from Emily's private collection. And the gallery is available for small corporate events, private parties, and other catered occasions.
Naturally, people love popping into The Woodlands Art Gallery & Studio to see what's showing and check out items in the boutique. "What a pleasant experience I had there today. It was such a treat to get to meet the artist behind the art!" says a recent customer. Another patron says, "Emily Chiles is an exceptional artist and a very fabulous person." Another applauds the "very personable and helpful staff."
Giving Back, Paying It Forward
Emily lives in The Woodlands and finds joy in inspiring and enriching the community with art. The Woodlands Art Gallery & Studio is a proud sponsor of The Woodlands Waterway Art Festival for the next three years, set along the scenic banks of The Woodlands Waterway and in Town Green. She also generously contributes to local nursing scholarships and the SNAP Spay-Neuter & Animal Wellness Clinic.
Discover Wonderful Art,
Buy What You Love
Come visit the gallery and get inspired. Browse the original fine art by established and emerging regional artists, reproductions, books, and the boutique, and stay as long as you like. There's never any pressure to buy, and the helpful staff will happily answer any questions you have without hovering.
"Many new clients come into the gallery who have recently moved to Texas and The Woodlands and are now living in spaces of a different scale or style than the homes they came from. We also welcome a lot of people who've been purchasing prints online and are ready to take the next step," Emily says.
Emily adds, "Don't feel intimidated or think original fine art is unaffordable. Give yourself permission to stop in, meet us, explore, and find art that touches your heart and soul. There's really nothing like viewing art in person, where you can see the real colors and textures and imagine how it would look in your home."
Gallery hours are Tuesday through Friday, 10 AM to 6 PM, and Saturday, 10 AM to 2 PM. Please visit WoodlandsArtAndStudios.com to learn more.
Welcoming Gallery Featuring Original Fine Art from Regional Artists

Special Exhibits and Showings Throughout the Year

Meet the Artist Events

Unique Boutique Offers Small-size Art and Handmade Jewelry

Reading Room Gently-Used Book Store

Gallery Available for Small Events and Parties
---
CONTACT
208 Nursery Road
The Woodlands, Texas 77380
(832) 668-5340
WoodlandsArtAndStudios.com