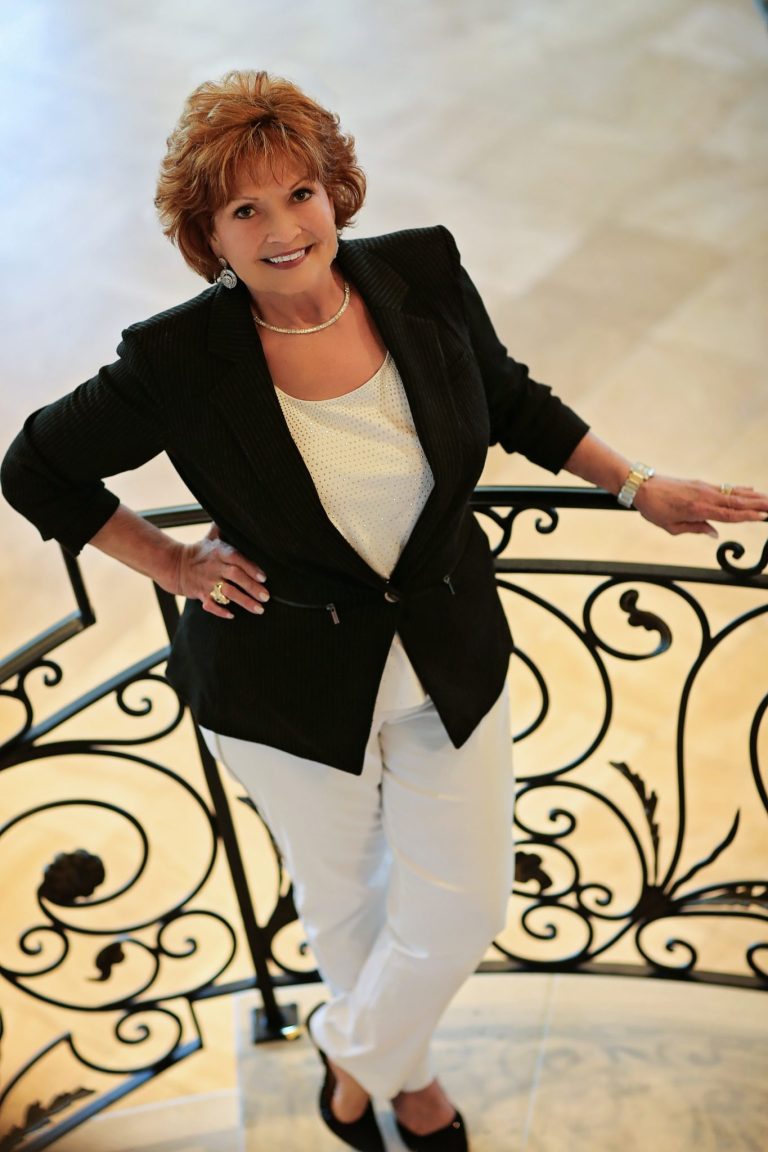 By
Steve Gamel
|
Photos by
Karen McConaughey
---
Elizabeth Samuel with Joe Myers Imports has been intimately involved in the car business and charitable endeavors in Northwest Houston for as long as she can remember. She and her husband, Ralph, the dealership's general manager and managing partner, began their association with the Joe Myers Auto Group in the 1980s, and in the years since, they witnessed Highway 290's original expansion, its recent renovations, and everything that goes along with it.
"Along with the highway expansion, the growth, and vitality of the region — particularly the Cypress area — has been truly amazing to watch and be a part of," Elizabeth said with a hint of nostalgia in her voice.
Elizabeth is very proud of the fact that as the community has continued its historical growth, Joe Myers Kia and Joe Myers Mazda have naturally followed suit. They maintain their standing as strong partners in the community, and both dealerships have been major sources of employment and commerce in Northwest Houston for more than 30 years. At the heart of it is Elizabeth, who is very passionate about their long-standing involvement and participation in area charitable efforts. Elizabeth and her family and associates are most focused throughout the year on charitable activities involving youth and homeless initiatives.
Overcoming Challenging Times With Class
The last few years have been challenging for all businesses, especially when it comes to managing inventory shortages and supply chain issues. But Elizabeth said the dealership handled it all with class, adding, "We're very proud of how the dealership handled everything and remained strong these last few years. Joe Myers Kia set an all-time sales volume record in 2022, which beat our best-ever year in 2021," she said. In doing so, Joe Myers Kia was voted by Living readers as the Best Auto Dealership in the Cy-Fair area for three years in a row. A huge part of that success comes down to their friendly atmosphere.
Elizabeth, Ralph, and the entire team create a positive environment through fun-filled employee and family events.
"We have a great group of associates — the best in Houston," Elizabeth said. "Most have been with us for years, which is uncommon in the auto dealership industry."
Elizabeth and Ralph were heavily involved with planning when the auto dealerships moved to their present locations. They leveraged this experience with current knowledge, and the new state-of-the-art Kia showroom was completed in mid-2021. Joe Myers Kia has long been one of the most productive Kia dealerships in the nation, and the new facility has only added to that legacy.
Elizabeth is proud to announce, "At Joe Myers Mazda, a legacy Mazda dealer in Houston, we have a new state-of-the-art facility under construction, due to be completed later this year."
The Customer Experience Matters
Elizabeth speaks for the entire team when she stresses that their customers are their most valuable commodity.
"Every time that we are fortunate enough to add a customer to our base, we become better for it," she said. "We have hundreds of repeat customers that we are so
thankful for."
Despite the demand for vehicles exceeding the supply the last couple of years, Elizabeth added, "Right now, our inventory supply is the best it has been for a very long time. There is a good chance that we will have the vehicle that you want in stock, and if not, there is a good chance that we can find it or tag an incoming unit for you."
Along with being blessed with amazing customers, their tenured associates' dedication and professionalism have been instrumental in Joe Myers Imports receiving plenty of awards and accolades over the years. This includes being recognized numerous times as a Wards Auto Dealer Business "Dealer 500-Top Dealers in the USA." They consistently earn achievements in customer satisfaction, including an A-plus rating from the Better Business Bureau.
Every manager at Joe Myers Imports started in an entry-level position and worked their way up. This includes Elizabeth and Ralph's sons, Sean Samuel and Nick Samuel. Sean is the general sales manager, while Nick is the Kia sales manager. Both started at the dealership in high school and soaked in as much knowledge as possible. Joe Myers Imports' tenured management staff also includes Jason Proios (service director), Masoud Zarakhsh (Kia sales manager), Joey Munoz (Mazda sales manager), Tyler Collins (UC manager), and Hung Pham (Kia Internet). Their service department tenured associates include Mike Jarboe and Jose Rubio at Kia and Brandon Lester, Jennifer Lavallee, Miles Saunders, Tommy Pham, Miles Saunders, Ross Serrano, Clint Lawrence, and Brian Hijazi at Mazda.
The average years of service of this group is over 10 years — another rarity in such a competitive industry. The dealerships have several tenured award-winning sales reps, including Alejandra Squashingroff and Eric Tamburello at Kia.
"Joe Myers Imports' Employee of the Year award winner for last year was Rose "Kim'" Le," Elizabeth added. "She exemplifies the teamwork spirit that we are so proud of."
Only the Best in Auto Sales
Another area where the dealership shines is marketing and advertising. The refreshing, entertaining brand is promoted in print and on billboards, YouTube, and Facebook. Elizabeth and Ralph's youngest son, Greg Samuel, who also started with the company in high school, and the Joe Myers Kia team, are well known for the Joe Myers Kia TV spots. They've even won multiple awards over the years.
Elizabeth is and will always be involved in her community. In addition to promoting the dealerships and working with her associates, she takes her community involvement to heart. In addition to coordinated activities, Elizabeth and Ralph are very serious about supporting the "Greg Samuel Everyday Hero Foundation," which sponsors random acts of kindness.
"Elizabeth's tireless dedication and positive energy is a big reason for our success over the years," Ralph said. "I don't see that changing anytime soon."
---
CONTACT
16500 Northwest Freeway
Jersey Village, Texas 77040
(713)937-7800
JoeMeyersCars.com