Bethany Neece
Emerald Salon and Suites and Lavish Hair Lounge at Harbor Heights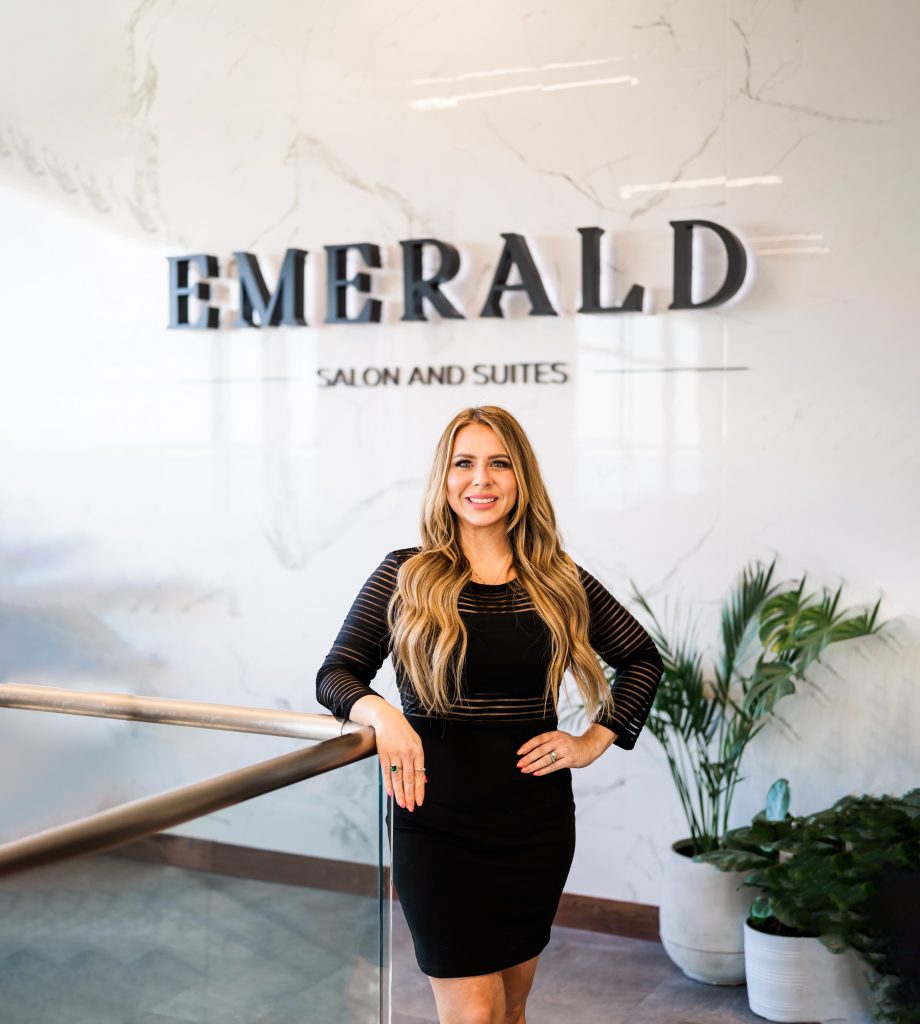 Photo by
The Teal Album
---
Bethany Neece took a leap of faith once. She was ready to do it again. Her vision of "salon suites" meant specific architectural adjustments, so someone had to take a chance on her.
Neece's confidence was strong because after working in a commission salon, she opened her own in a small space, and she was doing great. Even her assistants were flourishing after a few years with Neece, which was like a salon-owner training camp. Apprentices and stylists taken under her wing soared as independent business owners after a few years with her.
Still, Neece had a vision for more. When trainees were ready to become owner-operators for themselves, she wanted to offer a luxurious space for them to do that. Instead of running a mammoth salon herself, she saw herself working shoulder to shoulder with peers managing their own enterprises.
Her dream suites would be diverse. When hair color clients needed nails done, they could head to cosmetologists down the hall. If they needed an esthetician for wax and facials, they could see them there too. Men and women running these businesses would be empowered by a rich network of small business owners supporting and learning from each other.
She just needed to find a place.
Life kept coming. Neece met the man, Chris, who would become her husband. He encouraged her to pursue her dream and supported her as she kept at it. He joked with her that like his entrance into her life, the salon would happen at the right time, but he meant it.
Eventually, Neece got her shot. Dan Bobst called her while she was with a client to extend the invitation for her to see the top floor of his building, with gorgeous views overlooking Lake Ray Hubbard. She was so happy she cried.
She and her husband sold their home, becoming business partners and putting everything they owned toward breathing life into the business. Emerald Salon and Suites opened to the public this past January.
A Blessing
"It's been a blessing," she says. With full occupancy, the elegant suites buzz with clients. Named after Neece's favorite gemstone, Emerald is also where Neece works five days a week in her own salon, Lavish Hair Lounge.
"It's all about the experience," said Neece. "That is why my husband makes fresh cucumber or lemon water every morning for all the clients and tenants. And there is always fresh coffee as well."
Tenants at Emerald offer permanent jewelry, makeup and permanent cosmetics, sugaring, lash extensions, esthetician services, massages, med-spa treatments, and nail appointments. A few registered nurses provide "vampire facials," a new type of platelet rich plasma therapy. Botox and other injections flow, and an IV bar offers a variety of drips.
As a beauty industry insider with over 15 years of experience as a stylist, Neece feels confident about guiding the coterie of new business owners in anything she knows, from the technical side of launching a business to the finer side of customer service.
Some of the clients who come in may not know about LLCs, she told us, as an example. Neece encourages them to learn more to create optimal legal structures.
"I want them to be proud of something that they have worked hard for, but I want them to do it smart. They come to me and ask me for business advice and guidance for building clienteles, structuring their business, and pricing. I'm proud to be able to mentor them," she said.
That empowering attitude extends to tenants who might want to take various beauty classes Neece sets up and offers to them at Emerald. "My room is big enough that we can have classes in it," she said. "If I can make it to where I'm not paying a whole lot for a class, I give it to my tenants for free. If I have to pay a huge lump sum, they'll get it at a discounted rate but people who come from outside the salon have to pay full price."
Neece said she encourages her tenants to host their own classes to make extra money, especially if they have to get out of their comfort zone, where real growth can happen. With her business acumen, Neece hopes to expand class offerings soon.
Like a Family
"The salon is like a family," said Neece. "We have the best professionals in their industry here, and I'm so grateful that God brought us all together."
Neece said business owners at Emerald all get to know each other and have created strong bonds with one another. Living her dream as a business owner empowering other business owners, she says she does encourage everyone to refer clients out to other people in the salon when someone needs a different service offered..
Pointing to the success of others to illustrate the things that define her, Neece is quick to give credit to the people she feels have helped her most, like her husband.
"Chris really has been there for me through all the sweat and tears with building Emerald. I absolutely wouldn't have been able to do it without him," she said.
Her building owner, Dan Bobst, property manager, Jennifer Frosch, and architect, Jimmy Strohmeyer, are all people she credits with furthering not just her vision, but the success of the people around her.
"Since we opened, we've had one beauty professional buy a house, and others bought new cars. One person went from working five days a week to working four and being able to stay home with her two daughters more. One girl just got engaged."
It's a lot of progress in three months, but Neece sees more on the horizon.
---
CONTACT
Emerald Salon and Suites
2640 Sunset Ridge Drive, Suite 200
Rockwall, Texas 75032
Lavish Hair Lounge
2640 Sunset Ridge Drive, Suite 201
Rockwall, Texas 75032
(214) 546-4213
EmeraldSalonAndSuites.com