Recipes and photos By Meghan Yager
Being health-conscious in the kitchen doesn't mean you have to miss out on good tastes! Instead of eating just to fuel yourself, thrive on exciting flavors that will make you forget how good the dishes are for you. You'll flip over all three of these nutritious recipes!

Grilled Salmon with Tomato Avocado Salsa
Makes: 4 filets  |  Time: 20 minutes
for the fish:
4 6-ounce skin-on salmon filets

2 tablespoons olive oil

1 teaspoon salt

½

teaspoon garlic powder

½

teaspoon paprika

½

teaspoon onion powder

1 teaspoon black pepper
for the salsa:
2 ripe avocados, pitted and diced

2 small tomatoes, seeded and diced

¼

cup freshly chopped cilantro

2 tablespoons olive oil

juice of 1 lime

salt and pepper
directions:
Add all ingredients for the salsa to a medium bowl. 

Stir together and let rest in the refrigerator until ready to serve.

Heat grill to medium heat. Stir together salt, garlic powder, paprika, onion powder, and pepper in a small bowl. Rub salmon filets with olive oil evenly. Sprinkle with spice mixture, about ½ teaspoon per piece.

Place salmon skin side down on the heated grill. Cover and grill for about 5 minutes per side. Serve salmon immediately with tomato avocado salsa.

Drizzle with olive oil and balsamic reduction. Top with a garnish of fresh basil.
TIPS & TRICKS

Wondering what to serve with the salmon? Try grilling up fresh zucchini and squash for a lean side, or grill up sliced potatoes (any kind you like!) for a heartier pairing.
---

Mediterranean Hummus Cups
Makes: 30 cups  |  Time: 10 minutes
ingredients:
30 mini filo shells, defrosted

¾

cup hummus (your favorite)

1 large tomato, seeded and chopped

1 cucumber, chopped

¼

cup feta, crumbled

black pepper, freshly cracked
directions:
Optionally, toast the mini filo shells. Fill each cup with 1½ teaspoons hummus. Divide tomato, cucumber, and feta evenly between the cups. Sprinkle with pepper and serve.
TIPS & TRICKS

You can use whatever tomatoes you like for the hummus cups! Cherry, grape, roma, hot house, and more work wonderfully in this appetizer. Make sure you have about 1 to 1½ cups total chopped tomatoes for the recipe.
---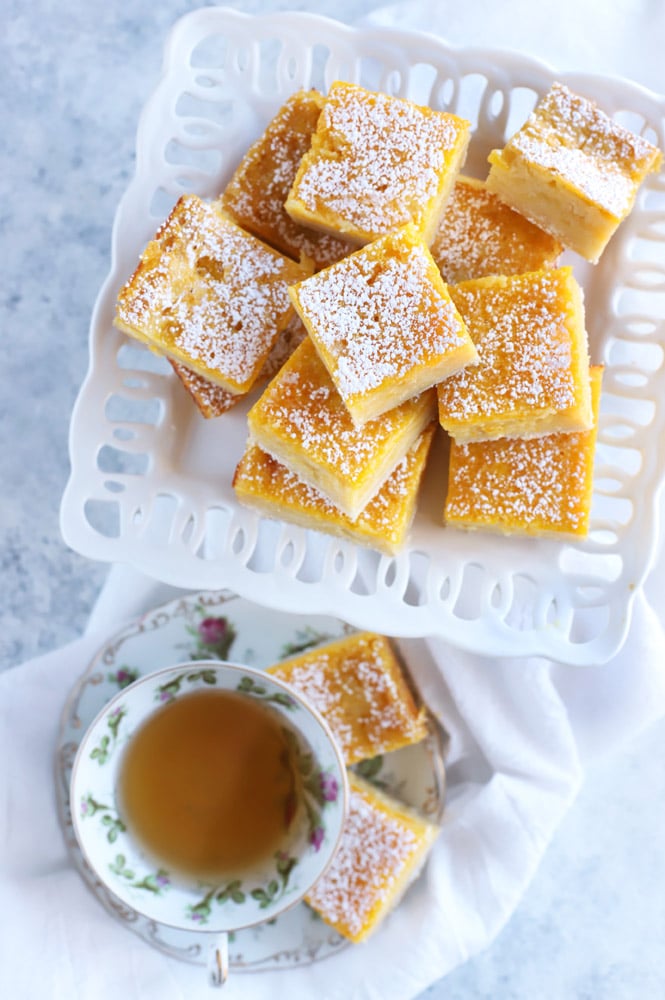 Healthy Honey Lemon Bars
Makes: 12 bars  |  Time: 50 minutes + 4 hour cool
for the crust:
¼

cup coconut oil, melted and cooled

2

½

tablespoons raw honey

1 egg, room temperature

¼

teaspoon almond extract

1 cup fine almond flour, packed

3 tablespoons coconut flour

¼

teaspoon salt
for the filling:
zest from 1 lemon

½

cup freshly squeezed lemon juice (about 3 lemons)

½

cup raw honey

4 large eggs

1 egg yolk

1 tablespoon tapioca flour

powdered sugar, sifted
directions:
Preheat oven to 325˚F. Line an 8"x8" pan with parchment paper.

Add coconut oil, raw honey, egg, and almond extract to a medium bowl for the crust. Mix together until combined. Stir in almond flour, coconut flour, and salt until a dough forms. Press into the prepared pan until an even layer. Bake for 10 minutes. Cool for a couple minutes while you make the filling.

Whisk together lemon zest, lemon juice, raw honey, eggs, egg yolk and tapioca flour for the filling until combined. Pour over the baked crust. Bake for 18 to 25 minutes until filling is set. The center should not jiggle.

Cool completely in the pan, then place in the refrigerator to cool for at least 4 hours. Cut into 12 bars and serve with a garnish of powdered sugar on top.
TIPS & TRICKS

You can also turn these honey lemon bars into honey key lime bars by substituting key lime juice and zest for the lemon juice and zest as listed in the recipe.
---