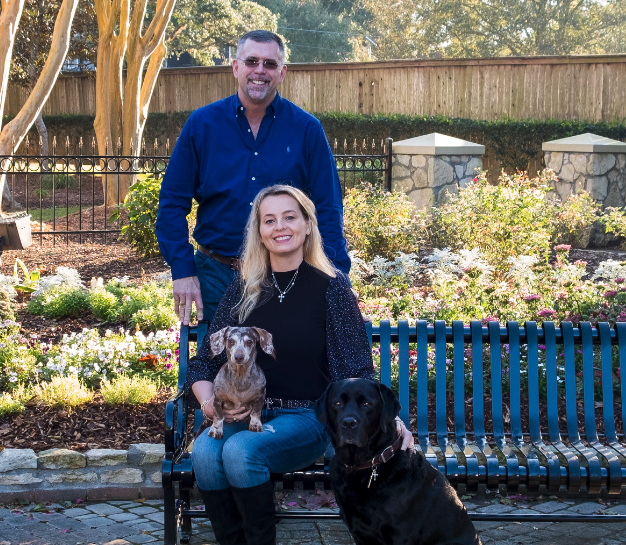 By Troylon Griffin II | Photos by Gulf Coast Imaging Studios
---
Every piece of jewelry tells a story. For Cheryl and Vince Mancuso, the tale begins every morning at 10 a.m. on West Main Street in League City, Texas. As one walks into League City Gold & Diamond, they are greeted with a friendly smile and welcomed with the kindness at the heart of the couple's values. "We are very down-to-earth people," Cheryl says. "We treat people respectfully. We offer fair pricing, whether we are selling or buying."
Vince and Cheryl Mancuso have owned League City Gold & Diamond since 2013. In its nine years of business, the jewelry store has become a staple of the League City community, the go-to place for jewelry, watch batteries, watch and jewelry repairs, free checkups, and the golden business that sells and buys collectible coins. Vince Mancuso, a retired Army veteran, long had a passion for jewelry and collectible coins. Cheryl previously worked at a veterinarian clinic and still works alongside, having retained excellent relations with her former co-workers. Her love of animals can be seen even at League City Gold & Diamond as her dogs Kyra and Dexter come to work with her every day.
The Mancuso's friendly nature reflects their own harmonious relationship as both business and wedded partners. A day at the store is never dull for the two, as meeting and helping people serves as the genuine gold for Cheryl. For Cheryl, every day is a time to meet different beautiful people. "You meet new people every day, and you get to know your regular customers and their family," she said. "That's what is very enjoyable about being able to help people. We are buying jewelry from individuals who may be going through a hard time. We give good payment for such things. It's just like at the clinic when I worked full time because you get to lift people's spirits."
Despite not expecting the store to become such a staple of the League City community, the two business owners are proud of their store's success and impact. "It's great," Cheryl said. "It's hard work, don't get me wrong, but it's good to be able to help people, and that's ultimately what we are here to do. We are here to help people." As the two reflect on their business, Cheryl greatly attributes faith as being behind the smiles she and Vince greet customers with and their success.
League City Gold & Diamond is a trusted gold and silver dealer. "We are Christian people, and we both have unconditional faith in our Lord. I give everything to the blessings of God," she said. "I thank him for everything He blessed us with and what we have." In the new year, Cheryl and Vince Mancuso continue to be thankful for their success, providing League City with its golden services while being a shining diamond for their community to embrace and admire.
We Specialize in:
Jewelry

Diamond Engagement Rings

Swiss Time Pieces

Rolex

Audemars Piguet & Vintage

Watches

Coin Collecting

Silver & Gold Bullion,

Repairs

Jewelry Appraisals

& more!