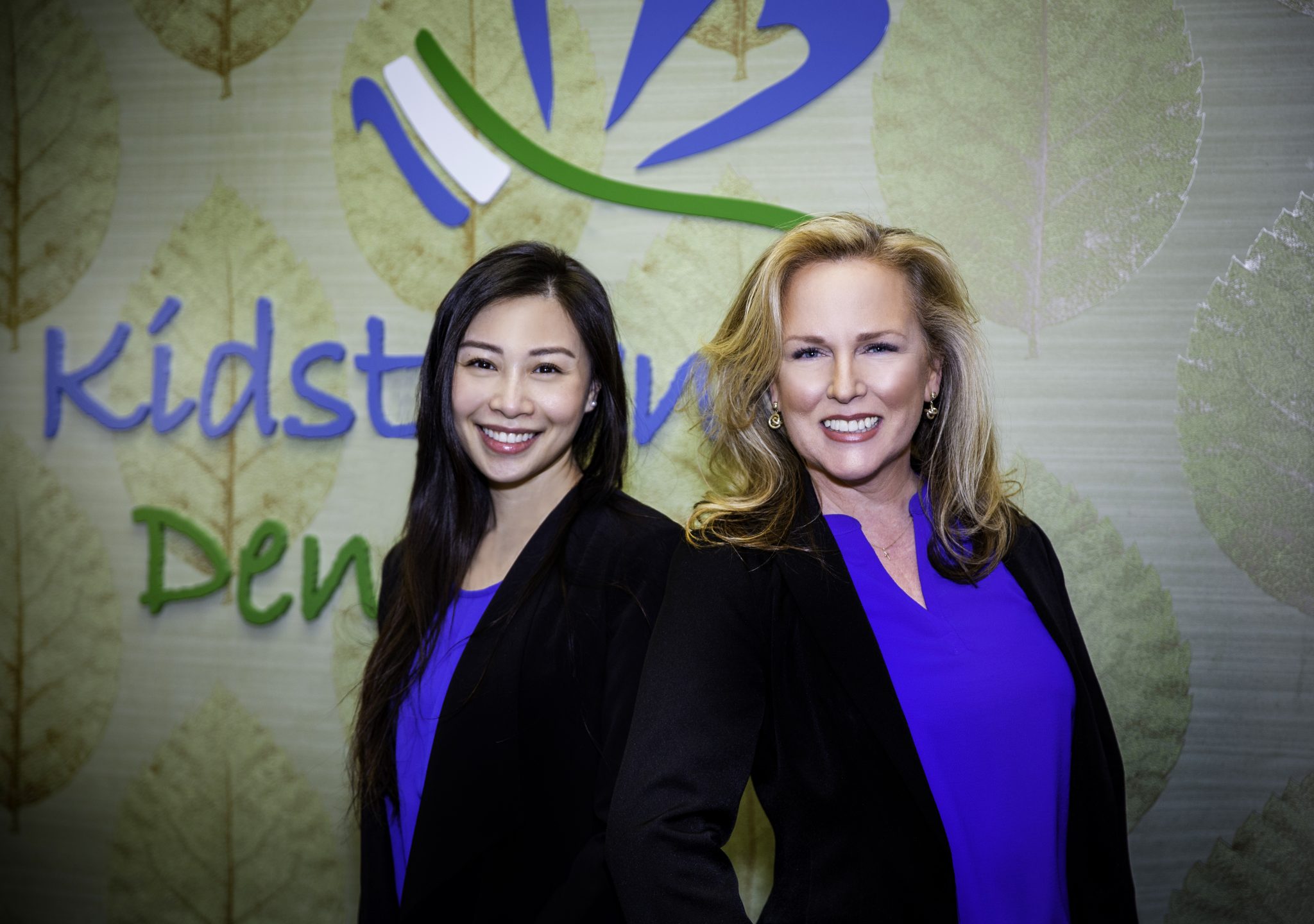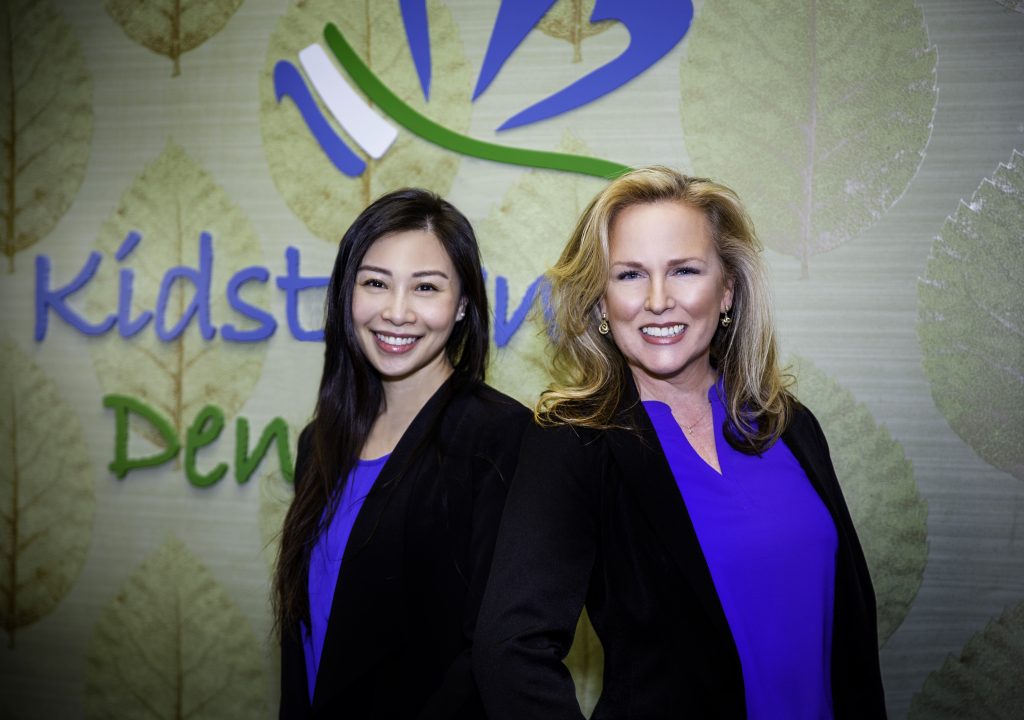 BY SYDNI ELLIS | PHOTO BY KELLEY SWEET PHOTOGRAPHY
A few things you notice right away in a conversation with Dr. Amy Luedemann is her warm, compassionate personality, her extensive knowledge, and her deep passion toward helping children — especially those with big challenges. By the end of a brief conversation, I was ready to schedule my own little one at Kidstown Dental!
Smiling is the universal language, but sometimes things happen to dim your child's toothy confidence. Maybe a cavity or a tongue-tie is getting in the way. Or maybe an undiagnosed sleep disorder is preventing them from being their happiest self. No matter which of these issues might be the cause, the expert dentists at Kidstown Dental want to help. Amy Luedemann, DDS, MS, and Karen Leung, DDS, will help parents get to the root of the problem, so your kids can discover their best smiles.
"Parents are so relieved at our thoroughness and holistic approach, especially as we help find a solution that gives their child relief," said Dr. Leung. "When we help kids get on the path to healing — whether it's through finding and treating oral restrictions, navigating metabolic issues causing decay or sleep challenges, or identifying sleep and underdeveloped airway issues — it's life-changing for these families."
Ten Years of Excellent Care
Dr. Luedemann opened Kidstown Dental 10 years ago, and the entire team is excited to celebrate their anniversary this July (a big celebration will be announced soon!). The office combines an individualized, holistic approach with the most advanced technologies available for the purpose of providing painless and transformative dental experiences.
The community has always appreciated Kidstown's materials-cautious approach, and now "we are excited about moving to a fully biologically-minded dental practice," said Dr. Luedemann. "We've always recognized in dentistry that there are a lot of materials that are toxic and less than ideal for growing children. Biological dentistry uses the least toxic materials with a holistic, minimally invasive approach to help a child heal while getting to the root cause of their challenges."
Looking Back and Forward
A few things that set Kidstown Dental apart from the day they opened was their laser, no-shot pediatric dentistry for fillings and crowns, their in-house interdisciplinary team for treating tongue ties and oral restrictions, no-gag x-ray techniques, safe sedation options to help put kids and parents at ease (when it's needed), and their D Termined Program, or the special way they help kids with special needs. "We have been blessed to lead the way in tongue-tie treatments and pediatric sleep challenges in the Greater Houston Area and teach nationally on how to diagnose and treat frenectomies in 0-18-year-olds," she added.
In addition to the move toward being a fully, biological pediatric dental practice, Kidstown has added several cutting-edge therapeutic approaches over the years to help children grow their best face, jaws and airways from day one of life. "While it is so common for kids to have 1 or 2 rounds of braces these days, it is not normal," said Dr. Luedemann. "Most people have no idea that only 350 years ago, almost all people developed naturally in a way that fit all of their teeth, including wisdom teeth, with spaces!"
Kidstown helps families understand what modern things are leading to less space in the jaws for teeth as well as smaller airways and more sleep issues. The expert team works with families to put a biohacking plan in place to help the child grow their epigenetic best self! These growth and development guidance options at Kidstown are referred to as Bio-Functional Approaches. Their comprehensive approach, innovative methods, and fantastic results have landed Kidstown Dental in The New York Times twice, as well as Inside Edition, CBS, The Seattle Times, and Houston Chronicle among others.
Unique Approach to Child's Wellness
Every parent wants the best for their child, but it's not always easy to figure out what the best is on your own. That's why Kidstown Dental loves to work with functional medicine doctors, osteopaths, chiropractors, speech language pathologists, IBCLCs, ENTs, and other providers to create an individualized team of experts to help each child get the care they need.
Dr. Luedemann shared an uplifting story about a recent young, elementary aged patient she worked with who was experiencing violent thoughts toward self and others, and who had been struggling and suffering for most of their life. This child had already had so many diagnoses and labels at a young age, but nothing seemed to be helping. The parents knew lack of sleep was one of the issues, which is what led them to visit Kidstown. "After a comprehensive work-up we started an ALF appliance to develop and strengthen his jaw and airway," Dr. Luedemann explained. "Working as a team, being observant and thorough in our assessment and approach led us to have the patient assessed for mold toxicity — they ended up having severe mold toxicity. Helping them get the right diagnosis and treatment changed everything. This child had been on tons of medications for various incorrect diagnoses, but when we got them to the right provider for the mold, while continuing to develop the airway, this patient transformed and has begun to blossom right before our eyes after just two months. The patient is still on a journey, but it is beyond rewarding to be a part of the team that is giving them their life back."
Kidstown Dental sees children as young as infants who are already struggling with breathing and sleep. In fact, Dr. Luedemann mentions the younger you start when the issue is perceived, "the faster, less expensive, and better the results can be."
Expert, Compassionate Providers
Dr. Amy Luedemann is a native Houstonian who has worked in the dental field since she was 18 years old! Her bachelor's degree in nutrition and psychology inform her more holistic perspective in treatment approaches. She graduated with her Doctor of Dental Surgery degree in 2005 from the University of Texas Dental Branch – Houston before receiving her pediatric specialty training and a master's degree from the University of Washington in 2007. She had the privilege and honor of working as an attending at Seattle Children's Hospital, serving on its craniofacial team, and was an acting assistant clinical professor at the University of Washington before moving back home to Texas.
Dr. Luedemann is a diplomate of the American Board of Pediatric Dentistry, a founding member of the Academy of Applied Myofunctional Sciences (AAMS), a founding member of the International Academy of Innovative Dentistry (IAID), and an active member in several professional organizations that align with her practice philosophies. She speaks nationally on laser pediatric dentistry topics and frenectomies, and has received the AAMS Centres of Light Award for Interdisciplinary Leadership in Advancing Medicine Via Myofunctional Sciences for her work. She has a passion for integrating technologies and methodologies to create the best possible environment and experience for each family and child in her care.
In her personal life, Dr. Luedemann enjoys traveling with her family, biohacking, reading, and going for long walks.
Dr. Karen Leung knew when she was 13 years old that she wanted to be a dentist. When she attended New York University Dental School, she had already begun to form a whole-body perspective toward her patients, emphasizing natural and systemic prevention and offering individualized, carefully considered interventions. She completed two residency programs, including an intensive general dentistry residency at Bronx Lebanon Hospital and a pediatric dental residency at New York University.
She is a kind and compassionate pediatric dentist who enjoys giving back to the community. When asked what she loves the most about working with children, she smiles as she says, "They are each so unique, amazing and smart! I love getting to know them, making them laugh and watching them grow!"
Start with a Consultation
Want to learn more? At every new patient visit, whether parents scheduled "just for a cleaning" or for a consultation with a known concern, Kidstown Dental is very thorough. They will assess for oral restrictions and upper airway concerns, screen for sleep disordered breathing, do an oral cancer screening, evaluate the size and alignment of the jaw in relation to facial and airway development, and, of course, check out the teeth!
"Maybe you already have a dentist for basic checkups and cleaning of the teeth — that's OK!" said Dr. Luedemann. "We still want to help your child with the deeper concerns that not all dental offices are trained to help with at this time. Our team is trained to go beyond just looking at teeth, and we are passionate about providing accessible, painless, transformative dental experiences for children."
Contact
27110 Cinco Ranch Boulevard, Suite 900
Katy, Texas 77494
(281) 394-7040
KidstownDental.com