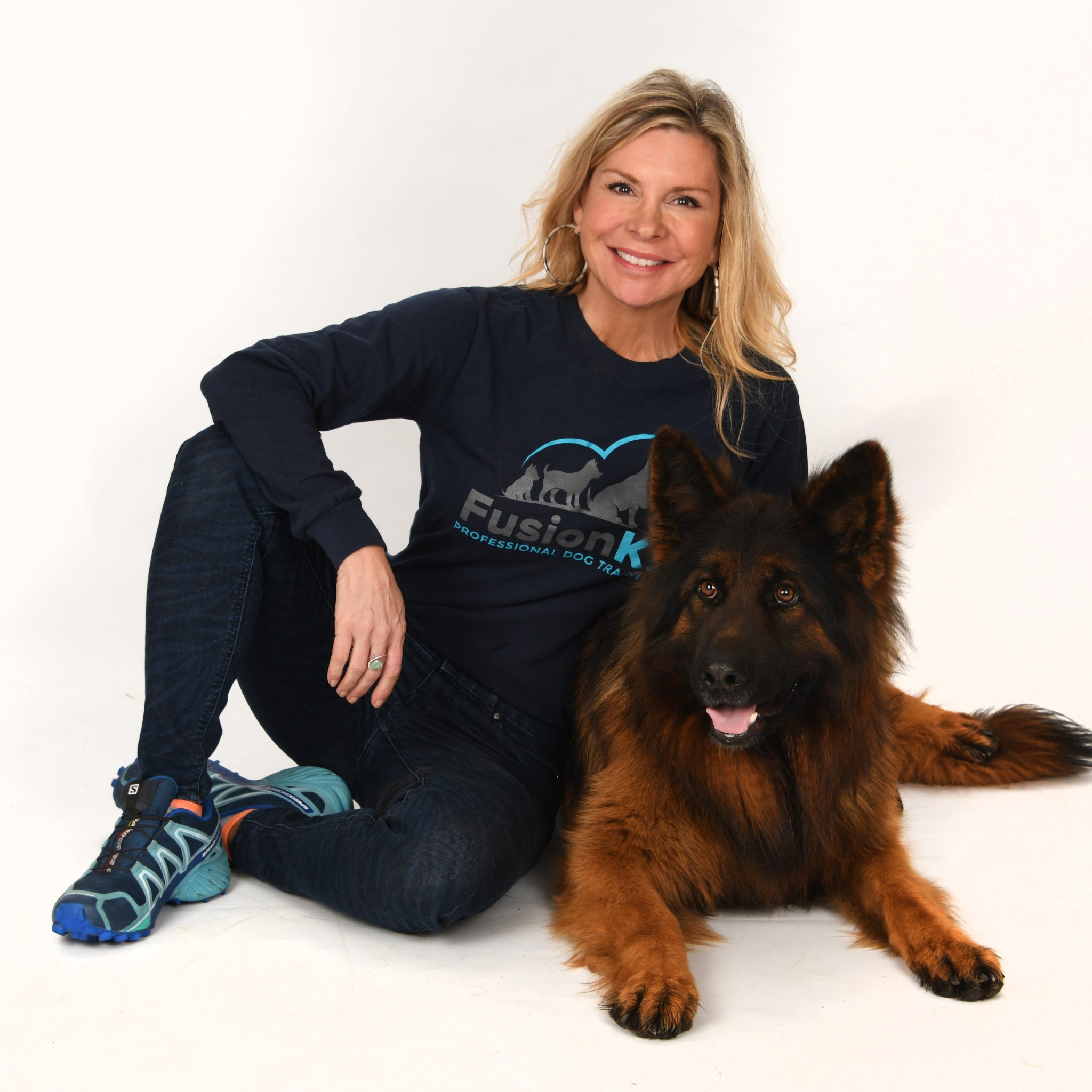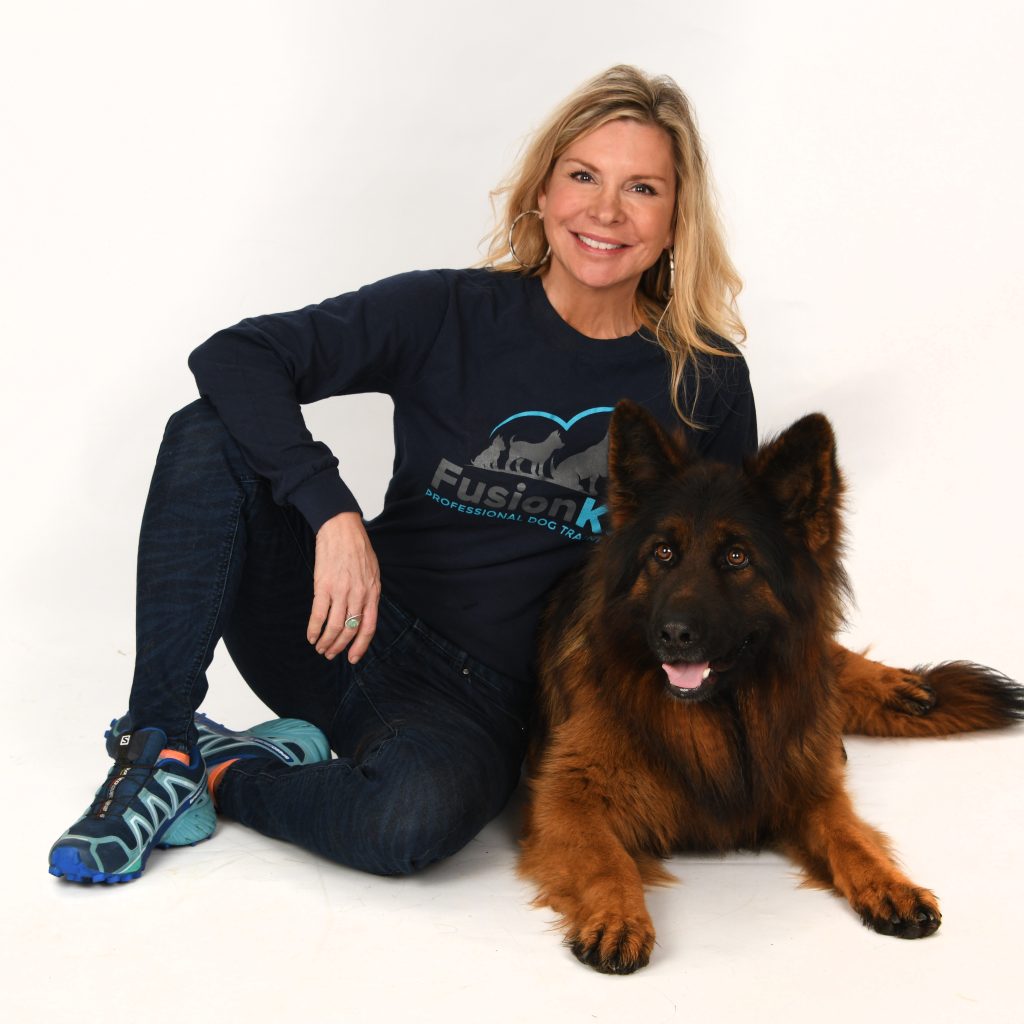 BY ALLISON MYERS | PHOTO BY LAKE POINTE PHOTOGRAPHY
At the beginning of the pandemic, there was a spike in pet ownership, explained Karen Bartosh, owner and founder of Fusion K9. With people spending more time at home, many noticed a lack of companionship in their lives and sought pets to fill the void. But now that people are returning to the office and once again filling their schedules, the shelters are filling up, too — especially with dogs. When Karen saw this increasing issue last fall, she knew she had to help.
A Passion Realized
Karen, a board-certified physician assistant, has always worked with dogs in her free time. In fact, she and her husband have extensive experience in breeding, training, and showing world-champion German Shepherds.They've made the world podium in Germany three times, three different years, with three different dogs, making theirs the only kennel in the U.S. to accomplish such a feat.
Karen's love for German Shepherds seemed destined when she disclosed that her family's first German Shepherd made its way to the U.S. from Germany with her paternal grandmother. Furthermore, her parents crossed paths when her father became a traveling salesman in the U.S. on his motorcycle with his goggle-donning German Shepherd, Heidi, on the back as co-pilot. And when her father saw her mother for the first time, it was Heidi who greeted her first.
Naturally, her parents married three months later and were married more than 50 years. Several years into her parents' marriage, it was Heidi who saved her mother's life from a home intruder. "German Shepherds are responsible for my existence," Karen laughed, but the significance of the breed in her family's life is what sparked both a fascination and love that has since bloomed into a full-blown passion.
Despite both having full-time jobs, Karen and her husband, Tim, knew that their expertise and passion were meant to serve as more than just a hobby. "I told Tim we had to do something to help," Karen recalled. Next thing she knew, they were purchasing an equestrian center on 36 acres, outfitting it for dogs, and recruiting a staff. Fusion K9 was born.
An Alternative to Dog Daycare
With three professional trainers living onsite, plus the integration of cutting-edge technology, Fusion K9 provides services that ease any burden or overwhelm that dog owners may feel. One trainer is skilled in working with aggressive dogs, Karen said, and those can be tough to find. And though Karen has an obvious soft spot for German Shepherds, you will see dogs of all shapes, sizes, and breeds at Fusion K9.
From boarding to private lessons to conformation and more, Fusion K9 exists to keep dogs happy and healthy. Fusion K9 can transport dogs, which is a tremendous help to owners who travel, Karen added, citing their "Board and Refresh" program. And to make these vital services more accessible, Fusion K9 clients can finance up to $5,000 worth of training. The hope, Karen said, is to provide solutions for people who might be apprehensive about the cost.
The property is safely fenced with lots of room to roam, Karen said, and the technology used to keep owners updated allows the Fusion K9 team to communicate with clients the way she herself would want to be communicated with. In addition to the board and refresh program, they also offer customizable packages that meet clients' individual goals for their dog.
Karen said Fusion K9 is meant to be an alternative to dog daycare, as each dog leaves having sharpened different skills and met different goals after having been trained by certified professionals. "Our team is one of the coolest parts of Fusion K9," she said. "We have years and years of experience on our team."
Responsible Breeding
Karen also spends time educating the community about the benefits of breeding, which she says has become misconstrued in recent years as the "Adopt Don't Shop" movement has gained momentum. Responsible breeding, Karen explained, is meant to maintain the health and temperament of the dog.
An example of responsible breeding in German Shepherds begins by assessing physical characteristics like hips, elbows, and teeth, but also includes fitness exams, obedience tests, and what Karen called "puppy character" tests. These tests expose the young dog to various scenarios to see how they behave around people and other animals, and it is a major deciding factor on whether a dog is ultimately determined fit to breed or not.
She reiterated that all these hoops are what maintain dogs' health and temperament, making them easier to train, handle, and integrate into families' homes as long-term companions. "Good breeding and training is what keeps dogs out of shelters," she emphasized. Karen went on to explain that proponents of the "Adopt Don't Shop" movement are on the same page with responsible breeders who ultimately want to see shelters empty. Karen and her family have adopted two yellow labs, and agree with the "Adopt Don't Shop" sentiment, she said.
The Fusion K9 vision was recorded and assembled very thoughtfully, Karen noted as she discussed her extensive industry connections in the area. The recent influx of dog adoption has her network of veterinarians and industry professionals concerned about the rate at which dogs are then being returned to shelters or abandoned altogether, and Karen said they are all working together to be a part of the solution.
"I know I'm a bit of a unicorn," Karen said. "It's not every day you meet someone who wants to take a chunk of their retirement and put it toward helping dogs." But she can't think of a better way to spend her retirement years, she said, and looks forward to the day when she can step into this role full time. In the meantime, she's happy to carry the legacy of her family who cultivated her love of dogs, and to invest in making the community a healthier, safer place for dogs and neighbors.
Contact
15105 County Road 234
Terrell, Texas 75160
(833) 766-8363
FusionK9.com