Jennifer Chou, DDS and Karen Hake, DMD
The Smiley Tooth Pediatric Dental Specialists
From the moment children walk through the door at The Smiley Tooth Pediatric Dental Specialists until they wave goodbye, they are surrounded by friendly, supportive, smiling faces that help them feel safe and right at home. Laughter can be heard throughout the office as kids learn that going to the dentist can be fun and leave with big smiles, looking forward to their next visit.
"Early experiences at the dentist play a major role in shaping a child's overall view of going to the dentist now and into adulthood. We strive to provide quality, compassionate care in a fun environment to create a positive, memorable experience that will leave a lasting impression for a lifetime," says Dr. Jennifer Chou.
Specialists in Children's Dentistry
Smiles abound and imaginations soar in the uplifting castle-themed office, but there's more to The Smiley Tooth than meets the eye. Drs. Jennifer Chou, Karen Hake, and Laney Mai understand children need special care at the dentist and have the advanced, post-graduate education to provide it.
The pediatric dentists have completed an additional two or three years of child-specific training after earning their dental degree (DDS, DMD). This makes them uniquely qualified to meet the dental needs of infants, toddlers, school-age children, and adolescents, including special needs kids. In addition to pediatric dental training, they study child psychology, which helps them communicate with children in an effective, gentle, and non-threatening manner.
From happy visits where children get acquainted with the office and staff before their first exam to preventive care, early detection, and treatment, Drs. Chou, Hake, and Mai strive to eliminate fear of the unknown. They explain what will happen while patients are with them.
"We use hands-on learning tools taking a tell-show-do approach during checkups and before treatment using a variety of techniques to help children feel calm, safe, and secure," says Dr. Hake. They use terms kids can understand at their specific level. "For example, we'll explain we're going to give their tooth a hug, or that getting a filling will sound like a whistle at first."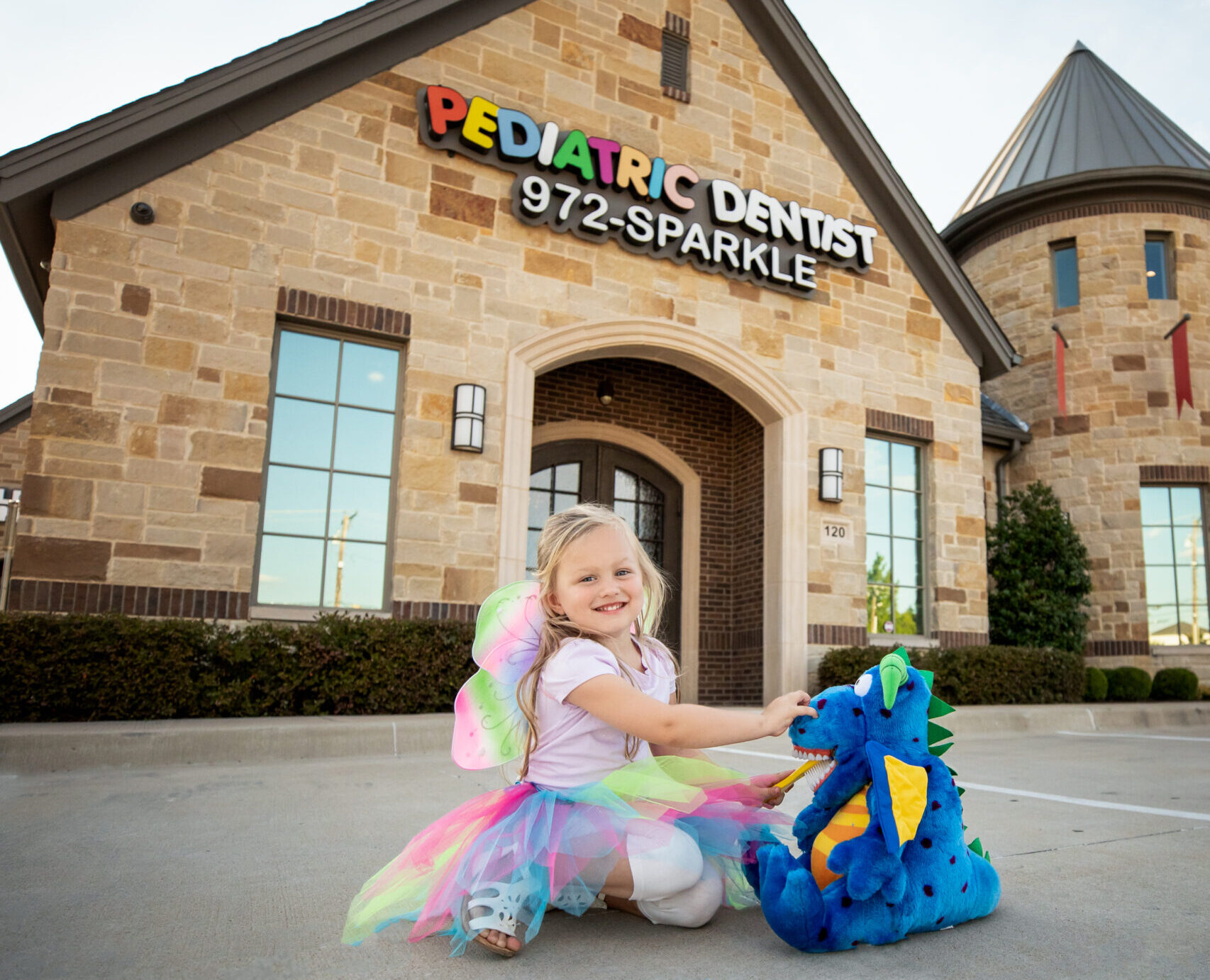 Parents Trust Them, Children Love Them
Countless parents, including Robin and Nicole, praise the dentists and their team.
"Being in the dental field myself, I like to have an honest and caring dentist for my children, one they love going to and can enjoy. This office is the best I've found! The staff is amazing and easy to work with and the back office is amazing as well. My kids love coming to their visits and I love being able to trust the people working on my children. The dentists are very trustworthy and have been wonderful. I do recommend this office and have been telling friends and family about this office as well," Robin says.
Nicole shares this. "I took my daughter here today for her first ever dental visit (two year old) and had a fantastic experience! They made her feel so comfortable and did a great job explaining things on her level and keeping me informed. They let me sit in the room with her, something I've heard other offices don't allow. I'm so thankful she had a good experience and will definitely keep coming here."
Keeping You and Your Family Safe
Patient safety has always been a priority at The Smiley Tooth. Now, with the COVID-19 pandemic, they've implemented stringent office disinfecting and social distancing protocols, and detailed infection control protocols recommended by the American Dental Association and the Centers for Disease Control.
Team members wear PPE (personal protective equipment) that includes N95 or KN95 masks with a surgical mask worn over them, face shields, and medical gowns. Hepa air filters are located in treatment rooms and patients and guardians are screened for symptoms including temperature checks. Additionally, staff are screened twice a day for symptoms and temperature.
Upon arrival at the office call or text (972) 772-7553 from your car. The team will let you know when they are ready for you to safely enter the office and will take your child to the treatment or hygiene room. You are welcome to be with your child during exam and treatment, stay in the reception area while safely distancing, or wait in your car. It is recommended that parents/guardians wear a face mask while inside the office. If you opt not to accompany your child during exam and treatment, a team member will bring your child to you at the end of their appointment and schedule their next visit.
Meet the Dentists
The dentists have completed additional training to administer nitrous oxide and oral conscious sedation. They are also trained to provide treatment to patients under I.V. sedation and general anesthesia.
Dr. Jennifer Chou, a native Houstonian and mother of two youngsters, lives with her family in Rockwall. After earning a DDS, she completed specialty training in pediatric dentistry at MetroHealth Medical Center, a teaching center of Case Western Reserve University School of Medicine and Dentistry. She is board-certified by the American Board of Pediatric Dentistry.
Dr. Karen Hake received a bachelor's degree from Oregon Health Sciences University in Dental Hygiene and returned to earn a DMD, graduating in 1996. She completed her pediatric dentistry specialty training at the University Nevada Reno, School of Medicine in Las Vegas. She lives in Royse City with her husband, has four grown children and three grandchildren, and is active in animal rescue.
Dr. Laney Mai received her DDS from The University of Michigan and completed specialty training in pediatric dentistry at UT Health and Science Center at Houston. Dr. Mai, the mother of three young daughters, is board-certified by the American Board of Pediatric Dentistry.
The Smiley Tooth Pediatric Dental Specialists look forward to welcoming you and your children into their dental family. Schedule an appointment today. Most dental insurance plans are accepted.
SERVICES:
Pediatric Dentistry
Fillings
Restorative Dentistry
Pediatric Sedation Dentistry
Special Needs Patients
After School Hours
Emergency Dentistry
Same Day Appointments Available
---

CONTACT

3018 Ridge Street, Suite 120
Rockwall, Texas 75032
2014 South Goliad, Suite 122
Rockwall, Texas 75087
(972) 772-7553
972Sparkle.com
By Annette Brooks Photos
by Meredith Joyce Photography