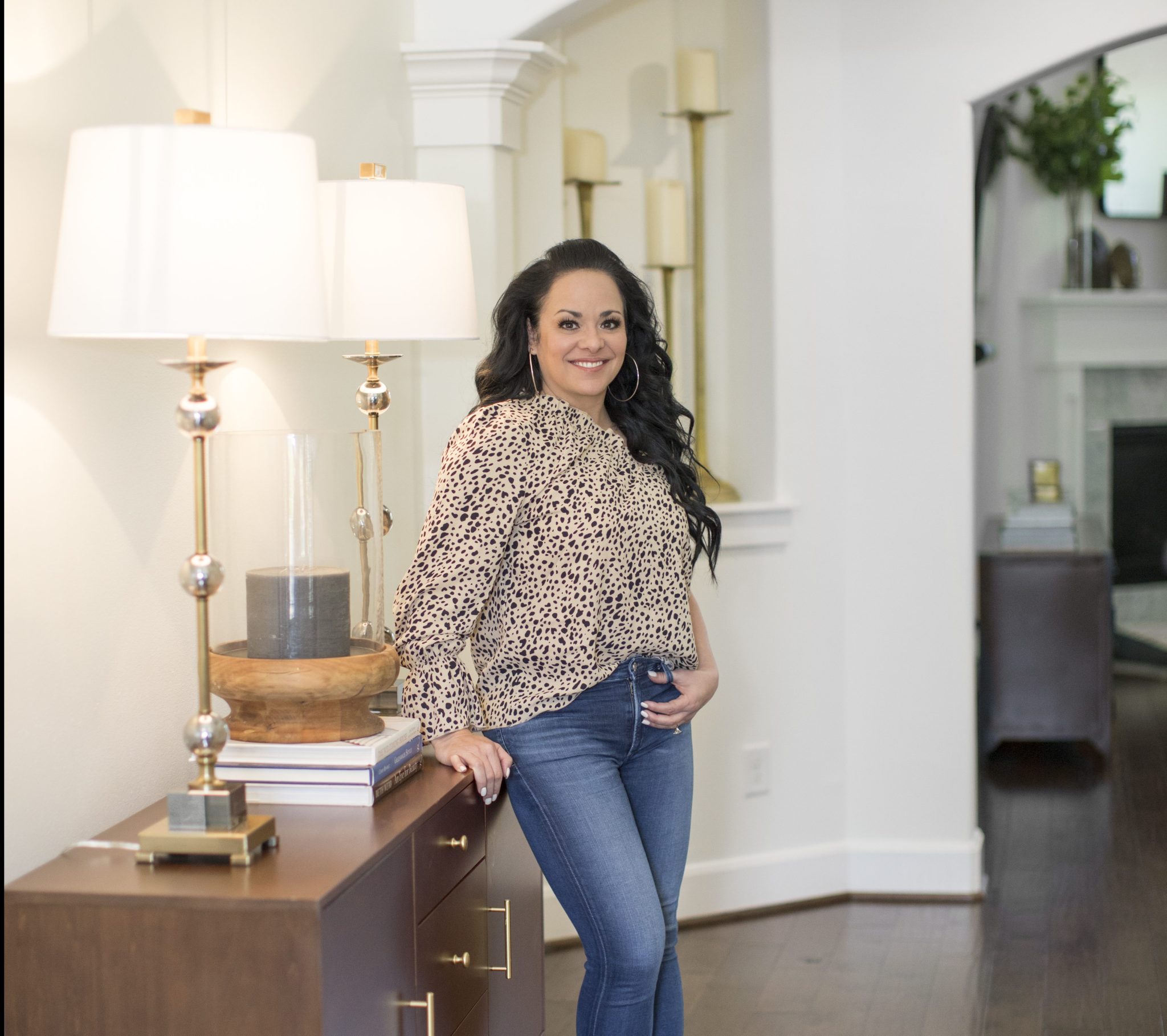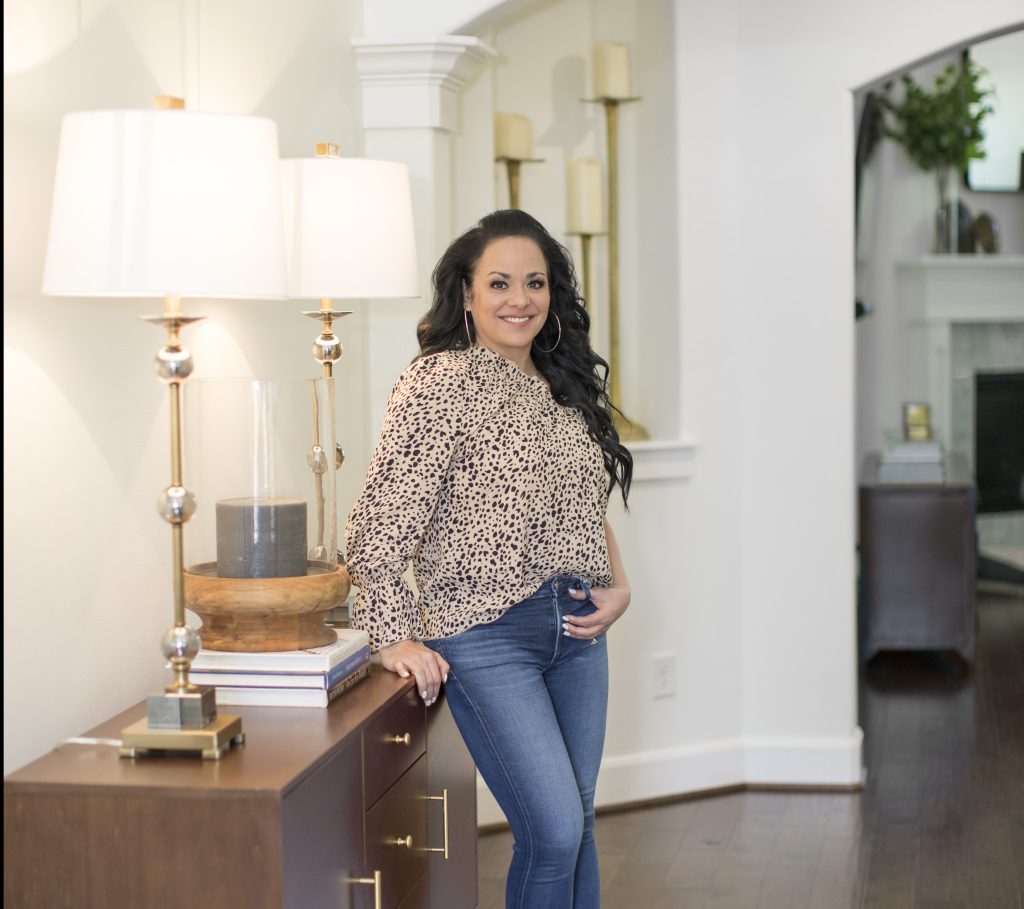 BY ANNETTE BROOKS | PHOTO BY APRIL SANCHEZ OF TAYLOR MORGAN PHOTOGRAPHY
One look at Jami Grondek's portfolio gallery at TheJamisonDesignGroup.com and you'll be amazed by her stunning designs. What you won't see is a signature or cookie-cutter look. Instead, it's all about her clients' goals and tastes — from contemporary to traditional and rustic to transitional. You'll be impressed by Jami's ability to beautifully create rooms with a wow factor, often using eclectic furniture pieces, accessories, and art.
"Especially today, your home is your retreat, your escape, and your safe space. There's nothing like living in a home with beautiful décor and a design you love, and that's my goal for every client, whether we're redoing a single room or the whole house," Jami says.
Consultative and Communicative
Jami has always been deeply creative, organized, and focused on providing value to her clients. "I love making my people happy and work collaboratively with clients to understand their lifestyle, preferences, and budget," she shares.
Your experience with Jami begins with a one-hour consultation where she gets to know you and your personal style. Engaging and personable, she's easy to talk with, asks questions, and has great listening skills. Expect your experience with Jami to be fun, inspirational, and rewarding.
Depending on the size of your space, Jami will present three or more design boards that include furniture, finishes, and accessories to fit your budget about a week after your consultation. You'll review them with her and discuss what you like and if you want to change anything. The process is open and collaborative.
The Art of Blending
Modern farmhouse and mid-century styles continue to be popular, but Jami sees a trend toward blended, transitional looks.
"Some clients want everything redone, but more often than not, they have antiques, family heirlooms, and traditional pieces they love and want to incorporate into a new design. I think this is where my skills really shine — mixing traditional pieces with modern accents and colors to create a distinctive and inviting look," she explains.
Jami points out that little things like replacing old kitchen cabinet hardware with something more contemporary can change the look and energy of a room. Updating lighting can also transform your home. Additionally, she notes that people seek value today. "I encourage my clients to spend money on things like furniture that will be heavily used. You want it to last versus having to replace a sofa, for example, in a couple of years because it didn't hold up. But with area rugs, accessories, and accent pillows, you can spend less and still enjoy quality. Plus, this makes it affordable to update these items as your taste and trends change."
In-person and Virtual E-design Options
Our lives are busy, and the pandemic helped change how we interact with one another, including using technology to inform, explore, and collaborate versus meeting face to face. Jami is flexible and can interface with clients digitally via Facetime or Zoom or meet them in person in their homes. She can even drop off design boards and then virtually meet with clients to discuss them and exchange ideas.
"We also do designs for our clients' vacation homes. Virtual e-design packages make it easy and efficient," she adds.
What Clients are Saying
Clients rave about their experiences with Jami and readily recommend her.
"We've used Jami for several years on various projects for two separate homes. Everything she puts together has always exceeded our expectations and achieves the vision of what we want. Her talent can adapt to many different design styles and her communication makes the entire process run smoothly. It's always been an absolute pleasure to work with her!" – M.B.
"Jami was so easy to work with! She took the effort to find out our preferred style and color scheme and easily adjusted whenever we wavered. Everything was handled with professionalism and commitment. We are very much enjoying our home and have gotten lots of compliments! She turned our house into a home, and it is better than we could have ever imagined it." – C.W.
"We had the pleasure of working with Jami for a full remodel of our kitchen and master bathroom. She offered a guided process from design all the way through the finishing touches. Thanks to Jami, we felt confident throughout the remodel process, and the results were amazing! She was energetic, professional, and overall, a pleasure to work with. We would absolutely recommend her for any remodeling projects." – K.C.
More About Jami Grondek
Jami majored in communications and business in college, but through the encouragement of friends and acquaintances familiar with her eye for aesthetics and talent for design, she began forging a career in design and has never looked back.
"We're more in tune with our homes and interior spaces today, and I believe rooms should be comfortable, functional, livable, and beautiful. Everyone should walk in the door and think, 'I love my home!' I want my clients to be happy with their space and collaborate closely with them, so it reflects who they are," Jami says.
Now is the perfect time to fall in love with the place you call home with some help from The Jamison Design Group. Visit the website for more information and call (832) 689-5562 to schedule a consultation today.
Full-service design firm
Complete range of residential services
Commercial interior design
New home and remodel design assistance
Outdoor living area design
Virtual e-design services
Residential staging, certified home marketing specialist
Holiday decorating, including setup and take-down
Contact
(832) 689-5562
TheJamisonDesignGroup.com