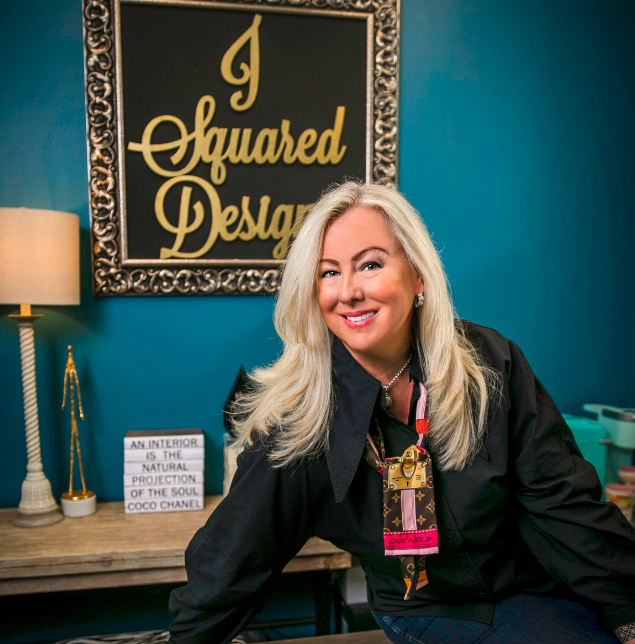 By Melissa Gautier Photos by Kelley Sweet Photography
---
What started as a personal project four years ago has grown into a full-fledged, nationally-recognized interior design business for Juliana Ewer, owner of J Squared Home Designs. Creating living spaces that reflect a homeowner's vision is her pleasure and passion. With an artistic flair and acute eye for color, symmetry, and balance, J Squared is an extension of Juliana's highly-regarded talents.
Juliana's talent for interior design was nationally recognized last month at the Designer of the Year (DOTY) Gala. Emceed by acclaimed designer Jonathon Adler at the Blackstone Hotel in Chicago, she garnered two prestigious DOTY titles from the Interior Design Society (IDS). Judged by a panel of industry leaders, vendors, and designers, Juliana was awarded in both "Whole Home Design Over 3,000 Square Feet", and "Single Space: Powder Bath".
Client-Focused Curation
Residential interior design is Juliana's primary business. She works projects with a minimum opening budget for furnishings, lighting, window treatments, art, and accessories. Access to trade-only custom furniture, bathroom vanities, mirrors, and lighting allows her to offer high-end furnishings from top showrooms around the country
and abroad.
Business Beginnings
Like many Houstonians years ago, Juliana and her husband's Fort Bend County home was damaged after Hurricane Harvey unleashed tornados and torrential rains. While reconstruction was underway, they decided to downsize, buying a smaller home as empty-nesters. This left their original home ready for resale with a clean palette of bare walls and no furnishings. Juliana's resourceful eye saw an opportunity for creativity. She bought furniture, art, and accessories to create a design-savvy look with an inviting appeal for prospective buyers. A neighbor asked who staged the home and Juliana replied, "That would be me!" She staged that neighbor's home three days later, not realizing she had just founded a new career – one she credits to the support and encouragement of her husband.
Word of mouth spread when she staged another home in Sugar Land. The buyers loved the way she appointed the home, and hired her as their interior designer. "I had never thought of this as a career, but it just took off from there," she says. Soon, realtors were calling for her home-staging services. In preparation, she purchased inventory to stage six homes and business flourished.
First Impressions
"In this age of internet and social media, you only have an instant to capture a buyer's attention," Juliana explains. "First impressions are everything."
Even though she focuses on interior design projects, Juliana continues to offer home staging. She works with realtors and clients in mostly vacant homes, developing a buyer-ready design. "We use a neutral palette for staging projects, adding color with artwork and accessories for a transitional feel." The results are photo-ready interiors that inspire and entice buyers.
Remarkably, the pandemic lockdown led to a burgeon in business for Juliana. With a stay-at-home mandate in place, people began to realize their tired, dated décor screamed change. They wanted a fresh, updated environment, pleasing to the eye and relaxing to the soul. J Squared Designs was the perfect team to bring their vision to fruition.
Design Inspiration
Juliana draws significant design inspiration from the incredible architecture and historic buildings while traveling in Europe. This month, she's heading to Paris with a group of designers for a week-long visit to Maison Objet, a French market offering exquisite antiques and rare objects. "This allows me to offer my clients an entirely new level of distinctive furnishings and elevated design."
Appealing Details and Signature Style
Juliana's signature style comes into play when searching for interesting and unique accessories to complement clients' design aesthetic. She displays vignettes of color and texture in surprising ways that delight the homeowner. "I thoughtfully consider each and every project with the same creative passion and detail I would treat my own home." She admits tending to over-deliver time and attention spent on details because she loves the process so much. "It's a creative outlet for me that I truly enjoy."
The Big Reveal
Juliana makes sure each project reveal is a thrilling and unforgettable experience for her clients. "I enjoy discovering what excites them about coming home." She requests clients leave for the day during design installation. This is when the magic begins – placing newly acquired furnishings, art, and decorative touches including sheets, bedding, pillows, and window treatments. "Seeing their faces when they walk in the door is such a rewarding experience." Some burst into tears of joy, while others are in awe and amazement at the remarkable transformation.
Kingwood homeowner and client Don Gould recalls the moment he and his wife saw their new design reveal. "When Juliana opened the door to our home, we were overwhelmed with emotion. My wife cried and I almost did. While we had some input and vision of what the furniture was going to look like, we had no idea how it would be accessorized. It was amazing! So far beyond our expectations! Every little detail was perfect and beautiful."
"We've been so blessed with wonderful clients that love and appreciate what we do," Juliana says. Nothing is more gratifying to her than helping them create the home of their dreams. "Building and maintaining wonderful relationships is my favorite part of this business. My clients trust me to lead them down a creative path to a smart investment with stunning results."