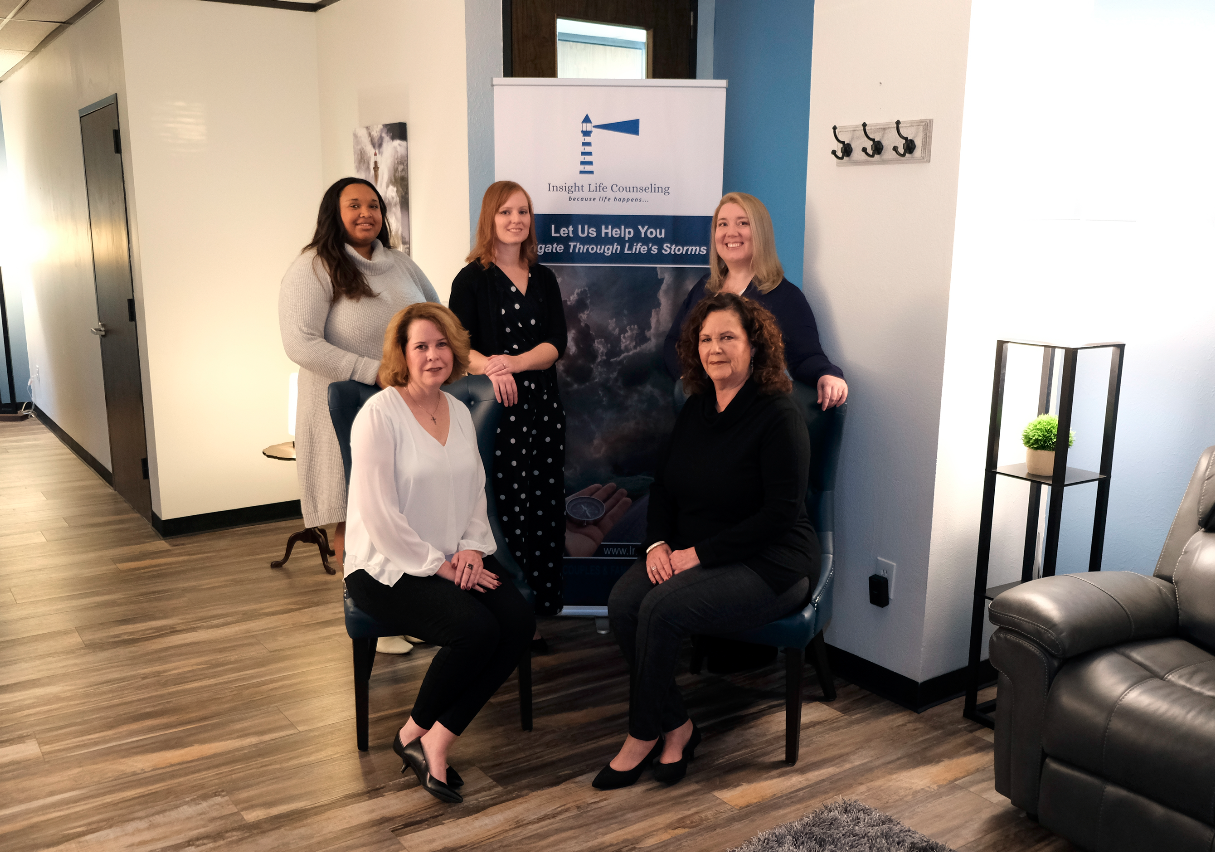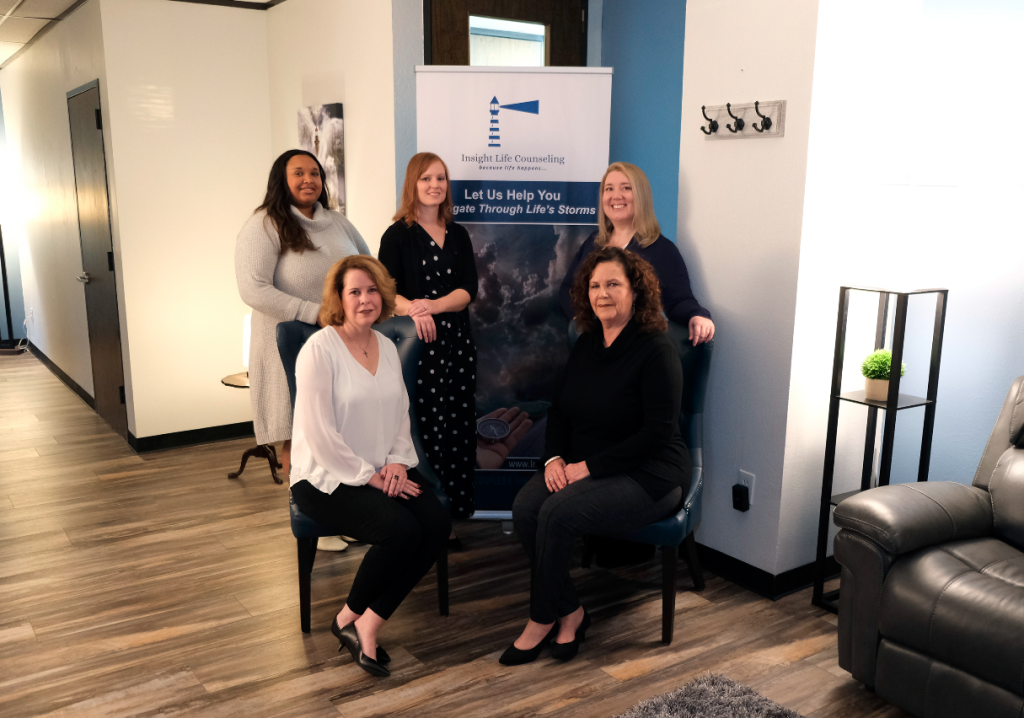 By Meredith Knight | Photos by Gulf Coast Imaging Studios
---
The mother/daughter team of Cris Treadway and Gail Payne wanted to do things differently. Their clients at Insight Life Counseling can attest that they've done just that. A licensed professional counselor (LPC), Cris spent years working in large hospital settings, but she often felt she lost track of her clients in that corporate-care model. She longed to slow things down, really connect with clients, and be able to provide the individualized attention they deserve. When her mom, Gail, was ready to say "good-bye" to her own fund-raising and event-planning business, the two decided to join forces and open a boutique counseling practice where clients are carefully matched with the right counselor, and no one gets lost in the shuffle.
"When clients call the office, they're greeted by a caring, loving voice on the phone," Cris said. "Some have even told me they chose our practice because of the way they were treated by my mom, when they called." Icing on the cake has been Cris' daughter, Sydney Treadway, joining the practice and this dynamic three-generational team being joined by two outstanding licensed therapists.
Therapy for All Ages
"We wanted to find therapists we'd feel good sending our own family members to and were blessed to welcome Sarah Storie and Christine Sanchez," Cris said. "Christine specializes in pre-teens, adolescents and young adults. Sarah and I see clients of all ages. We're actually starting to see a lot of senior and recent retirees, right now. We focus on anxiety and depression but also work with anyone going through a dramatic life change. Retirees reach out for us to help them work through this new chapter in their lives. It's even more traumatic if they were forced out of work before they were expecting to retire. They're left wondering, 'Now what?'."
"Our motto is 'Insight Life Counseling… because life happens', we teach clients they can always choose how to respond to life's challenges," Gail said. "We also offer telehealth. It was a God-send, the first year of the pandemic, but we usually find our clients prefer to meet with their counselors face-to-face. Even as our client base is growing, we're committed to never using an answering service. Instead, we carry our business phone with us 24/7. When our clients need us, they know they can contact us," Gail continued.
Meet the Insight Life Counseling Team
Cris Treadway
With 25 years' experience, Cris is skilled and experienced in working with individuals, couples, and families. She specializes in depression, anxiety, addictions, infertility, and life transitions. Her therapeutic approach is largely based on Cognitive Behavioral Therapy (CBT) with an emphasis on the mind-body connection. "I believe everyone is capable of positive change and that the capacity of the human spirit is boundless," she said. "I embrace all clients with this passion and belief they can heal and grow beyond their current experience and pain. The decision to enter into counseling is significant; I respect how difficult this choice can be and will support and facilitate your positive change in a manner that works best for you. When you commit to counseling, rest assured I'm committed to you and meeting your goals."
Sarah Shyne Storie
Sarah has been trained in several evidence-based techniques and utilizes those skills in an individualized treatment plan for each person. "Therapy is for you, and we'll work at your pace and on your goals; although I do have one goal for everyone I work with, which is that you're empowered to continue to set in motion the ideal plan to achieve your best life. Asking for help is a huge step and with therapy you can identify the issues that are going on and start tearing them down. You deserve the best life possible. Through therapy you'll be able to gain the knowledge and confidence to achieve your goals."
Christine Sanchez
Christine has worked with children with emotional and behavioral disturbances in an elementary school setting, with at-risk youth in a therapeutic foster care setting, and with adolescents and their families to help facilitate re-unification. "I like to use skills and tools from different modalities such as Dialectical Behavioral Therapy (DBT), Cognitive Behavioral Therapy (CBT), and Acceptance and Commitment Therapy (ACT) so that each person can have the best fit for their needs," she said. "No two people are the same, which means no two treatment plans will be the same. Together, we'll develop personalized goals as well as individualized steps to help you achieve them."
Virtual Reality Therapy
One exciting new therapy Insight counselors are incorporating into their treatment is virtual reality (VR) intervention used as an adjunct to face-to-face therapy for depression, anxiety, and other conditions. VR in mental health treatment has been around since the mid-1990s. "With simple phobias where someone has one predominant fear—say a fear of flying—VR can be used to expose the person to that fear gradually and safely, as they're ready to advance," Cris said. "We've had great success helping clients face and even overcome their phobias. The goal isn't to replace counseling sessions with VR but to enhance them and take them further."
Life Happens
Sometimes, even the strongest people need help working through life's more challenging problems. At some point, most of us will have battles to fight and hurdles to overcome. Whether you struggle with anxiety, depression, low self-esteem, or other issues, you should know there's hope for a better tomorrow.
The Certified Clinical Trauma Professionals at Insight Life Counseling offers highly personalized care in:
Couples Counseling

Pre-marital Counseling

Marriage Counseling

Family Counseling

Divorce Counseling

Individual Adult Counseling

Adolescent or Teenager Counseling

Family Therapy

Issue-Related Support Groups

Telehealth Counseling for Texas residents
Insight Life Counseling is now partnering with some major insurance companies to make counseling even more accessible to their clients. Ask us about all our payment options by calling our office today.