A north Texas dairy opens in the wake of destruction.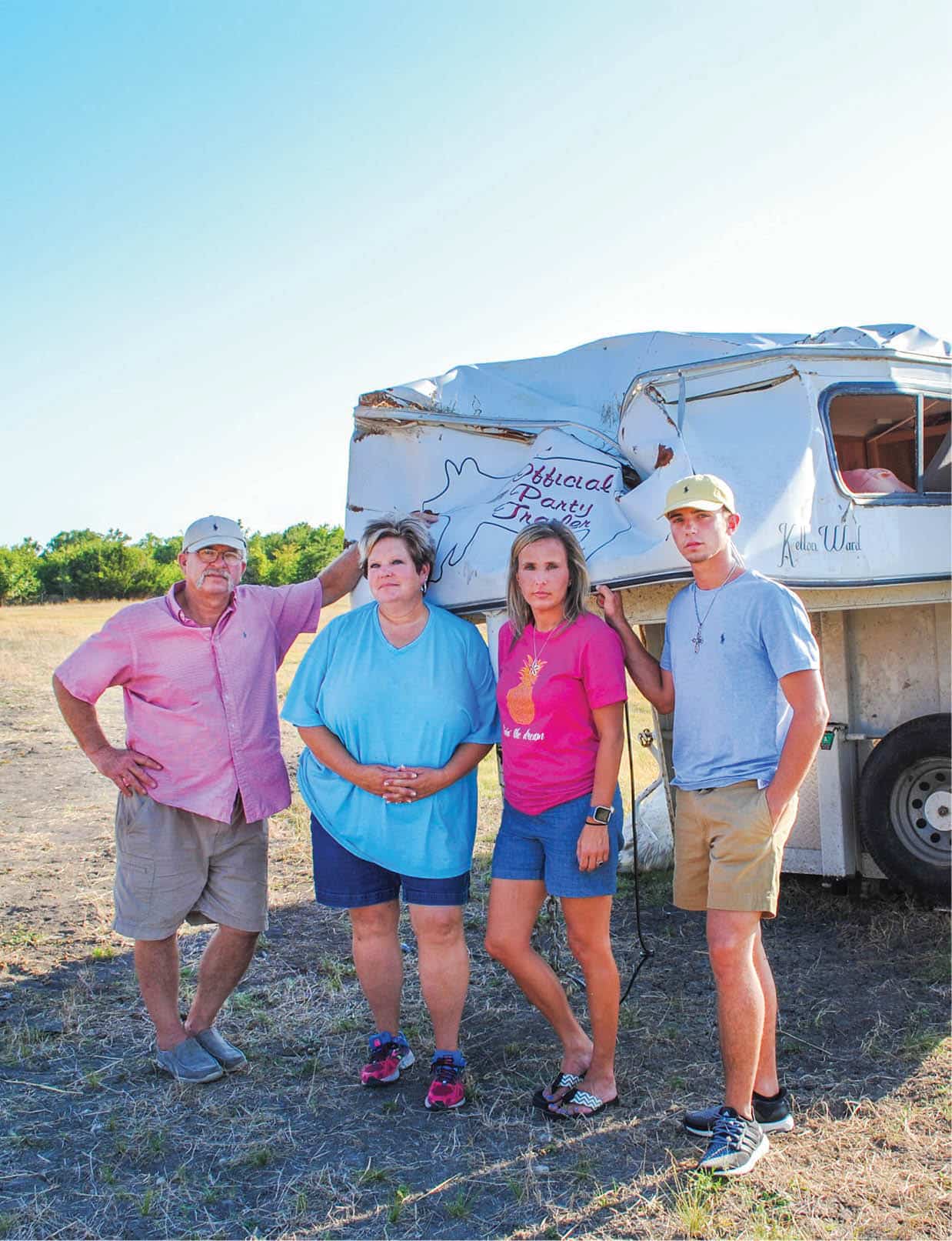 It was the day after Christmas, December 26, 2015. As families stood in line at retailers making Christmas returns, Lyn and Steve Horton tended to their 10-acre farm in Farmersville, Texas—watering and feeding animals, milking cows and goats, picking a few things from the garden. "It was so hot that day. I had shorts and a t-shirt on," Lyn says. In the late afternoon hours, just as evening chores were completed, meteorologists called for bad weather. "As we got up in the driveway, a friend who was visiting said 'Hey, have y'all heard about the weather?'" They hadn't. So they turned on the TV to hear that a tornado was headed straight their way. But history suggested that the tornado would go around them, just like it always did. Steve grew up on this farm and the tornadoes always went around. Lyn thought differently.
"I got my bag to go into the storm cellar," Lyn says. She's not one to take chances on the weather. Shortly after she and her family settled into the storm cellar, weather alerts bombarded their phones. "It wasn't even raining," she recalls. "The weather wasn't doing anything." Moments later, an eerie quiet came over the whole farm. Friends reported that tornado alarms rang in town. They shut the door and hunkered down. A second after they locked the door, the storm was on top of them.
"It was deafening inside the cellar. Concrete dust was falling down on us. The noise and pressure; it's just indescribable." Thirty seconds later, it was over.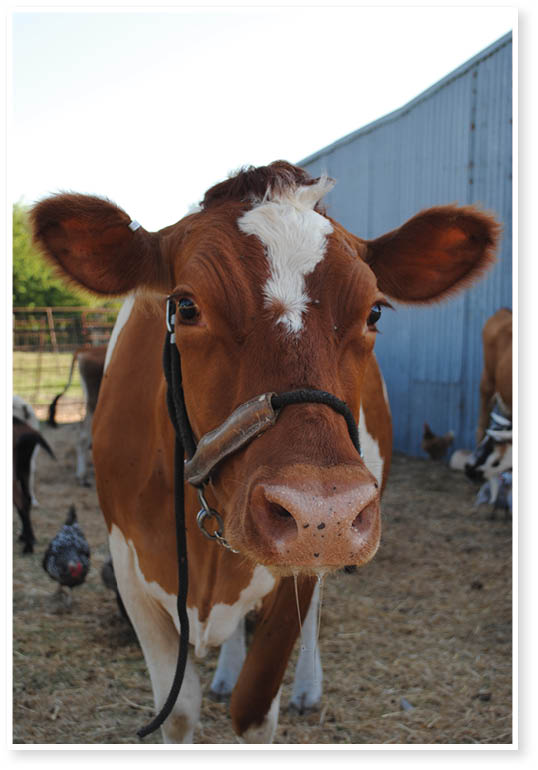 Lyn has wanted a dairy of her own for 25 years. "I've had dairy goats forever," she says. Seventeen years ago when her godson, Kelton, was a baby, he had terrible stomach pain. Nothing seemed to alleviate the infant's problems. The Hortons are long-time goat milk drinkers, so they thought to try it out on the baby and see if it would help. "It turned his little life around right from the first bottle," Lyn says. From that time on, the Hortons have been approached regularly by people looking to buy the milk. They were neither set up nor licensed to sell the raw goat's milk, but they kept hoping and planning to open a goat and cow milk dairy on their Farmersville farm.
"We've always said that when Steve retired and Kelton graduated that's where we were headed." Steve retired from the McKinney Fire Department after 29 years of service in June of last year. The timing seemed right. Kelton hadn't yet graduated, but things started falling into place. Goats from tremendous, hard-to-get herds started coming up for sale. Lyn started buying top-notch dairy goats, Steve had a couple dairy cows, and they were ready to finally set the plan in motion.
The goat and dairy barns were scheduled to start on December 1. The builder told the Hortons that he wanted to take his family on a skiing trip, their first family vacation in many years, so they postponed the start date until January. "It was by the grace of God that the new barn wasn't started," Lyn says.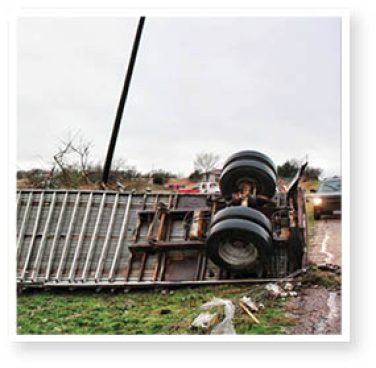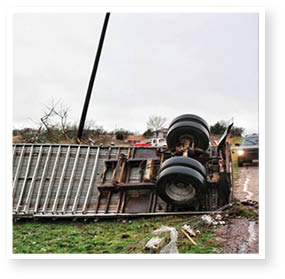 As the evening hours rolled in on December 26, the Hortons and their family members left the storm cellar one by one. "Everything was gone," Lyn recalls. Her sister's home was no longer standing; her acreage completely wiped off. Trees, trailers, and trucks littered the land where they were sitting peacefully not even an hour before. Many were even thrown into fields down the road. Some are still missing today. "By this time I didn't know if I had a house or didn't," Lyn says. "Steve came back and said the house was standing but he couldn't tell how much damage was done." They started walking toward their property to see if any of their livestock survived. Miraculously, all the goats, cows, and calves survived. A week later, two healthy calves were born amidst the debris and destruction.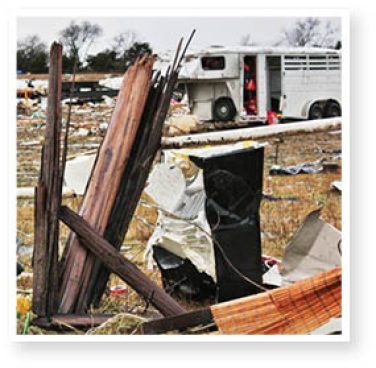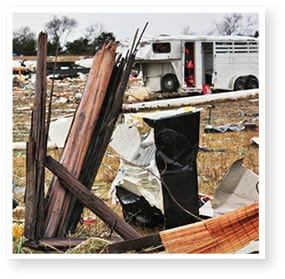 "Even in the total devastation, there was still blessing. There was blessing everywhere. If it had happened in the middle of the night, we would have all been killed." The people who had planned to build the dairy barn were waiting in the shadows and, instead, started restorations on the Hortons' home. "With all the [widespread] devastation it would have been impossible to find a legitimate builder quickly. The dairy barn was once again our saving grace."
That very night, neighbors and friends came out to help where they could. "By 8 a.m. on Monday [the 28th], the entire property was filled with people to help." More than 75 people came out to lend a hand each day. Their property was nearly completely cleaned up by Wednesday, December 30. But that was just the start of the long road ahead.
A mangled trailer still sits on the back part of the Hortons' property, a solemn reminder of the day that changed their world. Yet they intend not to let the storm define their lives. "We're still finding things that are gone. We are not done. But it didn't put any kind of damper on our lives. It was just a huge stepping stone," Lyn says.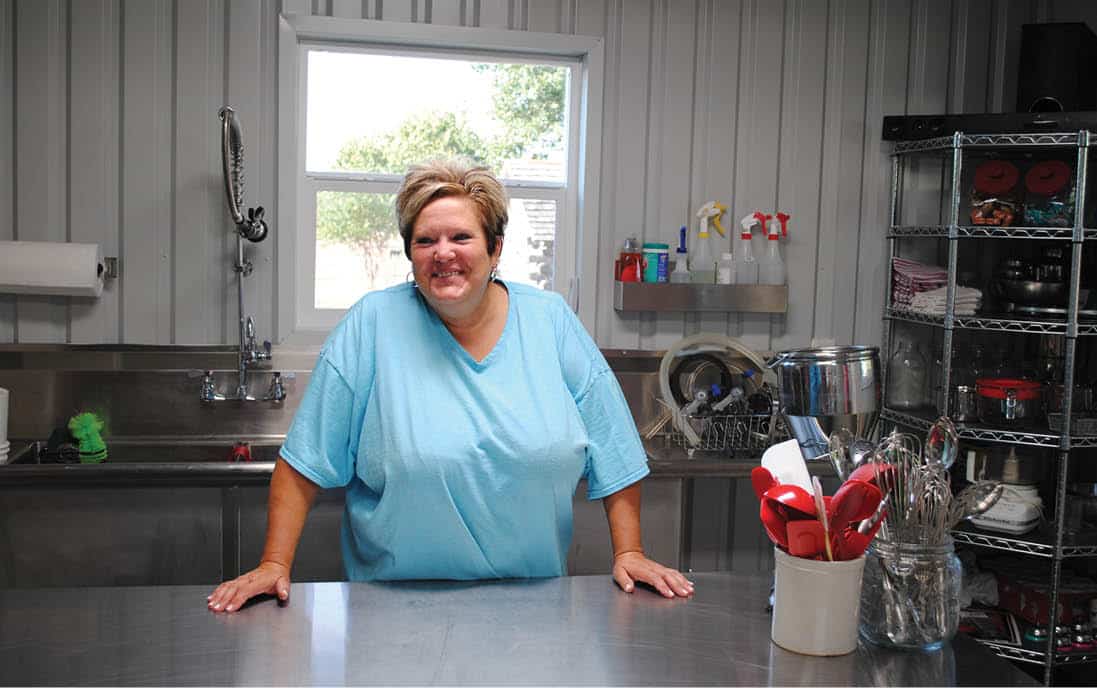 Today, almost a year later, the dairy is at last open and operating on the Horton farm. Nana-n-Pop's, as they're known in the community, has been a mainstay at the McKinney Farmers' Market for a number of years, offering fresh eggs, jams, and jellies to market goers. With the dairy comes a new name and a new legacy for the Horton family. They've rebranded themselves N&P Farm and Dairy, LLC, and added raw cow's milk ($8/gal.) and raw goat's milk ($10/gal.) to the repertoire, along with cream, yogurt, goat's milk soap, herbs, and other goods grown on their farm. They even plan to eventually build a farm store on their property.
But for now, the Hortons and their family are content to basking in the joy of their new dairy while keeping their blessings at the front of mind. "If you look through the smoke, there are so many blessings," Lyn says.
By Natalie K. Gould
Natalie K. Gould is a freelance journalist in McKinney, Texas. She has spent the last five years writing about small-scale agriculture, family farmers, and local food. You can find her watching her heirloom tomatoes grow while sipping any number of Texas whiskeys.