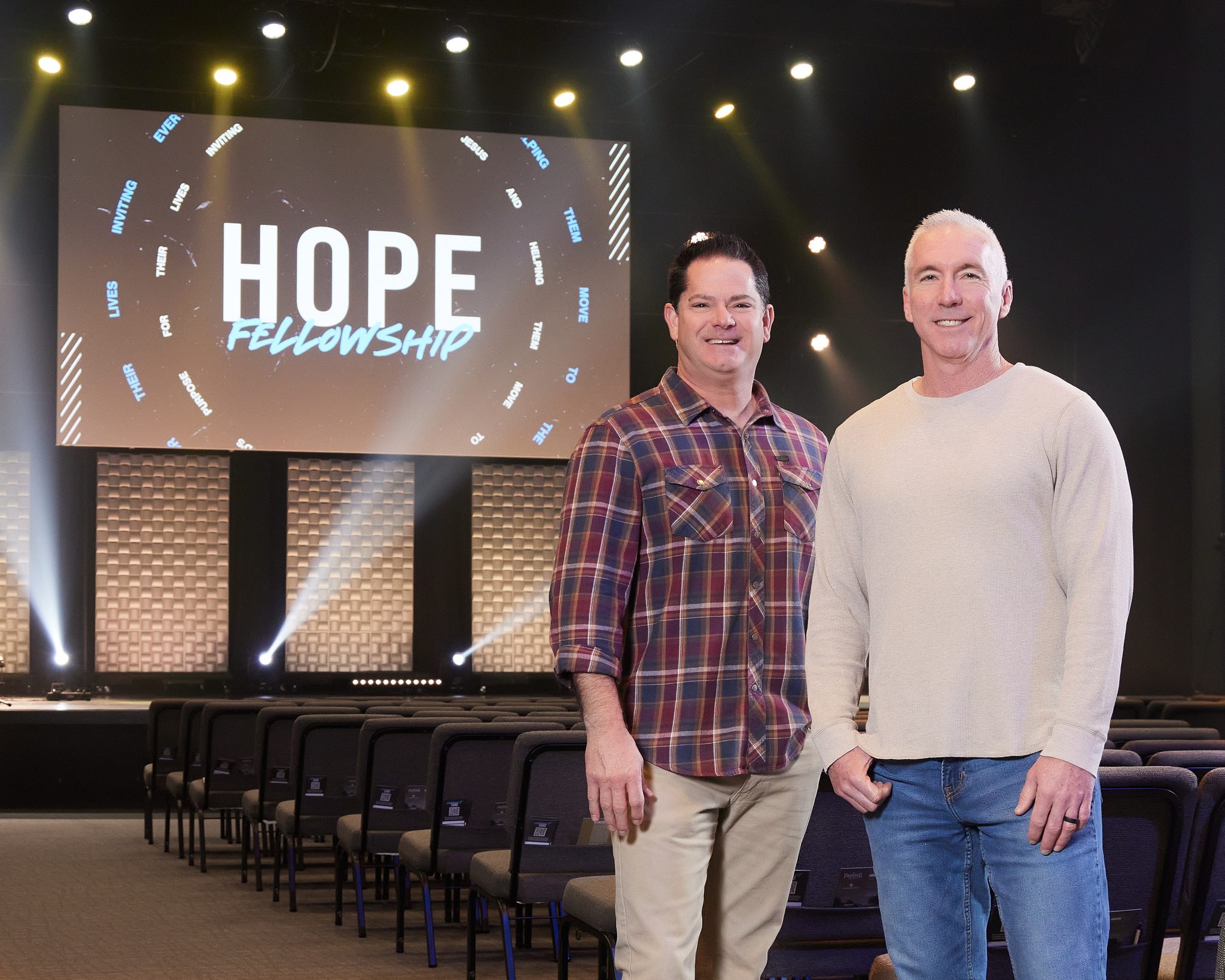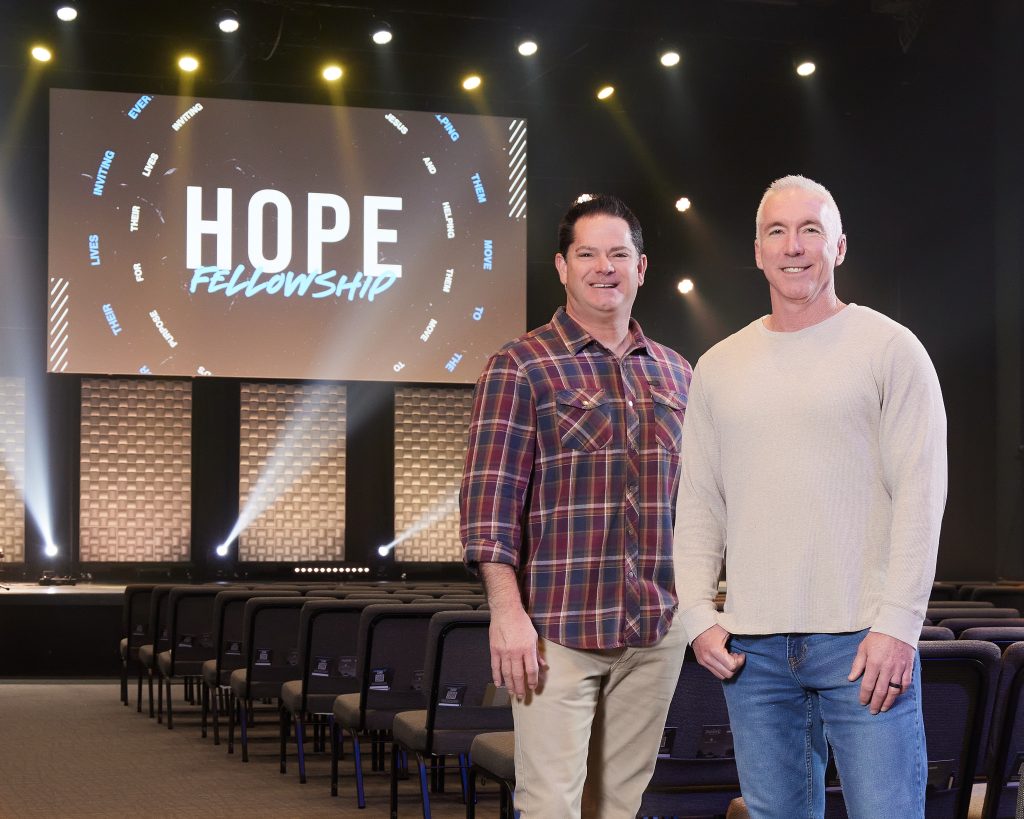 BY MEREDITH KNIGHT | PHOTOS BY SCOTT PEEK PHOTOGRAPHY
For over 20 years, the mission of Hope Fellowship has been to invite everyone to find Jesus and then help them move to the center of God's purpose for their lives. They do this through dynamic worship, relevant teaching, and personal connection. "Everything we do at Hope serves that purpose," said Lead Pastor John McKinzie. "Because people matter to God, they matter to us. It's important to us that every person in the Hope family considers themselves a partner in our ministry to love people, connect to Hope, grow in community, and serve others the way the Lord would have us."
Growing with Prosper
Hope Fellowship has grown as this area has grown, now with campuses in Frisco, McKinney, and Prosper. While the Prosper campus is currently meeting — and flourishing — in temporary quarters within Prosper High School at 301 Eagle Drive, construction is about to start on a large, new campus off Prosper Trail, a half mile west of the Dallas North Tollway, which they hope to have open by Easter 2023.
Mike Martin is the campus pastor there. "We do so much more than just Sundays together," he said. "We're a church of imperfect people who genuinely love and care about each other. We're all about empowering families to raise up the next generation for Christ. When you come to Hope, you meet other parents whose kids go to school with your kids. These are people you see at the ballpark and grocery store. You volunteer around town together. Hope is a community within the community where families can connect in small groups and do life together."
Reaching the Next Generation
"When your kindergartener or first grader walks into their small group, they see other kids they know," Mike said. "As they grow, they have other children they can connect with and discuss spiritual principles. Your middle schooler or high schooler can meet here on Wednesday nights and talk about what's happening at school and in their lives in a safe, accepting environment. In fact, there's something going on within the Hope family every night of the week, whether it's on campus or small groups meeting in homes. People have a chance every single day of the week to really connect with each other."
Find Your Group
Small groups are the best way to make a big church feel smaller and at Hope Fellowship there are groups for every age, as well as common-interest groups for married couples, addiction recovery, veterans, business owners, foster and adoptive parents, and more. Whether it's a home group, a Bible study or class, or a common-interest group, you can find your people and start moving toward the center of God's purpose for your life — together. Visit hopefellowship.net/groups to find your perfect group.
Reaching Out
Members of Hope Fellowship have been excited to join the efforts of local nonprofits such as Cornerstone NCT, Lovepacs, Prosper Ladies Association, N3 Neighbors Nourishing Neighbors, and others. "We love what God's doing in Prosper and we want to be involved in every aspect of our community," Mike said. "Prosper has always been community-oriented. We're not trying to reinvent the wheel but are thrilled to come alongside those who are already doing it so well, adding people and adding flavor to their good work. It's easy to do that here. We're excited about growing with Prosper."
Meet Lead Pastor John McKinzie
Lead Pastor John McKinzie founded Hope Fellowship in 2000 and has led it to become a church known for its care for the broken and desire to "help everyone find Jesus and move them to the center of God's purpose for their lives." John is married to Melissa, has four kids, and two lovely grandchildren.
"It's really great to be able to serve under John because his heart has always been to love people," Mike said. "He does an amazing job of caring for people and serving people. The Prosper campus is just an extension of what we've been doing for over 20 years."
Meet Prosper Campus Pastor Mike Martin
Mike Martin has served in many roles at Hope Fellowship. His current position is campus pastor at the Prosper campus. Mike, his wife Penny, and sons, Cade and Ty, have been Prosper residents for 17 years. "Mike really gets who we are and what we're about," John said. "We're very lucky to have him carrying on the mission of Hope in Prosper."
For updates on the progress of building the new Prosper campus, check out hopefellowship.net/prosperupdates.
Join Hope Fellowship for Services on Sundays at 9:30 AM or 11:15 AM
301 Eagle Drive
Prosper, Texas 75078