A hill country leather company keeps traditions alive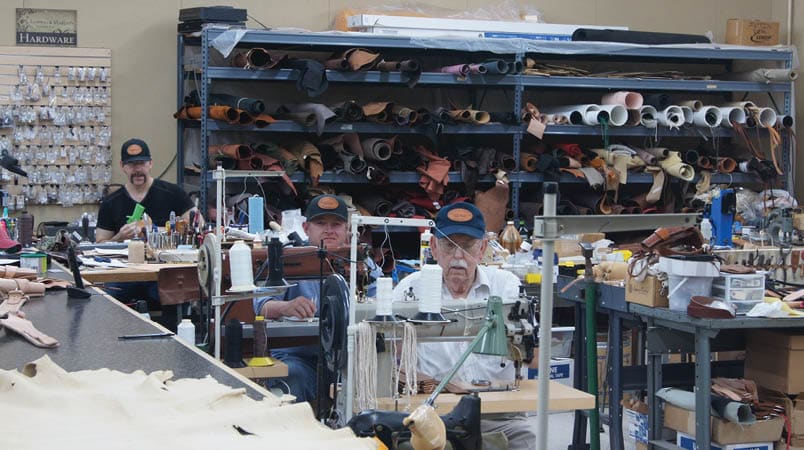 There's a place in historic downtown New Braunfels that's been keeping Texas traditions alive by creating hand-made leather products for seventy-nine years. To walk into Ludwig and Marglin and smell the leather musk is to step back to a time when American-made products were easy to come by. Old photos from the first few years of the shop, including photos of the original tannery that used to reside where the popular Krause's Café now sits, hang framed all around.
Since opening its doors in 1938, Ludwig and Marglin Leather (originally called New Braunfels Leather Company) has been designing, stitching, and tooling all sorts of custom leather products including horse tack, chaps, bags, belts, orthopedic braces for the medical industry, suspenders for firefighters, and much more. To watch the Ludwig and Marglin crafters spend days making custom piece after piece on antique equipment, as visitors can, is to watch artistry at its finest. Each stitch is deliberate, each design is hand drawn.
Together the Ludwig and Marglin Leather master crafters have over a century of leather making experience. Helen and Opie Oppelt are married and have been with the shop for over thirty years each. Opie, who is 84 years old, is a hand-plait craftsman and makes all of Ludwig and Marglin's mohair reins. He swears he won't work more than six more years! Helen, 67, can make a cow halter in two minutes flat. One well-loved master crafter, Paul Serna, was with the store for fifty years before he passed away. His marble tooling block was turned into his headstone.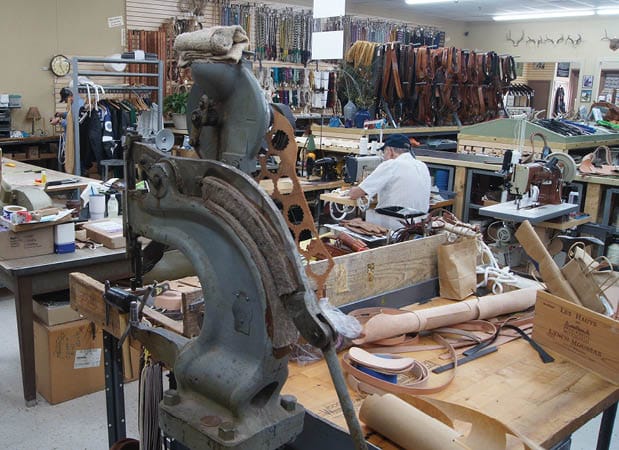 Their work can be seen in museums across the state of Texas. A producer from the Roots miniseries once called Ludwig and Marglin to ask if it would be possible to overnight bridles for the television production. They wanted period-appropriate braided rawhide bosal bridles with hand plaited macate reins. The bridles needed to have antique brass hardware to match the aesthetic of the time period. They relished the request.
It wasn't the first time the team had been asked to produce a replica. In fact, people regularly walk in with family heirlooms, in hopes that Ludwig and Marglin can repair or replicate their treasures. "We've had people bring in belts, chaps, holsters, saddle bags… so many things that meant something because it once belonged to a loved one. Those are always special projects for us," says new owner Terri Cocanougher.
Cocanougher is a big fan of history and family ties herself. She bought the building thinking it once belonged to her great-great-great-great-grandfather. It turns out he owned the building next door, but Cocanougher fell in love with the artisans at Ludwig and Marglin and decided to maintain the historic Texas business. "The people here are like a family," she says fondly.
Ludwig and Marglin Leather is located at 197 S. Sequin Ave in New Braunfels, and will celebrate its 80th anniversary in 2018. More information is available at LudwigsLeather.com or (830) 629-0540.
"There's something very special about this place," says Terri. "You can't just put out a call for a new leather maker. It's a craft that's honed over decades." The products they make last a lifetime or longer—much like the shop that continues to honor a Texas tradition.
By Katie-Rose Watson