Looking for an easy Halloween costume? Go vintage! You can capture the essence of your favorite film characters for a fraction of the price by pairing vintage basics, key accessories, and character-appropriate hair and makeup. Not only will you have an authentic Halloween costume—but you'll be left with a few staples you can wear again and again. The best part? No one else at the Halloween party will have the same costume as you!
---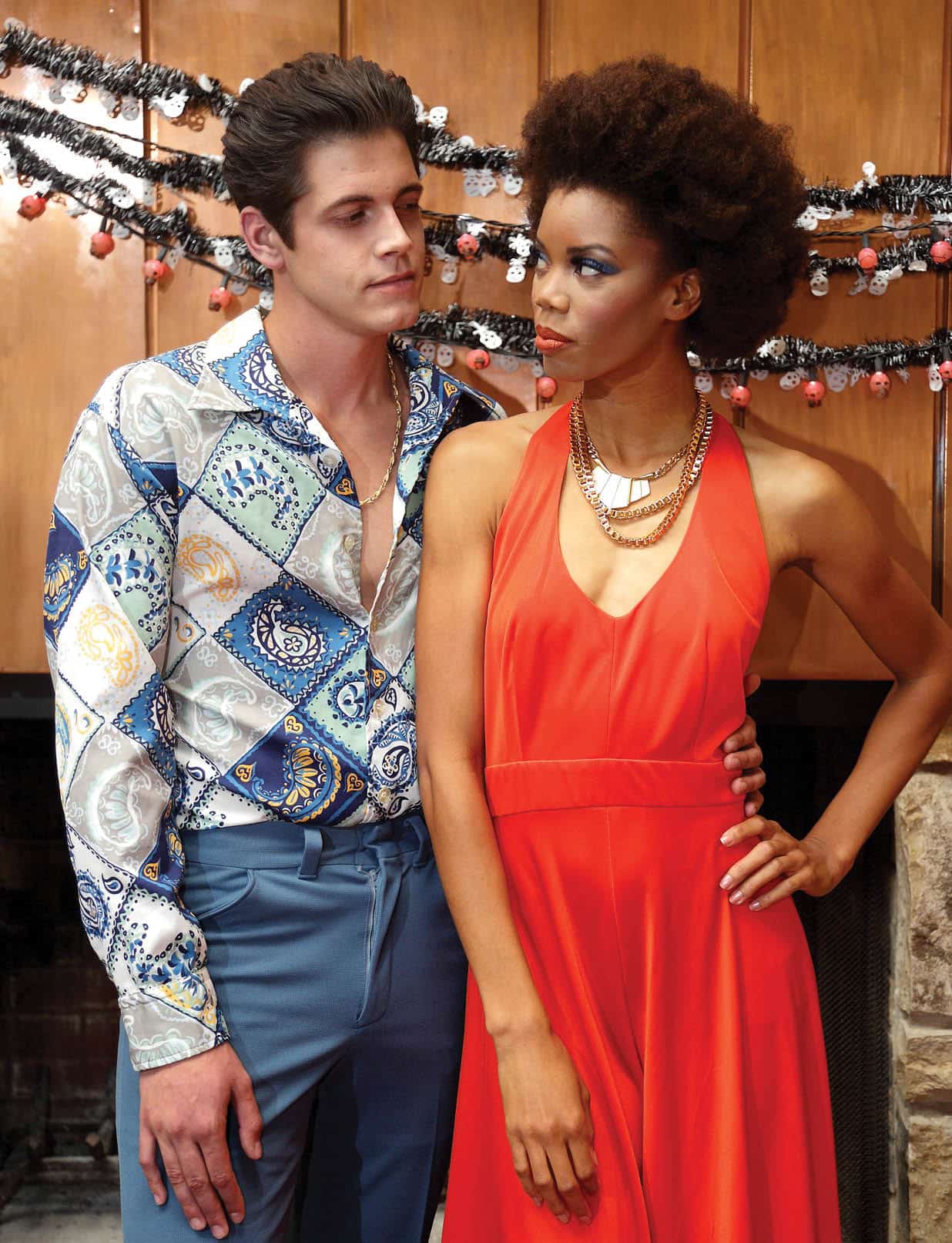 Inspired by Saturday Night Fever
This look isn't for wallflowers—to pull it off, you have to be willing to dance! You can find a plethora of seventies attire at a vintage store near you. For men, pair a loud shirt with tight pants and slick your hair back. Bonus points if you have sapphire blue eyes like John Travolta. For women, be bold with a jumpsuit! Renata Salons used her natural texture to create a super disco look and had some fun with blue eye shadows and an orange lip color.
Her: 1970s Orange-Red Wide-Leg Halter Jumpsuit $79, 1970s Bulky Gold-Tone Necklaces $16 each
Model: Melissa Bates, Clutts Agency
Him: 1970s Powder Blue TIGHT High Rise Men's Trousers $28, 1970s Paisley Print Shirt with Large Lapels $33
Model: Brandon Wittmeier, Clutts Agency
---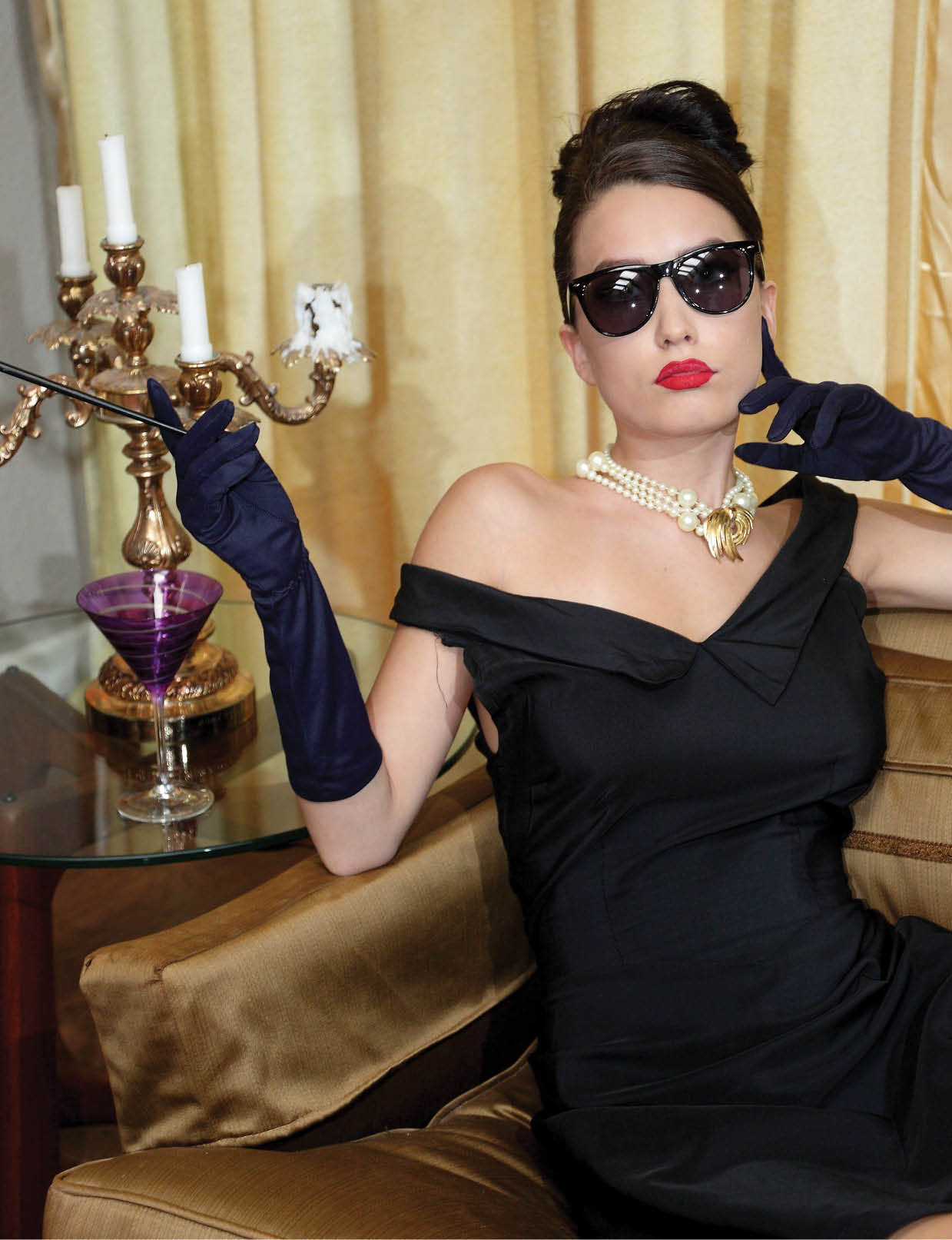 Inspired by Holly Golightly in Breakfast at Tiffany's
Don't stress about finding the exact dress from the movie! Any cocktail-length little black dress will do. Bonus points if you find one with an extra elegant detail or two. Pair with pearls, black gloves, black sunglasses, and pin your hair in an Audrey-esque 'do with a French twist. Don't forget the pink lipstick!
1950s Black Cocktail Dress $65, Iconic pearl necklace made from double strand of long pearls $18, and brooch $12, Gloves $12, Sunglasses (such a popular style you can pick them up anywhere!), Cigarette holder (a black chopstick with white paint does the trick!)
Model: Layla Duncan, Clutts Agency
---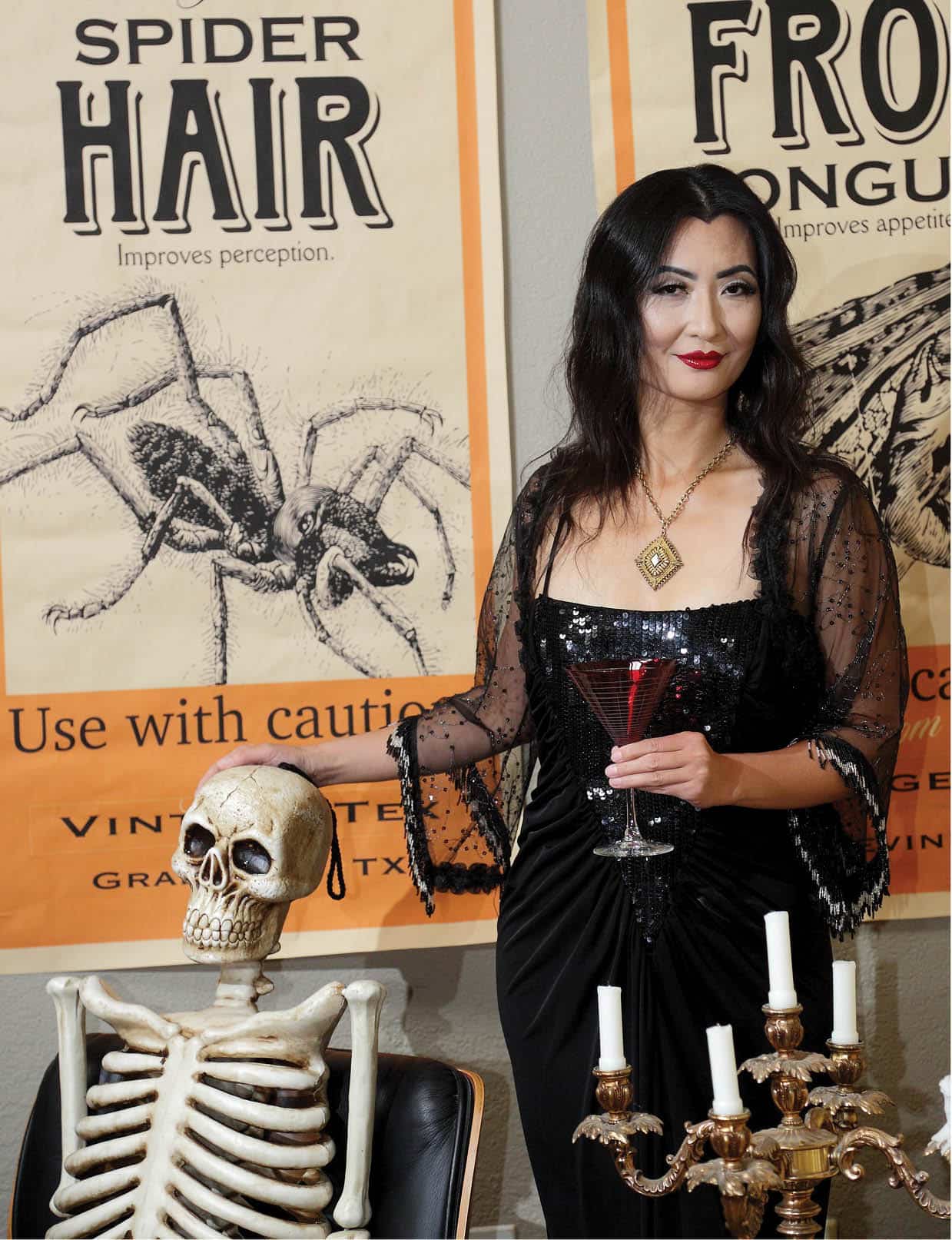 Inspired by Morticia Addams in The Addams Family
This is such a simple Halloween costume! Find a long black gown or repurpose a black formal from your closet and add a black cardigan with fun sleeves. The key here is the hair and makeup. Use a flat iron to create a finger wave in your hair. Play up Morticia's sharp features with lots of contouring and a dramatic red lip. Don't have black hair? Use a wig, part down the middle, and add a widow's peak with black eyeliner. Red lipstick and a steely stare are musts.
1980s Black Ruched Gown with Sequins $48, 1980s Sheer Black Beaded Fringed Cardigan $35, 1970s Gold Tone Statement Pendant $16
Model: Lilly Lee, Clutts Agency
---
Inspired by Scarlet O'Hara in Gone with the Wind
No need to hit up the costume shop for your historical reproduction gowns! You'll find great quality for a fraction of the price at your local vintage store. The gown shown here is actually a bridesmaid dress from the 1970s. Find the dress with the most ruffles and add a hat and hoop skirt for an extra dramatic effect. Brunette curls are a must, either free-flowing or pinned up. Go with soft makeup and a natural rose lip.
1970s Red & White Gown $79, Elbow-Length Gloves with Scalloped Edge $16, White Hat, Red Ribbon Added $14, 1950s Hoop Skirt $38
Model: Isabella Parsons, Clutts Agency
---
Concept and planning: Vintage Tex
Photography: Kym Skiles / f8 Studios
Styling: Jen Cooper, Vintage Tex
Models: Clutts Agency
Hair and makeup: Renata Salons
All clothes and accessories from Vintage Tex, an upscale vintage clothing store located on Main Street in historic downtown Grapevine at 603 S. Main St, Ste. 300, Grapevine, TX 76051. Open from 11 a.m. – 6 p.m. daily, Vintage Tex carries items from the 1920s – 1970s at reasonable prices. A few designer treasures can be found on the Vintage Tex Etsy shop. For more information, visit VintageTex.com.