Tips and tricks for women experiencing graying or thinning up top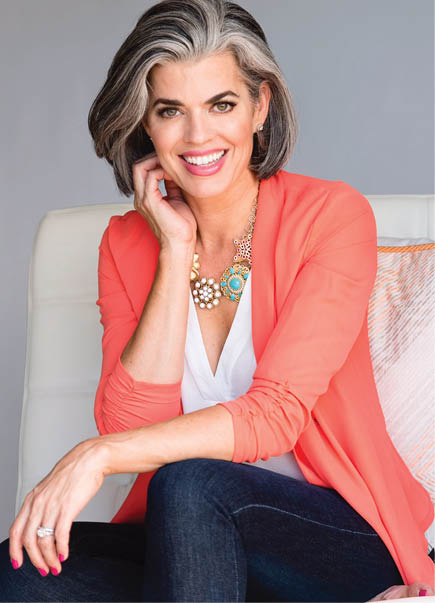 Gray hair happens to everyone at some point, though for some it can happen as early as their 20s. Hair loss or thinning hair happens to about 35 million women in the United States—starting around the age of 30—due to issues like stress, medications, autoimmune conditions, hormone imbalances, and just plain old genetic alopecia. The good news is that if you're so inclined, there are tricks and treatments you can do to mask or help correct these issues.
Going Gray?
Gray hair is controlled by genetics and the chemical makeup of your hair follicles and the pigment-producing cells called melanin. "As we get older, the pigment cells in our hair follicles gradually die," explained Salvatore Patane, owner/stylist at Le Reve Salon and Barbershop in Cherry Hill, NJ. "When there are fewer cells in a hair follicle, that strand of hair will no longer have as much melanin and will become a more transparent color—like gray, silver, or white."
Gray hair is totally trending right now, said Justin Todd, hair expert and founder/creator at JToddIndustries.com. But if you're not ready to embrace it just yet, consider some color. "Sticking to ashier tones will reduce the amount of maintenance," Todd said. "Ash pairs nicely with pastels if you want a more alternative, fun look."  
Patane suggests having a colorist add in low-lights (opposite of highlights), which he calls "camouflage for the hair," and for blondes to add in lighter highlights around the face to mask the gray.
Losing Hair?
Hair loss can be stressful and cause your self-esteem to take a hit. Hairpieces, wigs, medications, topicals, and hair extensions abound. Or you might consider some other options.
Neograft Follicular Unit Extraction (FUE):
"Neograft is an automated hair transplant FUE system that provides for very natural results with minimal downtime," said Dr. Stephen Greenberg, a New York City plastic surgeon. Follicles are harvested individually from a donor area and transplanted to areas of need in natural hair groupings of one to four hairs. The in-office procedure boasts a quick recovery, with many patients returning to normal activities the very next day. "Benefits include a more natural result with no need for general anesthesia and no stitches or
telltale scar."
This type of procedure won't work for women with diffuse or all-over hair loss or an overall thinning in all areas of the head, including the sides and back, which are the areas that act as donor sites. "Women who might be good candidates for hair restoration surgery are women suffering from traction alopecia, women who have a hair loss that is similar to male pattern baldness—receding hairline or hair loss on crown, or women who have hair loss due to trauma," said Dr. Jack Zamora, a plastic surgeon who practices in Denver and New York.
Low Level Laser Energy: Dr. Zamora might recommend the TheraDome Laser Helmet to patients who aren't a candidate for surgery. They can use the helmet in the comfort of their own home twice a week for 20 minutes. "The TheraDome uses laser phototherapy (low laser light energy) to achieve clinical hair rejuvenation," he said. "The light waves penetrate the scalp to reach the base of the follicle and stimulate cellular renewal. This safe and effective treatment can be used alone or in conjunction with
other therapies."
Gray Hair, Don't Care!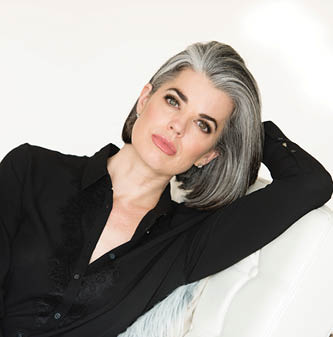 Typically, when women start to gray, society at large deems them "aging." But Fort Lauderdale, Fla. resident and beauty expert Nikol Johnson-Sanchez, finds her gray hair gives her an empowering sense of freedom.
"Why fight something that could be so beautiful?" she said. "It's extremely liberating to let go. It's not an easy transition going gray, but look at it as a badge of living life to the fullest, a life of no regrets."
So, consider embracing the gray, too! Even younger millennials are dying their hair various shades of gray.
3D Printed Hair? Really?
Flora Fuentes, owner of Unique Hair Concepts, a New York-based hair loss and restoration studio, is an exclusive provider of an interesting new development in hair. The Cesare Ragazzi 3D-printed hair prosthesis (a.k.a. CNC System) is on the leading edge of hair-tech.
"Thanks to the CNC System, we can now create individualized hair systems that combine digital 3D scalp mapping, hypoallergenic materials, incredible human hair, and the most advanced 3D printers to give women back a full head of hair."
The 39-stage production process for a 3D-printed hairpiece starts with a private consultation where Fuentes assesses the composition and health of the client's hair and scalp. She considers age, the cause of hair loss, face shape, and the quality, texture, and shading of the hair. Using 3D digital modeling, a perfect replica mold of the scalp is created. Then work on a custom prosthesis shifts to Cesare Ragazzi Laboratories' production headquarters in Italy.
Once the 3D-printed base has been created, strands of healthy, natural human hair are meticulously matched to the wearer's growing hair. Each strand is individually anchored by hand onto the CNC system with the same angle and spacing as the wearer's natural hair.
The 3D hair prosthesis is secured to the wearer's hair and scalp with a medical grade adhesive that is also hypoallergenic and dermatologist tested. A return visit every four to five weeks is needed for follow up/maintenance visits. "The best thing about the CNC system is you can treat your new hair like you always have," Fuentes said. "You can shampoo, be active, swim and towel-dry at the gym, style, and blow-dry as usual."
The 3D hair prosthesis generally starts at $3,500 and lasts up to 18 months.
By By LaRue V. Gillespie
Photos courtesy of Nikol Johnson-Sanchez, Fresh Beauty Studio LLC