Dinner that Everyone Will Love
Turn your dinner into something healthy this month! No need to give up on flavor; these recipes taste so incredible no one will care that they're actually good for them.
The holiday season is coming up and we all know what that means… time to get out the stretchy pants, because you'll be packing on a few pounds by the end of the year. You want to know my solution to fending off the extra weight? I keep as many guilt-free meals in my back pocket as I can throughout the season. The big, bold flavors in these recipes will fool anyone into thinking they're super indulgent. Just remember, preemptive dieting means you'll be plenty ready when Thanksgiving and Christmas roll around. You know, after you finish up all that leftover Halloween candy.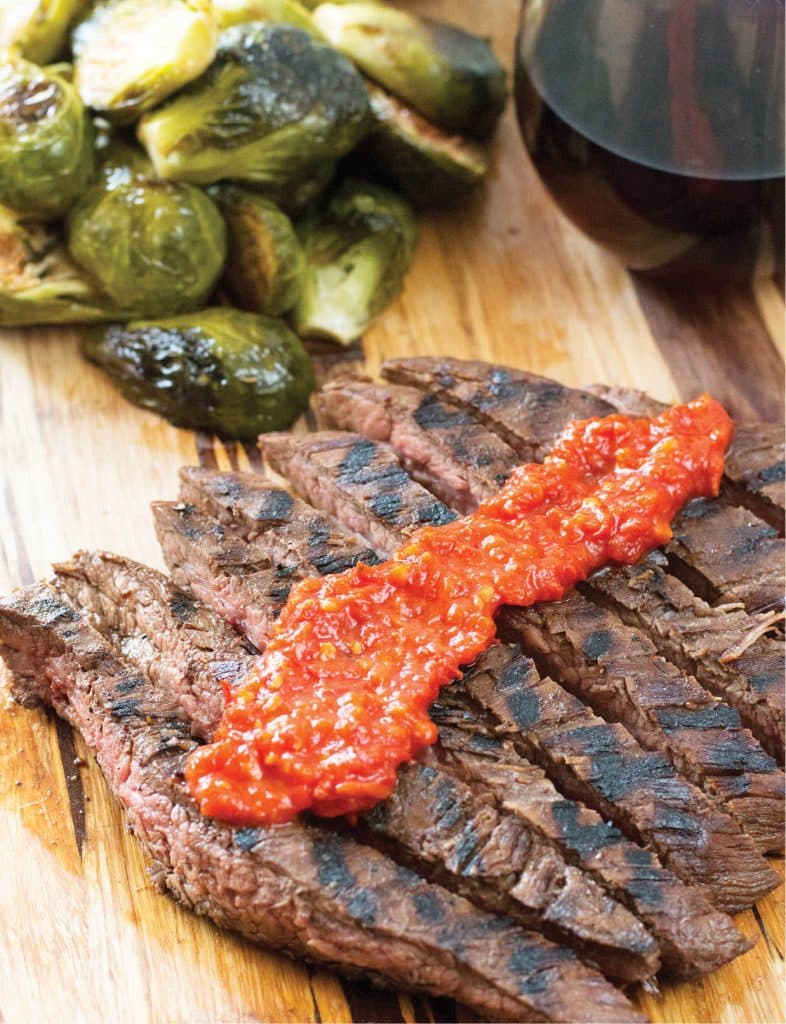 Harissa Marinated Steak
Serves 4 | Prep Time: 2 hours 5 minutes
Cook Time: 10 minutes
1-1½ pound flank steak
2 garlic cloves, minced
2½ teaspoons lemon juice
2 teaspoons harissa paste
1 tablespoon brown sugar
1½ tablespoons soy sauce
¼ cup olive oil
In a small bowl, whisk together minced garlic, lemon juice, harissa paste, brown sugar, soy sauce, and olive oil. Add the flank steak and marinade to a large zip top bag. Seal the bag and move the steak around so it's evenly covered in the marinade. Set on a plate and marinate for at least 2 hours in the refrigerator.
When ready to cook, heat up the grill or a grill pan over high heat. When the pan or grill is hot, add the steak. Cook on each side for approximately 5 minutes each, until medium rare or your desired doneness.
Rest for at least 5 to 10 minutes before slicing.
The longer you marinate the steak, the better it'll taste. Marinate for up to 8 hours!
---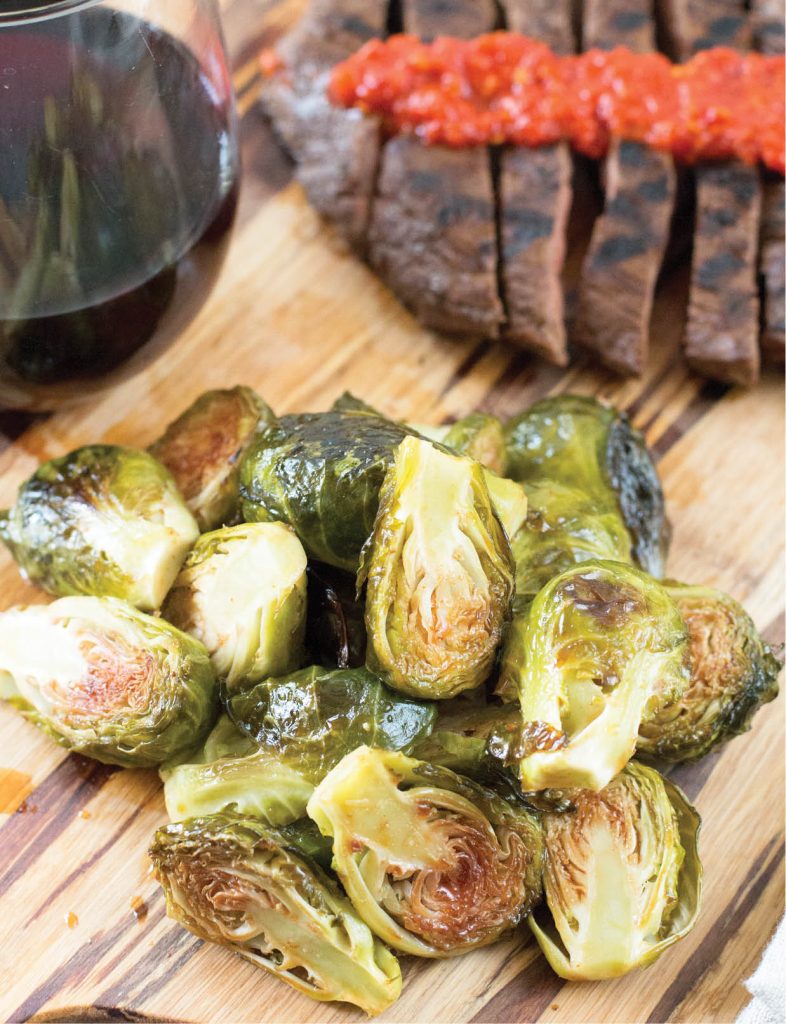 Roasted Sweet & Spicy Brussels Sprouts
Serves 4 | Prep Time: 5 minutes
Cook Time: 30 minutes
1½ pounds Brussels sprouts, trimmed and halved
3 teaspoons garlic powder
2 tablespoons olive oil
1 teaspoons salt
3 tablespoons agave syrup
1 tablespoon sriracha
2 teaspoons fresh lime juice
1 tablespoon soy sauce
Preheat oven to 400 degrees. Line a rimmed baking sheet with aluminum foil. Set aside.
In a small bowl, whisk together agave, sriracha, lime juice, and soy sauce. Set aside.
In a large bowl, toss the Brussels sprouts with garlic powder, olive oil, and salt. Add the sprouts in an even layer to the lined baking sheet.
Roast for 30 minutes, or until fork tender. Add the sprouts to a large bowl and toss with the sauce. Serve immediately.
If you like your Brussels sprouts crispy, move the pan to the upper third of the oven for the final 5 to 10 minutes of roasting.
---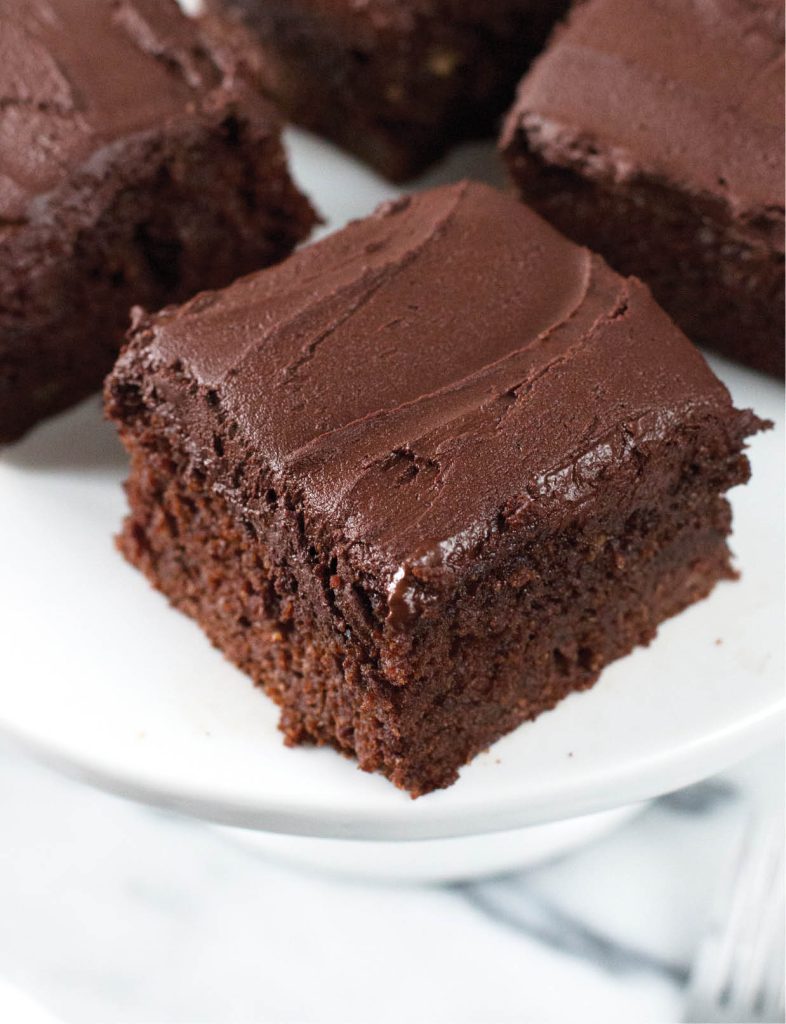 Fudgy Zucchini Chocolate Cake with Dark Chocolate Frosting
Serves 6 to 8 | Prep Time: 10 minutes
Cook Time: 25 minutes
For the cake:
¹/³ cup vegetable oil
1¼ cups sugar
1½ teaspoons vanilla
1 egg
¹/³ cup low-fat milk
1¾ cups peeled and shredded zucchini (approx. 4 medium zucchini)
1½ cups whole wheat flour
¹/³ cup cocoa powder
1¼ teaspoons baking soda
¼ teaspoon salt
Preheat oven to 350 degrees. Grease a 9"x9" baking dish.
Whisk together oil, sugar, egg, and milk in a medium bowl until well combined. Fold in the shredded zucchini until incorporated.
Add flour, cocoa powder, baking soda, and salt to the zucchini mixture. Stir until well-combined.
Pour cake batter into the greased baking dish. Bake for 25 minutes. Let cool completely before frosting.
For the frosting:
1 cup unsweetened cocoa powder
¼ cup agave syrup
1½ teaspoons vanilla extract
9 tablespoons low-fat or non-fat milk
In a medium bowl, stir together cocoa powder, agave syrup, vanilla, and milk. Add additional milk by the tablespoon if the frosting is too thick to spread as needed. Frost cooled cake as desired.
Substitute almond milk for low-fat or non-fat milk in the cake and frosting to make it even healthier!
By Meghan Bassett