By Kristine Ackerman   Photography By Christopher Nastri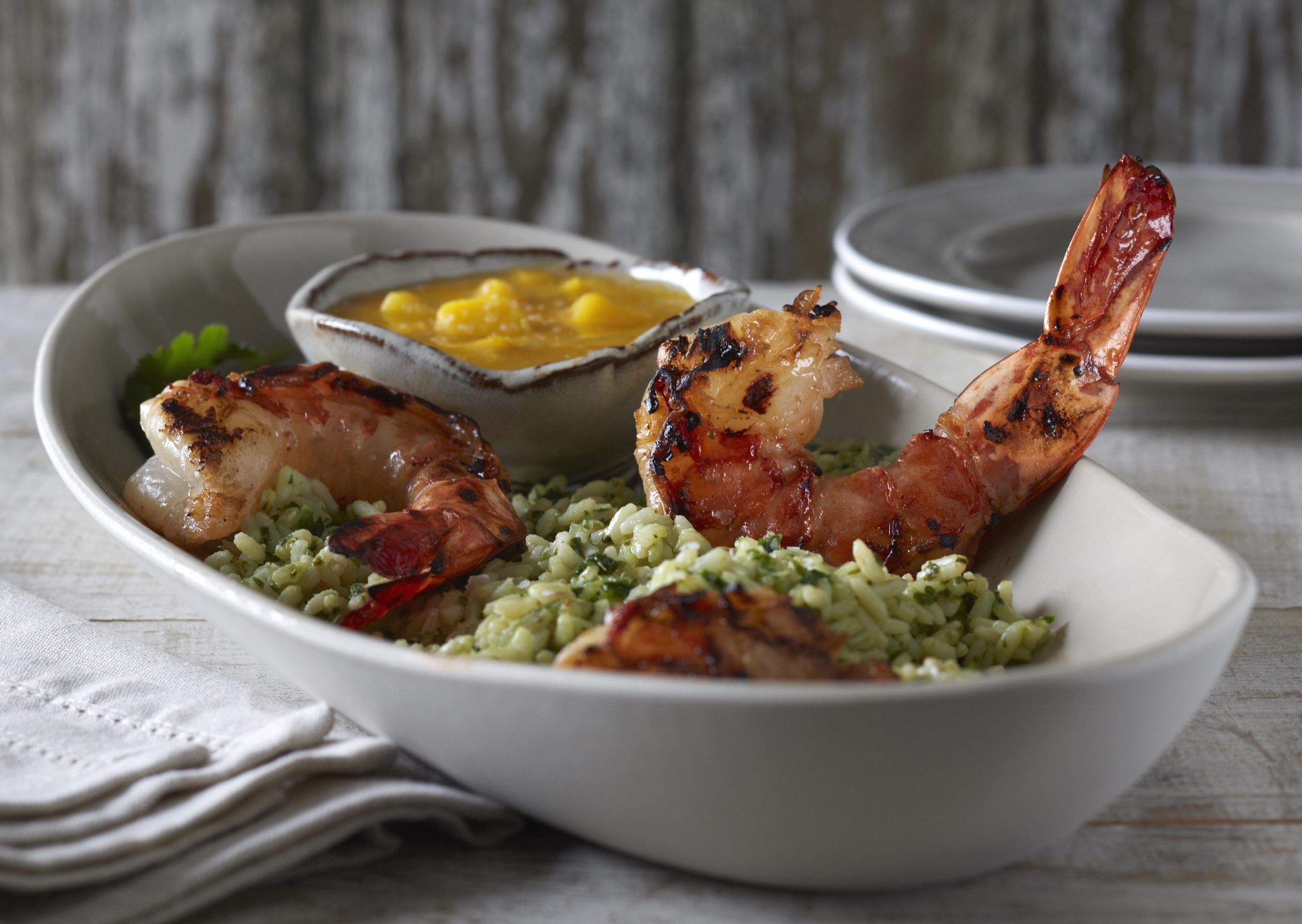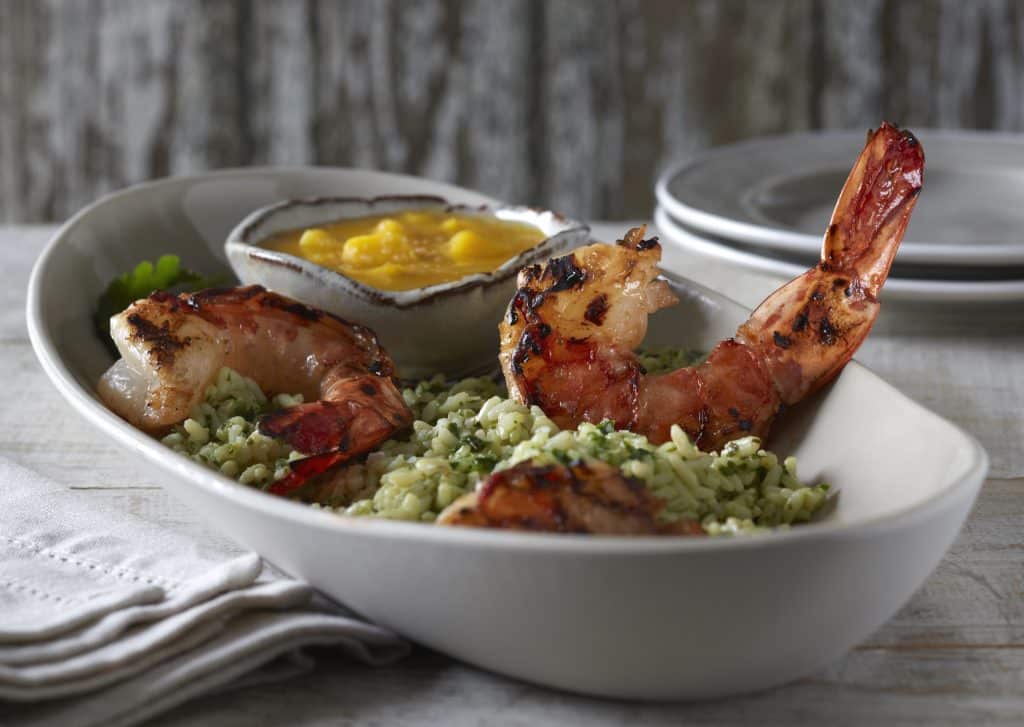 [one_third]
Mango-Cointreau Butter Sauce
1 tablespoon unsalted butter
1 tablespoon diced shallot
1 tablespoon diced poblano pepper
1 teaspoon freshly grated orange zest
1/3  cup Cointreau Orange Liqueur
1/2 cup mango purée
2 tablespoons heavy cream
8 tablespoons unsalted butter
1/2 cup diced mango
Sea salt and pepper to taste
---
Melt one tablespoon of butter in a small saucepan over medium heat. Add the shallot and poblano. Sauté until the vegetables are soft. Add the Cointreau. Cook to reduce slightly. Whisk in the mango purée and the cream. Simmer until well blended. Set aside until shrimp are cooked. When ready to serve, reheat to a simmer. Add the grilled shrimp. Over low heat, whisk in remaining butter, piece by piece, adding the next piece when the previous one has just melted into the sauce. Do not melt the butter completely or the sauce will separate. Remove from heat occasionally to keep the sauce from getting too hot. Add the diced mango and season with salt and pepper. Serve immediately.
[/one_third] [one_third]
Shrimp
1 1/2 pounds fresh shrimp, shelled
and deveined
3 tablespoons olive oil
1 tablespoon honey (optional)
Sea salt and pepper to taste
Wooden skewers, soaked in water
---
Prepare a hot charcoal or gas grill. Clean the shrimp and remove the shell, but leave the tails on. Toss the shrimp with the oil, honey, salt, and pepper. The honey helps to brown the shrimp on the grill. If using smaller shrimp, thread them on a wooden skewer. Large shrimp are easily turned on the grill. Alternately, the shrimp may be broiled in a preheated broiler about 3 inches from the heat. For all methods, the shrimp must be turned once, midway through cooking. Cook for 5 to 7 minutes, until they become firm, and turn opaque and pink in color.
[/one_third] [one_third_last]
Green Rice
4 tablespoons unsalted butter
1/2 cup minced white onion
1 1/2 cups white rice
3 1/2 cups chicken broth, divided use
2 cloves peeled garlic
1 bunch cilantro, stems removed
1/2 cup packed spinach leaves,
stems removed
4 tablespoons minced parsley
3 tomatillos, husks removed and chopped
---
In a medium saucepan, melt butter over medium heat. Add the onions and sauté until soft. Add the rice, sauté and stir until rice becomes opaque and fragrant, about 3 minutes. Add 3 cups of the chicken broth, bring to a boil, reduce heat, cover and simmer for 10 minutes. Mince garlic in a food processor. Add cilantro, spinach, and parsley. Blend until puréed and add the remaining chicken broth. After the rice has cooked for 10 minutes stir in the green purée and the diced tomatillos. Cover and simmer for 10 more minutes. Test the rice after 20 minutes of cooking. When tender, serve at once to retain the green color.
[/one_third_last]