A Place of Discovery
Cradled in the shadow of the Palisade rock formation and fringing the Moab Desert, rests Gateway Canyons, a one-of-a-kind resort with more than 6,000 acres of natural splendor to explore at its most primitive state, including one of the only locations in the world where Precambrian rock is still visible by the human eye.
Just steps away from one of the highest concentrations of dinosaur fossils on the planet, Gateway Canyons Resort—part of the Noble House Hotels and Resorts collection—is a place where the earth opens up to tell its story.
The land, purchased by Discovery Channel founder John Hendricks in 1995 is situated at the convergence of five majestic canyons located an hour southwest of Grand Junction, Colorado. Not long after purchasing the property, Hendricks felt compelled to share this special place with others and began developing a concept for a unique lodging experience focused on luxury accommodations mixed with adventure- and educational-centric activities.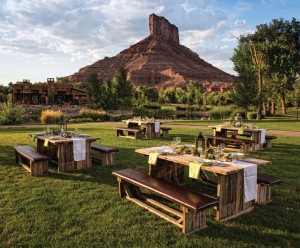 A cloistered world unto itself, the resort is a combination of adobe-style southwestern architecture, tall cottonwood trees and irrigated green fields contrasting the red walls of the canyons that were once home to the Ancient Puebloans. Gardens full of native plants dot the property, which guests find as they wind toward the onsite Adventure Center, one of the two oasis-like swimming pools or one of the four delicious resort restaurants.
 There are several distinct places to dine on property including the Entrada Restaurant, Paradox Grille and Kiva Café.
Gateway Canyons specializes in creating once-in-a-lifetime experiences for its guests. Active thrill-seekers explore nature at its most primitive state with the convenience of the Adventure Center, which provides guests with everything they need for an ultimate, adrenaline-filled immersion in activities including rafting and tubing, hiking, climbing and rappelling, off road tours, mountain biking, fly-fishing, and more! The stunning equestrian stables are just a short shuttle ride away, and the off-the-beaten-path sunset horseback ride overlooking the majestic Unaweep Canyon isn't to be missed.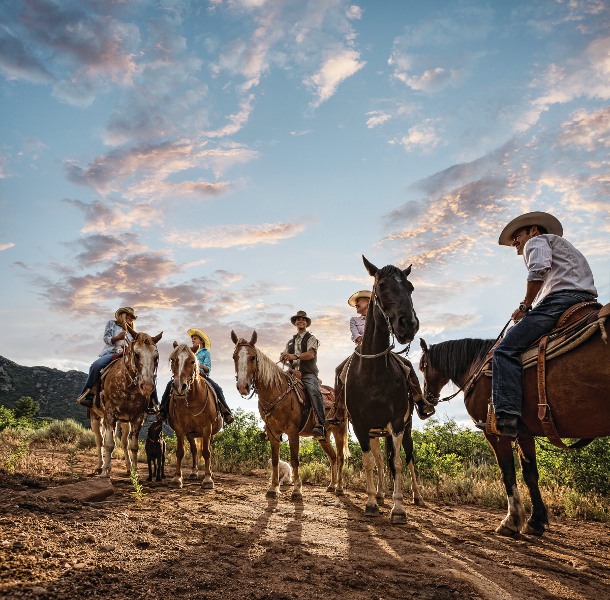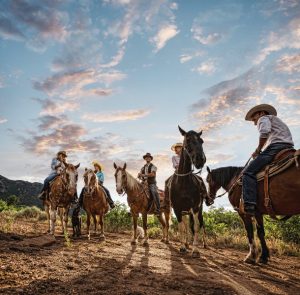 For those looking to rev up their stay, the resort offers an off-road Pro-Baja truck driving adventure on a desert course with professional instruction, breathtaking air tours over Canyonlands and Moab desert via Cessna Caravan or Eurocopter AStar, and luxury car rentals—including a Bentley Supersport—that you can drive through winding, scenic rural byways framed by sweeping vistas and towering canyons. Top that off with a tour of Gateway Colorado Auto Museum, featuring John Hendricks' private collection, and there's enough to keep families completely entertained for days on end.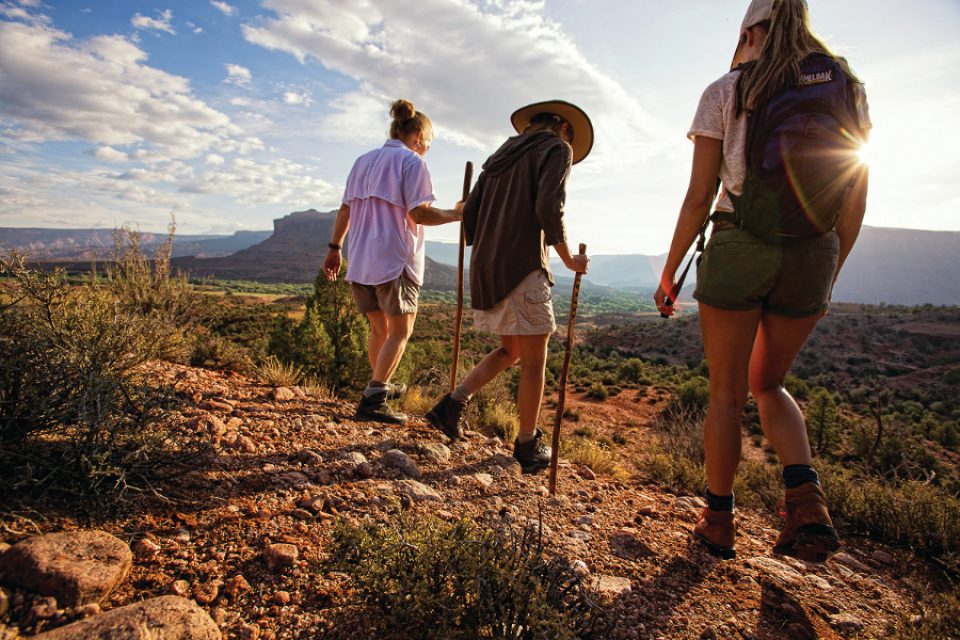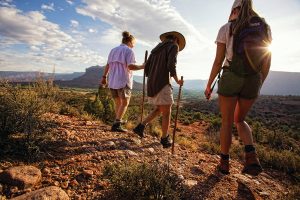 Explorers choose from a variety of trails andterrain for a customized experience into the vast, awe-inspiring ruggedcanyon country surrounding the resort.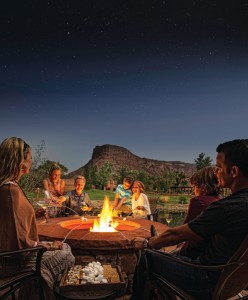 The newly-built luxury casitas offer spacious, stunning accommodations—the perfect place to retreat and regroup after a day of adventure. The casitas' large living areas have been outfitted with layers of luxurious texture: leather, velvet, stone and wood. Private outdoor showers let you soak up nature in the shadows of the majestic palisades, and the divinely comfortable bedrooms are made even cozier due to large fireplaces that flicker at the touch of a switch. Outside, expansive patios, complete with fire pits, provide the ideal spot to lean back and spend an evening discovering the galaxies, nebulae and star clusters under one of the darkest night skies on the planet—so dark you can actually see the Milky Way stretch from horizon to horizon.
By Abby Hoeffner