Fresh, roasted, and baked dishes made mostly from fruits and vegetables you can grow in your very own back yard
By Melissa Tate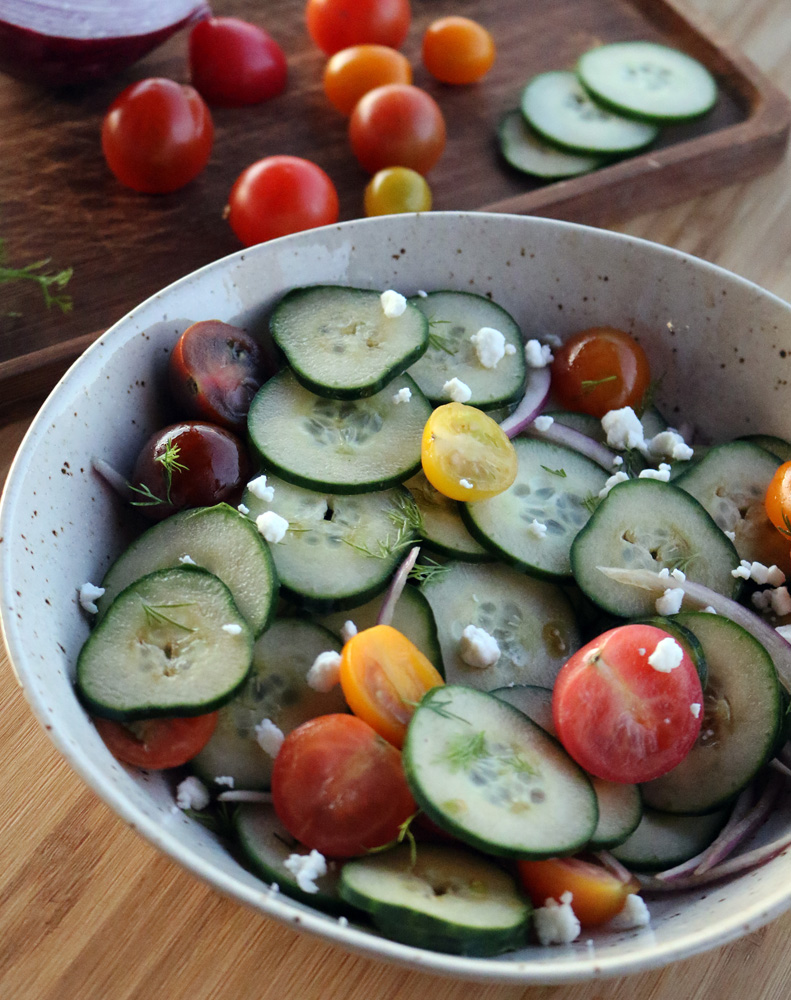 Cucumber

Herb Salad
Makes: 6 servings | Time: 20 min.
Ingredients:
1 large cucumber, sliced thin | 1½ cups grape & cherry tomatoes, cut in half | ¼ medium red onion, sliced thin | ¼ cup mixed fresh herbs like dill, parsley, sage, oregano | 1 Tbsp. olive oil | 1 Tbsp. white wine vinegar | salt & pepper, to taste | ¼ cup crumbled feta
Directions:
Combine cucumbers, tomatoes, onion, and herbs in a medium bowl and set aside. Combine olive oil, white wine vinegar, salt, and pepper in a small bowl. Drizzle mixture over cucumber salad and toss. Top with crumbled feta.
Tips & Tricks:
Serve with buttered sourdough bread for a surprisingly easy meal.
---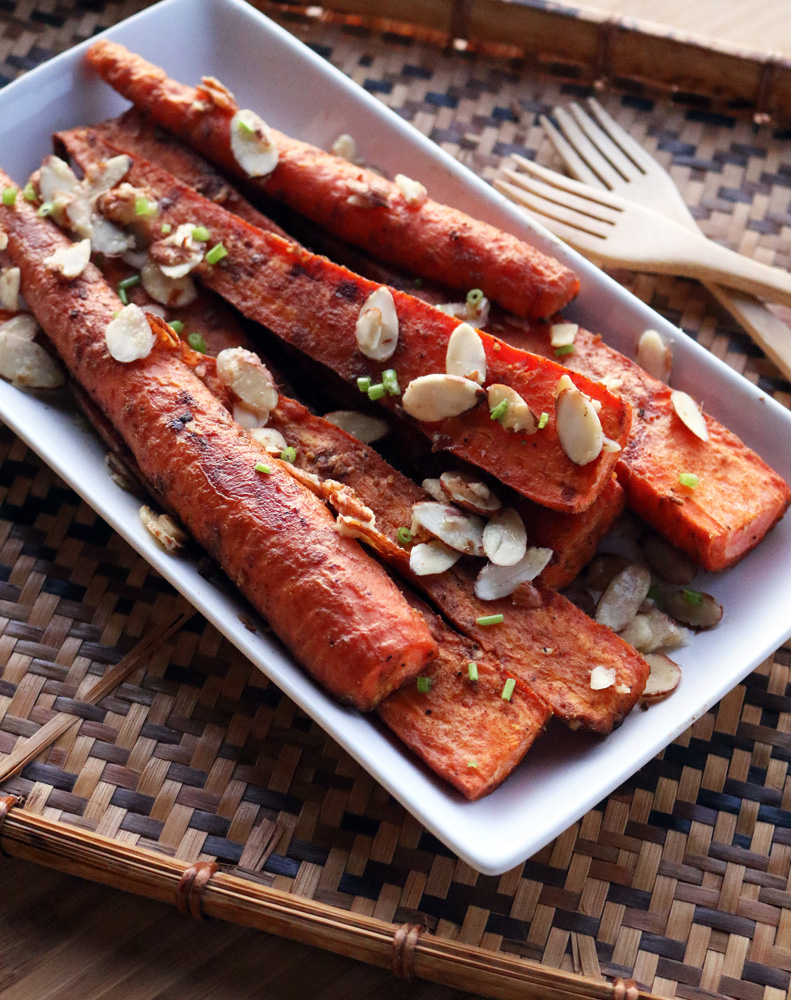 Five Spice

Carrots
Makes: 4 to 6 servings | Time:15 min. prep + 25 min. roast
Ingredients:
6 Tbsp. olive oil | 1 Tbsp. five spice powder | 2 garlic cloves, grated | Salt | 2 bunches carrots (about 2 pounds), trimmed, scrubbed, and halved lengthwise | ¼ cup unsalted, raw almonds | ¼ cup sliced chives (about 1 small bunch) | 1 to 2 Tbsp. sherry vinegar | 2 tsp. grated fresh ginger
Directions:
Place a baking sheet on the bottom rack and heat oven to 425 ˚F. In a large bowl, stir together 2 Tbsp. olive oil with five spice powder, garlic, and 1 tsp. salt. Add carrots and toss to coat. Transfer carrots to the hot baking sheet and arrange in an even layer. Roast on bottom rack until carrots are tender and browned, about 20 to 25 minutes, flipping halfway through. While carrots are roasting, toast the almonds on a separate baking sheet on the top rack of same oven, 7 to 8 minutes or until golden brown. Allow to cool and then place in bowl with chives,vinegar, ginger, and remaining olive oil. Stir to combine and season with salt. Scatter half of mixture on serving platter, top with carrots, and then scatter remaining mixture on top of carrots. Serve warm.
Tips & Tricks:
This recipe is a perfect vegan or vegetarian option as it is naturally vegan.
---

Easy Baked
Apples
Makes: 4 servings | Time: 10 min. prep + 50 min. bake
Ingredients:
2 medium apples (any variety of red apple) | 8 Tbsp. butter | ¼ cup flour | ½ cup rolled oats | ¼ cup plus 1 Tbsp. brown sugar | 2 Tbsp. dried cranberries | 2 Tbsp. chopped pecans | ½ tsp cinnamon | 1/8 tsp salt
Directions:
Heat oven to 375 ˚F and spray an 8"x8" baking dish with nonstick baking spray. Halve the apples from stem to bottom and then remove core, seeds, and stem. Arrange in baking dish, cut side up. Sprinkle 1 Tbsp. brown sugar and ¼ tsp. cinnamon over apples. Melt the butter in a pan over medium heat. Remove from heat and stir in flour, oats, brown sugar, cranberries, pecans, cinnamon, and salt. Divide topping between apples and lightly press down on apples. Cover with aluminum foil and bake 25 minutes. Uncover and bake another 20 to 30 minutes until apples are soft and topping is brown.
Tips & Tricks:
Halving the apples rather than coring them and baking whole lends to quicker prep, less bake time, and easier eating.
---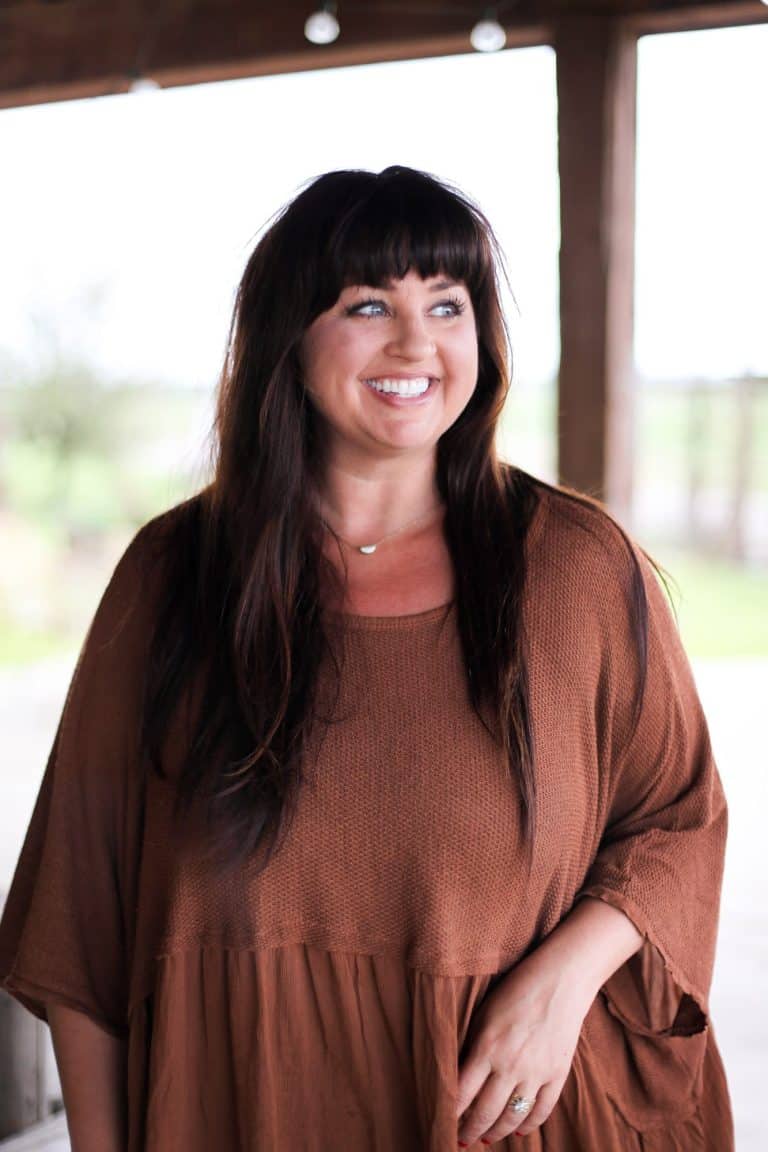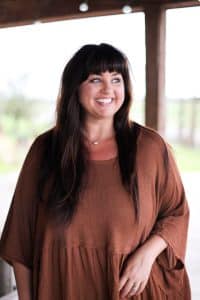 Photos & Food by Melissa Tate To follow her cooking adventures visit MelissaTateTX.com or find her on Instagram at @melissatatetx