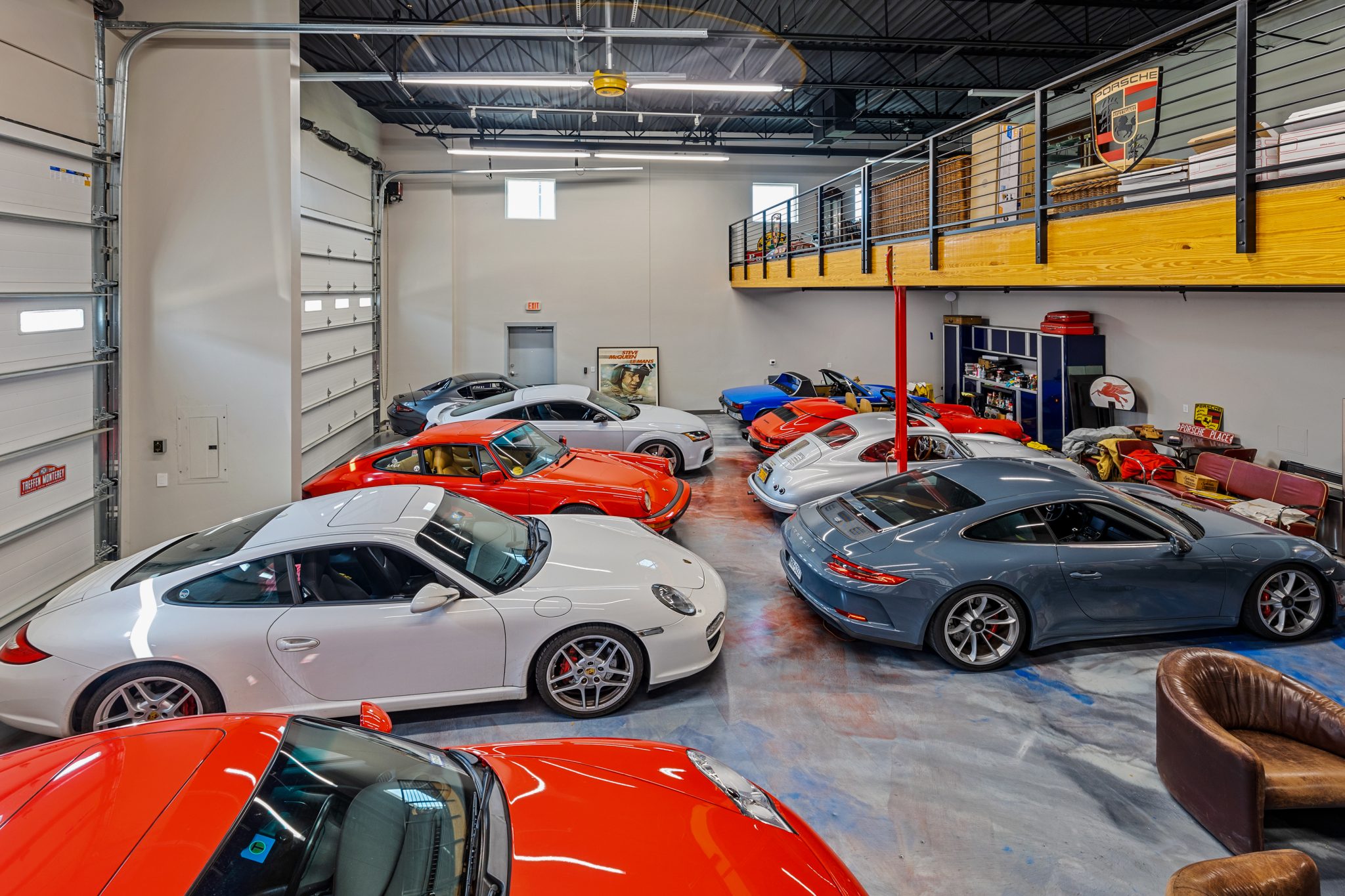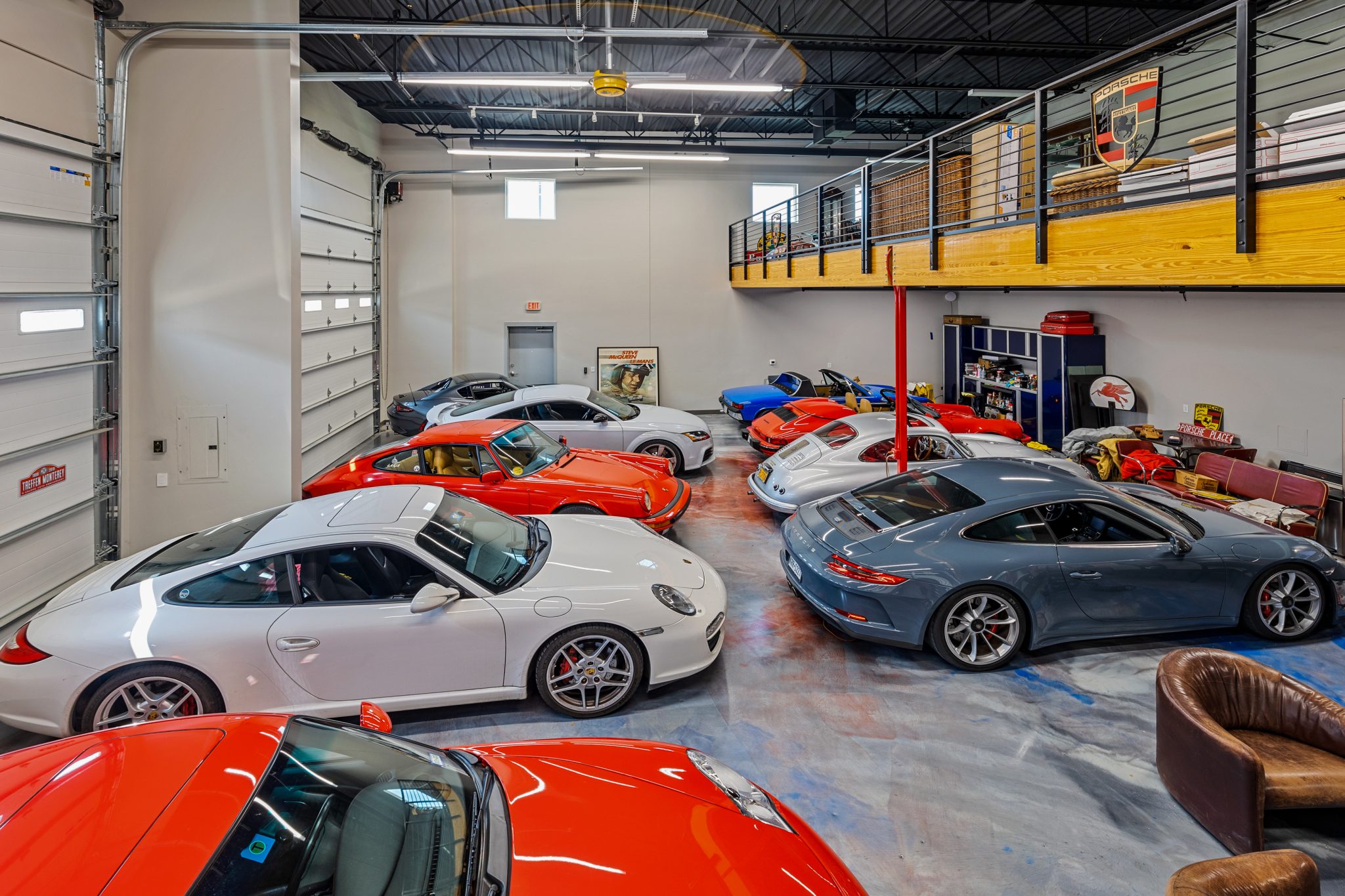 There was a lot of laughter, chewing-the-fat, and an adult beverage or two at a recent gathering of luxury car enthusiasts. No, it wasn't a vintage car show. It was an impromptu party of fine-car lovers, all of whom have found the perfect gathering spot that's part garage, part man cave, part gallery, part workshop, and part clubhouse. It's a safe place to store their collection of show cars and automobile memorabilia. But it's so much more.
It's a getaway where discretionary-vehicle owners can be alone or spend time with others who share their interest and understand their passion, a community of fellow car lovers who "get" what drives them to work hard and play hard. In short, Garages of Texas offers state-of-the art suites for your vehicle and your passion … which are often one and the same.
As each new location has gone under construction, most have filled up, even before the facility is completed. Each Garages of Texas suite is completely customizable and includes:
A structured steel mezzanine with plywood deck
An individual A/C & Heated unit

Insulated walls, ceiling, and garage doors
21-to-22-foot ceilings (tall enough for an RV)
14-to-18-foot-wide overhead doors

Three-foot pedestrian door
125-amp, 240-volt electrical (individually metered)
Fire sprinklers
Interior LED lighting
Dual-lock key system
Phone, cable, and internet accessibility
Plumbing leave-out for bathroom, shower, sink, wet bar, etc.
Each Garages of Texas car community includes:
24/7 controlled-access gates and security cameras
Private clubhouse for owners' use with restroom and shower
50-to-60-foot-wide drive aisles
Insulated walls and doors
Exterior lighting
RV dump station
Security fencing
Trash enclosure
Here's the best part. You don't rent your garage condominium. You buy it. You receive a deed, title insurance, and all the perks of commercial real estate ownership. Your space builds equity and you have complete financial control.
If you're tired of jockeying for garage space for your treasured beauties, Garages of Texas gives you a better option. It's time to stop fighting a losing battle for space in your family garage. Pull your show cars out from under the Christmas lights and water skis. Find a new, luxury address for your motorhome. Let your wife park in the garage again. And stop spending an arm and a leg renting storage that comes with restrictions on how and when you can work — and play. Become an owner of your own luxury garage suite/man cave. It's a solution now and an investment for the future.
The Owners Speak
In a five-star online review, Demetrios L. has this to say, "Garages of Texas is a fantastic idea and a beautiful property. It allows car collectors to keep their prized possessions in a safe, locked, guarded, and climate-controlled environment. The fellowship among the Ferrari, Porsche, Mercedes, and other automobile enthusiasts is shared as the owners open up their custom garages and display their beautiful rolling works of art."
Each owner is invited to finish out their car condo any way they want working with the current onsite contractor or bringing in a contractor of their choice. Since they own the space, they're free to design and create it anyway they want. Include a bar, install lifts, customize your loft, or deck out your walls with memorabilia, collectibles, and a large-screen TV. It's your call. And with 24-hour access, you can come and go and entertain as you please.
A Little History
In 2014, successful real estate developer/investor, Fred Gans, was developing self-storage facilities in other states when he stumbled upon a garage condominium "man-cave" project that was different than any storage facility he'd ever seen. He thought of all the car collectors he knew back in Texas who'd be extremely anxious for the possibility to display their babies the way they deserved to be displayed and a place to get away and spend time with others who share their passion. He began researching and teamed up with fellow real estate developer/car enthusiast Jack Griffin, designing the ultimate solution for them. Garages of Texas was born.
As the two men saw it, the success of any luxury garage community would depend on several key aspects: convenient location, quality materials, functional layout, modern amenities, high security, and low maintenance. Garages of Texas was an instant success, filling a unique niche within the storage industry. There are now nine locations with several more under construction (and filling up, as you read this) and several in phase-two expansions.
The car condos are also popular with motorcycle, boat and RV owners as well as hobbyist and small businesses. And although most owners seem to be men, women are welcomed with open arms.
Comedian Jay Leno owns over 181 exotic cars said to be valued around $100 million as well as 160 motorcycles. A self-confessed "gear head," Leno loves buying, repairing, and restoring cars to their former glory. His collection includes a 1962 Chrysler Turbine, of which only nine exist, and a Mercedes Benz SLR McLaren valued at half a million dollars.
Comedian Jerry Seinfeld's collection is only slightly less impressive with 150 cars, including quite a few Porsches. His collection is valued between $50-$150 million.
"My husband really needs this! I'm tired of all his car stuff in our garage!"
– Christie B.
"Finally, a man cave you can really call your home."
– David G.
Find out more and reserve your Garages of Texas car condo at GaragesOfTexas.com.
---
Contact: